Wireless charger roundup and giveaway — 15% off all charging mats!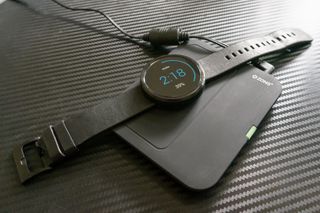 Thinking of jumping on board the wireless charging train? We list our favorites, give you 15% off the lot and give one away!
There's no denying that these inductive charging pads, mats, whatever you prefer to call them, are becoming increasingly popular as more devices take on Qi compatibility. Even the long-awaited Moto 360 packs standard Qi functionality, as we pointed out after launch. Luckily we've had our hands on quite a few of these wireless chargers here at Android Central and we're shedding some light on our tried and true choices.
ZENS Wireless Single Charger
This charging mat is perfect for any Qi-compatible device, smart watch or phone. The surface has a matte finish on it that helps prevent your device from sliding around after placement. You'll find a light on the edge that kicks on (yellow) when a Qi compatible device is placed on the pad, which then switches to green while charging. It even works with most phone cases as long as they're not on the overly bulky side.
A nifty feature of this ZENS Wireless Charger is its ability to automatically shut down when it recognizes your device is fully charged. It switches off the coils underneath the mat as well as the indicator light; preventing overcharging and overheating. There's no doubt that this mat looks and works great with the Moto 360.
TYLT VU Qi Wireless Charging Pad
TYLT's VU Charging Pad takes a different approach to the common flat design and provides a relaxed 45-degree angle stand that holds your Qi compatible device quite nicely. What's cool is you don't even need to place your device on the VU Pad vertically as it'll work in a landscape position as well.
Unlike most wireless chargers, TYLT's VU Pad comes in other colors aside from basic black including blue, red and lime green. Included is a wall charger that plugs in underneath the stand and neatly runs behind it; perfect for any desk or nightstand.
Samsung Wireless Charging Pad
Samsung keeps things classy with their Wireless Charging Pad, offering a sophisticated design with inclined edges that keep your device from sliding off the mat. Although the dull gray surface may not fit everyone's tastes, it really looks sharp with the Galaxy S4 and S5.
The Samsung Wireless Charging Pad also features its own LED indicator light at the top which glows orange when your device isn't placed on the mat properly, then green when you're on point. An OEM 2A Micro-USB Charger comes with the unit and plugs in underneath.
ZENS Bluetooth Speaker and Qi Wireless Charger
Another one of our favorites here at Android Central is the Bluetooth Speaker and Qi Wireless Charger from ZENS. This thing does it all, from streaming your favorite tunes over Bluetooth through its dual 5W speakers to wirelessly charging your Qi compatible device on top while plugged in or on its own with its 4,500mAh internal battery.
What's more is its touch-to-pair feature that makes it a cinch to connect with any NFC-enabled device on the fly. Obviously you won't get a ton of time out of this unit (unplugged) if you plan on streaming music and charging your device simultaneously, but having the ability to do so is pretty damn cool.
Giveaway and Discounts!
Our roundup wouldn't be complete without giving away one of these fancy wireless chargers, right?
First things first, though. To give everyone a solid win here, we're offering 15% off any wireless charger at Android Central until midnight, Monday. Use coupon code: GOWIRELESS at checkout to apply your discount!
To become eligible to win a wireless charger: Leave a comment below letting us know which Qi charger you would use for your smart watch or phone. That's it! We'll select a winner after the contest concludes on September 16.
More Wireless Charging Solutions:
Get the Android Central Newsletter
Instant access to breaking news, the hottest reviews, great deals and helpful tips.