Where's the Weather app on the Galaxy S6?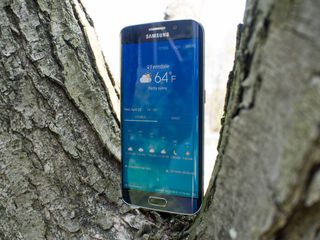 While you may have a favorite weather app to turn to for what is happening near you, a lot of folks rely on whatever app is handy. For some that means the weather notifications through Google Now are perfect, while others rely on that quick glance baked into their favorite clock widget. Like most Android phones, the Galaxy S6 and S6 edge offers a clock widget with weather built in that pops up as soon as you hit the home screen for the first time. This same weather information is available on the lock screen, as well as the Information Stream on the Galaxy S6 edge. It's powered by Accuweather, and works reasonably well for offering up a quick glance at your current weather.
The only thing missing is the actual app. At least, that's how you'd probably feel if you went looking for this app in your launcher. What you're seeing here is another example of Samsung's integrated apps, which means you've got a couple of options for accessing and using the app to get your weather.
Samsung's Weather app essentially only exists within these widgets. You can tap on them to launch the full screen experience, which offers a more detailed look at your week and lets you see a larger map for comparing or selecting multiple cities to pull information from, but that's it. There are no other ways to access this information, which is both a good thing and a bad thing. If you don't want to use Accuweather at all, you can toggle the off switch on the lock screen and edge display and be done with it. There's no way to inject an alternative into these spaces, of course, but you won't have conflicting weather reports from two different services on your phone if you decided to install something you prefer to use.
It's a little unusual when compared to how you usually see Weather apps, but Samsung's integration makes a lot of sense here. The widget is how most folks use weather apps anyway, so it's one less icon in the drawer. The only downside would be folks who want to use a different clock widget, but since Accuweather is frequently an option on a lot of alternative clock and weather widgets it's a simple thing to navigate around.
Widgets in question won't work on third party launchers Posted via the Android Central App

It's the same on the Tab S 10.5 so I'll assume it's the same across all Samsung devices running 5.0+

The more I hear about Samsung TouchWiz and their software the farther away I want to get from it. It's a shame because this looks like a really nice phone....Not touching it with a 10 foot pole - not with the software mess

Good thing with Android, you can just replace Touchwiz with any launcher you want.

It's not that bad. All you have to do is take some time to familiarize yourself with the settings layout, disable everything your not going to use and install a different launcher. Once everything is adjusted you'll rarely see touchwiz. Google+ All Day Everyday

I used to say the same thing until HTC and Google released a 4:3 tablet that I had been waiting patiently on hoping for a nice 16:9 to compete with Samsung. At that point I went with the amazing screen on the tab S 8.4 and got my first taste of Touchwiz. It didn't take me long at all to get a feel for it and in some ways I like it a little better than Sense. I still like Sense better overall but I can see why others might choose Touchwiz as their favorite. And honestly, why would I look for an icon to get to the exact same weather that is displayed on, and that I can tap to open from my home page widget?

I think it's better than Sense on lollipop. And as always, more functional Posted via the Note 4 or Tab S 10.5

Tw is more functional but I look forward to the m whatever each year just to play with sense again. It must be the look since that is my constant complaint with tw though I do not have as much of a complaint with tw on lollipop. Posted via the Android Central App

I've always thought sense was overrated. To me Lately it seems like the little things that look outdated like the fonts, toggles, quick settings, pop up menu's, lack of transition animations, etc. What I do like is their theme engine. Being able to change header themes is awesome, and sense has some pretty good looking ones. One thing I'd like the ability to change on TW is the light blue header/quick toggle theme. Not a big fan As far as TW is concerned though, I'm really liking how minimalist it's become. The settings look clean, and the native apps are much better/cleaner now too. And samsung updating their UI to a much more modern, universal design language on every flagship 2 1/2 years old and newer is a great decision on their part. Posted via the Note 4 or Tab S 10.5

The theme agent although great doesn't quite hold up against xda themes. Step in the right direction although not quite new to me since theme agents have been part of sense ROMs since the One S. And before that there were handfuls of themes you could flash after flashing the ROM. Posted via T-Mobile LG G3 running Cloudy 2.2

Right on. I'm just talking about the options out of the box. Just my opinions of the Sense and TW ROM's in their stock state. The functionality and customization that many 3rd party ROM's offer on pretty much every OEM's flagships are far more versatile than any stock ROM Posted via the Note 4 or Tab S 10.5

That awkward moment when we see eye to eye...
Sense has always been my favorite overlay. Dating back to the days when it was heavier than he like on the sensation. Tw on s2 was lighter than sense back then. I might just get a M10 next year out of sense nostalgia Posted via T-Mobile LG G3 running Cloudy 2.2

It sounds like you're stuck in 2013 and don't have a clue about how much Samsung has cleaned up touchwiz this last year. Maybe that's why you're basing your opinion on what you've heard from a few people, lol! Posted via the Note 4 or Tab S 10.5

Samsung dropped the ball with this 1. I'm talking about the s6 and not a silly weather app Posted via the Android Central App

Obvious troll is obvious.

Where's the "any" key? Posted via the Android Central App

I love the Weather Underground paid app. Great up to date info, well laid out and I got a free year promo code off slick deals. Posted via the Android Central App

Every morning when i turn off my alarm i get window that opens up which tells me the weather for the day (third window from the screenshots on this post.) How can i disable this? I cant find it for the life of me!! Any idea?

Why need an app if there's a widget on the home screen? Doesn't that defeat the purpose Of a widget?

You get much more information from the app than the widget Posted via the Note 4 or Tab S 10.5

But you click on the widget and it opens the info you want. You do that actually need one in the app drawer unless you don't use the clock app. Then that's a different situation

Oh I gotcha. Ya, it's always been that way with samsung's weather app so Idk what's new here. They used to look so crappy IMO that I've never used them but ever since they went transparent I think they're much better. Apparently this particular S6 weather app is excellent too. Posted via the Note 4 or Tab S 10.5

I've never used the weather apps that came ony Galaxies either. This is the first time I've used it and I think it looks better now than in the past.

Sometimes people don't want to use a weather widget Posted via the Android Central App

I need some turn signal fluid. Anyone know where I can get some with free two day shipping?

How about using yahoo weather instead... It's easily the best weather app available IMO Posted via the Note 4 or Tab S 10.5

Google News and Weather has an amazing weather widget that doesn't use/abuse battery. Also Google Now handles weather alerts as good if not better than other weather apps. Google+ All Day Everyday

I don't think they're worried about having one less icon in the app drawer. Posted via the Android Central App

I really like the old weather widget from the S4/S5. Is there anyway to get on the S6 without rooting it? I tried using the Xwidget but it not accelerated.

It's been that way for at least a couple of generations. There was never a weather app on my S4 or S5. Just the widget powered by AccuWeather. Although I'm not certain. ......I don't believe there was a weather app on my S3 either......Point is. .......it's been this way for a while now.

I'm still rockin' an SGS3 and I can confirm there's no weather app out of the box, just the AccuWeather widget. +1 for Google Now and the 1Weather app or the forecast.io website.

The widget is fine for me. The one feature I LOVE about the GS6 is that when i silence my alarm in the morning, after a few seconds a notifcication the day's weather forecast pops up. Talk about convenience.

Still no article about the removal of "Ok Google From Anywhere" on the S6 and the S6 edge eh? This is huge news and we need Android Central to get our backs and find out the reasoning behind it!!!

I stand corrected. I just did a chrome search and people are having issues with their "Okay Google" not working on the S6. The only thing I can think of to fix this is to disable S Voice. Google+ All Day Everyday

There is a mega thread in Google Help Forums I'm subscribed too. It's worldwide and Samsung keeps telling users to ask Google.

And I just found this. http://phandroid.com/2015/04/27/samsung-galaxy-s6-ok-google/ Google+ All Day Everyday

Interesting, I sent a heads up to the folks here at Android Central and they have yet to post an article about it. Kudos to Phandroid for following up on it!

Its ok but doesn't have radar
Android Central Newsletter
Get the best of Android Central in in your inbox, every day!
Thank you for signing up to Android Central. You will receive a verification email shortly.
There was a problem. Please refresh the page and try again.