Where to buy the Moto Z, Moto Z Force and Moto Z Play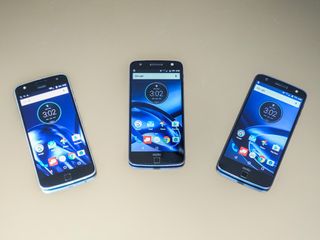 The Moto Z family started out with a single phone, but quickly expanded to three and then beyond with different models for different regions. You have the regular Moto Z, but also a "Droid Edition" of the phone for Verizon. You then have the Moto Z Force Droid Edition, exclusive to Verizon. And now we also have the lower-end Moto Z Play, and again it has a Droid Edition variant.
No matter what one you're looking for, or where you want to buy it, we have you covered right here.
Moto Z
The Moto Z is the base model, with the slimmest body and the full experience in terms of specs and features. It's available from Verizon as a Droid Edition, but now also available in the U.S. and UK unlocked. Pricing ranges from $624 for the Droid Edition up to $699 (or equivalent) for the unlocked model.
Moto Z Force
The Moto Z Force is primarily identical to the standard Moto Z, but packs a larger battery and a shatterproof display. You pay extra for the privilege in terms of price but also extra thickness and weight. The Moto Z Force is exclusive to Verizon as a Droid Edition. $720 is the damage for this one.
Moto Z Play
Announced later, we have the Moto Z Play. It's a much more affordable handset than the Z and Z Force, but retains all of the high marks of those devices, including support for Moto Mods. You can pick it up from Verizon as a Droid Edition for $408.
Get the Android Central Newsletter
Instant access to breaking news, the hottest reviews, great deals and helpful tips.
Hear, hear. I just ordered mine from them yesterday, and it'll be here the day after launch.

Best Buy has a good promo. $200 off and free JBL Moto Mod. Posted via the Android Central App

It's not REALLY $200 off because BB considers the retail to be $800 and $700 (instead of $720 & $624)
Verizon is offering 40% off your 2nd Moto mod (with the lower price points).
BB is still a good deal if you can put up with Verizon, especially considering the free JBL.

Yeah your still getting $124 off and a $80 speaker Posted via the Android Central App

Best buy will price match

If someone gets that to work with the $200 off please comment. That would be fantastic

Cmon guys...do the math. If the monthly goes from $26 to $17 or $30 to $21, that's $200 bucks off $624 or $720.

When I tried the non-force through BB it it was $40 per month smart phone access price plus the new data pricing. That's Verizon's new $20/month smartphone access + $20/month for the phone, which is $480, which is only $144 less than $624

1. I'm going to wait until the unlock version is available.(even though I'm on Verizon)
2. Also going to wait to see how this phone is supported.(Not buying another Moto that wont get updates)

It's a flagship. It will get updates. It's the budget stuff they have been abandoning. Posted via the Android Central App

Yeah, budget stuff like the Droid Turbo that's still on Lollipop, and the carrier-branded 2014 Moto Xs. They have supported their flagships, though.

The Moto X is still a budget phone, even if it's carrier branded. Turbo got a platform upgrade from 4.4 (I think) to 5.1 and it's 2 years old now. They don't get updates forever. Posted via the Android Central App

Dude stop apologizing. Posted via the Pokémon Central App

+1 Posted via the Android Central App

See Apple. They can get updates for far longer than two years. Granted most people upgrade regularly.

Apple also pushes updates to devices that while technically capable, slows them down to make you want to upgrade.

Their devices get updated to the newest IOS version but their 2 year plus old phones typically have features missing because they can't handle them. I'd rather leave my old phone on old software, even if I used Apple I wouldn't want the newest OS on 3 year old hardware.

The article says the unlocked version will be GSM only. Posted via the Android Central App

WTH? "where to buy" and then the article saying nothing about where to buy it...

Yeah they do. Verizon. Verizon only....for the time being.

Or a Verizon reseller like Best Buy Posted via the Android Central App

You got me! Lol....you are correct.

you can add the $10 bin at walmart soon.

Shatterproof screens are awesome, i can highly recommend. I'm rocking one on my LG Flex 2 it's fantastic, it's plastic Posted via the Android Central App

One measly dollar for a Moto Z with a two year contract with Verizon. Plus they are giving away the JBL speaker mod. I smell panic in the air. https://www.androidcentral.com/e?link=https2F2Flink...

A panic that'll turn into a frenzy of in-store slapfights because of a shortage of JBL speaker mods.

Agreed. There's a big problem if you have to lower the price before it's even been released.

Yeah...doesn't take a genius to figure out that the Moto Z's are gonna be squeezed by the OP3, Axon7 and Asus 3 at one end and the Samsung Note 7, iPhone 7 and 2016 Nexus at the other. They should have come out with a good phone at a good price and used their popular Moto software and following to best advantage, rather than shoot for the moon with the mods and a high price.

"hey should have come out with a good phone at a good price and used their popular Moto software" Because that formula has worked like gang-busters for motorola up til now.

Surprise!!!! GSM only. This angers me so much. If you simply include the proper CDMA and LTE bands it takes nothing more as Verizon is required to activate it on its network. Seriously!!! Posted via the Android Central App

Which probably increases manufacturing costs, not worth it for the minority of people that would buy an unlocked phone when Verizon had it in store already. Verizon needs to quit using CDMA. Posted via the Android Central App

You make it sound so easy. If only this or if only that. MmmKay.

Verizon has routinely refused to activate phones that do support their CDMA and LTE bands. Examples include the Nexus 6P not purchased from them or for them, and the ZTE Axon 7.

September might be a good month to leave Fi for a bit and check these out for the holidays. But then again, new Nexus. Posted via the Android Central App

What's the clock/weather widget on the screenshot called?

Command Center You can Download the APK lots of places. I am rocking it on my G7 Edge Just google Moto command center

Got it. Working fine on my Nexus phone. Thanks.

That price is too high for a phone that's not really yours. I had the razor maxx and the Droid Maxx. Good phones but full of bloat and almost impossible to root. No root =no deal Posted via the Android Central App

Somebody had to say it smh, and that 699$ price tag

The Play has garnered my attention. Apple doesn't do mid-rangers, you just get last year's phone. I've been wishy-washy about Moto, which is strange since it was the first to get me back considering Android. The Moto Mods don't do it for me and I don't know how much I will get out of the phone otherwise. The Force is very expensive, and the plain Z is very thin with so-so battery life. But the play is thick enough, has an awesome battery, and AMOLED. The only downside is the screen not being shatterproof, limited waterproofing, and the glass back. 5.5 would be big enough to take my iPad mini off cellular. Luckily I got time to see if it gets full Nougat and if it has any issues.

October? Why announce a phone almost half a year before I can buy it?

Can I buy the unlocked Play or any of the others and use it on Verizon? I was waiting for the unlocked ones to avoid the bloat but if I can't even get them I may have to start looking at other phones..