Where to buy the Galaxy Note 8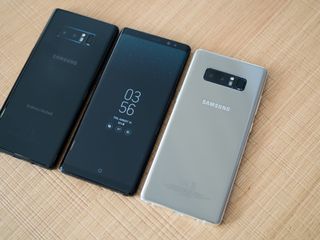 You won't be short of choices when it comes to buying the Galaxy Note 8, no matter what country you're in or the carrier you're on.
The Galaxy Note 8 is expensive, for sure, and that means people are going to be cross-shopping a bit to see what carrier or retailer can give them the best deal. Here are all of the most popular places to buy the Galaxy Note 8 around the world, and how much they're charging.
U.S.
Best Buy
Best Buy is offering the AT&T, Verizon, Sprint and proper U.S. unlocked versions of the Note 8 in Midnight Black and Orchid Grey. The pricing is in line with what the carriers themselves are charging, and the unlocked version will be available for $950. Best Buy will also be the exclusive retailer for the deep sea blue variant when that is launched.
Best Buy has some rotating discounts for each of the different carrier models, which seem to be regularly changing. Verizon is offering big discounts when you trade in your existing phone, up to 50% off the Note 8. AT&T is offering a free Galaxy S8 if you're a DirecTV customer. Sprint is offering a 50% off promo when you lease the phone, and Best Buy is throwing in a $100 gift card on top of that.
T-Mobile
Pricing for the T-Mobile Note 8 breaks down like this: $100 down, and an additional $30 per month for 24 months. Quick math will tell you that's a full retail price of $820 if you want to buy it outright. If you're part of T-Mobile's Jump! On Demand program, you'll be able to grab it for $0 down, but also spend $39 per month instead. You can choose between black and orchid grey, just like the other carriers.
T-Mobile is of course participating in Samsung's promotional giveaway for those who order early, offering a free Gear 360 camera (regularly $229) or an SD card and wireless charger ($190) when you pick up your Note 8. You can also get a buy-one-get-one deal for another Note 8 if you start a new line of service and finance both phones.
See at T-Mobile
Verizon
The big red carrier has the Midnight Black and Orchid Grey available. The phone will be available for $960 total, or $40 per month spread over two years. For a limited time, users will be able to get a bundled 128GB SD card and Fast Wireless Charger (a $190 value) or a bundled Samsung Gear 360 camera (valued at $230). Users will also be able to save $100 on the Gear S3 with purchase. Users can also save $50 on a wireless charger, portable charger and car charger bundle.
Verizon will also have the new Gear VR headset with controller online and in stores beginning September 15 for $130.
AT&T
AT&T has the Note 8 for $950 total, or as spread out as $31.67 per month for 30 months. AT&T is also offering a buy-one, get-one free deal on the Note 8 when it is purchased on AT&T Next with a DirecTV subscription. Customers with DirecTV will also qualify for $500 off a Samsung TV when they purchase the Note 8. AT&T will also offer the Gear S2 for 99 cents or Gear S3 for $50 on a 2-year agreement when customers buy a Note 8 on AT&T Next. Finally, AT&T is letting customers trade in existing devices for up to $200 in credits.
AT&T also notes the Note 8 will be one of the first devices compatible with its "5G evolution" network.
Sprint
Customers switching to Sprint will be able to get the Note 8 for 50% off when leasing the phone, only paying $20 per month for 18 months as part of Sprint's "Sprint Flex" program. That totals only $360, which is a pretty great deal on the device. Existing Sprint customers will be able to get the device for $40 per month for 18 months, totaling $720. Users can also participate in Sprint's "Galaxy Forever" program, which will let them upgrade to a new Samsung flagship after 12 months.
If you want to skip the lease and go to a proper purchase, you can finish out payments of $40 per month for 24 months, totaling $960.
Samsung
Going to Samsung directly is the best way to pick up the proper U.S. unlocked Galaxy Note 8. The unlocked model is initially only offered in black, but that may not be an issue for you particularly when you consider that it will lack any carrier bloatware. The U.S. unlocked model is designed to work on all major U.S. carriers, so you won't have to worry about compatibility issues. Pricing is set at $950.
You can, of course, also buy carrier versions from Samsung as well, if you so desire.
Amazon
Amazon, too, has the proper U.S. unlocked Galaxy Note 8, coming in at $931. While we'd still recommend buying from Samsung if the price is close or the same, Amazon often offers people a better shopping option since they can use their Amazon credit card, gift cards and the like.
UK
Carphone Warehouse
Carphone Warehouse has the Note 8 in Midnight Black or Maple Gold for £869 SIM-free for the 64GB model. It also has a variety of plans with different down payments, like £30 up-front and an additional £64 per month for a 5GB plan.
Samsung
Samsung has the Note 8 in both colors for the same RRP — £869 — as Carphone Warehouse. The manufacturer's online storefront is also the only place to get hold of a dual-SIM version of the phone, in either color, for the same price as the single-SIM model.
O2
O2 has the Note 8 up for order on a wide range of plans, with prices starting at £29.99 upfront and £63 per month, for 24 months. Data allowances come in at between 3GB and 50GB, and you can adjust your upfront fee to cut down on your monthly expenditure.
EE
EE's Note 8 plans start at £57.99 per month and £89.99 upfront, which gets you a 5GB allowance and up to 60Mbps speed. Step up to £62.99 monthly and £49.99 upfront for a 12GB allowance at EE's fastest speeds. Or max out at £72.99 per month and £29.99 upfront with a 40GB plan, which comes with BT Sport access.
Three
Three has the Galaxy Note 8 available from £44.00 a month, with £99 payable upfront — thought hat only gets you a paltry 500MB data allowance. A more reasonable 12GB data bucket costs £79.00 upfront and £56 per month, though plans are available with up to 100GB, or unlimited "All You Can Eat" data.
Vodafone UK
Vodafone has the Note 8 with 64GB storage in black or gold, with a whole host of plans that vary the monthly payments. You can have an up-front cost of as little as £50 with a £60 monthly plan, or as high as £300 down with £43 per month thereafter.
Canada
Telus
Telus has the Midnight Black and Deep Sea Blue 64GB Note 8's for (finish consuming any liquids) $1299 outright, or $550 or $750 down and the rest of the cost spread over a 2-year contract. Canadian customers are still eligible for the 128GB microSD card and Fast Wireless Charger bundle for those that order in the first month.
Rogers
Rogers has both the Midnight Black and Deep Sea Blue Note 8 for $549 on a 2-year Share Everything Premium+ plan, or $749 on a 2-year Share Everything Premium plan. The phone is also available for $1325 outright, which is higher than some of the other carriers in the country.
All orders come with a free 128GB microSD card and Samsung's excellent convertible fast wireless charger.
Bell
Bell has the same configurations as its competitors — 64GB, Midnight Black and Deep Sea Blue — at identical pricing to Rogers, except for one thing: the outright price is $1349.99, not $1325.
The two-year pricing is $549.99 on a price plan $70 or more, or $749.99 on a price plan of $60 or more.
All orders come with a free 128GB microSD card and Samsung's excellent convertible fast wireless charger.
Update, November 2017: This article was updated with the latest pricing and availability.
Be an expert in 5 minutes
Get the latest news from Android Central, your trusted companion in the world of Android
Andrew was an Executive Editor, U.S. at Android Central between 2012 and 2020.