Which phone accessories do you use every day? [Roundtable]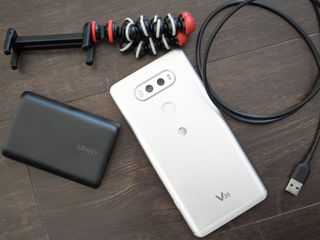 Gadgets nerds love accessories almost as much as the gadgets they are used with, and we're no exception. Really. You should see our Amazon order history.
But some of the accessories we use get a little more attention than the others and we really don't want to go without them. Check out the phone accessories we rely on.
Ara Wagoner
I am a recent convert on the whole Spigen Ring fad, but I'll admit that it does make it easier to one-hand increasingly tall and cumbersome phones. I am putting my ring on a Caseology case (opens in new tab) rather than on the phone itself, both because I am an ardent case-user and because it makes it easier to get it off when I need to take pictures.
Oh, and my most important phone accessory is, of course, my headphones. You'll be hearing more about those next week, so stay tuned!
Grab a Spigen Ring at Amazon (opens in new tab)
Andrew Martonik
I have so many gadgets, accessories, add-ons and doodads around that I could go on for days here. But there are a handful that I can guarantee I'll use just about every single day, no matter which phone I'm using.
On my desk, I have a Ventev 6-port charging station (opens in new tab) to keep all of my devices topped up when not in use. Rather than keep a Micro-USB cable around for older devices, I have these USB-C to Micro-USB adapters (opens in new tab). I have so many different USB-C cables I haven't standardized on one brand, but I do like the styling and robustness of the OnePlus Dash USB-C cables (opens in new tab). I'm wearing my Bose QC 35 headphones (opens in new tab) all day, every day.
When I'm out of the house, I've taken a liking to carrying this massive 26,800mAh battery from Anker (opens in new tab) because it can charge up everything, including my MacBook Pro. I've also been using the iOttie One Touch 3 car mount (opens in new tab) for my phone because it's sturdy and highly adjustable, and I'm now using Android Auto every time I drive.
Daniel Bader
Phone accessories are like potato chips: once you start, you can't stop. I usually buy a few good, solid cases for a new phone, but after swapping out a bunch in the early days and weeks I tend to settle on one, and that usually comes from one of two companies, Speck or Spigen. I love Speck's quality, and its Presidio case for the Galaxy S8 (opens in new tab) is the perfect blend of protection and unobtrusiveness. Similarly, I love Spigen's Liquid Air Armor for the Galaxy S8 (opens in new tab), which has held up incredibly well since I bought the phone in April.
To charge the phone, I've lately been lugging around this admittedly overpriced Nomad Powerpack battery (opens in new tab), which combines USB-C fast charging with Tile Bluetooth locating into a compact, rugged package.
When I have a wall plug handy, my Anker six-port USB wall charger does the trick, and to listen I music I've recently been enjoying the heck out of V-Moda's Crossfade 2 Wireless headphones (opens in new tab), which you must buy if you don't need noise cancellation. They're amazing.
Marc Lagace
My go-to phone accessory is a Spigen Style Ring (opens in new tab), which I make sure to slap on any phone I use. Admittedly, a style ring is not for everyone and arguments that it ruins the flow of the design of a phone are totally valid. But it's just so handy on its own. I'm constantly using it as a kickstand to watch videos on a table, and I instinctively use it to keep my phone secure when taking a photo or talking on the phone.
Then there's the included car mount, which is one of the more minimalist options you'll find for mounting your phone on the dash. There are cheaper versions of the style ring available, but I trust the build quality that Spigen consistently delivers. Speaking of in-car accessories, I use the Flexsmart X2 Bluetooth FM transmitter (opens in new tab) to connect my phone to my ancient car stereo while the included USB port lets me charge my phone on the go. How well it works in your car will depend on the location of the 12V port in your car.
Jen Karner
I tend to go pretty simple with my day to day accessories. These include my Belkin USB-C car charger (opens in new tab) which works with both my Pixel XL and my Samsung Galaxy S8.
The only other accessory that I use on a daily is a case. I haven't found one for my S8 that I'm particularly fond of, but I used an Incipio case (opens in new tab) with my Pixel. I managed to drop it a half dozen times without so much as denting the case, and since I am the clumsiest person on the planet a solid case is a must have.
Jerry Hildenbrand
I don't use one of those Spigen Ring thingies, but now I think I might want to ...
Anyhoo, I use a lot of stuff but have very few single things that stand out. I have a mishmash of USB-C cables, but I really like this 10-foot braided USB-A to USB-C cable from iOrange (opens in new tab) and just leave it plugged into my desktop. It's great as a charger or when I need to copy something from a phone to my computer. I have the business end tucked into this slick little cable organizer (opens in new tab). Best $7 I ever spent.
I also get a little (OK, a lot) OCD when it comes to smudgy screens. I have several of these microfiber mist sprayer screen cleaning things from AM (opens in new tab) and keep one in my laptop bag and the glove box in the car as well as on my desk. A couple of quick pumps of magic juice (it tastes horrible) then you wipe it clean with the little block and everything is clean and shiny. Until I touch it again and smear it. I swear I must have frog slime in my fingers or something.
What about you?
Take a minute to let everyone know your essential accessories in the comments. We'll probably use them for our wishlists!
Marc Lagace was an Apps and Games Editor at Android Central between 2016 and 2020. You can reach out to him on Twitter [@spacelagace.
Sony MDR-1000x headphones (wireless when I'm out and about, wired at home), unless I'm in the gym. In the case, I'd been using generic Bluetooth earbuds until I got my first pair of bone conduction earbuds last week. Traditionally use Spigen phone cases, but I purchased this case last week to get a little more dust and water resistance when I'm out riding my bike https://www.amazon.com/gp/product/B01HAPB0N8/ref=oh_aui_detailpage_o03_s... Finally, I just bought another tripod for my phone to replace one that went missing. Edit: also want to mention this charger, since it's perfect for me. I have a micro USB cable in the USB-A port for devices with that connection, and the USB-C port can output 30 watts of power, so it can charge both my Chromebook and my phone https://www.amazon.com/gp/product/B01IF4L1Q4/ref=oh_aui_detailpage_o04_s...

That's just indecent, Andrew. So many toys in one picture, and that sexy red U11 to top it all off...

Just one thing for my sexy phone, a skin, no bulk, keep it in your hands and try not to drop it for real. Good quality BT headphones are next.

Andrew, I had an older version of their car phone mount, but it kept falling off. My dashboard had a slight curve to it, making suction cups hard to stay put. How well does this seem to work, and does it ever fall off your dash? Thanks!

I have the new version in two vehicles. After four months neither stays tight in position and one kept falling off. But it is good if your cable isn't too wide for your phone and if you use your phone as a dash cam.

Mine stays tight on my slightly curved dash. Got one for my brother and he has no issues either. He did take a while to figure out that there's a film to remove from the suction cup before using — maybe that's what you're running into?

Philips in-ears and Nillkin Nature case when hitting the gym or some other outdoor activity that neccesitates their use.
Sony charging dock and Creative D100 Bluetooth speakers when at home.
Phone is an "ancient" Sony Xperia Z3.

I own one of those rings you guys talk of, made it much easier to one hand and use the camera on the Note 5, I out the ring on a puregear dueltek case. It is actually strong enough to support the Galaxy Tab S2 as a kickstand, which impressed me. I used to have so many gadgets because I got everything at cost from Verizon, so even Amazon was expensive for me lol. I have a stack of cases for each phone, more chargers than outlets in my home, headphones, battery packs, tripods, selfie sticks, OTG cables, Bluetooth keyboards, bluetooth mouse, 2 screen mirroring devices, micro HDMI cable, even an RC car controlled by a cell phone app and countless types of stylus among other things. UAG case and screen protector are the only accessories I use daily. I do use headphones a few times a week, I use yurbuds because they are great for running. I do carry a tripod in my car I use almost weekly for photography, nice to have for long exposure shots on the phone or a stable video.

-a paper-thin Elago case for my Galaxy S8+
-a $5 multi-band stuck onto that, which is also a stand and finger strap (i dont' like the style rings)
-an old Samsung wireless charging pad on my nightstand, which i lay my phone on when i go to bed (only time i ever have to charge this thing! :-D)
-Ncredible1 over-ear bluetooth headphones...AMAZING sound for $70 from RadioShack!
-Realistic ANC over-ear bluetooth headphones...also from RadioShack, but cost a little more ($100) to get noise cancelling...sound is not as good as the above.
-iBolt miniXL car mount....best i've ever used...so minimalistic!...yet i can snap my phone in with one hand, and the phone doesn't move at all (unless i want it to).
-some generic car charging thing (just in case) that has a retractable cord...it's really cool to just tap the button and the cord instantly disappears under my dash...like magic! haha
-oh, and two of the small Auvio bluetooth speakers...also from RadioShack...i keep both in my travel bag, and they pair with each other effortlessly, so i can have either stereo or my music in multiple rooms when i travel!
...that's it. (And no, i don't work for Radio Shack...i stumbled upon their going-out-of-business sale, and i tried out some stuff in store and was pretty impressed for the clearance prices....so i bought a bunch of stuff and really like it all.)

The wireless charging pads I have around the house and office.
But that's not really an accessory. No more than the charging cables people still living in 2012 use :P Other than that, nothing.

Wireless charging is convenient, but what phone do you have that needs charging so many times a day?

I've got probably 5 wireless charging pads between home (family), vehicles and work. 39 watt chargers for the vehicles. One over the ear wireless headphone - a bunch of various earbuds and wireless Bluetooth receivers for those earbuds. The 'Beats' family is generally pretty good - for me anyway.

Headphone! Never leave home without my Audio Technica m50x(s)!

Uag case for my gs8+
4 Samsung fast wireless charging stand
Sony mdr1000x
Cheap in ear wireless headphones
Carrying case for my other phones/ usb c hard drive

Car charger and case are probably the only literally every day but I use my gimbal and tripod quite often.

Use my Dex more than I thought I would. Very useful and does everything I need.

My favorite thing that I use every day is the Aukey Bluetooth to Aux thingy in my car. (I'm not really sure what the proper name was) My 2013 Malibu has Bluetooth built into the car but it only supports phone calls. This device takes care of both music and phone calls and works great with sound quality no different than if the phone was plugged directly into the Aux.

Earbuds or headphones, and a little car mount for driving, and a bit 30w Bluetooth speaker. That's about it, really.

Spigen style ring forever

I have the Style Ring myself but had to give it up because my Choetech Wireless Charger didn't like it. Kept it away (more than 5mm) from the pad. Even though I can wireless charge with my Otterbox Defender case on. Always used Spigen cases but at my Manufacturing Site needed more protection. Couldn't pass on the Kmashi 10,000mah power bank for $8 using the coupon code I read about from here. Red and Black is my favorite color mix. Rocking the S8 plus.

Slim case and screen protector, wireless charging stand for galaxy s8+, cheap Bluetooth headphones

Sennhieser Presence Bluetooth headset (mostly to listen to audible books); anker charging unit; a wireless charging stand (one at home, one at work), Incipio case; Gear Beast smartphone lanyard; Anker waterproof case (when needed); iTurbo screen protector; Samsung Pro Plus 128 gb microsd card; Caw.Car Universal Magnetic Car Mount;and Aukey USB-C cables.

I'm a MotoZ owner. Incipio wireless charging battery and JBL Soundboost Moto Mods have me covered.

My travel bag (Tortuga Air) has an Anker 20,100 mAh power bank, JayBird X3 headphones (and its annoying proprietary charger), and a JBL Clip 2 speaker. Other than that, I wear a Pebble Time (RIP Pebble).

Anger 10,000mAh power pack (which admittedly gets very little use with my KEYone)
Spigen Style Ring
Boss QC35 headphones

Aaaah, Andrew: The article is clearly titled "every day"... not what gadgets do you have and occasionally use. We all have a bunch of gadgets and "could go on for days". Every day, bro. Every day was the assignment.

Thanks for the reminder, bro.

The only thing that i use is the charger that came with the phone.I don't have any gadets

I couldn't do without my awesome bluetooth speaker. It's a must have for watching Netflix sitting at the kitchen table. Other than that just a case and quick charge charger.

Dont get me wrong I'm not one of the tin foil hat brigade but i am aware of the things your camera may be looking at. I am also not a pervert who's worried about my Oface but i do cover both my cameras on my phone with stick on shutters. I wish phones would come with a sliding shutter for the cameras just like old school cameras used to. Mark my words wait until they are using your facial expressions so they know if you like the targeted advertising displayed on your screen so they can show you more of the same. There has also been one case I am aware of where a dodgy porn app was sending back images from the cameras to be used as blackmail against the user. I buy these plastic stick on sliding shutters from soomz.io on amazon https://www.amazon.co.uk/dp/B01M18DIES/ref=cm_sw_r_cp_apa_BnsAzb9HWE4GK?... It takes like 1 second to slide the cover open or closed. Hey Zuckerberg and the rest of them cover there webcams on there laptop's with tape so i dont see why I shouldn't. Can't recommend them highly enough. I use them on my s8. The front one covers the iris scanner but screw using that anyway. Keep up the good work AC. P.S JERRY RULES

Wireless chargers everywhere!

No screen protector, and no case unless I know I'm going to be in a high risk situation. In those times, it's a Spigen crystal clear. I don't carry a charger, but have one in the car if I ever need it. In the car, I have a custom mount I built into the console. Kenwood headunit works nicely with the phone and gives me full control for calls and music.
My poor Jaybird X3's have been neglected lately. The USonic's are more comfortable AND sound better. Matter of fact, the U11 setup sounds better than wired earphones plugged into the M8, and the S7, and the iPhone 7. I'm still enjoying other headphones as well after the adapter DAC firmware update last Friday.

By the way, active noise cancellation is the BOMB for conference calls. Especially when the other guys in nearby offices are on the same call with their desk phones turned up on speaker. I dozed off during a call yesterday, lol.

I use a Plantronics in-ear Bluetooth and Headrush over ear Bluetooth headphones almost every day. I've applied a glass screen protecter on the phone and the phone stays inside a non-descript case. Sometimes I think about getting a selfie stick.

A good pair of earbuds, a slim case and an ESR ring grip haven't left my OnePlus 3T. My SO has a PopSocket on her phone, but I find a ring grip to be much better for me (even with the finger fatigue). What do you guys add to your phone to really make it yours?

SAMSUNG Galaxy S8+ with my UAG Monarch case, SAMSUNG Gear IconX Bluetooth and SAMSUNG Gear S3. I don't leave home without my phone Bluetooth headset and smart watch.

AKG headphones and wireless charger

Noontech over the ear headphones.
Neo hybrid case.
Aukey car charger.
iottie 3

The only thing I can say I use everyday is my Samsung wireless charging dock

My daily driver has been an HTC 10 for over a year, and I always use a case to protect my phone. The Ice View case offered by HTC adds functionality for my phone, but the price was way too high ($49.99 when I was looking) and the only color choice of black too boring. I found an Ice View case knockoff case in a cool turquoise on Amazon that does what the Ice View case does at a fraction of the price. I also always carry Bang & Olufsen earphones, so I don't have to mess with connecting audio via bluetooth on the go. I use Magic Mount in my car, which is a magnetic mount that attaches my phone to my vent for driving, since I have become an avid user of Waze. To keep my power going, I swear by my Anker 10,000 mAh portable battery which is easy to carry when I need it. For charging at home and when I travel out of town, I use the Anker 6 usb port charger. I can't tell you what a relief it is to have to find only one outlet in a hotel room and still be able to charge 6 devices!

Especially when the outlet isn't by a bed and is across the friggin room!
Android Central Newsletter
Get the best of Android Central in in your inbox, every day!
Thank you for signing up to Android Central. You will receive a verification email shortly.
There was a problem. Please refresh the page and try again.