What color Samsung Galaxy S7 or S7 edge should you get: White, gold, silver or black?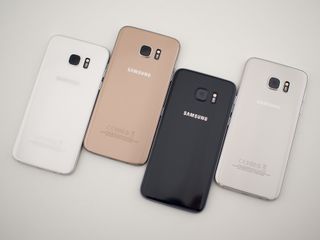 Now that the Samsung Galaxy S7 and Galaxy S7 edge are official and on sale, it's time to decide which color phone will be the next in your pocket. Samsung made an interesting choice this year by not offering all of the same color options for both phones. On the Galaxy S7, you'll be able to pick between white, gold and black.
If you are interested in the Galaxy S7 edge, you'll have the same color choices as the Galaxy S7 with the addition of a silver option. Samsung will only be offering the white variant in select markets internationally, and it won't make its way to the U.S.
Deciding on a new phone can be a difficult process by itself, but then once you add the stress of picking out the color it can be a bit overwhelming. So, which color Galaxy S7 is the right one for you? Let's take a look!
Distraction concerns
With how much we look at our phones everyday, the color of the front of the phone can be more important than the one on the back. Some colors are far more distracting to some than others, and with Samsung's decision to match the front and back color on the Galaxy S7 and Galaxy S7 edge this is something to take into consideration. Television sets all have a black bezel, and that is for a reason. The black bezel doesn't distract your eyes from the content on the screen, and it disappears into the darkness when watching in darker areas.
The same thoughts hold true on mobile phones. Some find the white to be an eye sore, and want a black front. The gold and silver can be great options, but won't disappear into the background as easily for some when viewing content on the screens of their phones. The gold and silver colors in particular are also very reflective, so when you're outdoors you may be looking right at light that's being bounced into your face.
But beyond this, there are other distractions that the color you purchase can bring on. For example, fingerprints. Gold and silver colors will show far more fingerprints than the white one will, thanks to their very reflective backs and how the glass stands out from the color — for some this is a deal breaker. Even if you are stuffing it in a case, the front bezel will still attract and show those fingerprints as you use it daily.
Coolness factor
One of the best parts about getting a new phone is showing it off to everyone who will listen, bragging about it and showing them just how nice it is. Because of this, the color you opt to purchase can be critical. This time around, Samsung ditched the dark blue in favor of a true black, and has eliminated some of the other color options, like emerald green. None of the Galaxy S7 colors are too far out of the ordinary, but they all offer something a little different.
Gold is always a hit on mobile phones, people seem to love it. Gold phones, gold watches, all things gold, right? But not everyone wants to be that flashy, and instead wants something a bit more stealth, which is where the black comes in handy.
Withstanding wear
Phones are tools that get used all day, everyday, by most people. With this type of usage comes wear and tear on the phones, and if you are extra tough on your phones you may want to pick a color that will hide some of that a bit easier. Like on cars, dark colors are less forgiving, they tend to show the imperfections a bit more.
Since the colors on all of the phones is actually underneath the glass panel, and not anodized, you are less likely to have to worry about one color holding up worse than another.
Cases are your friend
Odds are that regardless of the color you end up deciding on, the phone will likely end up in a case. Cases are your friend. They can provide additional protection, as well as change the overall look of the phone relatively easily. This doesn't mean you should just pick any color because you can wrap it in a case, because you will still see the color on the front of the phone, and you look at that all the time.
If there is a particular case color that you prefer to use, you may want to pick your phone color based upon what will match that. If you won't be using a case, or even a skin, the color may be a bit more important than if you were. If at any point you start to regret your decision, or wish you made a different one, you can always add a skin to cover the front and back, giving it a whole new look and feel.
Who should get the white Galaxy S7 and Galaxy S7 edge?
Details are a bit limited on the white Galaxy S7 and Galaxy S7 edge right now in terms of availability. Samsung has stated that this will only be available internationally, though never specified in what markets the company would actually make the phone available. Because of this, recommending the white version is hard, even though it's a great option, because we don't actually know if it will be available where you live.
If the white version is available in your market, it is the least likely to show the fingerprints, should hide scratches the best, but could be a bit distracting to have the bright white bezel contrasting with the dark screen.
Who should get the gold Galaxy S7 and Galaxy S7 edge?
Looking for something a bit flashier, or something that better matches your "all things gold" style preference? If this is the case then the gold is perfect for you. One thing to note is that depending on your lighting conditions, the gold coloring of the phone may appear different. We've seen the phone change from looking quite similar to the silver version to almost a rose gold color depending on the lighting.
Who should get the black Galaxy S7 and Galaxy S7 edge?
For most, black is the comfortable bet when purchasing a new phone, but comfort is not always bad. Samsung has opted for a true-black version of the Galaxy S7 and Galaxy S7 edge, instead of the darker blue model the company offered on the Galaxy S6. As stated above, television sets offer a black bezel for a reason — they want the content on the screen to stand out.
Some things you may want to consider with the black version is fingerprints and scratches. The darker the color, the more likely it is that you will notice scratches and scuffs. If you are going to protect the phone, none of that will really matter, but if you are looking to rock it without a case, this may be a deciding factor.
Who should get the silver Galaxy S7 edge?
If you want the latest and greatest from Samsung, and are interested in just the edge variant, you may want to consider the silver. Because only the edge version will come in silver, you can show off the phone to your friends who went with the Galaxy S7 knowing that they were unable to pick the same color. Additionally, the silver is actually pretty sharp looking, and is a pretty neutral option that would work for just about anyone.
The gold model, along with the silver, are both very reflective. The finish on them is almost mirror-like, so the way the colors appear will change based upon the surroundings. It will also make it tougher to view the screen in direct sunlight.
Still Undecided?
If you still can't make up your mind on a color, head into our amazing forums and join the conversation with the best Android community out there.
When push comes to shove, the color of your phone is only a small thing in comparison to other daily decisions we are faced with. Sure, you will be using it every day, and want it to be something that you like, but don't let it be the cause of stress in your life. Close your eyes, imagine your phone, and trust your instincts. Like we said earlier, if you regret it later just put it in a case or grab a skin, and you're all set. Once you've decided though, let us know which color you went with and why!
Get the Android Central Newsletter
Instant access to breaking news, the hottest reviews, great deals and helpful tips.
Jared started off writing about mobile phones back when BlackBerry ruled the market, and Windows Mobile was kinda cool. Now, with a family, mortgage and other responsibilities he has no choice but to look for the best deals, and he's here to share them with you.