What color Galaxy Note 8 should you buy: Black, grey, gold, or blue?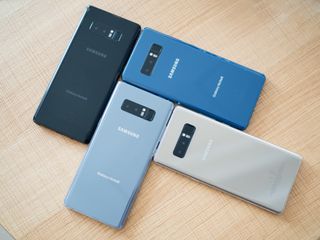 It's the question so many people will be asking themselves as they eyeball the Galaxy Note 8. Which of the available colors is "best" for me? Well we can't make up your mind for you, but we can offer looks at each of the four colors of the Galaxy Note 8, all side-by-side, and talk about a few of each one's characteristics.
Hopefully with that extra info and some pretty pictures, you'll have the knowledge you need to make a call on which one is the right color for you.
Galaxy Note 8 in Midnight Black
You can never go wrong releasing a black phone. Just like the Galaxy S8 and S8+, the "Midnight Black" Note 8 is black on black from the screen bezels to the metal surround to the back glass. It's glossy all around, and at a glance it's actually tough to differentiate between the high gloss metal and the glass on either side.
Who is it for?
If you're not sure about what color you want to get, black is always a safe choice. It's sleek, simple and understated, without being boring thanks to its shiny exterior. It's also best equipped to handle the daily scratches and scuffs it's likely to pick up as you use it, so this would be a great choice for those who may not use a case.
Galaxy Note 8 in Orchid Grey
You'd be forgiven for thinking that an "Orchid Grey" Galaxy Note 8 would be the same color as an "Orchid Grey" Galaxy S8 ... but actually, they're different. The Note 8's take on the color is considerably lighter, and far more on the spectrum of blue rather than purple. It's so different we're kind of surprised Samsung uses the same name.
It's still very attractive, for sure, and without being as reflective and outright shiny as the Maple Gold color.
Who is it for?
Orchid Grey is the lightest color available for the Note 8, and offers a light color option for people who don't want to go with gold or would have previously gone with a white phone when Samsung was making that color available.
Galaxy Note 8 in Maple Gold
Samsung has been doing some sort of gold/champagne/silver color for a few years now, and Maple Gold on the Galaxy Note 8 is a slight tweak on the historical norm. It's a bit deeper in color than previous versions, and it's accented by a super-shiny gold metal band around the sides. When the light catches it just right, the metal lights up — and at the same time the back glass can shift to a softer champagne or silver color.
Who is it for?
If you want to flashy, Maple Gold is the color for you. The bright gold frame really stands out from the other three colors, and will do the same in the company of phones from other companies as well.
Galaxy Note 8 in Deep Sea Blue
Deep Sea Blue instantly became a favorite of the Android Central team because of its deep, luscious hue of a navy-like blue with just a bit of a turquoise tinge depending on how the light hits it. It actually looks quite similar to the deep blue color offered in the Galaxy Note 5, though with more depth to it. The frame is the same kind of blue, and it's more on the dull side than the other colors.
Who is it for?
If you want a deep, strong color to your phone but don't want the flare and shine of the maple gold or orchid grey colors, this is going to be for you. It stands out from a crowd, but can just as simply blend in if you toss a case on it.
Regional differences matter
Don't get too attached to a specific color before you figure out which colors will actually be available where you live. If you're in the U.S., you'll have Midnight Black and Orchid Grey to choose from if you buy from the carriers, plus Deep Sea Blue if you go to Best Buy (opens in new tab) (carrier models or unlocked) or Samsung.com (opens in new tab) (unlocked). In Canada, the color choices are Midnight Black and Deep Sea Blue. Internationally, with some potential variations by market and retailer, you'll have access to all four colors.
Andrew was an Executive Editor, U.S. at Android Central between 2012 and 2020.
Color doesn't matter to most people.... because most people put a case on it. But, still, having a cool color underneath makes some people feel warm and fuzzy.... but I have never liked the feel of. fuzz (it is overrated and gross.)

If colors didn't matter to people, phone sales data would show that companies only needed to make one color, or never introduce new colors. Colors matter.

they matter so much in the US we get black or light purple.

While I will hide my Deep Sea Blue in an Otterbox for the majority of it's life, I like rocking it naked on long weekends.

At $1300 Canadian not a chance in hell exists of me buying it.
Just my opinion.

#BlackNotesMatter Yep, Black for me.

Hopefully they'll have it in gold when the unlocked version is released.

Never worry about that.... Best buy and Samsung later will absolutely do the new colors like the s8.... Just wait... But I wonder why the gold color had been absent since note 7 time until s8 And note8

I certainly hope so, but I want all the perks of a thousand dollar phone... free stuff (128gb micro SD & wireless charger OR 360 cam) and the Deep TARDIS Blue... I mean Deep Sea Blue. Wishing it were available in USA now! Sorry, the aspect ratio paired with color has my inner sci-fi nerd calling out, "hello sweetie", into the blackness [of every other Samsung phone I've ever owned].

In Hong Kong the 256g version is only $900..... Here....

The Whovian in me can certainly relate! 👍😎 Sent From Inside the TARDIS with my Note 8

https://www.androidcentral.com/e?link=https%3A%2F%2Fshop-links.co%2Flink... The website render looks identical "purple gray as the S8. I don't trust this AC depiction or the color representation via the AC photos. Remember taking photos of the Note 5, couldn't capture the blue in most lighting situations. Orchid Gray most certainly has a purple undertone to it.

Feel free to not believe me. I've just held the phones and photographed them, so it's not like I have any insight into this matter.

I've read that the n8 an s8 grays are a shade different can you verify that ..thanks

Just preordered the dual sim gold Note8.
Come to pappa

Well it's going to be rather easy to decide which color to get, considering we get boned in the USA and get the two most boring options.

None at $1000 for a phone that's a hair better than the S8+, which you can get for $300+ cheaper.

The Titanium one, no Titanium no buy, more of the same all glass fragile body, with plenty of bloatware, and Samlag.
That's not a phone, it's a tablet, when does this madness stop.

Do you even own a Samsung Galaxy , but you show up on all there post . Complaining

If you follow my posts you would know that I have owned plenty of Samsung galaxy phones.

Hey, let me by you Note 5 for cheap from you since you are a phone junkie. I'm not sure that I can spend the money on the note 8 right now and I miss my note 5. I have an s7 edge. I'll trade you this edge for your note 5. Just trying to catch a note 5...

Samsung.com/au only lists black and gold... Only interested in blue, and that's if I can be hoodwinked into throwing down $1500AU for a phone with what's clearly a ****ing undersized battery and no exclusive features or capabilities.

It's all about the SPen. There really is no way to duplicate the functionality on any S-device. Sure some might say "there isn't really any new functionality associated with the SPen in the new Note8." Althought that may be true, in my case my Note4 ceased to exist about a month ago, and I really miss the functionality using my fall-back S3.

You must buy the deep sea blue version! LOL!

I pre-ordered black. Now I want the grey

So cancel your pre-order, and pre-order again. Crisis averted!

You'd think after the Note 7 thing, they'd have all color options available to us.

not sure what happened with the note 7 has anything to do with colors . if you really want a different color ebay is your friend . all the colors plus unlocked pan cheaper to boot

"That means if you're in the U.S. and particularly fond of maple gold or deep sea blue, you'll need to import an international version. Unfortunately this annoying precedent for Samsung phones remains." How and/or where does a US citizen import a Deep Sea Blue Note 8 that'll work on Verizon's network???????? Yes, that's 8 question marks for the Deep Sea Blue Note 8.

As of December you can get one from any carrier in Canada and it will be unlocked by default I believe.

Typically you shouldn't import one and expect it to work on Verizon.

I really think it's about time that they send one of these phones to someone outside the norm to test and use, to see how it works in different situations - say, a homeschool mom. Let her use it to organize her day, sync and back up assignments and calendars with google, and take hundreds of pictures a day of her active kids. I bet moms everywhere would love a review of how the phone works for that. And I *guess* I could be the one to try it out. You know, for science.

... I'm going to wrap it in an OtterBox Defender so it won't really matter the color.

lol, Yes, my Defender arrived last week. I should have the phone Friday in store, from Bell Canada. Whatever the greenish color is... is the case I got.

Easy.. the only one available was black... blue sold out the first day

Spray paint it any color you want or plastic dip it?

Yup people are totally going to do that

Put a D-Brand skin on it and have any colour you want.

People other than YouTube reviewers actually use those? I've literally never seen one in the wild.

Blue ordered (hopefully I get it) and I have a spigen ultra hybrid s, so get to actually see the color the phone is. LOL

"Unfortunately this annoying precedent for Samsung phones remains." Seen much worse. LG with no wireless charging or Sony with disabled fingerprint readers.

The Sony thing is absolutely stupid.

Already ordered and received mine in Orchid Grey.

I would have loved to get the blue one but because I live in the USA black it is...

How about: Whichever one you like best? Don't overthink this, people.

It should only come in one color, gold, and I mean real gold, 18kt, with that pricetag. I'm personally offended at these new prices. 1k for a phone with a battery that's gonna be dog doodoo in a yr, not a chance in hell for me.

In the U.S. my understanding was only the Midnight Black or Orchid Grey were being sold. Which I thinks is a crock... there should be more selection for colors I want a red phone! lol I ordered the Orchid grey.

Note 8 is a lot better then the S8 plus. Better camera, less curve, more RAM for better performance and the spen with all the features that goes with it. It's a different phone built for productivity

Depends on what color is available when the phone is "discounted" back to the normal price. Not the current premium price you have to pay for the Note 7 debacle and the massive advertising budget on the Note 8.

Red... but they never make that available :( In this case I had to go with Black (although I would have preferred the Orchid Gray or, even better, the Blue one) because of the camera. It just doesn't match with any of the colors and it makes it look ugly. But for many, colors aren't an option, really... and when the unlocked version only comes in black (at least directly from Sammy US right now), well...

I got the shiny immediately fingerprint covered black one. It is cool when it is clean which isn't often. If you're using a clear tpu type case you have to make sure the phone is clean too or the fingerprints etc are visible through the case.

Is there nothing better to write articles about? I can brush my teeth, wear shoes and-Wow!-even use a computer. Surely I can decide which color I want for a phone by myself.

Someone's a big boy!!! Some people might want to read stuff like this before they get a chance to handle one.

Evidently you couldn't, otherwise you would have skipped this article like most people who feel the way you think you do.

I got the grey thinking it might be close enough to the titanium silver. The black on black is the way to go this time. I really liked the titanium silver last year though.

I wish the Deep Sea Blue was available for the USA. Sucks that its not.

If I was getting it....definitey would go with the blue....it's amazing

Why doesn't Samsung make all colors available in all regions? I really like the deep blue sea but since I'm on AT&T I'm going with the midnight black. I'm picking up my Note 8 tomorrow! 😁

You'll love it I have the Gray

I got the black. Love it.

I really wanted the Blue though usually I get black phones that blue looks amazing!

Only two options in Canada. Look, most people use cases like an Otter box.... It just doesn't matter.

Only 2 option everywhere an not everybody uses a otter box case I like thin an clear cases

Sort of. I am using the Otterbox Defender case, but on long weekends, I rock 'er naked! The Deep Sea Blue is pretty sexy!

It's sad they don't release all colors to all regions available. Sigh.

Black. That's the color mine is.

Black is always best for resell value.

#Samsungknights
Always bet on black

The new burgundy -- if it comes to the USA.

black, because it will match the majority of cases. There is no point in choosing a color no one is going to see.

Doesn't matter in a case.

actually I passed on an Orchid Grey because it has chrome trim which I don't like, it's visible with a case on ...so I got black.

It doesn't matter. 95% of buyers are going to put a case on it anyway.

Bought the blue one on Verizon. Has a case on it though, so I guess the color doesn't matter too much IMO. Best phone I've ever owned.

How about the color you like best.

Midnight Black is always my favorite color

Got the grey, but wished they had the blue when I got it.

Red if they only made one! lol , I got the Orchid Grey boring but really my only choice at time of release...

I have bought Note 8 is midnight black, so that is obviously my choice. Although i might have been tempted to try the blue if it were available at the time I bought it. Two colors that I will avoid for sure are grey and gold. Not because they are dull or anything, but most Samsung phones have it and from a distance the looks from the back are very similar to Samsung's midrange or entry level phones in gold or grey.

Got Maple Gold back in September.
After 3months I sold it and get the Deep Sea Blue! After that I'll stick with my blue Note8 for at least 2years!
It is the best looking color outhere!!
Android Central Newsletter
Get the best of Android Central in in your inbox, every day!
Thank you for signing up to Android Central. You will receive a verification email shortly.
There was a problem. Please refresh the page and try again.