What color Galaxy Note 8 should you buy: Black, grey, gold, or blue?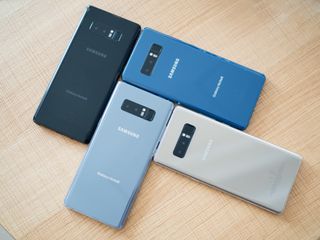 It's the question so many people will be asking themselves as they eyeball the Galaxy Note 8. Which of the available colors is "best" for me? Well we can't make up your mind for you, but we can offer looks at each of the four colors of the Galaxy Note 8, all side-by-side, and talk about a few of each one's characteristics.
Hopefully with that extra info and some pretty pictures, you'll have the knowledge you need to make a call on which one is the right color for you.
Galaxy Note 8 in Midnight Black
Image 1 of 4
You can never go wrong releasing a black phone. Just like the Galaxy S8 and S8+, the "Midnight Black" Note 8 is black on black from the screen bezels to the metal surround to the back glass. It's glossy all around, and at a glance it's actually tough to differentiate between the high gloss metal and the glass on either side.
Who is it for?
If you're not sure about what color you want to get, black is always a safe choice. It's sleek, simple and understated, without being boring thanks to its shiny exterior. It's also best equipped to handle the daily scratches and scuffs it's likely to pick up as you use it, so this would be a great choice for those who may not use a case.
Galaxy Note 8 in Orchid Grey
Image 1 of 3
You'd be forgiven for thinking that an "Orchid Grey" Galaxy Note 8 would be the same color as an "Orchid Grey" Galaxy S8 ... but actually, they're different. The Note 8's take on the color is considerably lighter, and far more on the spectrum of blue rather than purple. It's so different we're kind of surprised Samsung uses the same name.
It's still very attractive, for sure, and without being as reflective and outright shiny as the Maple Gold color.
Who is it for?
Orchid Grey is the lightest color available for the Note 8, and offers a light color option for people who don't want to go with gold or would have previously gone with a white phone when Samsung was making that color available.
Galaxy Note 8 in Maple Gold
Image 1 of 3
Samsung has been doing some sort of gold/champagne/silver color for a few years now, and Maple Gold on the Galaxy Note 8 is a slight tweak on the historical norm. It's a bit deeper in color than previous versions, and it's accented by a super-shiny gold metal band around the sides. When the light catches it just right, the metal lights up — and at the same time the back glass can shift to a softer champagne or silver color.
Who is it for?
If you want to flashy, Maple Gold is the color for you. The bright gold frame really stands out from the other three colors, and will do the same in the company of phones from other companies as well.
Galaxy Note 8 in Deep Sea Blue
Image 1 of 4
Deep Sea Blue instantly became a favorite of the Android Central team because of its deep, luscious hue of a navy-like blue with just a bit of a turquoise tinge depending on how the light hits it. It actually looks quite similar to the deep blue color offered in the Galaxy Note 5, though with more depth to it. The frame is the same kind of blue, and it's more on the dull side than the other colors.
Who is it for?
If you want a deep, strong color to your phone but don't want the flare and shine of the maple gold or orchid grey colors, this is going to be for you. It stands out from a crowd, but can just as simply blend in if you toss a case on it.
Regional differences matter
Don't get too attached to a specific color before you figure out which colors will actually be available where you live. If you're in the U.S., you'll have Midnight Black and Orchid Grey to choose from if you buy from the carriers, plus Deep Sea Blue if you go to Best Buy (carrier models or unlocked) or Samsung.com (unlocked). In Canada, the color choices are Midnight Black and Deep Sea Blue. Internationally, with some potential variations by market and retailer, you'll have access to all four colors.
Be an expert in 5 minutes
Get the latest news from Android Central, your trusted companion in the world of Android
Andrew was an Executive Editor, U.S. at Android Central between 2012 and 2020.