We're live from T-Mobile's Uncarrier 5.0 event in Seattle!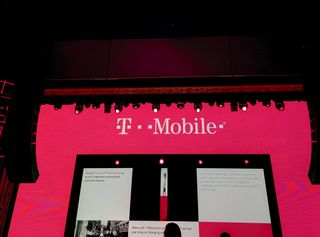 Does T-Mobile have any more great carrier ideas up its sleeves? We'll find out tonight in Seattle.
T-Mobile has rapidly changed its guiding principles and in turn pushed the entire U.S. wireless industry in a positive direction with its "Uncarrier" movement, and tonight it's set to unveil the fifth iteration of the Uncarrier. Following up on previous announcements that separated phone subsidies from plan prices, killed contracts, gave you free international data, let you upgrade your phone every six months and pay your ETF for switching carriers, T-Mobile's going to have to do something great to keep us excited.
We're going to be keeping up a liveblog of the event with pictures and impressions all through the evening, so be sure to keep it locked to Android Central to see all of the latest news from T-Mobile's Uncarrier 5.0 event.
Get the Android Central Newsletter
Instant access to breaking news, the hottest reviews, great deals and helpful tips.
Andrew was an Executive Editor, U.S. at Android Central between 2012 and 2020.
I'm excited Posted via Android Central App

yep cant wait to see what he has planned !

If T Mobile was offered here, I would jump ship in a heartbeat!

If T-Mo is more than 2G in this town I live in(and 40 miles around it), I would be on the $30 prepaid plan already. Instead I am stuck with AT&T Gophone for 500MB data and $10 more.

That's exactly my problem as well, only 2G =/ Posted via Android Central App

Mashed potatoes and Excalibur. Posted via Android Central App

I'm switching my sprint note 3 over to Tmobile for a month to check service around here. Posted via Android Central App

Tell us when we can get a G3 T-Mobile!!

I'm hearing a early July release date. Posted via Android Central App

Everyone needs to rally... NO SPRINT... NO SPRINT,,,,, BAD FOR T MOBILE.... BAD Posted via Android Central App

The only thing I can think of that would end up create a net benefit is if both T-Mobile and Sprint switched to voice over data, in which case non-4g infrastructure would be irrelevant. Posted via Android Central App

Every company will go to VoLTE eventually. There is no reason not to.

I'd be for a merger/takeover (note: it would be by Softbank, *not* Sprint) under the following conditions:
1. Decent frequency sharing or roaming agreements with the independent regional carriers
2. Multi-band phones that work on both Sprint & T-mobile's current frequencies
3. At least a 1-year freeze on rate increases
4. John Legere is CEO of combined company

No sprint please ! Posted via Android Central App

I live in Seattle. Can I go to the event?? Plus I wanna meet Andrew. He seems like a chill guy.

really like what tmobile has done so far

Andrew is a liveblogging machine.

waiting for it to start... 6 minutes to go!!!!

Can't wait to hear the news as my Verizon contract is up in 3 weeks!

You needn't have waited. T-Mobile has been paying ETFs for switchers.

Where is the live blog located?
Posted via Android Central App

Ditto Posted via Android Central App

Have to open the page in a browser I discovered. Posted via Android Central App

Ahh ok. Thanks! Posted via Android Central App

Ok, whoever is live blogging this, ease up on the pictures. Jeez.

Let me know when they get to the part about Sprint taking them over and him taking over.

No Nexus, No Peace Know Nexus, Know Peace

Thankfully the Nexus is soon to be dead, and that like T-Mobile going away , is a good thing. I will say that the music thing that they just announced is a good thing...

He just took a big crack at Sprint and their Framily plan. I'm sorry. It looks like you are going to go home disappointed there fella, just like every night at the bars.

He has next to nothing to do with it. DT holds all the cards and he is only a pawn. I won't lower myself to cheap shots...

So you think he's going to bash Sprint and announce a merger with them in the same event? You are a delusional fool.

And obviously your an idiot. I made my comment here long before he made his....

I'm so glad you weighed in dude.....it would have been bleak in here! I usually am drinking while posting here.....sorry

Exactly. You thought he was going to announce a merger or sale to Sprint. You were wrong. You must be used to it. "your[sic] an idiot"....A greater foil I could not construct myself.

So. No android phone, no deal.

Weird right?! And also, no mention of Google Music for unlimited data music plan VZW Moto X

Thanks for a great live stream gentlemen!!

This is a great deal for me because I will use the Iphone 5 to test the network and then buy the Note 4 when it comes out. I have lousy service from Version at my house and they said I had to buy a Network Extender for $175 to get decent service because they are not going to build any towers near here. I only live 18 miles frrom Phoenix so their network SUCKS!!!

I've been around phoenix area and had a chance to compare my phone w T-Mobile device (iPhone 5s).
Taking a loop around - 85 hwy to 8 EB to Eloy, data on T-Mobile was completely dead, while I was streaming video on my phone w a very few hiccups (switching LTE n 3g). If you have some driving to do out of town there, T-Mobile is pretty much useless. VZW Moto X

I'm a Verizon lifer and have zero issues with my coverage. Looking at T-Mobile's website it appears the coverage gets weak as you move away from town. I don't want an i-phone. I would like to test the network though. From the sounds of it you can test drive for seven days, return the phone with no questions asked and then jump ship when you want to buy the android phone of your choice?? I'm looking at the LG G3.

Verizon tested my neighborhood and determined I had 7% dropped which is unacceptable. The Network Extender takes a weak signal and feeds it through your router over the internet. I have had no problems since I bought the thing.
This is the way I read it, test the network with an Iphone and return it and get what you want.
I have heard Tmobile sucks in the Phonix area so I weill just keep Verizon. I have unlimited data so I have to pay full price for a phone. Verizon is a ripoff if you are single.
I get great 4G service here, it is only the phone calls that are affected. I wosh they would impl;ement volte so I can use my internet connection for phone calls.