Waze and Android Central are giving away one Android device every day for a week!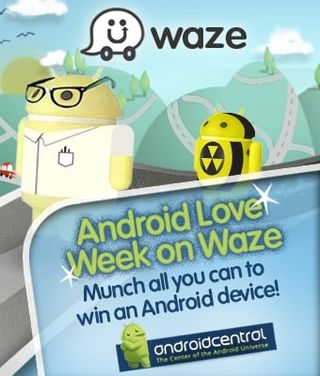 Starting today (Aug. 29), Waze and Android Central will be giving away an Android phone or tablet each day to a lucky winner. Entering is fun and easy -- download Waze from the Android Market (link after the break) or Waze's website, register a user profile so Waze knows how to get in touch with you, then find the "Road Goodies" that appear on your map and drive over them to collect. Entrants who collect the most each day will be eligible for a daily drawing to win an awesome new Android device. Which devices? We're glad you asked!
HTC Sensation 4G (unlocked) -- today
HTC EVO 3D X515M (unlocked) -- Tuesday
Samsung Infuse 4G (unlocked) -- Wednesday
HTC Thunderbolt (Verizon) - giving away two of these puppies -- Thursday and Friday
ASUS Eee Pad Transformer - Saturday
Samsung Galaxy Tab 10.1 - Sunday
It gets even cooler -- each of the phones on the list will also include a car dock and charger, making it the ultimate traffic survival kit. The contest begins now and runs through midnight Sept. 4. The winners will be announced Wednesday, Sept. 7. Full rules and details are after the break.
Just what is Waze? It's a free social mapping tool: you can get directions, find out where the traffic is, ping other users, and generally find your way around while helping other Waze users get better location and traffic information. Check out the full details on the Waze Blog.
Rules
Each day starting August 29th thru September 5th 2011, Waze and Android Central will give away one locked or unlocked Android phone or tablet.
Each road goodie collected is another chance to win.
Each road goodie is worth 10 points.
In order to be eligible, you just have to:
Download Waze from the website or the Android Market
Register a profile (we need contact info to get addresses for winners)
Drive over (munch) the Android road goodies
Details
Eligibility: You must be 18 years of age or older to enter the Waze Inc. (Hereby "Waze") Android Lovers contest.
Period: Waze's Android Lovers contest begins at 12:01AM EST on August 29, 2011 and ends on September 10, 2011 23:59 EST.
Prize restrictions: Each winner is responsible for any applicable taxes. Prizes listed are subject to its general availability on the market. In the event of non-availability on the market, Waze will provide a similar or equal compensation.
Limitation of liability: By participating, participants agree to release, discharge and hold harmless Waze and its partners, affiliates, subsidiaries, agents and their employees, officers, directors, and representatives from any claims, losses, and damages arising out of their participation in this contest or any contest related activities and the acceptance and use, misuse, or possession of any prize awarded hereunder. Waze reserves the right under its sole discretion, to cancel, suspend or modify the terms of the contest, in whole or in part; and the right to disqualify any participant in the event of tempering, unauthorized intervention, fraud, technical failures or any other causes which in Waze sole opinion corrupt or effect the fairness, integrity, legality or proper conduct of the contest.
Conditions: This contest is subject to federal, state, provincial, territorial and local laws and regulations. Certain restrictions may apply. Void where prohibited. Waze makes no warranty of any kind, express or implied, directly or indirectly, regarding the prize delivery and Waze is not responsible for prize delivery being late, lost, stolen, damaged, mutilated, incomplete, illegible, misdirected, or postage-due. Participants also agree (a) to be bound by these Official Rules; (b) that the decisions of the judges are final on all matters relating to the contest and (c) In the event that the selected winner(s) of any prize are/is ineligible or refuses the prize, the prize will be forfeited and Sponsor, in its sole discretion, may choose whether to award the prize to another winner.
Governing law/Dispute resolution: This contest shall be governed by and interpreted under the laws of the State of New York without regard to the conflict of laws doctrine of any jurisdiction; and any disputes, claims or causes of action shall be resolved only in a state or federal court located in the County of New York, State of New York. Any and all claims, judgments and awards shall be limited to actual out-of pocket costs incurred and under no circumstances will participants be permitted to obtain awards for and participants hereby waive all rights to claim, punitive, incidental and consequential damages and any other damages other than for actual out-of-pocket costs and all rights to have damages multiplied or otherwise increased.
Jerry is an amateur woodworker and struggling shade tree mechanic. There's nothing he can't take apart, but many things he can't reassemble. You'll find him writing and speaking his loud opinion on Android Central and occasionally on Twitter.
FIRST POST!!!! Nice!! Wish me luck, people!

Best of luck!!! /m:: waze

I sure hope this means all of their issues have been sorted out. Waze has been so frustrating to use for the last several weeks I have pretty well stopped and switched to My Tracks.

Every time I tried to use this app the past it wouldn't let me register. I could only use it as a guest. That's why I don't use it now.

I use Waze all the time. My guess is this contest is only available to new users? Great app, though, minus some bizarre routing choices at times. Like, "get off this exit and then get back on the highway."

hey dskwerl- the contest is open to all US users- newbies and waze veterans alike. Good luck! As for the the routing issue- waze often tries to outsmart itself and sometimes gives you routes that at times of more serious traffic, could save you some time- but if you continue along your own route, waze will eventually learn it and stop giving you the same issue- /m

I find that when waze has funky routes that rather than outsmarting itself for traffic reasons, it has to do with improper junctions, road directionality or allowed turns. I've also found I don't usually have the permissions to resolve any map problems I find so I've given up trying to use the editor... (Yes I know it recently changed)

I just downloaded Waze to my Epic 4g and now whenever I open the app it just shuts down right away, right after the boot up image... no error or anything. Not rooted or anything either, any ideas?

support@waze.com, brutha- also check out http://forums.waze.com/forum/. Community will help you answer most anything- good luck!

I would really like to sign up for this, but everytime I try it won't let me create a username... Very frustrated... I drive a lot, and would probably win this contest... Bummer

Sorry to hear that! Support@waze.com They should get you fixed right up :). Good luck!! /m:: waze

So the contest is open to people who are not Android Central users as well or how does Android Central and Waze know which users are signing up for the contest and which users just happen to want to use or found Waze in the market? Is it based on the email address you provide Waze which needs to be the same as your Android Central email or what? Who will mail me my prize, Android Central or Waze?

Hey hmmm- The contest is open to all US users- When you register your waze account, you provide an email address at which you can be contacted. Waze picks the winner at random from every road goodie munched. AndroidCentral will announce the winners next week and waze will send you the device- voila! Best- /m:: waze

Battery killer and not enough munchies

we had some problems with the road goodies for a bit, but they're back in effect! munch munch munch. ps: http://www.amazon.com/Charger-Adapter-Motorola-Android-Wireless/dp/B0047... . best deal evar. /m:: waze

Kind of an interesting "give away". In order to have a chance to win an Android device you must... have an Android device. In order to win an Android device you must be willing to drive more than anybody else participating in the competition. I hope you have lots of time and a very fuel efficient car.

Hey beercow- any mobile os platform in the states can play. Even one road goodie can grab you the win. Think them as free raffle tickets :)! Good luck! /m:: waze

Beercow, you don't actually have to drive more than everyone else. According to the popup when you load the app, you get one drawing entry for every robot "munched". You could potentially win with just one munch.

so is this international or US only?
new user or every user?
should I drive with an android phone or any other phone is allowed?

US only - ALL users are eligible :) iPhone/blackberry/winmo/Symbian included Happy munching! /m:: waze

If I leave Waze running in the background as I play Pandora (or other) as I drive, 98% of the time Waze will have shutdown on its own by the time my trip is complete. No fun.

I'm totally lame. Just spent the last hour and a half driving around random streets "munching" as many cookies and getting as many points as I could. 126 or so points later I headed home. All this just for a chance to get my wife a new VZW phone. Ah, love. :-)

I drove for 5 hours on Sunday, there were no Droids on the map to run over.

I haven't seen any announcements as of yet regarding the winners for the Android Munchfest, Is there a link I am missing or is there some other issue with the Contest?

I was thinking the same thing so I read over it again and it says September 7th on the Android Central rules, but September 10th as the end date on the Waze rules. My guess is they will be announced on September 10th.
Android Central Newsletter
Get the best of Android Central in in your inbox, every day!
Thank you for signing up to Android Central. You will receive a verification email shortly.
There was a problem. Please refresh the page and try again.