Verizon really is updating the Droid Turbo 2 to Nougat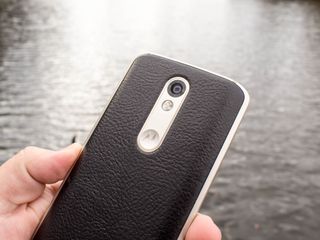 One of the big guarantees that came with the Droid Turbo 2 was software updates, which was a big deal after so many Droid Turbo owners felt left out when all of the other phones released at the same time were updated so quickly. Verizon's Turbo 2 push was a big deal in stores, but it's been a long time in smartphone years since those days and Motorola isn't exactly its own company anymore.
All the same, it looks like Nougat is officially rolling out for the Droid Turbo 2!
Verizon includes all of the usual warnings for a big update on their landing page (opens in new tab) for this announcement, but also includes some new information on how Nougat-specific features will work on the Turbo 2. Bundled notifications, multi-windows, and improves notification shade features all work the way you'd expect if you've used a Nexus or Pixel with Nougat.
It's not a surprise that Lenovorola would keep the software on this phone as close to the Google experience as possible given the way that UI was touted as a feature at launch, and of course Google Assistant is nowhere to be found. The big things for Droid Turbo 2 owners to look out for will be better battery life through enhanced Doze features, better data saving features in Settings, and of course more emoji than anyone will ever know what to do with.
This update will be rolling out to Droid Turbo 2 owners over the next couple of days, so be sure to hit up our Turbo 2 forums if you run into any update issues!
Android Central Newsletter
Get instant access to breaking news, the hottest reviews, great deals and helpful tips
In all it's bluetooth ruining glory! Lol

Droid Turbo 2 getting Nougat before the Moto X Pure edition. Slow clap for Motorola.

lol.but unlocked phones are supposed to get it first!!

not surprised at all. droid was updated (patched) way before my XPE.
unlocked GS7 was also behind carrier versions in US.

Awesome. And before the carrier-free 2015 Moto X Pure Edition!

I'm surprised, especially because Verizon isn't very good at releasing updates in a timely manner.

Says who? The Moto Z Droid and Moto Z Force Droid were the first phones not from Google that got updated to Nougat.

Some people still think this is 2010.

Yet my GS7 still doesn't get it. Cool, Verizon.

Still waiting on s7 edge nougat verizon. Why are they always last

Just downloaded it and installed it about an hour ago. They broke the SMS messaging app. I prefer the previous one (most recently seen in Marshmallow) over this kaleidoscope version. I'm sure everyone else who has had N for some time has gotten used to it, but I pretty much wish this one would have remained unchanged.

Yup, I miss the simple native app.

Cool. I was thinking of picking up a used Turbo 2 so I could ride out the wait for the Pixel if I make the switch to Verizon.

The Pixel is NOT an upgrade from the Turbo 2. I have the Pixel XL, the Turbo 2 and the Moto Z Force. It's a toss-up between the Turbo 2 and the Force with the Pixel in third place. The Pixel just doesn't have the real world convenience that we have with the Moto like chop chop and double twist. The active display on the Pixel is nice but not nearly as user-friendly as the Moto. I really struggled between the Turbo 2 and the Moto Z as to which is my favorite but I will always love the Turbo 2. With the Turbo 2 upgraded to 7,0 and the Google Assistant coming I would take the Motorola products over the Pixel every day of the week!

Now if only my sprint HTC One M9 would get updated to Nougat

Just installed Nougat on Turbo 2, installation was perfect. Running on T-mobile for 2 years no problem.

Seems my battery life is shorter. Anyone else?

I UPDATED TO NOUGAT....EVERYTHING WENT SMOOTH, TODAY HOWEVER I HAVE UNREAD MESSAGE NOTIFICATIONS BUT I HAVE READ EVERY MESSAGE, ANYONE KNOW HOW TO SOLVE THIS ISSUE?
Android Central Newsletter
Get instant access to breaking news, the hottest reviews, great deals and helpful tips
Thank you for signing up to Android Central. You will receive a verification email shortly.
There was a problem. Please refresh the page and try again.