Verizon Galaxy Nexus date of Dec. 15 looking likely according to this Costco document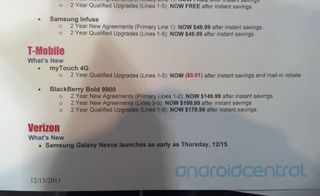 We got this gem from a Costco Ninja, and when added to the rest of the leaks and pictures pointing to a December 15 release date of the Verizon Galaxy Nexus, the evidence is getting pretty strong. Maybe not strong enough for a certain editor who want's an officially official announcement from Big Red, but enough that we want to pass it all along. Engadget also got in some new leaked docs which point to Dec. 15, from Verizon corporate and Costco, you can check those out at the source link. Our tipster also stated that the Galaxy Unicorn has a price of $289 with a new contract at Costco.
Will Dec. 15 be the day? Heck, I dunno. It's as good a day as any to release a phone, and it is before the end of the year. We just want the damn thing released so we all can play with it, then maybe other carriers here in the states can get a version of their own.
Thanks Anon!
More: Engadget
Android Central Newsletter
Get the best of Android Central in in your inbox, every day!
Senior Editor — Google Ecosystem
Jerry is an amateur woodworker and struggling shade tree mechanic. There's nothing he can't take apart, but many things he can't reassemble. You'll find him writing and speaking his loud opinion on Android Central and occasionally on Twitter.
Hmm, interesting. More proof, yet that was what was said about the other launch dates. Afterall, no official word from Verizon

I just got called by the Verizon store that I left my name at on "the list" for the Galaxy Nexus. They said they are starting to sell them the 15th and asked if I wanted to make an appt. Got my appt scheduled for 9am. Whoot.

"as early as" though sure makes it seem like a wishy washy date.

im not holding my breath, but still cant wait

Of course its the one day I have to work early and won't be free until 2 or so. I just hope they all aren't sold out around me. I will be incredibly pissed.

I just wish I wasn't typing on my bionic right now ...

I was told the same thing today at Costco. So I will call them Thursday morning to verify that the phones will be available for sale. Hopefully Thursday is the day, but if not, I still really want this phone.

(key phrase) as early as.....

Well, the 15th would be the last day of the 10 applications for 10 cents to celebrate the 10 billion downloads. I think that would be a great way to celebrate!

this anti-launch has been disgraceful.

Does anyone think we still have a chance of receiving some sort of notification email based on the sign-up pages provided by Big Red and Google? Or has that ship already sailed, sunk and now being investigated by divers?

It has been non-communicato for so long that it has been uh-fish-ulley declared ded, d-e-d, ded, can not resuscitate. Notify next of kin.

I often wonder about that sign up sheet. They have not provided anything, why ask people to sign up for information if you have no plan on actually sharing it, perhaps they did it see how many people were interested in the phone, seeing how many proactive Nexus fans were out there in order to see how many units should be manufactured.

It says 12/15, not 12/15/11. With Verizon you never know...

I'd love to have a Galaxy Unicorn, although the actual phone seems just as rare.

lets bomb verizon's twitter account #whereisnexus

There was once a time when such a news article would have garnered 100s of comment posts in minutes.

12/15 is my birthday so anyone feel free to send me a nexus :)

It's interesting how Verizon is not advertising the GN like T-Mobile did last year with the Nexus S. I know the members of AC are is a small snapshot of VZW's total marketing audience and a lot of people here are anxious to get the phone, but the general public knows nothing about this phone. Why they're not shouting from the rooftops about this phone is beyond me. Samsung must be scratching their heads and wondering if their decision to launch with VZW was a good decision. I was in London several weeks ago and the GN was being advertised everywhere. Billboards, buses, in the airport, just about everywhere you looked.

That's easy, Verizon no matter what anyone says; does not want the nexus to sell. Why? They don't have their hands into every pocket of the device. If It doesn't say Droid in front of it, and don't have blockbuster,bing,NFS,VZnav, Vcast apps,city ID, ect. ect. they don't want it. If they can't control the updates they don't want it. Basically everything that makes a "Nexus" a nexus VZW HATES! They bid on this phone to try and save there cred with the geeks (US) and the hype machine worked, but as usual VZW dropped the ball; digging their grave with us geeks even deeper. C'mon Google bid for sprint! It's time we cut the middle man out by the balls. And that sir is why you have not scene one commercial or even web ad (from VZW) for the LTE nexus. heck they don't even have posters at the stores.

I have a question for you all, is there a list (somewhere on the internet) that lists all of the ICS Compatibles Apps in the Android Market, or is there a way to find out?

I'm not sure what you mean. Just about every app will run on ICS without modification.

STILL beating that dead horse? good god man! I'm almost relieved my upgrade date is 1/13 so I can stop being disappointed by this Verizon nonsense.

I want this phone as much as if not more then most, but I spoke with a buddy who is an account manager for Verizon Wireless and he said it looks like the release date will be Monday 12/19. This seems more likely then Thursday due to the fact they didn't announce it today (12/13). Also, the wording "as early as" in this leak doesn't really instill much confidence. I also stopped in to my local Verizon store today and got a pretty cold reaction from the sales guy when I mentioned the Galaxy Nexus. His tone was part pissed that I even asked, and part frustrated that he didn't have any information (well at least none that he was willing to share). So my money is that we won't see it this week...no matter how desperately I don't want that to be true.

i'm just saying, they usually plan their premier phones for Thursday debuts (look it up if you want) so it can either be this Thursday or next Thursday, i doubt Monday.

It will be the 15th.. Which is a Thursday...

They didn't announce the Rezound's release date, until the Monday morning it was released. The Razr was released on a Friday.

$289? It better have 32gb on board or else F big red!

N yes its 32 on board no expandable memory

2 different Verizon stores in the Boston area both said it will be on sale on the 15th....

And I am still now 100% sure if I am getting it or waiting.. Decisions decisions!

I got a call from a verizon employee today asking me if i plan to come in on the 15th to buy the nexus! so i dont know about the rest of the verizon stores , but my hometown store is selling them thursday! i called back later that day to confirm my appt , and asked a different employee when its out , she said thursday the 15th . so take that for what its worth .

Actually both Verizon stores I went to both said they have then in stock but can't show our sell them till the 15th.. So I know they have then now.. Just have to wait to actually get one

Galaxy Nexus user guide also up on regular Verizonwireless site too. https://www.androidcentral.com/e?link=https2F2F...

As A Wireless Kiosk Employee in Costco i would like yall to know we have them in Stock, but arent allowed to sell them...also they havent offically told us to sell it Thursday so we will see.

#whereisnexus retweet me I've spent all my tweets for the day

Probably get flamed for this but: Here's a new rumor about the Galaxy Nexus: According to the Verizon guy at Costco it's hopefully being "released this week" but it's been delayed since "when you dial 911 on the phone it shuts off". Take it worth a grain of salt.

5 hours ago, I picked up a new phone for my wife at our local Verizon retailer. I asked the sales guy about the Nexus and he simply said that out of all the previous rumored release dates, this Thursday is the first one for which they have received an actual confirmation from Verizon. YMMV

Just hope its out before January 15 or ill b stuck with this razr

Maybe this is the GN Bundle from Costco?? This pic turned up this am on the Costco wireless site... http://membershipwireless.com/images/Catalog/3962602e-054a-c862-469c-9e7...

Take this for what's its woth...I live in NJ and while out on appts for work stopped by Costco (near Willowbrook Mall) & Verizon on Rt 46 Elmwood Park. At first both said that they didn't know anything about when the Nexus would be out, but after prodding they both said that they had stock in the back. Neither would let me see it. Fast forward to 22mins ago, ( I am currently sitting in my car on Rt 46 near Little Falls) and stopped by the Verizon store. Sales rep who greeted me said that he didn't know when it would launch. Frustrated I said that I know they had stock in the back. He told me to hold on. Called over his mgr and I asked yet again. Once again we play the the IDK game. I would love to play poker against these guys.....he finally said that they are selling them tomorrow. I asked if they had any demos in the back...he said not that he could bring out. Explained how pissed i was at VZW and how they have handled the marketing and roll out of this phone. He agreed 100%. He then pulled from his back pocket, the Nexus. Explained that he just got it and hasnt had time to play around with it. My mouth hit the floor. He is an iPhone user and said it was such a better phone. He let me play around with it. Now I never post in these forums but I don't think I've been this excited since I found out I was having twins. Hopefully this guy is right because I'm canceling my morning meeting.

Looks as though I wasn't lied to....SCORE
Android Central Newsletter
Thank you for signing up to Android Central. You will receive a verification email shortly.
There was a problem. Please refresh the page and try again.