Use caution when changing the Galaxy S7's default calendar sync settings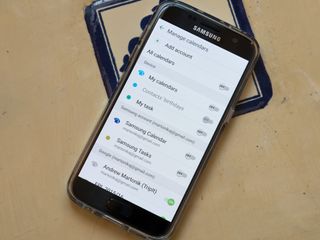 One of the best parts of Android is being able to install apps from Google Play that replace default apps on the phone. And in the case of the Galaxy S7, you may find yourself downloading a new calendar app to replace Samsung's Calendar. That's all fine and good to do so — but we have a word of warning about turning off sync inside the stock Calendar app.
It's completely reasonable to think that if you're not using the Samsung Calendar app that you should disable syncing in the app — it definitely seems duplicative to keep it syncing all of your calendars if you're never going to look at it. But with the way that Samsung has made its default apps part of the system, making changes in the Samsung Calendar app actually has a wide-reaching effect on the system-level syncing of your accounts.
Though it looks innocuous at first to toggle off all of your calendars in the Calendar app, what you're actually doing when you turn these off is turning off the system-level calendar syncing for your accounts. For example if you use your Google Account for calendar syncing, toggling off that calendar in the stock Calendar app will turn off Google calendar syncing for the entire phone. So even if you install the Google Calendar app (opens in new tab), for example, it won't be able to sync because you've already turned off calendar syncing for your accounts in the system.
Unfortunately, Samsung doesn't actually explain this in the Calendar app. The ambiguous "on" or "off" toggle next to each calendar doesn't really give you the information needed to know that you're actually turning off calendar sync for the whole phone, and you really only find out when your events aren't staying up to date.
So what's the fix? Well, it's pretty easy: if you don't want to use the Samsung Calendar app in any way, just head into its settings and turn off event notifications — but leave all of the calendars set to "on." The app will simply sit in the background doing nothing, and the system will keep syncing your calendars for use with other apps.
Android Central Newsletter
Get instant access to breaking news, the hottest reviews, great deals and helpful tips
Andrew was an Executive Editor, U.S. at Android Central between 2012 and 2020.
Thank you for the heads up! Sent from a device beyond your wildest dreams!

Thanks Andrew! Posted via the Android Central App

Wow...that's so incredibly funny and original. Did you come up with that all by yourself?

"Samsuck", "Samsh*t", "Scamsung", "Bloatsung", "Samcrap", etc. I don't hate Samsung at all, actually. In fact, my next phone is potentially going to be the upcoming Galaxy Note 6. It's just that from my years of following Android news blogs, there's always those words in the comments section. It's honestly annoying and IMHO, also immature. I automatically lose respect for whoever blurts out either of those words. Now, it's fine and dandy if you dislike Samsung. Just don't be a child about it.

The second I see "Samsuck," "crapple," "iSheep," etc in a common, I just add that person to the list of users whose posts I don't bother to pay attention to. Posted via the Android Central App

I've never even opened the Samsung calendar app on my phone so had no idea...guess I'll just leave it as is.

Join the club Posted via the Android Central App

I assume the same will apply to the upcoming Galaxy Note 6?

Been the case on most recent Samsung phones. Posted via the Android Central App

Probably best to know some of the recent quirks on Samsung's newer phones since I'm potentially going to be one of the first guys to have the Note 6 when it comes out.

I had the same issue with my wife's Galaxy S6. I was having a helluva time getting the Google Calendar to sync properly and the only fix was to turn on sync for the native calendar. Once I did that everything started to work in the Google Calendar. Posted via the Android Central App

Nice find! Wouldn't have thought of it! Slap on the wrist, Sammy!

If you're looking to use another calendar app, it's worth mentioning that I've had success with disabling the Samsung Calendar app with Package Disabler Pro and installing the Google Calendar instead. I didn't turn off any syncing prior to disabling the Samsung Calendar. End result is that I don't have any kind of interaction with the Samsung Calendar and Google's works as expected.

Couldn't you just go into the app manager, and disable the calendar app? Or will that kill syncing too? Or won't it let you?

I'm fairly certain this has been the case on Android (all Android phones) for a while. Google Calendar syncing is handled by the background Google Calendar Sync service (you can see this in the Application Manager > More > Show system apps). So when you toggle off syncing on a Google Calendar you are actually telling the sync service to stop pulling in data for that calendar. Google's app, Samsung's app, and every other calendar app on Android than uses the calendar API to actually read and write data to the intended Google calendar. So we have separated layers of abstraction going on (very common software development practice): Google Calendar Sync Service (runs in the background pulling in and pushing out changes to Google's servers)
Google Calendar Storage Manager (handles storing calander data locally on the phone)
Google Calendar API (Application Programming Interface to allow apps on your phone to interact with the Sync Service and Storage Manager)
Samsung Calendar App / Google Calendar App (user interface that you interact with as a user) So your best bet (just like on any Android phone) is to either disable the Samsung Calendar app or turn off its notifications if you would like to use another Google Calendar app.

Just came here to say that the Samsung calendar is actually very, very functional and well put together. Give it a shot Posted via the Android Central App

Works for me. I have it set to notify me of upcoming events and the like, and I don't know if there is anything else you can do with it, but I don't see what the problem is. Posted via the Android Central App

I've actually ditched the other calendar apps I usually use

Yup, it's great. I compared it to Sunrise, Outlook, Google Calendar, etc. Overall Samsung's S Planner is far better than any of them.

I love the Samsung calendar. To each their own, but I just can't wrap my mind around not liking it. Posted via the Android Central App

I learned the hard way on my S3. I wasn't using the Samsung calendar all so I did some disabling and BAM Be Together Not The Same

This is one of the reasons I switched from a Note 4 to a Nexus 6p. Posted via the Android Central App

Exactly Be Together Not The Same

Yes thank you Andrew for the heads up. Just got my wife an S7 so I'll make her aware. Posted via the Android Central App

This was my experience recently on my M8 Google Play Edition phone: I replaced the Google Calendar app (I couldn't deal with a few issues it had), so I uninstalled all the updates and disabled it and then my new calendar app wouldn't sync. As soon as I enabled the Google Calendar app everything synced.

Lol I feel like I'm the only one who likes the Samsung calendar Posted via the Android Central App

Only problem I really have with calendars is when I create a calendar event in Google Now (usually via voice) and then when I'm asked to save it I still have to choose whether Samsung Calendar or Google Calendar (my preferred default)...any ideas where to fix? Posted via the Android Central App

My Outlook.com calendar on my S6 is not syncing (via ActiveSync). It says "Sync is currently experiencing problems. It will be back shortly." Email and Contacts work fine. Anyone else having the same issue?

I went from a Nexus 5 to a Note 4 and now an S7 edge. I was used to using all of the Google Apps and so I ignored the Samsung versions. With the S7 I decided to try the stock Samsung versions and find that I like them better than the Google Apps I had been using. Switched over on the Note 4 as well (using it for work) and am quite happy. Posted via the Android Central App

Yep. I think Samsung makes the best calendar app for business users. It beats the Nexus 6p calendar (Marshmallow) by a long ways. I have a Note 5 and 6p. Posted via the Android Central App

On older galaxy devices, you can disable calender and the Samsung exchange service, and install Google's default Google exchange to get it more like Google stock.and still work. Can't you do that with the S7?

not sure if it's just this particular writer, but the first two paragraphs seem to say the same **** before getting to the meat and potatoes... not the first time from AC, the click-bait article capital!

Thanks for this article. It was driving me batty as this used to work fine until some recent update. That is, I was able to keep my personal calendar in one app and use a second calendar app for my work appointments. It was clean and easy (I do this with email also). Now I cannot due to the calendar settings getting changed "centrally". When I make one calendar 'not visible' in the one app, it automatically is changed for both. I have not yet found a way to get this to work and even contacted Samsung who gave this reply: "We have duplicated the issue on our end and see that events of one calendar are reflected on other. You cannot use different calendars and keep personal life events separate from work life events. Samsung always strives to produce the products which meet customer's necessaries, demands on functionality, user reliability, and technical durability of materials. We appreciate hearing from our customers, as your comments are vital for us to continue improving our products, as well as our business. We strive for the best in customer satisfaction. I know how it feels as the features you liked most in a product are altered. All Samsung products are manufactured to the specifications of the service provider for whom they are produced. We will forward your feedback along to the appropriate parties. Samsung keeps developing products and updates using the currently available technologies in the market and will be releasing them on a timely basis. Hopefully you might be getting all the features that you are expecting in the devices and updates which will be released in the future. " Um, not a great sign it will be fixed/changed back to how it used to work. Anyone found a workaround to this??
Android Central Newsletter
Get instant access to breaking news, the hottest reviews, great deals and helpful tips
Thank you for signing up to Android Central. You will receive a verification email shortly.
There was a problem. Please refresh the page and try again.