Upgrade the storage of your NAS with these discounted 6TB and 8TB Seagate drives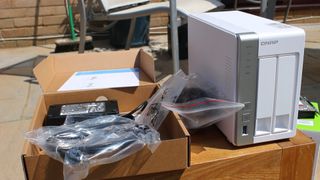 NAS drives aren't cheap, but we recommend them over desktop-class HDDs because they're specifically designed and built to operate 24/7. Seagate has a sale on right now for the weekend of Black Friday across its IronWolf NAS HDD range, allowing you to pack your NAS full for less.
The cost per GB for the highlight 6TB deal is $0.023, making this a great value proposition for any NAS owner.
Seagate IronWolf 6TB HDD
$140 $180 $40 off
Seagate's IronWolf series of NAS drives come with many special features, including a speedy 7200 RPM motor, 256MB cache, support for up to 8 bays, and enhanced vibration and stability protection.
If you want even more storage capacity, Seagate has also discounted the 8TB version of its IronWolf NAS drive, slashing a full $70 off the original asking price. The cost per GB for the 8TB is also $0.024.
Seagate IronWolf 8TB HDD
$190 $260 $70 off
This 8TB variant is like the 6TB HDD we highlighted above in all ways aside from capacity. If you can stretch your budget a little further to include a few of these, you'll have plenty of space to spare for data.
Android Central Newsletter
Get the best of Android Central in in your inbox, every day!
Thank you for signing up to Android Central. You will receive a verification email shortly.
There was a problem. Please refresh the page and try again.