Trade in your old phone for up to $300 off a new Moto X from Moto Maker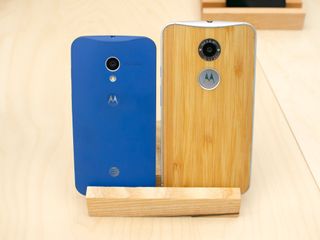 Motorola wants you to trade in your old phone for a new Moto X
Motorola has a nifty little trade-in program all set-up for buyers of a new Moto X from the Moto Maker site. When you buy a new custom Moto X, you can send in your old phone and get a Motorola Visa Prepaid Card back in the mail.
Depending on the phone, you can get up to $300 back. I'm sure we'll know more details on this one as the day progresses, and Motorola says you'll be able to find out the details at their Trade In site.
While we imagine you'll only get the full $300 if your phone is worth more than that, the convenience of selling this way can't be beat. I get too attached to sell off my old phones, but I have a feeling more than a few others will take advantage of this program.
Will you?
Get the Android Central Newsletter
Instant access to breaking news, the hottest reviews, great deals and helpful tips.
Senior Editor — Google Ecosystem
Jerry is an amateur woodworker and struggling shade tree mechanic. There's nothing he can't take apart, but many things he can't reassemble. You'll find him writing and speaking his loud opinion on Android Central and occasionally on Twitter.
Wasn't expecting a trade-in deal. Nice!

Exactly. I was trying to figure out what to do with my current X.

Keep it as a backup, or sell it on Ebay or Swappa is what you do with it.

Primero. I want to know how much a mint 32 GB Nexus 5 would get me for the trade in.

I checked. $85. They don't even make a distinction between 16gb or 32gb.

I would easily give double for a Nexus 5.

F that! Posted from my Nexus 5 via Android Central App

Oh no.. That won't work at all.. Posted via Android Central App on The Nexus 5

I'll easily sell mine for $200+ on Craiglist. All trade-in programs are scams.

This is very tempting. I wonder if and when the maxx will be announced Posted via my awesome, longer lasting phone than yours aka droid MAXX

Maxx would be the only way to go. This battery size is shameful. Posted via the Android Central App

$60 for my Verizon Developer Edition X. That is pretty lame.

Yeah. Big time. Can easily get $250-400 on Swappa likely. Posted via Android Central App

85 bucks for a 32gb Nexus 5 ..... uh NO!

$100 LG G2. Can't believe that beat the nexus 5 32gb. You can get more from craigslist/ebay.

Damn, only $85 for a Nexus 5. That's rough. Shame, because the new Moto X looks pretty great. $125 for the 64 GB HT One (M7), which is a bit better.

That's a huge difference in size... Posted via Android Central App

These things are never worth it, seems they get worse all the time too... I remember trading in my first EVO to Sprint for like $120, but every successive phone the offers got smaller. Swappa/Ebay/Craig's/Heat FTW

$250 for my HTC One M8. Kinda tempting. Need to see more hands on videos and features from the new Moto X. Posted via the Android Central App

You can sell your M8 on Swappa for twice that. I did only a month ago.

Really? I haven't been on swappa in a while. Either way I love my M8 so far. It'll be hard to part ways with it. Posted via the Android Central App

Yep. Then again mine was a Dev Edition in mint condition, but I know you could at least get 400+ easily if your phone is in respectable shape. $250 is just terrible, though. I also really liked my M8, but I needed a phone with a better camera. I'm hoping HTC works that out and I can get back onboard with the M9. Posted via the Android Central App

$125 for my Sprint HTC One (M7) ??? Tempting......suppose I should wait for the next nexus before any impulse buys.

Should I sell my oneplus one for moto x......? No, I will keep it. I think I would of got one If I didn't get this but I love my oneplus one and still costs $150 less than moto x Posted via Android Central App on 1+1

Link is broke.. $60 for my moto-x..? oh well,i think its priceless.. best phone hands down i've ever had.. too bad in my rush i signed up for 2 year contract.. i am stoked about the motorola hint.. i listen to a staggering amount of podcasts..

Have you tried using it on a desktop browser, or a mobile browser in desktop mode?

Fyi, check around, I found that other places like gazelle and gamestop would give me more for some devices.

What a joke! $60 for my one year old Moto X.

They just quoted me $100 for a LG G2 T-Mobile. I could sell it online for double that price. They are paying less for their own year old models of Moto X..Hmm

What a joke! They only will offer $60 for a Samsung Galaxy S3. I can sell it for a lot more than that on e-bay. I like how this phone looks but can wait and be happy with my S3 until my contract is up in June and see what my options are then.

Yeah for $60 I will just keep my Samsung Galaxy S3. I think it would be handy to have around the house as a Google Authenticator, email, remote control etc. anyway.

$60 for Nexus 4, I would keep it in a drawer for that

You'll get $300 for a factory sealed 64 GB iPhone 5s. Posted via Android Central App

I just checked, and my 32GB Moto X (VZW) in nearly perfect condition (not a scratch, ding or knick on it) was valued at $60 for trade in. At that price, I'll just keep it as a backup...

This is good I would think for terrible phones that are sitting around people's offices no longer being used. No one would want to buy my HTC Thunderbolt. But, if I was considering getting a Moto X and they take $40 off with my HTC Thunderbolt sent to them, then why not; thanks. That's about it though.

$60 for my perfect condition GS3? .. I don't think so.. nice try Moto, but I'm going to wait to see what the Nexus 6 is about before plunking down $500 for this thing :)

Trade-ins always offer the worst money, but they are the safest route.

No. It's a OnePlus one with a smaller screen, less RAM, less storage and smaller battery. And they would probably offer $200 for it like their is any better. They're only offering $60 for their own phone that's only 1 year old. That tells you something Posted via...The One

$60 for my Moto X Dev Edition (Verizon)....ummmm No. Definitely not what I expected. Posted via Android Central App

I can tell without even looking that the only way to get the full $300 is with a 64GB iPhone 5S. All trade-in programs are horrible, and there are no exceptions whatsoever. Selling your old phone directly to a second party is the only way to get a fair price.