Sizzlin' Summer Android Accessories Roundup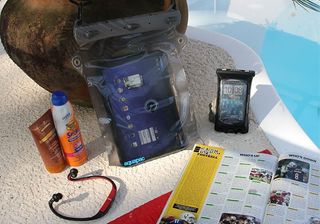 Grab the hottest summer accessories for your Android smartphone and tablet
As things heat up this summer, it's important that you keep your Android device cooled down with these great summer accessories available here at Android Central. As we break in to this brief summer edition of Accessories Roundup, we'll be covering the most popular waterproof cases and wireless solutions to accommodate your Android smartphone or tablet.
Whether your going to the beach for a family vacation, a weekend deep-sea fishing trip or even just simply jogging the trails at your favorite park-- you'll want to make sure that your Android device is safe and secure from moisture, heat and all other elements that are presented to us during the hottest season of the year.
Ready to get this party started? Head past the break for more information on sweet summer accessories for your Android.
Top Android Waterproof Cases
We've ended up near the water, with our Android device unprotected, and it just happens to slip from your hands, out of your pocket or gets nailed by the waves. Keeping your Android device dry and safe from moisture should be a top priority during the summer, especially when you're planning on taking those weekend trips to soak up the sun. Here's a quick look at a couple of our most popular waterproof cases for Android.
Swipe to scroll horizontally
Top Bluetooth Headphones for Android
There's no denying that the summer isn't exactly forgiving when it comes to the heat. If you plan an getting any form of exercising in, then you can expect to sweat. Listening to your tunes on your Android smartphone can be difficult when you're sweating out in that summer sun with a standard pair of headphones. The good news is that we've got some great choices for Android wireless headphones that are not only comfortable to wear, but are safe against moisture as well.
Swipe to scroll horizontally
Bluetooth Headphones for Android
The Wrap-up
By now you should have a good idea of what's best for your Android device in terms of keeping things dry this summer. As always, be sure to check out the Android Central Store often as possible, because we're always adding new items for all the most popular devices-- new and old.
Get the Android Central Newsletter
Instant access to breaking news, the hottest reviews, great deals and helpful tips.