Top 10 best cases for Moto X Pure Edition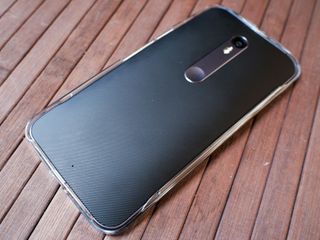 Although the Moto X Pure Edition is still relatively fresh off the shelves, we're not seeing as many big name case manufacturers with options for the device. Popular picks like Spigen and Seidio are opting to take a pass this time around — which is a bummer, but it doesn't mean there aren't great options available to keep you covered. We've selected the best cases for the Moto X Pure Edition that include bumpers, hybrid cases, rugged cases, clear cases, and even some favorites from the forums that are worth checking out.
Supcase Unicorn Beetle Hybrid Case
The Unicorn Beetle is back! This unique hybrid cover for the Moto X Pure Edition adds texture, grip, and amazing impact protection that looks great around the device. It packs both a shock absorbent TPU and a durable, see-through polycarbonate shell. Although it's not the slimmest case of the bunch, it adds a cool aesthetic to the Moto X Pure Edition and does a jam-up job at handling impacts and scratches.
i-Blason Clear Case
Since Ringke seems to have decided to overlook the Moto X Pure Edition / Style this time, there's a suitable substitute in town that lets the original look of the device shine through beautifully. i-Blason's Clear Case snaps on around the Moto X Pure Edition for a slim fit and transparent look. The 3H hardness rating of the polycarbonate shell helps to resist scratches and enhance grip. The front bezel even elevates the display enough to lay it screen-side down on any table or flat surface.
JOTO Hybrid Armor Case
If you're after a case for the Moto X Pure Edition that's simple, effective, and most importantly — affordable, then JOTO's Hybrid Armor Case is a solid choice. This cover uses an inner TPU layer to absorb impacts while the easy-grip polycarbonate shell that sits on top keeps everything together. There's access to the camera, display, and ports, while the side buttons are raised for an easier press. Available colors include black, gray, gold, green, silver, and orange.
Supcase Water Resistant Rugged Case
This rugged hybrid case from Supcase offers multiple layers of protection for your Moto X Pure Edition. Everything from the built-in screen protector, water resistant coverage, and dual-layer design keeps the device safe from the elements and brutal impacts. Included with this rugged case are 3 interchangeable back covers (gray, silver, and gold) for when you desire a different look around your Moto X Pure Edition.
Cimo Flexible TPU Case
You can't go wrong with a durable skin case for the Moto X Pure Edition, and the Cimo Premium TPU Case is one worth its attractive price point. Its slim design makes it easy to handle and slip in and out of your pockets. The glossy edging matched with the matte finish on the back enhances grip, too. As you might expect, there's complete access to everything your Moto X Pure Edition / Style has to offer. Take your pick from black, blue, purple, or smoke.
OtterBox Defender Series Case & Holster
Surprisingly enough OtterBox has stayed in the game with their popular Defender Case for the Moto X Pure Edition / Style. There's the same brute protection we've come to know and love, including the matching rugged holster — not required to purchase separately. Along with its multi-layer design and integrated screen protector are port plugs to keep out dirt and debris. Although this rugged case certainly isn't everyone's cup of tea, it's perfect for those that want the ultimate protection for their Moto X Pure Edition.
Case-Mate Tough Frame Case
If the OEM bumper case for the Moto X Pure Edition doesn't cut it for you, you may want to opt for Case-Mate's Tough Frame. This slim bumper offers 4-corner drop protection without all the extra layers or built-in screen protectors. Its simple snap-and-go design makes handling your device easier while elevating your display from flat surfaces. It's currently in production, but will be up for grabs very soon.
Incipio Octane Case
The Octane Case from Incipio features a fused dual-layer design that provides optimal shock absorption and grip when wrapped around the Moto X Pure Edition. The back "plextonium polycarbonate" cover is slightly transparent, too. Side buttons are raised through the flexible bumper while the ports, camera, and display remain open.
Incipio Feather Case
If you're not into multiple layers and only desire the bare minimum when it comes to protecting your Moto X Pure Edition, the Incipio Feather Case fits the bill quite nicely. This ultra-slim snap on case is made of durable polycarbonate that leaves out the frills — just simple security against minor drops. The shell actually adds a bit of grip, too, but can be a stickler for fingerprints.
From the forums: Your favorite cases for Moto X Pure Edition
Earlier this month we asked the members of our Moto X Pure Edition forums what cases they were most looking forward to getting their hands on. We've gotten a bunch of feedback from everyone since then, with cases of all sorts — including some we've mentioned in this article. If you're interested in hearing what others are buzzing about or getting an opinion on a particular Moto X Pure Edition case from other members of the Android Central community, feel free to hop over and join the discussion!
Get the Android Central Newsletter
Instant access to breaking news, the hottest reviews, great deals and helpful tips.