Get $15 off the Amazfit Bip Smartwatch and track steps, sleep, & more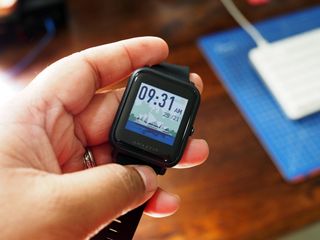 Amazon has the Amazfit Bip Smartwatch by Huami (opens in new tab) available for $67.49, which gets you $15 off the normal price. This gadget has received an average of 3.9 stars based on its 1,614 customer reviews. Today's deal is one of the best we've ever seen, and the price is valid on all four color options: Cinnabar Red, Kokoda Green, Onyx Black, and White Cloud.
This budget-friendly smartwatch is the perfect option if you're trying to find a wearable without spending triple digits. It's lightweight and features an always-on display with a battery that lasts up to 30 days on a single 2.5-hour charge.
This fitness tracker has a robust array of abilities, ranging from heart rate monitoring and built-in GPS all the way to tracking steps, calories, sleep quality, and workout effectiveness. It'll also keep you updated on incoming push notifications, phone calls, emails, and text messages. Your purchase also includes a one-year warranty.
You might want to shield your device from scratches using a screen protector (opens in new tab) and customize the look with a new band (opens in new tab) or two.
Android Central gave the Amazfit Bip 4.5 out of 5 stars in our detailed review, so head there for an in-depth analysis.
Louryn saves money on everything she buys (which is a lot.) In between waiting for Amazon deliveries, she pines for the next Elder Scrolls installment and checks Reddit for gaming rumors. She also loves Hearthstone, makeup, and beer. Find her on Twitter: @lourynstrampe
prob clearing out old stock ahead of the Bip 2 which is supposedly coming out next month. I'm getting one or the other. this deal makes it bit tougher choice. Any word yet if Bip 2 will support Google Pay in states? heard that nfc chip might only work in China. it it does then I'm waiting.

I purchased the amazfit bip about a month ago and still can't use it because the app has problems. So far amazfit customer service has not been able to help me and I may have to return the watch because I cannot use it. I found out from amazfit that they sold so many of this watch over the Christmas season that their website cannot handle the capacity of all the people trying to login and setup accounts to use the watch. when I either try to set up a new account or use an existing account through Facebook or Google I get network error every time. I said some new fitness goals for myself at the start of the new year and I'm hoping that I can use this watch to achieve them but if not I will buy a different brand watch if it becomes necessary.

Try this app - it does not require you to have a Mifi account or app on your Android phone
https://www.androidcentral.com/e?link=https2F2F...

I appreciate your help with this because it's been very frustrating. is this app just as good or better than the app through the company? And also, does it have all the same options as the other app?

It's the only app I use with my bip. It's better in all aspects. In my case I paided for the pro version to remove the app ads. My main usage of the bip was to get my notifications on my wrist which work perfectly. Counting steps was my 2nd requirement and again it works great. You can also change and use custom faces and some custom fonts as well along with a lot of granular notification optjns

thanks for all the information for answering my questions. Do you have to have your data on all the time to receive the notifications of your texts and messages? If I don't care about getting ads is the pro version that big of a deal? Because all I want 2 use it for are the notifications of texts, phone calls and the health benefits.

You need bluetooth on all the time as the watch talks to the any of the apps via bluetooth. As far as call and text notifications, those don't require a data connection, just cellular for the phone to get the call/text and bluetooth for the app to send it to the watch. Health stuff is fine - I just use it for steps - I don't do the other pieces like biking/walking/running/etc, heart beat, or sleep nor do I use the build in GPS. At night I leave it on my nightstand. On average I can go a good 30 days between watch charges Ads are not that big of a deal - I think a few features are unlocked with pro but if the free one works for you then use it.

Thanks again for your help you are awesome! Finally after 30 days of dealing with amazfit I was finally able to get on line download the app and use the watch. Now I'm having trouble getting the custom watch faces to install on my watch with some firmware issue in trying to figure out how to get my watch to give me notifications of my texts and phone calls. sorry that I'm so dependent on your help but this is my first time having a smartwatch and I'm just excited 2 unlock all the features of it.

Now I'm having trouble getting the custom watch faces that I found on the notify and Fitness app to install on my watch with some firmware issue. I'm also trying to figure out how to get my watch to give me notifications of my texts and phone calls and to change my watch from the 24 hour clock to 12 hour clock which is driving me crazy. sorry that I'm so dependent on your help but this is my first time having a smartwatch and I'm just excited 2 unlock all the features of it.

The 24 vs 12 hour clock is based on the custom watch face. Since this is a international watch, lots of the faces are based on 24 hours. The 12 hour am/pm format is more a North American thing. Look at each custom face details on which faces display 24 vs 12. For the call and text notifications - in the app tab is where you setup which apps, which notifications, and how to notify. Keep in mind for Android there are different SMS/Txt apps based on Android version, carrier software etc, so you need select your default SMS app. For phone calls it should detect the base android phone app. Can't comment on watch firmware - never done it. At this point if you run into other issues, that app has a web/forum site and you need to take your questions there
Android Central Newsletter
Get the best of Android Central in in your inbox, every day!
Thank you for signing up to Android Central. You will receive a verification email shortly.
There was a problem. Please refresh the page and try again.