Amazfit Bip review: A $79 smartwatch that does it all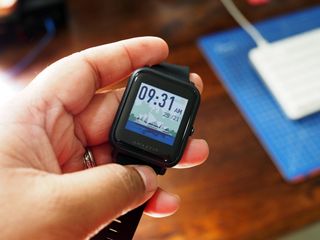 The smartwatch segment is in continual decline, and although Qualcomm announced the Wear 3100 platform, we haven't seen mainstream brands like Motorola or LG launch devices powered by the chipset yet. Wear OS in general is looking more and more like it is about to fade away into irrelevance, but it's not the only option available if you're in the market for a wearable.
Fitbit makes a range of fitness trackers and smartwatches that do a decent job of mirroring notifications to your wrist, and in recent years Xiaomi has gained a lot of momentum in this segment thanks to the affordable Mi Band. The Mi Band is currently in its third generation, and it's safe to say that the fitness tracker is one of the best value-for-money wearables you can buy today.
For $30, the Mi Band 3 offers an OLED panel, heart rate monitor, automatic activity tracking, and two-week battery life. The fitness band is manufactured by Huami, which is the same company that makes Amazfit smartwatches. That's what makes the Amazfit Bip such an exciting product: it carries Xiaomi's ethos while delivering a new set of experiences.
Pros:
Great value for money
Sunlight legibility is good
Comfortable fit
Excellent battery life
Cons:
Non-actionable notifications
Doesn't track all workouts
Amazfit started out three years ago as Huami sought to branch out into the smartwatch segment, and is headquartered in Mountain View. Its products are available officially on Amazon in the U.S. as well as a host of other markets, and like Xiaomi's wearables, the trait that makes Amazfit's smartwatches stand out is affordability.
Coming to the watch itself, the Amazfit Bip is made out of polycarbonate with a 2.5D curved display backed by a layer of Gorilla Glass 3. You get a soft rubber removable strap in the box, allowing you to switch out the default band for more colorful options (it uses standard 20mm lugs). The 1.28-inch display has a resolution of 176 x 176, and you also get a heart rate sensor, Bluetooth 4.2 LE, built-in GPS, IP68 dust and water resistance, and incredible 30-day battery life.
The design of the Bip is very similar to that of Pebble, but where Amazfit wins out is in delivering value. Retailing for just $79, the Bip doesn't have a whole lot of competition. The watch itself is very lightweight at 32g, and it doesn't feel uncomfortable to wear throughout the day.
The best part about the Bip is that it connects to Xiaomi's Mi Fit app for notification syncing and tracking your daily activity. The Bip does a great job mirroring content to your wrist, but unlike Wear OS, the notifications aren't actionable. The Bip doesn't offer much in the way of third-party app support, but you do get the option to choose from various watch faces from within Mi Fit.
The built-in GPS allows the Bip to accurately map activities like walking, cycling, or running, but you have to manually enable the workout from the watch itself. There's also no option to track swimming although it has an IP68 rating. On the plus side, you get a heart rate sensor and sleep tracking.
Image 1 of 3
Image 2 of 3
Image 3 of 3
What sets the Bip apart from other smartwatches is the battery life. Amazfit quotes a 30-day battery life between charges, and that holds up in real-world usage. I've only had to charge the smartwatch once in over a month's worth of constant use, and while the display isn't as vibrant as what you get on Wear OS smartwatches, it is easily legible under harsh sunlight.
It's not difficult to get your hands on the Bip as the smartwatch is officially available in the U.S., UK, and India. The Bip is available for $79 in the U.S., and you'll have to shell out £64.99 ($85) to pick it up in the UK. In India, the Bip is sold officially on Flipkart, where it is available for ₹5,700 ($78).
4.5 out of 5
If you're looking for an easy way to mirror notifications and calls from your phone onto your wrist, the Bip is the ideal smartwatch for the job. The amazing battery life alone justifies the cost, and you get an array of features that includes a heart rate sensor, IP68 rating, and GPS connectivity.
Harish Jonnalagadda is a Senior Editor covering Asia at Android Central. He leads the site's coverage of Chinese phone manufacturers, and writes about the semiconductor industry, storage servers, and audio products. Contact him on Twitter at @chunkynerd.
I'm surprised this watch still gets press coverage. A $79 smartwatch that doesn't do much of anything, let alone well. I bought one over a year back and had been immensely disappointed with how rough around the edges the software is, along with no practical applications available. Battery life and hardware is great, aside from an unreliable heart monitor, but it's nothing without a platform. Mine collects dust in the back of a drawer. Save yourselves the headache and track down a good condition Pebble Time for the same price range, still a better value and watch to live with. Yes, even with the official servers shut down.

I have owned most previous Pebble watches and find Amazfit Bip a great replacement. All components are optimized for low-power consumption to achieve the aforementioned outstanding battery life so I agree that the heart rate sensor is not as powerful in certain situations (workouts) as some other much more expensive devices but measuring heart rate on the wrist accurately is not that easy in the first place. An improved heart rate sensor is being implemented in all upcoming products. As per functionality you have all the basics built-in: notifications for all apps (incl. text messages, emails, calendar, Facebook, LinkedIn, Twitter, WhatsApp, WeChat, Slack, you name it), plus steps taken, calories burned, distance traveled, movement reminders, sports tracking for running (indoor and outdoor), cycling and walking, GPS + GLONASS, barometer (for altitude measurement), weather forecast, alarms, timer, compass, adjustable watch faces and exchangeable 20mm standard watch strap. All settings and alerts can be customized through the mobile app and on the watch. For a smartwatch that lasts for a month on a single charge and does provide me with GPS sports tracking for my cycling and running this covers all my bases really well.

Hows the notification for this watch? does it work well and get the job done?

Yes it does, is a pretty good device

Could not disagree more. I have experienced none of that. Battery life is 45 days.. Phenomenal.

Even the simple change request such as to add the ability to change.time format from military time to 12h format is still outstanding. If you Google, this request has been out there since the release of the watch but still nothing.

I used a Bip for about two months, when my Pebble Time started displaying problems. I figured I may as well do the research *before* the Pebble died. Now, the Bip wasn't perfect. On the up side, it was a better health tracker than the Pebble was. The step counter was much more accurate, the GPS was surprisingly good, and the fact that there were three different Android apps for it, which are still being developed, meant features kept getting added. And, of course, the battery life was much better than the Pebble's. On the down side, I missed the timeline, and the ability to reply to SMS with canned messages like I could in the Pebble, as well as the lack of music controls (although there are hacks for that). And the watchface replacement was a hack, very inconvenient compared to the Pebble. I'm sure that there are a lot of people who'd agree that it's "nothing without a platform", but I also know a number of people who had Pebbles who never used, or even download, an app for it, and wouldn't notice the lack of the app store. And for them, I think the Bip is a simple, reliable, low-cost watch that has fitness features, smartphone alerts (which is what most people I know want most from a watch), and it still being produced and supported.

I have one for about 4 months and in general I like it and value the differences it has over other smartwatches (really good visibility outside or direct sunlight with always on screen, comfortable light and slim, very good battery life that allows for a good sleep tracking without the need to charge the watch at night). The only thing I was hopping Xiaomi would improve is special characters used in my native language (Portuguese) that gets replaced by ? In notifications. This should be extremely easy to solve and there are lots of people complaining in other languages also (French, Spanish, etc) so I'm still waiting for this to be completely satisfied. Other than this I line it so much that a mobth ago I offered one in white to my wife and she is using it instead of a classic Casio and now she doesn't miss my calls and messages when phone is around but not on her pocket ;)

Hi Miguel, we hear you but in fact it is not that easy, it's not just adding special characters via a line of code, it's adding images of letters - bitmap font glyphs (or pixel fonts), where we run into memory restrictions when adding too many languages. The team is working on it but it's not as easy as you might think it is.

Have owned 1 for about 6 months. Like a previous comment, meh. It works as advertised, did not cost very much and functions.
Chief concern is the washed out, unimpressive graphics of all the watch faces. I'd recommend they include a slightly more pricey version w decent screen graphics.

For a 30-day battery life we need to make all components work together and with low power consumption which means we decided to use an always-on transflective color touch display (reflecting incoming light) which works fine indoors, see https://i.imgur.com/YvmbwAr.jpg but even better outdoors https://i.imgur.com/eX0YuqB.jpg and both states are acceptable unless you prefer the Apple watches' one day battery life ;)

I had one and was surprised with what I got for the $55 I paid for it. The two MAJOR issues that it had for me, were that you couldn't increase the font size of the notifications and my 48-year old eyes couldn't read any of them at the end of my wrist. The other is Strava. Yes, there is a 3rd party app to sync activities to Strava but it was unreliable at best. Sold it and got a Garmin Vivoactive 3.

I liked the Amazfit for a while for most of the reasons stated above. But after about a month various functions stopped working. So I did a factory reset and got a screen that just said Amazfit (I think that's what it said). I emailed Huami and followed their suggestions but the screen was still frozen. After another email to the support team I was told to take a video of what I was doing. I explained to them that I couldn't do anything because the screen was frozen and Bluetooth wasn't connecting. They again asked for a video. IN ALL MY EXPERIENCES WITH VARIOUS TECH SUPPORT TEAMS I HAVE NEVER BEEN ASKED FOR A VIDEO. I finally called Amazon and explained the problem. They gave me a refund even though the 30 day period had passed. I will never buy a Huimie product again!

If Wear OS is "fading away" for this, then I'm clearly not the target market for Wearables. It sure feels like AC is putting out a lot of FUD on Wear OS for no reason.

I love my Amazfit Bip. I bought it nearly six months ago and have only had to charge it four times. I use a great digital watch face from a third party app, it tracks my steps and I can get the notifications I want. And I can read the screen in full daylight. This provides me with more bangs for my buck than my previous LG Urbane.

This is the best budget fitness Smartwatch full stop. Battery life puts all others to shame. No excuse for Fitbit not having better batter life.

Buuuuuuut its amazon. No thanks

You don't have to purchase through Amazon, you can also buy the watch here https://us.amazfit.com/shop

More companies should get their people involved in these forums like you have done so thank you.
I have 5 Xiaomi security cameras and a dash cam that have been problem free so I will definitely give one of your watches a try in the near future.

If you are looking for a "smartwatch" with incredible battery life and no extra nonsense this is definitely a good pick. I put this in quotes because compared to most others under the same name on the market, it can be hard to really say it is a smartwatch. My smartwatch journey started with Pebble, shifted to the first gen Android Wear for a bit, and had an Apple watch most recently before taking a chance on this when I swapped back to a Pixel 2. I've never used most of the extra frills of the Android and Apple watches (thought I do miss NFC payments from Apple watch). I just want something I didn't have to charge every other day, would popup the notifications for the apps I want, track my steps/heartrate and of course tell me the time. And this watch definitely delivers that.
Android Central Newsletter
Get the best of Android Central in in your inbox, every day!
Thank you for signing up to Android Central. You will receive a verification email shortly.
There was a problem. Please refresh the page and try again.