These are the must-have apps for your Huawei Watch 2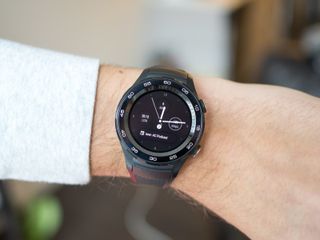 Android Wear makes wearing a watch not only stylish again, but lets you access a variety of apps to enhance your day to day life. If you've just picked up a new Huawei Watch 2 or Watch 2 Classic and you're trying to figure out which apps will be the first to get added, then feast your eyes on our suggestions.
We've put together five apps that will let you start to get some more out of your smartwatch, and we've combed through dozens of apps to find the best ones to get started with. Additionally, we aimed to find apps that you can use without having to constantly input anything on your phone.
See at Amazon (opens in new tab)
Strava Running and Cycling GPS
One of the big perks of an Android Wear device is being able to better track your workouts. Whether you're training to run a marathon, or you prefer scenic bike rides, Strava is an excellent choice to log your workout.
You can track your distance, calories burned, and even the elevation of your activity through the app. You will need to set it up on your phone, but once you've done that your Huawei Watch 2 will record information when it senses activity.
Download Strava (free) (opens in new tab)
Uber
Ridesharing services have made getting a ride easier than ever, all from an app on your phone. Uber is also available right on your smartwatch, with some serious stand-alone capabilities.
You don't have access to every feature that is available through your smartphone, but at the same time, you have access to everything that matters. You can order a ride, check driver progress, and see details on your incoming driver. That means that when you're ready to head for home, all you need to do is tap a few things on your smartwatch.
Download Uber (free) (opens in new tab)
Google Keep
Life is complicated and full of little things that are easy to forget if you don't write them down somewhere. From checking off items on your to-do list to adding new items, Google Keep helps to keep you a bit more organized.
From your watch, you'll be able to check on your existing lists, check things off, and you can add a new item to a list by saying "Okay Google, take a note". These functionalities mean that if you come across an errand that you don't want to forget, it's easy to jot it down for later.
Download Google Keep (free) (opens in new tab)
Spotify
Music is a big part of life for a lot of us, and Spotify on Android Wear makes it easy to control your tunes without having to launch the app on your phone. You don't get full access to all of the features of the Spotify app, but what you do get is pretty solid.
You'll be able to control the volume of the music playing, see the details on the Artist and Song Title. You won't be able to search all of Spotify for music, but you can access all of your saved Playlists, and browse through featured Spotify playlists. You can also launch these features on Android Wear using voice commands, which makes music for your workout easier to adjust while you're midrun.
Download Spotify (free) (opens in new tab)
Google Maps
Getting from place to place has changed dramatically over the years, namely because most people use an app for directions instead of a paper map to help them out. Navigating your way in a new city gets easier than ever, when you've got Google Maps on your Huawei Watch 2.
Maps on Android Wear lets you easily set where you want to navigate to, and the method of transportation as well. Once you start navigation on your watch, you'll get turn by turn directions until you arrive at your destination. This means you no longer have to worry about asking for directions in an unfamiliar city, since you can access them right from your wrist.
Download Google Maps (free) (opens in new tab)
Do you have a favorite app?
There are dozens of great apps available for Android Wear out there, but these five apps are the ones we found were most important. Do you agree with our choices? Is there a different app that you think we should have included here today? Have you tried out any of these apps on your Huawei Watch 2? Let us know about it in the comments below!
Jen is a staff writer who spends her time researching the products you didn't know you needed. She's also a fantasy novelist and has a serious Civ VI addiction. You can follow her on Twitter.
Android Wear is dead. Is this article written just to get people to purchase the watch through this site's referral link?

I don't think its dead. It's pretty much in the game.

It's competing, and losing, with Samsung's Tizen. It's an afterthought compared to Apple's WatchOS. There is a reason Android Wear devices are always on sale or clearance.

How many apps does Tizen support?

Tizen, while polished and slick, still doesn't have near as many apps or interaction with your phone as Android Wear does. There are a lot of watches out there from different manufacturers that have Android Wear so it has a chance to become bigger. I've used it for over 2 years and I actually like it.

If you go to the Google Play Store and look at how many downloads that the Samsung Gear app has, it's over 100 million downloads compared to 5 million downloads for Android Wear. I doubt that many Samsung watches have been sold but yes it is trouncing Android Wear. That said, I think Android Wear is better because it works with most apps on your phone without having a watch app.

Apple Watch isn't exactly flying off the shelves. What data are you using to call Android Wear & Tizen "after thoughts"??

Please don't tell my Sony Smart watch 3, I really enjoy using it.

LOL! What an ignorant statement!

I would like to recommend Endomondo. Over the last years I have been using it for tracking my runs. If not the first, it was on of first Android Wear Apps that was able to track a run, bike ride... without bring the phone along. And it keep's getting better.

Please Spotify, bring full offline playback support to the Android Wear app so I don't need to carry the phone to listen to music on my runs

Spotify works that way with my Gear S3, so I'd imagine they'd want the same functionality on Android Wear. Does it require SIM to be able to authenticate the subscription when you don't have your phone?

Android wear is superior to Tizen in all metrics except sales numbers.

Baby mode has been awesome for when I'm carrying my kid and he wants to get all touchy touchy with that glowing thing on my wrist.
https://www.androidcentral.com/e?link=https2F2F... I want to like more apps for the watch but they run pretty damn slow to find useful when you're trying to access something quickly with the convenience of a wrist gadget. Baby Mode, Google Fit and Android Pay are the only ones I ever open.