There are great Google Pixel deals available from Woot! and Verizon right now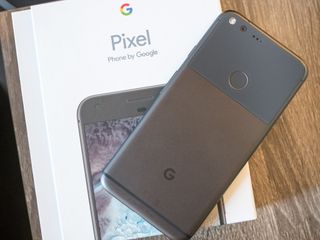 (Image credit: Android Central)
As the rumors start to really heat up surrounding the new Pixel 2 and Pixel XL 2, we finally have some substantial discounts on the current-gen phones. Both Woot! and Verizon have really good deals, pricing these phones well below their consistently high starting prices that have held on even several months into their lives.
Woot! has the best deal available right now (opens in new tab), although in typical Woot! fashion it's for refurbished phones. $399 for a Pixel, or $449 for a Pixel XL — both in black. That's a fantastic deal, particularly for the larger Pixel XL, which still sells for $769 on the Google Store. The usual caveats about buying a refurbished phone apply, but that price is really great and likely worth it.
See at Woot! (opens in new tab)
Verizon perhaps has a better deal, all things considered, as it's selling a brand new Pixel for $420 (opens in new tab) and Pixel XL for $540 (opens in new tab). That extra cash gets you a new phone rather than a refurb one, and it also lets you choose the white/silver model if that's more your thing. Unlike typical Verizon deals this also doesn't require monthly payments — it's only available at this price if you buy outright.
See at Verizon (opens in new tab)
If you've been eyeing a Pixel or Pixel XL but were worried about getting one at this point because their successors are going to be announced soon, this is a great way to get a great phone for an appropriate price.
Andrew was an Executive Editor, U.S. at Android Central between 2012 and 2020.
Groupon has them too. B stock refirbs.. No thanks The Verizon deal is pretty good, will that work with AT&T with no issues? Just won't get updates?

It will work with any carrier since is unlocked. I think the only difference with the unlocked model is that has locked bootloader and the typical Verizon bloatware.

If you don't boot it up with a Verizon SIM, you won't get Verizon's software. I have a VZW version on Project Fi and it has none of the VZW software. But you are correct that my bootloader is locked, which is of no concern to me.

The Verizon "bloat" consist of a whopping 3 apps that you can COMPLETELY uninstall, so that's jack sh*t nothing on that count. My bigger issue with using an unlocked phone on AT&T is the fact that they are dickheads and don't allow you to access things like wifi calling and HD voice unless you buy a phone directly from them. On the other hand, TMobile doesn't pull this bullsh*t on people who bring unlocked devices to their network. For the record, I am a Verizon customer with a Pixel XL purchased directly from Google, so I have no skin in the game with at&t vs TMobile, but being a d*ck just to be a d*ck should be called out.

I've been reading if you boot the device with no sim, you can unlock it then.

How do I buy it without a plan or is that impossible

I've been using mine on at&t without any issues. The locked bootloader is a non-issue for me. I've been receiving OTA updates directly from Google when they come out as well without any problems.

Son of a....!!! I just bought one on Sunday from Verizon because my old phone died on me. I'm happy that I have a new phone, but if I had only been able to wait a few more days. EDIT: Interestingly, it's only listed for new at that price if you're not signed in. The moment you sign in and try and view the phones they're listed at full price. It appears to be new customer only pricing, but I don't see anything indicating that.

If you bought it outright instead of on payments they'd probably price-match. In any case the phones always have a 1 week (or in some states, 2 week) return period required by law. You can return and re-buy ... which is why they often price match.

Yep if you bought it outright, you can still bring it in and get the difference refunded to you.

So...this is the 3rd article I've seen talking about the Verizon discount, and yet every time I go to the link, I see NO discount on the Pixel, they're showing the regular price and no little * that tells you how to get the deal. I've tried it both signed in and signed out of my account. Anyone know why this is?

You have to go through the buying process then the price will adjust.

It shows the regular full price when viewing the installment plan payments and total, but as the article States, the price quoted at Verizon is for outright purchase at their full retail price which is where the reduced prices are reflected. Look at the line directly underneath the installment payment cost per month.

Did all that, still says it wants $769 to purchase now...and I'm on the final page of the checkout

I don't know what to tell you man, when I open the link contained in this article, bam, there it is directly on the page. The line directly below the monthly payment plan line, listed as retail price and showing $420.00 for the 32Gb Pixel. I also just opened the link in this article to confirm it once again, and there it is, no problem.

Damn it! I just bought it, thanks to you. I never do that kind of thing but that is a great price. Middle of August Delivery. Hope for the best.

I have read conflicting statements. I should be able to use this phone on Project Fi?

Yep, it is one of the few phones that Fi supports.

Yes, I use a VZW version on Fi without issue. Updates come regularly from Fi, not VZW.

Is it possible to buy from Verizon without a service plan?

Anybody know if it's online only or in store as well?

When I looked the Verizon page said online only. They offer free shipping though.

You can keep the pixel. It was a ripoff. I sold mine after 3 weeks. Went back to my galaxy s7 edge, and ZTE axon7. They're both better than pixel.

Lol I have to politely disagree. I had the Pixel and S7e and the Pixel was hands down the better phone. But then again it's just my opinion, to each their own.

Objectively false. But hey man, keep your bloat ridden mess of phones, some of us prefer a cleaner experience.

The problem with this Verizon deal is it's a monthly credit on the device payments, so if you pay off your device early you will have to pay the normal full monthly payments for the remainder of the term. So no upgrading early unless you want to loose those credits or pay full price on your upgrade.

Read much? They have more than one deal going, and the deal featured in this article is not based upon monthly credits or payments. As a matter of fact, you cannot do monthly payments with the deal featured in this article. SMDH

Where was this a month ago. My 5X DIED and had to get a new phone quick. Ended up with an Axon7, not a bad phone at all but I do like stock from Google a bit more.

I'd like to see a comparison with a s8 plus. I sold my pixel XL a few months back. I'm on day 13 of my s8 plus so I've got one more day to decide if I'm going to keep it. Lol

In three to six months that S8 will be chugging like a phone from four years ago. My Pixel XL is just as fast as it was when I first pulled it out of the box. I love Samsung's hardware but until they get their software fully figured out I'm done.

Funny story. My son & daughter in law got Galaxy S7s maybe 6 months ago. She has been having issues with lag, short battery life etc, and called Samsung. They were setting up a repair thing where they ship her a box, she ships them the phone and waits. To tide her over we slipped her SIM into my old Nexus 6. Did that while waiting for the box. She noted, damn this is fast, damn the screen is good, damn the camera is great, Samsung should be ashamed, I hate my phone. She traded the S7 in for an iPhone 7+ yesterday instead of letting Samsung mess with it. Unfortunately Android lost a user, but even my 3 year old Motorola outshined the S7. She was just done with it.

Lol uh now that I've seen them side by side. Them bezels 😆

Just wait for the pixel 2, yeah I know it'll much expensive but can't recommend last gen phones this close to major release like Note 8, iPhones and Pixel.

Yeah, I'd even recommend an iPhone 7 over the Pixel given the level of software support you can expect from the iPhone. My SO's iPhone 6 is just about ready to be replaced and she's holding off for the new fall crop. She's even considering switching to Android which is crazy to me.

With the newer model having weekly leaks, I am sure a "better" deal is around the corner. There is always a better deal. When I was ready for a Pixel and Pixel XL, Verizon and Google kept changing my ship dates. I moved on. I buy what is available when I am ready to buy. Not going to pre-order and wait 6 weeks just to get pushed back. While these prices are "better", Verizon seems to be only offering this to new customers as the existing customer price goes up to regular prices. As many have recognized, Apple tends to upgrade the software much longer than android. As in more than 2 years. For many, that is important. I am going to stick with my S8 for the time being and possible longer than 2 years if it continues to perform well for me.

Thanks for the heads up Andrew. Just got a brand new 128 GB XL for nearly $230 off from Verizon. Existing customer and it offered installments, didn't have to pay for it all up front.

Damn.. Sale is over I guess

Woot sale is over, Verizon sale is still going.

There is another Woot sale now for the Pixel 128GB

So far, not looking too good on the Woot deal. Several problems involving USPS shipping. Comedy of errors. Now I am being told "Inventory problem" said to wait 3 days. According to USPS tracking, my phone is in my city out for delivery, since yesterday at 08:30am, but no delivery. They did offer my money back, which might mean they don't have any more phones to send. Not a good first impression of Woot!

Slight retraction in order. After my heated phone call with Woot this afternoon, my phone got delivered at 0330pm. Coincidence? Anyway, so far so good with the phone. Going through the OTA updates before I install my Project Fi Sim.

Project Fi Sim installed and DP4 running good today. Zenwatch 2 connection working better on the XL too.
Android Central Newsletter
Thank you for signing up to Android Central. You will receive a verification email shortly.
There was a problem. Please refresh the page and try again.