With tablets, Google still cares more about the iPad than Android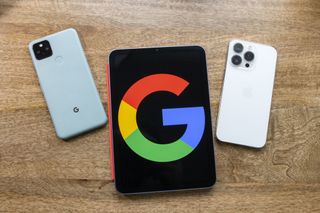 (Image credit: Andrew Myrick / Android Central)
Much like my compadre, Jerry Hildenbrand, I buy tech across a wide range of popular brands. For me, there's really no such thing as "brand loyalty" as I, too, just want to be able to use "cool tech." But there's one section of the tech market I won't touch anymore: any Android-brand tablet.
I'm not here to say that all Android tablets suck; just that most of them do. And it's not even a problem with the hardware, because the Galaxy Tab S7 FE is one sleek and good-looking device. My problem with Android tablets, on the whole, have more to do with the software and Google's decision to basically ignore that Android tablets exist.
With a foot planted on both sides of the iOS vs. Android fence, I find it interesting how Google straddles the line between the two. On the one hand, Android users get access to new features and redesigned interfaces months (or even years) before iOS users — most of the time, at least. But then, outside of bug fixes, Android apps can end up practically abandoned by the developers, while Apple apps get more attention and cutting-edge tools.
Take the latest release of iPadOS 15, for example. Apple released the update for iPad owners across the globe, and you know which apps were among the first to get an update? Google's. Google even published a blog post detailing the changes that are now available for those who have updated to iOS 15 and iPadOS 15. These updates include support for the new XL widget size on the iPad and a useful Google Maps widget complete with buttons and shortcuts.
You can already resize widgets on Android tablets, but let's look more closely at that Google Maps widget. On my Pixel 5 running Android 12 and the latest available version of the Maps app, I don't get a single Maps widget with shortcuts embedded. Instead, five different 1x1 shortcut widgets can be added to the Home Screen.
I won't bore you with every minute example of how Google neglects Android in favor of iOS. But this isn't an isolated example, and it's time to say enough is enough. Perhaps Android 12 with the Material You interface and the updated guidelines for widgets will change things. But that still doesn't mean diddly-squat if we don't have a great Android tablet.
To get the best experience with a Samsung tablet, you need to switch over to DeX Mode. Without it, most Android apps haven't been optimized properly for screens larger than a phone. While Samsung is working to solve these problems, it's doing so specifically to improve the software on its new foldable phones. The Galaxy Z Fold 3 is essentially a tablet that folds into a phone, not a true standalone tablet. It's unclear whether these efforts will bear fruit with the Galaxy Tab S8.
There is some hope on the horizon, as details regarding Android 12.1 have been leaked. Not only does this leak suggest that the long-rumored Pixel Fold could come to fruition, but it suggests Google is also working to improve the experience on devices with larger display sizes. But I'm not holding my breath.
I'm perfectly happy and content with my iPad Pro and new iPad Mini 6. But that doesn't mean that I can't look on the other side and be disappointed with what's happening. We continue to see new Android tablets leaked and subsequently released, and they are all the same: Slabs of glass with software that merely blows up what we'd see on a phone.
Google tried re-entering the tablet market with the Pixel Slate, but it was an over-priced Chromebook and not an Android tablet. It hasn't been since the Nexus 7 and Nexus 9 days that Google has released a useful and meaningful tablet device. And that's been what, seven years? Google is conceding that iPads are more popular than anything that Android has to offer, and the only company that can fix that is Google.
Until that happens, I will continue to recommend the iPad as the best Android tablet, even with Samsung doing what it can with DeX.
Senior Editor - Chromebooks, tablets, and wearables
Andrew Myrick is a Senior Editor at Android Central. He enjoys everything to do with technology, including tablets, smartphones, and everything in between. Perhaps his favorite past-time is collecting different headphones, even if they all end up in the same drawer.
Apple has 2 versions of iOS, one for it's phone and one for it's tablet (now called iPadOS). Google does not make a version of Android for tablets. The problem with this that not all Android apps are optimized for tablets meaning some apps may not display properly on tablet

Google has two OSes that run on tablets, but needs better optimization: Android and Chrome OS. It's Chrome OS that is getting the resources for improvement in the tablet form factor. https://mytabletguide.com/chrome-os-tablets/

Google abandoned Android tablets years ago in pursuit of the Chrome book, if it wasn't for Samsung there would be no quality Android tablets.

And yet Android Central refuse to acknowledge this simple reality.

I wonder if what we're seeing indicates that at the employee level Googler's just don't have Android tablets. We are all motivated to solve our own problems, and its hard to get an engineer to fix an Android tablet app when they run an iPad and would rather work on that.

I think it's a given that they don't have Android tablets, why would they?

My S7 is a great tablet and the apps I use scale well especially the Microsoft and Samsung apps I use the most...

Apple users have complained loudly about how iPad even with IOS is crippled when it comes to memory management and multitasking. It's better, but not there yet. There's still limitations.

Yeah...tablets in general aren't the desired devices they once were. Especially with the advent of the phablet and most phones, even mid-range and entry level devices seldomly coming out with a screen size below 6 inches. Add to that increased on-board storage, increased processing capability and of course price, tablets have fallen off versus smartphones. With perhaps the exception of the iPad (and all it's versions) and I'd say the Microsoft Surface (probably the most worthwhile tablet to still invest any money in) the rest are kind of just "around", especially when it comes to Android tablets. Still, it's never too late to get a decent Android tablet, if nothing else for having a seamless, integrated OS experience between my phablet and the tablet...LOL. That is why I'm kind of interested in seeing what Nokia has to offer with the T20 which is supposed to be launching soon. Maybe a Pixel tablet would do well...

"But there's one section of the tech market I won't touch anymore: any Android-brand tablet". As nice as the display on my Samsung Galaxy Tab S6 is, I cringe everytime I open the Google News app on it. The app experience is just awful. I was hopeful when Google announced that Honeycomb would be optimized for tablets, but years later there has been zero progress. I don't care for iOS, but I honestly enjoy using my 5th generation iPad than my more expensive Galaxy Tab S6. I'm done with Android on any screen larger than 7" for now.

I use my Samsung tablet for one thing, that is to watch movies I have recorded from Prime and Netflix when camping in areas that have NO cell service and it works flawlessly. The are of good quality (notably not as good as my large 4K TVs back at home, but I am in the middle of nowhere so cannot complain).
Are the apps sized ok? Yes for what I use they sure are.

If you have an Android tablet then you're already in Google's ecosystem and they don't have to expend any energy or money to draw you in. If you have an iPad then Google wants you in their ecosystem, so they entice you with their own apps.

I gave up on Angroid tablets a couple of years ago. For my needs, a small Chromebook is a much better option.

Why are you whining about Android tablets? Chrome OS runs Android apps fairly well and gets updated for up to 8 years. You're lucky to get one OS update for Android tablets anyway.
Check out the Lenovo Chromebook Duet if you want a cheap Android, er, Chrome OS tablet with a keyboard.
You really ought to add reviews of Chrome OS tablets and Amazon Kindle tablets to your list.

Exactly. Google do still develop for tablets. They moved away from Android and to ChromeOS. Where's the review of the HP X2 11 and Lenovo IdeaPad Duet 5?

You mean Amazon Fire tablets?

"Google continues to ignore tablets that aren't the iPad." This factually false. I'm using a ChromeOS tablet to type this. Google hasn't stopped developing ChromeOS for tablets. "It's time for Google to fix the Android tablet market, and only it can." Nah mate they don't. Move on. Buy a ChromeOS tablet. They're way more powerful than Android tablets. "It hasn't been since the Nexus 7 and Nexus 9 days that Google has released a useful and meaningful tablet device. And that's been what, seven years?" Because they pulled out of tablets back in 2019. They were clear they won't be developing more. It's not rocket science. "Until that happens, I will continue to recommend the iPad as the best Android tablet" Also factually false 🤦‍♀️. I don't know why Android websites are still hell-bent on ignoring the reality on the ground. What a waste of your time and ours reading this "another Android tablet complain" article. Yawn.

Google do still develop for tablets, they moved away from Android and to ChromeOS. Where's the review of the HP X2 11 and Lenovo IdeaPad Duet 5? Both good quality tablets that have largely been ignored, simply because they run ChromeOS. Android and iPad fans are so elitist.

Ah! This reminds me, everyone remember to mail your Xoom back to Motorola this weekend so they can add the 4G module to it. #deepcuts

Google is an advertising company first. The eyeballs in the tablet market are almost all on iPads so it makes sense Google only cares about them.

Download and update the latest Android apk apps in The gamer geeks, the best free online Android APK downloader directly from The gamer geeks. Come join. Go Now : https://thegamergeeks.com/
Android Central Newsletter
Get the best of Android Central in in your inbox, every day!
Thank you for signing up to Android Central. You will receive a verification email shortly.
There was a problem. Please refresh the page and try again.