T-Mobile teases Un-Carrier Amped, more details coming June 25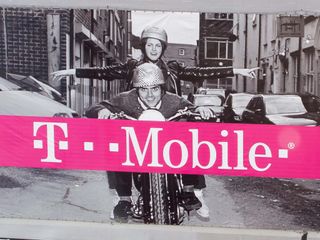 The next series of announcements to come from T-Mobile will carry the Un-Carrier Amped branding. With this, the company will be beefing up some of its already popular Un-carrier moves, making them even bigger. The first announcement will be on Thursday, June 25, with several others following in the weeks to come.
Be sure to stay tuned for what T-Mobile has coming up next as part of its Un-Carrier Amped announcements.
Source: T-Mobile (opens in new tab)
Android Central Newsletter
Get instant access to breaking news, the hottest reviews, great deals and helpful tips
Jared started off writing about mobile phones back when BlackBerry ruled the market, and Windows Mobile was kinda cool. Now, with a family, mortgage and other responsibilities he has no choice but to look for the best deals, and he's here to share them with you.
More smoke and mirrors, gimmicks Posted via the Android Central App

I've used almost as much data with T-Mobile in the last two months than I did in the previous year with Verizon thanks to T-Mobiles "smoke and mirrors, gimmicks" and my bill is so much lower.

Three unlimited lines for $140 and great service where I work, live and play. What's the gimmick?

Yup, I switched from Verizon. The only difference that I've noticed is that I have better download and upload speeds with T-Mobile and a cheaper bill. The coverage is the same as Verizon in the areas that I frequent. I wonder if illiterate people get the full effect of alphabet soup

Same here. Posted via the Samsung Galaxy Note 4 running Lollipop 5.0.1 on the T-Mobile Network.

Keep telling yourself that.

take it for a test drive for free, quit complaining.

30 GB of data and not a single overage charge, while my bill sits comfortable at 90.52 each month. what gimmick? Posted via the Android Central App

I do roughly the same on a much better network (AT&T) and pay $65 a month after taxes and still get a phone subsidy every other year. To each his or her own but I'll go AT&T all day over tmobile. Equivalent plan at T-Mobile is $80 a month + $35 a month for their gimmick no contract two year loan on my iPhone 6 plus. $115 a month is crazy expensive especially for a network that pales in comparison to Verizon or AT&T.

I have 6 lines on T-mobile 5 have 2.5 GB of data with unlimited music streaming, and my line has unlimited use about 30-40 GB monthly. I pay less than $130 a month. I buy my phones full retail when they go on sale don't mess with payment plans. Same usage on an AT&T plan would cost me well over $200 maybe 300

Let's be honest you are an exception not part of the rule in general. Most people do the payment plan and if you did that with 6 phones your plan wouldn't look so rosy now would it??? I feel bad for all the saps that moved to all these new plans from grandfathered plans at all of the carriers. Even T-Mobile had better deals before they took away subsidies but unfortunately people in general can't do the math and see these new plans in most cases are much more expensive and stand to only benefit the carrier. Even the uncarrier garbage about no contract is a blatant lie when T-Mobile is locking you in to a two year financing loan payment which is worse then the $350 early term fee on contract plans depending on when you were to cancel. Lucky for me I'm not a sap or else I would be in your boat too. I'm grandfathered in to a much better plan and network then you but if they ever take my subsidy away which I bet they will then I'll be off to the cheapest prepaid plan like yourself. Now one thing in our favor for these deals in the future will be if we can start buying the phones directly from each manufacturer as they may cut us s better deal on the pricing of the phone versus what we see now. Because who in their right mind would pay $700 for a Samsung peice of pooh phone when you could get say an lg or Moto for say $200-300 cheaper. Not me that's for sure...only the iPhone can justify such a premium price and that's solely because of resale value not because I believe it's truly a better device.

How is all of this smoke and mirrors? I LOVE that a 3 day weekend in Puerto Vallarta includes free international data. I LOVE that all of their phones have wifi calling and texting, even on airplanes. I LOVE that I don't have a contract. T-Mobile is working harder than anyone else on coverage, and while they are doing that, they're also doing things that no other carrier would even think of doing if they weren't forced to by T-Mobile.

Smoke and mirrors? We're talking about T-Mobile, not your Meth and Cocaine habit.

That's actually funny. Posted via the Android Central App

To be fair you are a Tigers fan so you are use to gimmicks when they reach the World Series and fall flat losing 4 games in a row. Posted via the Samsung Galaxy Note 4 running Lollipop 5.0.1 on the T-Mobile Network.

28 other teams and fans wish they were in the World Series. As for last year and this year, underachievers. Posted via the Android Central App

Eh, I wouldn't say they are underachievers. Kansas City is finally a good team and the Twins are putting prospect pieces in place too. The Tigers usually heat up the end of August and September and find ways to win the division. Posted via the Samsung Galaxy Note 4 running Lollipop 5.0.1 on the T-Mobile Network.

Amen... Pirates fan here. I'm just thankful that the 20 year losing season streak ended a couple years ago.

Yep, it's a gimmick that in the year I started using t-mobile I've seen lte in new areas and faster expanding than Sprint has done in 3 or more years. Posted via the Android Central App

It feels like it's time for them to tone down the over-hype and and start really focusing on continuing to improve their network and overall coverage. It's come a long way the past couple of years, but still has a long way to go. They're not an "uncarrier". They're a carrier. They've thrown around some disruptive gimmicks (some valuable, some purely gimmicks), but they're still a carrier. They have definitely disrupted the pricing models in the market, which has been great, but the marketing-speak and dramatic hype feels long in the tooth now.

I don't think this 'hype' is interfering with their network and overall coverage. They are rolling out rural LTE on Band 2 as fast as they can, and using their 700mhz spectrum to augment the rural and urban coverage they have in cities that they have Band 12 frequencies. They are also working very hard to make sure that they get a slice of the 600mHz spectrum in the upcoming federal auction. They are doing more than a carrier that isn't Verizon or AT&T could really be expected to do, and I love it.

Good points. I wish they'd focus more on communicating what you just did honestly. I think we're all aware they're trying hard, but to get some info along those lines every now and then would go a long way.

This is my exact sentiment as well! They have yet to improve their network coverage where I need it in comparison to Verizon. So put up or shut up!!! Nothing else matters to me, especially considering I still have Verizon grandfathered unlimited data.

Maybe in your area.. but you are in the minority at this point. Tmo coverage is awesome almost everywhere i go in CA. No complaints here. Especially when i get 2 unlimited likes for $100.

They're working on it. I've been using T-Mobile for about nine months now, and their network performance both in where I live (Philly) and out in the suburbs and surrounding semi-rural areas is noticeably better now than it was when I switched to them. They definitely still have a long way to go outside of metro markets, but they're not slacking.

I'm out in the Philly suburbs (West Chester) and coverage is much better than when I tried them on my Nexus 4 a few years ago. Do you know how coverage works at the Jersey Shore (Ocean City area) and out toward Montco? Posted via the Android Central App

It's pretty good in Montco. I was out in Norristown and KoP last weekend and my speeds were slower than what I get in CC, but still really good. I don't go to the Shore, so I can't speak to that, but it's pretty good throughout south and central NJ.

Every market is different but where I am huge improvement from 1 year ago due to 700 MHz rollout. Without the lower frequency, same old comments about growing the network will appear (legit btw).
I have lines w att as well and all is equal now and I traveling extensively around my region. Posted via the Android Central App

> Without the lower frequency, same old comments about growing the network will appear (legit btw). Yep, and there are no plans for 700Mhz in MY 2million person area, so we won't see much improvements in penetration for a loooooooooooooong time.

Announcement of an announcement. Awesome!

Loyal customer for 1 year now. I really dont understand the hate. Good service at a reasonable price. I paid more for att without unlimited data. Tmobile works for my needs. The network gets better and better. I am so glad I switched. Posted via the Android Central App

I just took a trip to Toronto and since data was a mandatory thing for navigation, etc. and purchasing service in Canada is a hassle and expensive (only Canuckia makes America's ridiculous cell service market look sane), I took a free SIM I had on hand to T-Mobile and activated their $50 plan. I use Straight Talk AT&T normally, so I just forwarded my Google Voice # to the T-Mo line and drove over the border, seamlessly switching to the Bell network over there. Speeds were acceptable; probably 3G or maybe HSPA. I'd almost consider switching, except my workplace (which is already rough on AT&T) is almost totally dark to T-Mo, and $50 (plus tax) only gets you 1GB of data while $49 (incl. tax!) of Straight Talk gets you 5GB. I never get near that amount of use, usually running between 1-2GB/mo, but if T-Mo had better coverage and at least 2GB for $50, I'd consider switching if only for the ease of Canuckian travel.

28gb of data used last month by me alone while my wife used 6.8 and our bill was 154$ and not a single over charge. Thanks T-Mobile!! Posted via the Android Central App

My Verizon bill is $160 for 2 lines with 10 gigs of data.... we only use 4-6 gigs a month. So in all seriousness, $5 a month difference is not that much savings for anybody, considering the average data usage per person is still under 2 gigs a month. If you don't need unlimited data, tmobile is really not that much cheaper it seems. Posted

t-mobile...unlimited talk text and data, 5 gb of high speed per month per line(2 lines)...120 a month

How is that even a good deal? I have three phones on Sprint (Me, Wife, and Daughter), and our bill is $160 with unlimited data and text? Is that price you quote for only two phones?

you need to call tmo... lol You can get 2 lines unlimited EVERYTHING for $100 man. unless $154 includes you devices.. then thats pretty good.

I'm gonna assume that includes the cost of phone payments.

T-Mobile sucks! They don't even have service in my area. And I live in south east Ohio. Posted via the Android Central App

oooh.. everyone knows thats where the ballers are. Shit.. let me calll john and get him on it...

Alabama is pretty bad too lol every time I see a commercial I'm like just stop, don't even tell me when I can't get it lol Posted via my Moto G 2nd gen on Cricket

They've done a great job where I live. Better cellular reception and 4G LTE speeds as compared to 3 years ago. Can't complain about proce either $140 a month for three lines unlimited data, talk and text. Can't beat it, period. Posted via the Samsung Galaxy Note 4 running Lollipop 5.0.1 on the T-Mobile Network.

I don't talk, so i have the 100 mins, unlimited text & 5 gs of 4g 32.10 a month. Thank you T mobile Posted via Android Central App

I just don't understand how it is cheaper. It was going to be about $15 more per month for my wife and I and that didn't even include phones. We got a Moto X and Galaxy S5 for free from Verizon. Posted via the Android Central App

From my experience, it's about $5 a month cheaper. I compared last year, ended up staying with Verizon because tmobile lied about porting a number, and then it wasn't but $5 cheaper. BTW, it took 4 month of calling weekly to get that service cancelled and all the billing fixed. 3 month were waiting for them to process the phones we sent back the day after they arrived. To say I was unimpressed is a huge understatement. Posted

Not a fan of announcing that they ate going to have an announcement. ... That said, we are saving over $100/mo on t mobile (for phone service). Even with EIP, and a 20% discount on verizon, we are paying less (and getting more) on tmobile.

I've had them for 3 months and it's been excellent service so far, and the perfect carrier for me due to the music freedom. Typically I'll use around 5 or 6 gigs of data although my plan is 1 gig of LTE. 4 gigs of free data is cool for me. Posted via the Android Central App

I hope they come up with something for ME. I like the changes, and they benefit a lot of people, but almost every announcement has been something that doesn't help me, only people on larger data plans, multiple lines, people who stream music, people who travel out of the country, people who finance devices, etc. The ONLY improvement since I started with T-Mobile was they upped the data on my plan from 0.5 to 1 GB at no charge over a year ago. Even the 700Mhz stuff won't be in my 2 million person area, so that doesn't help. Me sad, although I still love T-Mobile. Oh, Tmobile- if you want to start with something, how about allowing us to opt-out from your annoying SMS messages about billing?

Just improve JUMP Posted via the Android Central App

I sold my 2 unlimited grandfather plans from Verizon for $1000 to a high end company in LA the rents cell phones for movie sets then I went with T Mobile I now pay $180 for 4 lines unlimited data. Download and upload speeds are great just as good as Verizon in the Los Angeles area I get LTE about 80 percent of the time.

You guys do know that Verizon can be crazy cheap if you exploit them, right? Buy your phones at full price and forgo the carrier "subsidy," and on a phone such as Moto X 2014 you'll save about $300. With flagships the savings amount to the price of the subsidy. We have 4 phones (out of 5) that are no longer under contract with them that we are now paying $15/month for instead of $40/month because we didn't use an upgrade but either kept the old phone or bought use VZW devices. That's before our 10GB of data, mind you, but it all adds up to somewhere between $120 and $140. For the best wireless coverage in the nation, that's not bad. Not dissing T-Mobile or anything, as I love how they've changed the market and really are beginning to force the major players to revisit their pricing. I'm just trying to point out how others can save a lot on VZW. Posted via the Android Central App

While all these carriers are fighting the prepaid underdog companies are laughing all the way to the bank with same service and cheaper pricing.
Android Central Newsletter
Get instant access to breaking news, the hottest reviews, great deals and helpful tips
Thank you for signing up to Android Central. You will receive a verification email shortly.
There was a problem. Please refresh the page and try again.