T-Mobile Springboard available Nov. 9, Galaxy Tab 10.1 on Nov. 12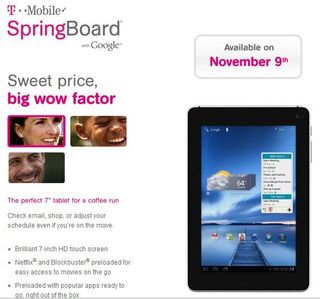 If you've been hitting F5 over and over waiting on availability for the overnamed 7-inch T-Mobile Springboard with Google (we imagine there are a few of you out there), wait no longer, as Nov. 9 is the day, according to T-Mo's own website. The Springboard is the Honeycomb tablet manufactured by Huawei that we got a good look at a couple of weeks ago at CTIA. Still no word on pricing, but remember that Huawei said we'd be "impressed."
And then there's the venerable Samsung Galaxy Tab 10.1. It'll be available Nov. 12. So it's got that going for it, which is nice.
Source: T-Mobile (Springboard (opens in new tab), Galaxy Tab 10.1 (opens in new tab)); via Engadget
Well, I wasn't going to get this. But then I saw it came with a bunch of preloaded apps. Now I will get one.

Pretty sure both Engadget and the t-mo site say the Galaxy Tab is November 2nd...

And the lawsuit from apple for using "springboard" starts in 5....4....3.....2
Android Central Newsletter
Get the best of Android Central in in your inbox, every day!
Thank you for signing up to Android Central. You will receive a verification email shortly.
There was a problem. Please refresh the page and try again.