T-Mobile Galaxy S II Ice Cream Sandwich update now live in Samsung Kies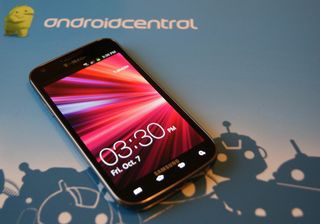 T-Mobile and Samsung have made the Ice Cream Sandwich update for the Galaxy S II live and available via Samsung Kies. Because they have labeled this an "optional" update -- ICS brings a good many changes some may not like or want -- there will be no OTA firmware update. Yeah, we don't like Kies either, but what can you do?
Anyhoo, if you do want the optional update to 4.0.3, fire up Kies and follow the on-screen information to update to the latest available firmware. Besides all the goodness that comes with ICS, T-Mobile tells us there are enhancements to Wifi calling, the Commercial Mobile Alert System (CMAS), and enhancements to user voicemail. We're just glad ICS is finally here.
Source: T-Mobile (opens in new tab); Samsung (opens in new tab).
Android Central Newsletter
Get instant access to breaking news, the hottest reviews, great deals and helpful tips
Senior Editor — Google Ecosystem
Jerry is an amateur woodworker and struggling shade tree mechanic. There's nothing he can't take apart, but many things he can't reassemble. You'll find him writing and speaking his loud opinion on Android Central and occasionally on Twitter.
Well, it's about darn time!

Ugh Kies !!!
I used it once & that was more than enough
I'm still shocked on how big companies like Samsung & Nokia who makes great products can come up with such a @&#@#% softwares ???

Well good for Samsung and T-Mobile. Hopefully this will start a trend and all the other manufacturers will start updating to ICS. I'm looking at you Motorola.... Droid RAZR MAXX owner

In this day an age, a PC should be optional to do anything with the phone. The phone has a capable browser. It doesn't matter if Kies were to be as smooth as butter, it should be optional. Build the updater on the phone, restrict it to Wifi download only for large updates if that's the issue.

What's this stupid "Kies" stuff???
Update isn't OTA?

OMG! AT&T!! Any time soon?! God!!!!

Ditto! I'd appreciate my phone more if it had ICS already...it would alleviate some of the sting of the Galaxy SIII coming out.

I really hope Sprint follows... My epic 4g touch really really wants some ice cream... :)

Installed and checking it out now

when i connect my Tmobile USA galaxy s 2 with kies, it shows "Your device does not support software upgrading via Kies" any help is appreciated current firmware version: PDA:TMO / PHONE:KID / CSC:KID(TMB)

Not sure about your specific issue but sometime last week my Kies refused to update and just kept downloading one of the updates in an infinite loop. Like most buggy / crappy software out there, a complete uninstall / reinstall of the latest version took care of it. Worth a shot.

There was an OTA update from T-Mo a couple of weeks ago. If you got it, you'll see your phone app icon is a little different than before. You need that to upgrade to ICS.

They took until literally the very end of the day to roll it out, when my battery is at its normal 10%'ish which of course won't update... good game Samsung, you win this one. I will update tomorrow... =o/

Makes sense to do it this way. That way the uninformed masses are less likely to update and freak out when their phone is different.

I'd like to install this on an unlocked T-Mobile GS2 I'm using on AT&T. Would installing this affect the unlock?

hey AT&T: "Bueller?.. Bueller?.. Bueller?.."

Way to go Tmo & Samsung! Right on schedule and the first ICS for the SGS II. Thank you.

Updated my wife's phone last night. Everything is working great. She mentioned it was smoother. I put Apex launcher on it and she loves it. Google Beam works. Google Wallet installs, but give a message that the device has not been tested to run on the phone.

i cant figure out why my t mobile galaxy s2 loses it connection to kies mini when my upgrade is already about done and messes it up please hellpp

dont use kies mini go to samsung website and get kies that way you can udate

I waited till this morning to update and all I get is "Your device does not support software upgrading via kies" Spent an hour on the phone with t-mobile then they said sorry we cant help you please call Samsung for further support then after about 30 minutes on the phone with them she comes back and tells me "ICS for T-mobiles Galaxy S2 has been pulled,as we are getting to many reports of people having issues and people having to send us their phones for repair.and sorry sir we have no ETA of when ICS will be released again via Kies". Ugh if its not one thing its another ,guess im glad i waited then have all the issues people are reporting to t-mobile\samsung.

So if I just have the Galaxy S 4g I'm out of luck? I upgraded to gingerbread in november and connected to Kies last night but it wasn't giving me any option to upgrade.

no luck i just keep losing my connection to kies during upgrade dont know whats wrong i almost get it done then at the end when the android dude is on my phone it just stops please more help

Please can i be able to upgrade without an active SIM card?
i already had another network, but i still have my GS2, trying to update, it will download the OTA, then stops. I need an answer pleaaaaaseeee

UGH now kies wont even attempt to search for my galaxy s2 whhy

i was waiting for my Samsung S 4Gto be updated to Gingerbread.and finally found a tutorial about How To Upgrade your T-Mobile Galaxy S 4G to Gingerbread Using Kies here http://www.careace.net/2011/11/16/how-to-upgrade-your-t-mobile-galaxy-s-... . i need to ask someone can tell me how to get cyamogenmod on my phone.

I upgraded my galaxy s2 to ICS this weekend and all of a sudden my e-mails all come in as text instead of HTML. The only way to see the html version is to scroll down to the bottom of the email and hit show details. Does anyone know how I can get html to be the default?
Thanks
Android Central Newsletter
Get instant access to breaking news, the hottest reviews, great deals and helpful tips
Thank you for signing up to Android Central. You will receive a verification email shortly.
There was a problem. Please refresh the page and try again.