T-Mobile celebrates Valentine's Day with free 4G devices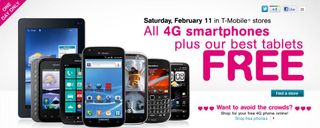 T-Mobile announced today that it will be celebrating Valentine's Day with a blow-out sale on all of its 4G smartphones. On Saturday, February 11, a respectable lot of devices will be free after mail-in rebate both in stores and online. Below is the list in its entirety, which includes some heavyweights such as the Galaxy S II, the Amaze 4G, and T-Mobile's Springboard tablet:
HTC Amaze 4G
HTC Sensation 4G
HTC Wildfire S
LG Doubleplay
LG Optimus T
Samsung Exhibit II 4G
Samsung Gravity Smart
T-Mobile G2x
T-Mobile myTouch
T-Mobile myTouch 4G Slide
T-Mobile myTouch Q
T-Mobile Sidekick 4G
T-Mobile Springboard
If you've got a sweetie that's still carrying around a G1, now might be the time to show him or her how much you love them. Hit the source link for the sale page, and remember, phones are the new box of chocolates.
Source: T-Mobile
Here we go with the word "Free" again. It is "No down payment", not free....

Rebate so you still need money not free bet they charge you tax to

If I sign up for a family plan could I get two phones?

The whole scam of "free" phones annoys me. They're only free if you agree to sign a contract - And that contract has a monthly price that is definitely higher than "free". Free or cheap phones will never sway me, since the greatest expenses is on the service side. Lower that significantly, and I might be interested. But then again, no company I know of can beat $10.66/mo for unlimited 3G data. Is it fully legal? Probably not, but I do own the phone and the account legally, so am I worried? No. Do I abuse the service? No.

Whoa, what country are you from? And can I also be apart of this semi legal low phone bill thing? Haha.... No seriously.

Feb. 11 sale my ass. Ironically , i went to two seperate stores today and both claimed the systems were down due to the abundance of new line requests or upgrades. it just goes to show that nothing with t-mo is ever free or easy.. seiously considering switching providers after many loyal years with T-MO. :(

AndSilly Love Songs yet somehow he discovered a way to atmosphere the seeing atmosphere of way of lifestyle and in the procedure produce some very successful ideas on way of lifestyle really like and persistence that we can all use to our own benefits these days.
Android Central Newsletter
Get the best of Android Central in in your inbox, every day!
Thank you for signing up to Android Central. You will receive a verification email shortly.
There was a problem. Please refresh the page and try again.