T-Mobile announces the Samsung Galaxy Light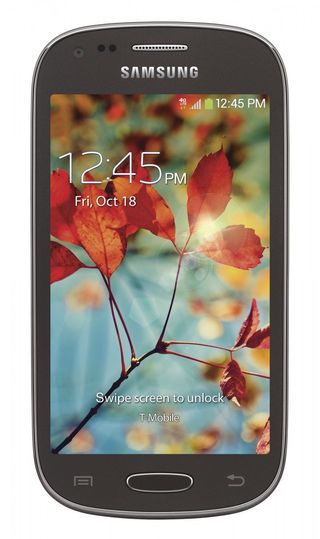 Alcatel OneTouch Evolve also launches today
T-Mobile US has announced plans to launch the Samsung Galaxy Light, a new entry-level 4G LTE handset. Looking like a cross between a Galaxy S3 Mini and Galaxy S4 Mini, the Galaxy Light packs a 4-inch WVGA display, a quad-core 1.4GHz processor and 1GB of RAM, and runs Android 4.2.2 Jelly Bean. There's 8GB of internal storage, expandable via microSD card, and the phone ships with a 1800mAh battery and a 5-megapixel camera.
So nothing much to write home about, but T-Mo should be targeting a low price point for the device when it launches at some undisclosed point in the future.
Meanwhile today sees the launch of Alcatel's affordable OneTouch Evolve on T-Mobile — yours for $28 down, with 24 monthly payments of $3.
Alex was with Android Central for over a decade, producing written and video content for the site, and served as global Executive Editor from 2016 to 2022.
Yeah nice. Does it come with 'take what we give you and shut up' plans or does that come later? ----------------------------------------------------
My S-Pen went through hell to deliver this important message to you

Oooo.. Should I step up from my $89.00 Prism II for this puppy?
Decisions..Decisions.. 4 inches is stretching screen size a bit much but, I would not mind having a Quad Engine.. we shall see..

Why? Go with a real phone and get an sgs3 ----------------------------------------------------
My S-Pen went through hell to deliver this important message to you

NoNex..
My phone does EVERYTHING your phone does..
For $89.99.
On T-Mo's $30.00 a month plan.
I will NEVER go back to a gigantic phone.
Owned and Sold my Note earlier this year.
3.5 inches (where I'm currently at) to 4.5 inches is the max for me.
I own a tablet for the big picture.
and do you know what the Ironic Part is? My $89.00 Prism II has the option OUT OF THE BOX to designate the SD Card as the Primary Storage.. EVERYTHING goes straight to my 32 Gb SD Card. I own a REAL phone.. with a REAL $360.00 a year T-Mobile Cellular Plan.
Life is good here.
We may splurge at Xmas for this device.. we may not.. but my Geek is much more controlled than yours..
In the end.. it's just a telephone.. And I'm at the stage of life I'm not trying to impress Anyone.. but my Wallet.

You make a lot of sense. I wish I had the courage to go prepaid. Posted via Droid RAZR M on the Android Central App

Of course he does. In the end this is all just feeding the beast. I have 5 phones that quite frankly I do not know why. But if I wasn't spending money on electronics, I would be spending them on fishing reals and rods or golf or old money collections or what have you. Like I said it is just feeding the beast, just the beast is always in different shapes.

I can appreciate good business sense, brother. Posted via Android Central App

Outside going to tmobile, I understand. Tmo sucks here or I would get it all ----------------------------------------------------
My S-Pen went through hell to deliver this important message to you

Thumbs up to you Posted via Android Central App

I WANT SAMSUNG NEW MODEL images

Galaxy "Light" is right. You would be better off saving up a little longer and buying a used S3.

This is targeted at people who don't care for phones much. An S3 is "too much phone" for some people Posted via Android Central App

Perhaps. But what those people don't realize is that $100 for this phone is still too much for what you get. With some patience, you can find a used T-mobile S3 for less than $200.

Why not just get this phone now? It's actually pretty decent. A quad core device, for around bucks is amazing. Posted via Droid RAZR M on the Android Central App

It takes more than quad cores to make a device future proof (and by "future proof" I really mean the duration of a 2 year contract). 1 GB RAM and 8 GB internal storage may be enough for android 4.2.2 and a few apps, but next year when you are lusting for the latest android update and/or some must-have new game or killer app comes out, this phone will make you wish you had got one with more muscle. But if you are itching for a brand new phone for little money, and you don't want/need the latest android version (or you don't mind it running slowly), and you don't need a HD screen, then by all means go for it.

I'm pretty sure whoever buys this phone does not care for none of those things and care more about putting up some vines and Instagraming. Posted via Droid RAZR M on the Android Central App

And you are probably correct. If your needs and expectations are minimal, then a minimally spec'd phone is all you need.

Also Tmobile is all about no contract now so in theory if you needed a new phone just get this one temporarily and then save up for a really nice one like the Note 3 of S 4.

That's not true i bet you dont even have the phone and it upgrades to android kit Kat. I have the phone and i downloaded almost 200 apps and i don't care about vine and instagram so stop. You may think you are pretty sure but i know you are pretty wrong.

Why get a big screen at all? There's a sizeable audience that doesn't want anything larger than what this provides.

Man you guys were wrong. This baby is quite good for 100 bucks. Who in their right mind would pay $600 or tie themselves to these fat corporations?. love it.

Not everybody wants the big screen. My daughter was much happier to get a Samsung Galaxy "Exhibit", basically a S3 Mini. I have an S3 so she was more than familiar with the phone. She did not want anything larger than an iPhone, but also didn't want an iPhone since she hates iTunes. This would probably have been her phone if we got it today instead of about 2 months ago. Choice is good.

My point is, you can get a much better phone for not much more money. But I agree, choice is good and to each his own.

You can always get more for more money, but do you really need all of that for the price? This is going to do what 85-95% of people want in to do with a smart phone. Posted via Droid RAZR M on the Android Central App

My daughter doesn't have "much more money". And yes, mean parent that I am, she paid for her own phone.

My kids do as well, and they are old enough they pay 'something' close to the bill as well. In the long run they are better off ----------------------------------------------------
My S-Pen went through hell to deliver this important message to you

My comments were not intended to be taken as a criticism directed personally at you or your daughter. Her independence and willingness to spend her own money is something to be proud of.
"Much more money" is a relative term, obviously. I am merely saying anyone looking for the most bang for the buck should look elsewhere.

honestly.... too many galaxy phones Posted via Android Central App

We've gone past the point of saying too many Galaxy phones. Every phone they have now from like the past two years is a Galaxy device. Posted via Droid RAZR M on the Android Central App

The reason every phone is a Galaxy phone is that the 'Galaxy' line is their phones running on the Google Android OS. That being said, I think Sammy has been doing quite the good job of updating its phones as the market needs have arisen. And frankly I'm glad this phone came out at this time, as my S Blaze is at its limits. As much as it seems to be a step to the side/ back, Quad-core, 8Gig RAM, Jelly Bean, and standard LCD screen (trust me, pen-tile AMOLED makes text look blurry and don't get me started about reading the screen in sunlight!) make this a near-must-have. And with 'Jump!', when I'm ready to upgrade again I can do so at that time!

Choice is always good, but calling them something else wouldn't go amiss.

Yes let's make a brand name a household name then abandon it. We can be HTC! ----------------------------------------------------
My S-Pen went through hell to deliver this important message to you

Lol Posted via Android Central App

Terrible. Posted via Android Central App

Looking forward to it Posted via Android Central App

This is the same device as the one MetroPCS has been selling under the name Samsung Galaxy Exhibit! :) 79 with a new activation on metro right now, with plans as low as 40 per person for unlimited everything (500mb of 4G but unlimited tmo HSPA) and down to 25 a month with the 4/100 plan on metro now with the same features of the 40 but for families! Posted via Android Central App

It's basically an upgrade to the exhibit.T-Mobile carried the same exhibit for $240 and discontinued it. This one features a 4.0 inch screen, Android 4.2 1.4 GHz Quad-core processor, LTE and 8 GB of storage vs. the exhibits 3.8 inch screen, Android 4.1 1.0 GHz Dual-core processor and 4 GB of which only about 1.4 GB is available to use with no LTE

a-hem.... Where is the FORUM for this new device??
Android Central Newsletter
Get the best of Android Central in in your inbox, every day!
Thank you for signing up to Android Central. You will receive a verification email shortly.
There was a problem. Please refresh the page and try again.