The SuperTooth Disco 4 speaker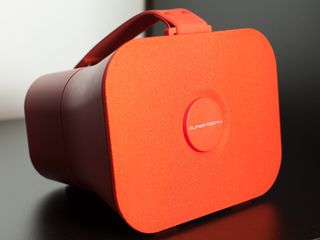 We've long been fans of the SuperTooth Bluetooth speaker here at Android Central — from the original (and some still say the best) SuperTooth Disco to the Disco 2 (you might remember this video from that one) to the iterative Disco 3. At CES this year, we got our first look at the Disco 4, which we now present for your approval.
The bottom line? This is a pretty damn good Bluetooth speaker in a small, portable form — and for just $49.
The basic specs are you've got an 8-Watt rechargable speaker. It's got one driver and one bass port (and, yeah, it's stereo). It's got Bluetooth 4.0, A2DP, NFC and can pair a maximum of eight devices at once, but only have one connected at a time. The design is that of a horn loudspeaker, with a handle on top. Disco 4 is, by design, a short-term, portable speaker. It stands 5 inches tall by 6 inches wide, and it's about 5 inches deep. The Disco 4 weighs just over a pound. It's a little large for a suitcase, perhaps, but it's still a pretty portable device.
Operation is blissfully simple. Round back there's a power button, Bluetooth LED, microUSB port and a 3.5mm jack. Charge it up — takes about 2 hours, SuperTooth says — hold down the power button to turn it on, and you're good to go. You can initiate the Bluetooth connection via NFC by placing your phone on top of the speaker, at he aft end of the handle. Or to pair manually, hold down the power button until the pairing light starts to flash. (The Disco 4 Bluetooth pairing code is 0000.)
Image 1 of 6
Note that there are no volume buttons — that's all handled on your phone or tablet.
As for battery life, SuperTooth rates the Disco 4 at 2 to 3 hours at full volume, 12 to 15 hours at a more moderate level.
The most important part, of course, is sound. And while we wouldn't necessarily expect much from a small $49 speaker, the Disco 4 is surprisingly good. There's a decent amount of bass, and highs are crisp and clear. You might get a little bit of distortion at max volume, however, but that's not overly surprising. Again, it's a no-frills portable accessory — you're not going to be pairing it to a second D4 for use at home or an office. But for what it is, the sound is remarkably good.
The Disco 4 is available in black, white, gray, red and blue. You can pick one up for $49 directly from SuperTooth.
Get the Android Central Newsletter
Instant access to breaking news, the hottest reviews, great deals and helpful tips.
That's really cool! I should get one for my Mom's car. Her phone would connect to it automatically? Neat. Posted via Android Central App

TIL there is such a thing as a car without speakers.

I'm sure this is way better than the paper cone speakers most companies put into cars. Also spending $50 on this may be a better option than $100+ on a new deck that can play music from your phone.

Some cars, like my '99 Taurus, don't have built in ways to play music from my digital devices. The car has a cassette player that doesn't work with an audio adapter, and in Sacramento, radio stations fade in and out a lot as one travels, so a radio audio adapter frequency has to be changed often (not a good idea while driving), so something like this would make sense. Posted with my HTC One GPe via Android Central App

stop being so late 90s and rip the a/c cover off get a replacement cover for a single din bluetooth, wire in the loom. Less dangerous than something flying round the cabin in case of accident too.

I bought and still use the original version all the time. It is a bit big, but sounds solid. Awesome AC.

Same here. I'd love to have that same speaker with updated Bluetooth.

For some reason I cant see the images of the unit above. Normally this format works OK for me.

Yeah, something broke. We're looking at it now.

This new(?) format has never worked for me on my work computer. I used to be able to see pictures but not anymore.

Would be better than the JBL charge? Posted via Android Central App

Any ideas on how the sound compares to that of the original jambox? Posted via Android Central App

> It's got one driver and one bass port (and, yeah, it's stereo) It's not stereo if it's only got one driver.

This is what I was thinking...not sure how it could physically be stereo with one driver.

I suppose it's all in how you define stereo. In this case, I'd bet it performs a stereo bluetooth connection. Then merges those channels into one for output.

Which makes it... not stereo. You can't do stereo with just one speaker any more than you can have bifocal vision with just one eye. By definition, it is not possible.

Yeah, I think I rewrote that a few times and lost the quotes. Definitely not true stereo.
Posted via Android Central App

DOES NOT look very STEREO to me. Looks like a single driver with a single bass port. Does anyone make a system where single drivers can be made stereo by pairing a left and right channel speaker?

Hmm, how large is one driver? Stereo or not (it's not you'll get decent imaging two drivers close together), these things are worth about that much and more, maybe $75 for a unit with a decent battery and NFC etc... If you're paying more than that you're paying more than what a nice pair of hifi bookshelf speakers would run you, and a t-amp plus a Bluetooth receiver can be had for under $65. All those $100-$300 portable Bluetooth speakers/docks out there now are the biggest ripoff since Beats. I use an old Logitech mm50 ($35 like five years ago) with a little clip on Bluetooth receiver from Sony Ericsson (has playback controls and even a display for track info), whole thing ran me less than $75 and sounds better than most of the cash in attempts you see now.

I agree with everything you said, but if you need wireless/battery operation then you need to factor in a battery pack. Plus there is something to be said for carry a single speaker with everything built in vs an amp, 2 speakers, a bluetooth reciever, a battery pack, and all those connecting Cables. Posted via Android Central App

How does this stack up against the original super tooth? Does the original still sound better than the other iterations? If so I may just go with that one. Posted from my LG G2 via Android Central App

I don't have either, but based purely on the disco 4 advertising 8-watts of power and the original advertising 28-watts I have to believe the original packs quite a bit more punch. Posted via Android Central App

The best Bluetooth speaker I've ever found is the Logitech Mini Boom box. Small in size but awesome sound, 10+ hours on battery power (even at slightly higher volumes) and is still going strong for me after almost 3 years (and yes, no loss in battery life).

that thing looks ridiculous. get the UE MINI BOOM - 1. True Stereo L/R Channels.
2. 50 Foot BT Range
3. 10 Hour Battery Life
4. Micro USB Charger.
5. Very Portable - Overnight Bag, Beach Bag Friendly. can be had for $89-$99. http://www.ultimateears.com/en-us/mini-boom i love it and highly recommend.

I've had the UE mini for 2 1/2 years and it's been one of the best purchases I've ever made. Excellent sound quality, volume without distortion (it can fill an average room), battery life and in such a small package! The best travel bluetooth speaker I've found. I'm always hesitant to recommend items because other peoples criteria might be different from my own but not in the case of the UE Mini Boombox.

WOW the device's shape is very misleading. I thought it was pretty big. But with the cover removed the driver is tiny.

Exactly my first thought too! Kinda disappointing.

I just want a flippin' Bluetooth system with TWO separate speakers (stereo) that can be placed anywhere I see fit. This one speaker setup claiming to be stereo is misleading. I know you can get a Bluetooth 2.1 system for this purpose but they aren't so portable. You know, like a beats pill that can be locked together as one speaker or separated for stereo enjoyment. I've yet to find that.

"This one speaker setup claiming to be stereo is misleading."
Misleading is a generous term. A lie or false advertising is more accurate.

UE Mini Boom has two distinct speakers for a distinct Left and Right Channel in one device. and you can buy two and use their App from Play Store and join the two speakers as L/L and R/R or as L/R and L/R if you prefer - all via their App. check it out - the UE Mini Boom is amazing. volume is really loud and clear as well. one is all i need. great for beach and pool and anywhere around the house. i researched the shit out of these and bought a few other models and returned them all - like Jambox etc. i thought they sucked. i love this one - and the price although not cheap is reasonable. best value, great stereo sound, great compact form factor, standard micro USB charger, 10 hour battery life, 50 foot BT, NFC, clean sleek design/controls. see my additional post above. good luck. http://www.ultimateears.com/en-us/mini-boom

Shill much? One post is good, two is advertising.

Go F yourself. i believe in the product and he asked about the L/R stereo channels.

Is this better than the $59.99 Amazon Basics Bluetooth speaker??

Only one 15$option for shipping, not free. (

That sure as hell looks orange to me...

I'm loving it, just got it, getting another one. Yeah its orange no doubt. And Aldo bout 65$ with only one shipping option. It's pretty sweet though. Carry it anywhere. Super light.

Doesn't come with a charger though Aliso, just a USB to micro USB. So I'm using my nexus 7 charger, hope it doesn't hurt.

I have been using disco 4 for about 3 months now.I also have 600$ jbl onbeat xtreme(never seen a better bluetooth speaker) and my sister has a jbl flip 2.All i can say is I am extremely satisfied with the sound the speaker gives for 49$.I have been listening to flip 2 whole day today and I can honestly say base is better on disco 4.While disco 4 is just 8 watts(it doesnt feel like it!) but you ll be surprised to see the quality of sound,the balance between bass mid and treble is very good,while if you listen to hip hop the bass doesnt disappoints either.Battery life is decent and anycharger(i use 2000ma) can be used.Nfc works everytime.All in all the best value for money bluetooth speaker out there.
For the ue boom speaker guy,you are a retard if you think two speaker can produce better sound than one.And btw ue boom mini is shit,though larger ue boom is good.