Supertooth Disco 2 review: Our favorite speaker is sleeker, sexier, but a little softer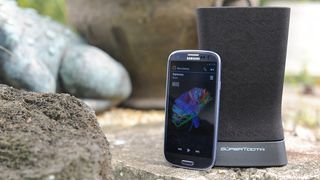 I am not what I'd consider to be an audiophile. I don't look down on folks who don't listen to vinyl records (kids, ask your parents), and I don't use $500 headphones. I do, however, throw away earbuds that come with phones (with perhaps one recent exception), and it'll be a cold day in hell before I use an unpowered speaker.
That brings us to the object of today's affection -- the Supertooth Disco 2 Bluetooth speaker. We've long been fans of the original Disco. And we got our first look at the Disco 2 at CES in January. For sure, it's easier on the eyes. But how is it on the ears? Will it get us to give up the ghost of the original?
Only one way to find out.
The look
The original Disco simple looks like a speaker. Traditional speaker grille, volume knob, with playback controls looking you in the face. It was a horizontal endeavor, with sound coming out the front, and connections in the back for power and 3.5mm input, plus a little LED to show charging status.
Functional, but not exactly a looker.
The Disco 2 comes at things from the opposite direction. It stands just a hair over 7 inches tall, 4 and a quarter inches wide and is 2.75 inches thick. It's not tiny, but neither is it huge. (If you're overly concerned, Supertooth has a full-scale image of the speaker on the side of the box. Of course that's not a lot of help if you're buying it online.)
Basically, think of the design like a rounded, rectangular box that's been stood up on one end and cinched at the waist. We'd dare say it's womanly, actually. For sure it's fun to look at. It might not inspire quite as much curiosity as, say, the Nexus Q, but untrained eyes are going to wonder what it does. The Disco 2 looks at home standing on a bookshelf. The original Disco works better in a windowsill.
The speakers consist of a mid and high on the front, with bass in the back as expected, (insert dumps like a truck joke here), and they're smartly covered with fabric. (You can see through it in certain light.) The fabric gives way to about an inch worth of plastic base (not bass) at the bottom (again, where base belongs), and the whole package is nicely grounded with a ring of rubber footing, so it shouldn't slide off most surfaces.
The function
Around back you'll find ports for the power plug, 3.5mm line-in, and an LED charging indicator. (Green is good, red means it's charging.)
Up top we've got the buttons. There's power for, erm, turning the power on and off. (Hold it for a couple to toggle that; hold it for 6 seconds to initiate pairing.) The power button, which is recessed more than the other buttons, is flanked by + and - buttons for volume control. We actually prefer the older dial control for this -- it's faster. But such a knob would look out of place on the Disco 2. The bottom row of buttons comprise play/pause, forward and back. Note that these play control buttons only work for Bluetooth playback, and not when you're using the 3.5mm line-in.
Inside the Disco 2's box you'll find the 3 feed of 3.5mm cable, and a 5-foot power cord.
Pairing over Bluetooth was easy enough. When you first turn on the Disco 2, the play/pause button will angrily start blinking red, demanding that you pair it. That takes just a couple seconds, and we're all set.
The Bluetooth range on the Disco 2 is pretty impressive -- we were able to use it on the other side of the, through a wall, about 30 feet away. That also means you'll need to make sure you're disconnected, lest you blast someone from another room. Or go ahead and do that, if it's your thing.
Plugging in through the 3.5mm jack is ... plugging in through a 3.5mm jack.
The technical stuff
Things you need to know. (Or if you don't care about the nerd stuff, skip on ahead.)
Size: 182 x 108 x 70 mm
Weight: 552.7 grams
Battery: 3 to 4 hours at high volume; 10 hours at medium volume
Standby time: Rated at 1,500 hours
Charging time: 2 hours
Output: 16 Watts (2 x 8 Watts RMS)
Connectivity: 3.5mm line-in, Bluetooth 4.0 with A2DB, aptX
The sound
This is, as they say, where the rubber hits the road. Never mind how the Disco 2 looks. If it sounds like crap, then what's the point, right?
Some of this is going to be subjective. And, again, while I'm no audiophile, I do demand at least a decent level of quality. To that end, the Disco 2 just about meets my expectations. You need to remember that this is a $99 (suggested list price) product. That's on the good side of an impulse purchase. And it's bringing along a bit more design than the Disco 1.
It's also doing so with less power, though, at 16 Watts versus the original Disco's 28 Watts. While the Disco 2 can get plenty loud (there's a lower ceiling when connected over Bluetooth, by the way), it's just not quite as full a sound as you get on the original Disco. It's damned close, though. The good news is max volume didn't seem to invite any severe distortion, though dubstep ain't exactly this speaker's strong point, ya dig? Things get a little muddy at louder volumes. The distinction between the lows, mids and highs sort of blend together.
One thing to remember about the Disco 2 is that while it's got speakers on two sides -- mid and high up front, bass in the back -- you'll want to make sure the front is facing you, otherwise tones will be muted. That's no surprise -- the Disco 2 isn't really omnidirectional. One thing we didn't get to test was pairing two Disco 2s to a single phone and using them like bookshelf speakers.
At relatively normal volume levels, though, the Disco 2 is capable, especially given the price.
The bottom line
The way we see it, the Supertooth Disco 2 boils down to this:
The price is right at $99. But you can get the original (and more powerful) Disco 1 for about the same on Amazon.
Portability is great. Pick it up and go. (It's got a little cloth bag, too.)
The speaker is nicely designed. Not space-age or anything, but neither is it boring.
The sound is good enough for the price.
The buttons are nicely designed and laid out.
Battery life varies depending on how loud you're rocking, but it's good enough for our needs.
Are there better-sounding speakers? Sure. But for $99? You could certainly do worse.
Learn more at Supertooth.net
Get the Android Central Newsletter
Instant access to breaking news, the hottest reviews, great deals and helpful tips.