Staying stationary with MrMobile: Home is where the tech is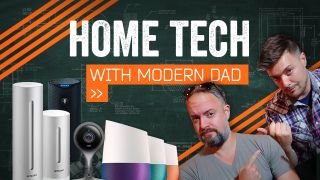 "MrMobile" isn't just a name; it's a lifestyle. That means I normally only cover technology that takes you from your doorstep to distant destinations. But there's an awful lot of interesting tech made for the home that's cropped up over the past year that you've been asking about ... and frankly, I don't know much about any of it! So I hopped a plane to Pensacola, Florida to meet up with someone who does.
Join me as Modern Dad teaches us all about the coolest home tech of 2017, from Amazon Alexa to Google Home to something called "netatmo."
After the video, be sure to subscribe to Modern Dad on YouTube – because before you know it I'll be back on the road, and you're gonna wanna stay on top of all the stuff Modern Dad is filling his house with.
Featured Products
Stay social, my friends
Get the Android Central Newsletter
Instant access to breaking news, the hottest reviews, great deals and helpful tips.
You mean "Modern Identity Loss"? No thanks. Not even Michael Fisher can make me watch that.

Modern Dads a great channel... Def deserves more subs.

"How much does this cost?"
"$200."
"Why." GOOD QUESTION.

I watched the video and was hoping Phil would do a good job at selling me on why I needed more stuff. Nope. Phil, you're a crummy salesman. Love the website, but that video made me want to not want to continue working on my smart home. I love tech as much as the next guy, and I'll incorporate it into my life when I encounter an issue that can be solved by tech but if this is how I look to people then i'm going back to 1950's analog tech. Were my Hue lights expensive? You bet, but they solved an ongoing issue for me. Here's what I just saw: a video of a man who has a bunch of toys for the sake of having toys because that's what he likes spending his money on. Which is cool because I waste my money on nonsense too, but it made for an uninteresting and awkward video. I hope I don't sound too harsh as it's not my intention.