Spigen Style Ring Review: The ultimate phone accessory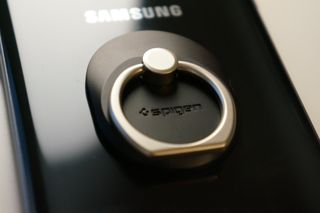 So many smartphone accessories claim themselves to be a must-have accessory, but rarely do they actually live up to the advertised hype. More often than not, they end up in some drawer after a month or two for one reason or another — you've upgraded to a new phone that's not compatible with it, or you just got bored with using it.
The Spigen Style Ring may just be able to buck that trend. By incorporating so many handy features into one universal smartphone accessory, it basically become more and more essential the longer you use it.
And if you're also among the millions of folks swept up in Pokémon Go mania, you've spent countless hours running through your city trying to catch 'em all. During our own hunting adventures, we've come to realize the Style Ring is also the perfect Pokémon Go accessory.
No more death-gripping your phone
If you've own a smartphone for long enough, drop damage is inevitable. If you're lucky, it falls the "right way" and doesn't cause any permanent scuffs or cracks. With the Style Ring, you get an added layer of security when your phone is in hand. Slip your finger in the ring and you really don't have to worry about dropping your phone.
For Pokémon, the idea of not having to death grip your phone as you weave your way down streets and through parks tracking an elusive Pokémon is pretty novel. The Style Ring gives you the confidence and freedom to take off running when you hear someone yell about a wild Vaporeon — without ever having to worry about dropping your phone.
Perfectly car compatible
Another simple accessory included with every Style Ring is the Hook Mount, a little rubberized-plastic nub with mounting tape on the back. Wipe down a spot on your car's dashboard, adhere the Hook Mount, and you just installed one of the most minimalist car mounts for your phone on the market.
To mount your phone, you simply extend the ring, hook it on the mount, and push until you feel it pop into place. BAM! Your phone is secure and accessible to you as you drive. Perfect for controlling your music on the go, following along with turn-by-turn directions from Google Maps, or a quick swipe if you're near a PokéStop at a red light.
For Pokémon players who love to play while being driven around, the Style Ring lets you confidently lean out the window like a dog and really stretch your phone to get into range of distant PokéStop. As long as you've got the Style Ring on your finger, your phone is secure. We're definitely not recommending such behavior, we've just seen people doing it and it's only a matter of time before someone's phone slips and shatters on the pavement below.
Also works great on bike
If you're more of a Pokémon purist, maybe you prefer to bike around as you hatch and catch. With the Style Ring, you're able to maintain much better control of your bike while still managing to keep your phone literally on hand. This allows you to conveniently swipe PokéStops as you bike past, or pop off your bike at a moment's notice when you feel that vibration informing you a Pokémon is around.
This goes without saying, but as the game warns on load up, always be careful and alert when you're out and about. Heed the words of Professor Oak who frequently scolded you — there are time and places where you simply shouldn't be on your bike. Be considerate to your fellow trainers!
Better range for one-handed Pokéball throws
So we've talked about how the Style Ring can help you keep a better grip on your phone, but let's talk about how the Style Ring might help with some Pokémon Go fundamentals: catching Pokémon!
Spigen highlights how the Style Ring grants you a wider reach across larger smartphones. This added range will give you more control over your Poké Ball throws.
Once you're on that XP grind to to level up your trainer, every little addition helps. That means maximizing every Pokémon catch with a throw bonus. One of the coolest (and often frustrating) techniques is the curveball throw. It nets you an extra 10 XP, which should become automatic when you get the curveball down pat.
If you need to work on your curveball throws, we've got a guide for that!
And it's got other uses beyond Pokémon Go, too
On top of everything previously mentioned, the Style Ring also doubles as a kickstand, which is awesome. With the ability to tilt and swivel the ring 180 and 360 degrees respectively, you have the freedom to set up your phone any which way you want. Prop it up in portrait orientation on your work desk, or flip it to landscape for watching YouTube videos or Netflix.
There are many other clever uses for the Style Ring — you just need to use your imagination. Mobile Nation's own Kevin Michaluk is a huge fan of the Style Ring. On top of all the awesome functionality of the Style Ring mentioned above, he enjoys using it as a spin-the-phone game for determining who's going to pick up the cheque when out for dinner with friends.
Because of how the Style Ring secures to the back of your phone, removing it does takes some elbow grease. Best practise is to wedge something thin such as a guitar pick under a corner then slowly peel it back. But you can swap the Style Ring to another phone, which is great. Take care of your Style Ring and it may just outlive your device.
Oh, and if you're wondering, it doesn't quite work as a beer bottle opener. We tried.
Get it to match your phone
Spigen offers the Style Ring in five familiar colors — Space grey, Champagne Gold, Black, and White — so you should be able to find the right color to match your phone.
If only they came in Valor red, Mystic blue and Instinct yellow. (Psst! Spigen, you listening?)
An essential accessory, for average phone user, or the ultimate Pokémon Go fan!
See at Amazon (opens in new tab)
Android Central Newsletter
Get instant access to breaking news, the hottest reviews, great deals and helpful tips
Marc Lagace was an Apps and Games Editor at Android Central between 2016 and 2020. You can reach out to him on Twitter [@spacelagace.
http://www.rocparent.com/downloads/362/download/ar14-pacifier.jpg?cb=f7e...

Wow...this actually looks awesome. It's a little expensive for something I'm not sure I'll 100% trust but I do want to give it a try.

These are under $5 on Amazon and work the same. Phone Ring Grip & Stand.

Looks a lot like a Kickstarter project I backed, the Linkmount

Huh, I'd never seen that before. How do you like the Linkmount?

I ultimately gave it to my girlfriend, but she really likes it. She has small hands, so it makes it easier to hold her Note 5. She uses the mount in her car and it's fairly stable

I hate paid Amazon reviews!

+ 1 A/C's review policy seems to be "Can we get paid by referring people to Amazon?"

You're mistaken on the way Amazon works. Most companies send traffic to Amazon because they have an excellent affiliate program, but Amazon does not pay companies to review products. Spigen sent us these products and we reviewed them of our own volition under the pretence that the review could be positive or negative.

This looks like something I could really use on my big ol' V10, but the placement on my phone would break being able to do wireless charging and NFC. :(

Either way it won't stick on the regular military style back cover, assuming you don't have case on.

Have one of these attached to the back of a Note 5 case. Worked well for a kickstand, and allowing me to easily hold and operate it one handed with the camera app while taking photos.

"If you've own a smartphone for long enough, drop damage is inevitable." I have had dozens of smartphones and have never dropped one. So, no. Also, not everything you review automatically relates to Pokémon GO. Do they pay you to use the word as much as possible? Give it a rest.

People really do love finding something to moan about don't they. The vast vast majority of people will have dropped their smartphone at some point, ok not 100% of people but was it really worth nitpicking over something so trivial? As per the comment above, given enough time you WILL drop yours eventually! Re Pokemon Go, I have absolutely no interest in it whatsoever so I just skipped the bits about it in the article. Is a mention in an otherwise useful post really that much of an issue?

Consider yourself an anomoly. Lots of people have dropped their phones and incurred some type of damage. That's why we see cases and screen protectors advertised to withstand drops. People aren't doing drop tests on YouTube for nothing. As for the use of "Pokemon", I think you're right. Its being used a lot.

"I have had dozens of smartphones and have never dropped one....yet." There. Fixed it for you.

This. 10000000000x this Best accessory I've owned. I bought a cheap case as backup protection, but I've found it to be redundant. Haven't dropped my phone in the 2 months since buying mine.

Looks very nice but what if you have a case will it stick to the case?

It should stick to most cases as long as the back panel is flat enough. Might want to be wary about using it on leather as it might damage when you go to remove it after a long while, but it will adhere nicely even to a textured leather case.

installing this ring means no more NFC or wireless charging on the new galaxies right?

NFC, like Android Pay, works just fine, but wireless charging is somewhat difficult, yes.

I'd like this as my hand is partially paralyzed and this would improve my grip. Though i have an LG G4 with a leather back and would hate to give that up. How good is adhesion on leather?

Don't have a LG G4 on hand, but I do have a leather wallet case and the Style Ring adhered instantly.

Now it cant nicely slide into your pocket. And forget about it on phones where people use wireless chargers.

Ugly as sin. Oh, btw. You should no more be using your phone while riding your bike that while driving your car. Stupid is as stupid does, and when you land on your head because you weren't looking where you were going you'll feel plenty stupid.

I had some doubts about this accessory but it seems really good! It seems like something interesting to buy in the future...

I bought some "thingslings" (think they changed the name) back in the day. Similar concept with a lower profile elastic strap. I'm using it now on my designated Pokémon go phone (Z1 compact). The downside is that it uses 3m adhesive to hold it, so I attached it to a cheap case. I might give this one a try since it's removable.

Just heads-up. The fakespot analyzer determined that up to 64% of the amazon reviews are fake. Not saying that this isn't a good product, mainly because I've never owned it, but purchasing fake reviews makes me dubious.

One of my really good friends has use of only one of his arms, so I'm totally buying this for him.

He DOESN'T need your PITY!!!! LOL/JK

I read that it keeps breaking. What kind of warranty does it have and will they replace it when it breaks?

I've been using something similar called the popsocket. It used to be fairly inexpensive at 2 for $10, now I think they're $10 a piece. One additional function that it has over this is wrapping earbuds around it. Also the car mount is slim and you can still put your phone at an angle to offset the angle of the dash.

Gets in the way if you want to lay your phone down flat though..

That is a very good point

i bought one of these for my plastic backed LG G4. I have it attached to the Spigen Neo Armor phone case for my G4. I got it to help my ability to have one hand navigate the phone more easily. I don't think I have short fingers, but to me at least the LG G4 is a little tough to securely hold at the bottom and reach up to the top of the screen. I did change phone cases for a few months to a case without the ring, but I recently went back as I prefer how it enhances my ability to hold the phone. This spigen one has been quite durable and has not fallen off my phone.

For the people moaning about it affecting nfc and wireless charging, did you ever consider sticking this to a case? You don't have to attach it to the phone itself. For only 15 bucks, I ordered one in space grey for my Note 7. I have a decent TPU case I'm going to put it on.

Because I spent a fortune on a phone that is super thin and feels great in my hand so why the hell would I want to then make it so much thicker and bigger by putting a case on it. I bought three for my S8+ and ditched every one of them. I would rather take the risk than ruin how great it feels every time I pick it up.
But all of my chargers are wireless so as much as this sounded cool its a no go for me...

Pretty inventive accessory. I sell these at my retail business and don't sell a lot b/c folks don't really understand the need or benefit. They have to be shown.
One major caveat that makes the accessory a deal breaker for me is the rocking effect it has when you simply want to lay your phone on a flat surface. The phone rocks like a gravel or something is under it. I can't take that. Now, if they made it with some kind of bumpers out to the left and right of the ring, then the phone could at least lay slightly tilted but steady for quick usage. Cool and useful otherwise IMO.

Personally I was thinking a whole case would be nice (and more reassuring) that way it could also fold in flush with the case. I really just want for the phone gymnastics in the first gif!

I love this. I use the iring and love that.

Looks intriguing. I may get one. I usually buy slim tpu cases with no texture. I wonder how well this would adhere to those cases?

WOW! ugliest accessory ever.
Android Central Newsletter
Get instant access to breaking news, the hottest reviews, great deals and helpful tips
Thank you for signing up to Android Central. You will receive a verification email shortly.
There was a problem. Please refresh the page and try again.