Spigen Style Ring Review: The ultimate phone accessory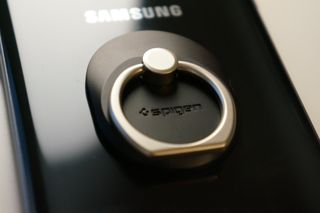 So many smartphone accessories claim themselves to be a must-have accessory, but rarely do they actually live up to the advertised hype. More often than not, they end up in some drawer after a month or two for one reason or another — you've upgraded to a new phone that's not compatible with it, or you just got bored with using it.
The Spigen Style Ring may just be able to buck that trend. By incorporating so many handy features into one universal smartphone accessory, it basically become more and more essential the longer you use it.
And if you're also among the millions of folks swept up in Pokémon Go mania, you've spent countless hours running through your city trying to catch 'em all. During our own hunting adventures, we've come to realize the Style Ring is also the perfect Pokémon Go accessory.
No more death-gripping your phone
If you've own a smartphone for long enough, drop damage is inevitable. If you're lucky, it falls the "right way" and doesn't cause any permanent scuffs or cracks. With the Style Ring, you get an added layer of security when your phone is in hand. Slip your finger in the ring and you really don't have to worry about dropping your phone.
For Pokémon, the idea of not having to death grip your phone as you weave your way down streets and through parks tracking an elusive Pokémon is pretty novel. The Style Ring gives you the confidence and freedom to take off running when you hear someone yell about a wild Vaporeon — without ever having to worry about dropping your phone.
Perfectly car compatible
Another simple accessory included with every Style Ring is the Hook Mount, a little rubberized-plastic nub with mounting tape on the back. Wipe down a spot on your car's dashboard, adhere the Hook Mount, and you just installed one of the most minimalist car mounts for your phone on the market.
To mount your phone, you simply extend the ring, hook it on the mount, and push until you feel it pop into place. BAM! Your phone is secure and accessible to you as you drive. Perfect for controlling your music on the go, following along with turn-by-turn directions from Google Maps, or a quick swipe if you're near a PokéStop at a red light.
For Pokémon players who love to play while being driven around, the Style Ring lets you confidently lean out the window like a dog and really stretch your phone to get into range of distant PokéStop. As long as you've got the Style Ring on your finger, your phone is secure. We're definitely not recommending such behavior, we've just seen people doing it and it's only a matter of time before someone's phone slips and shatters on the pavement below.
Also works great on bike
If you're more of a Pokémon purist, maybe you prefer to bike around as you hatch and catch. With the Style Ring, you're able to maintain much better control of your bike while still managing to keep your phone literally on hand. This allows you to conveniently swipe PokéStops as you bike past, or pop off your bike at a moment's notice when you feel that vibration informing you a Pokémon is around.
This goes without saying, but as the game warns on load up, always be careful and alert when you're out and about. Heed the words of Professor Oak who frequently scolded you — there are time and places where you simply shouldn't be on your bike. Be considerate to your fellow trainers!
Better range for one-handed Pokéball throws
So we've talked about how the Style Ring can help you keep a better grip on your phone, but let's talk about how the Style Ring might help with some Pokémon Go fundamentals: catching Pokémon!
Spigen highlights how the Style Ring grants you a wider reach across larger smartphones. This added range will give you more control over your Poké Ball throws.
Once you're on that XP grind to to level up your trainer, every little addition helps. That means maximizing every Pokémon catch with a throw bonus. One of the coolest (and often frustrating) techniques is the curveball throw. It nets you an extra 10 XP, which should become automatic when you get the curveball down pat.
If you need to work on your curveball throws, we've got a guide for that!
And it's got other uses beyond Pokémon Go, too
On top of everything previously mentioned, the Style Ring also doubles as a kickstand, which is awesome. With the ability to tilt and swivel the ring 180 and 360 degrees respectively, you have the freedom to set up your phone any which way you want. Prop it up in portrait orientation on your work desk, or flip it to landscape for watching YouTube videos or Netflix.
There are many other clever uses for the Style Ring — you just need to use your imagination. Mobile Nation's own Kevin Michaluk is a huge fan of the Style Ring. On top of all the awesome functionality of the Style Ring mentioned above, he enjoys using it as a spin-the-phone game for determining who's going to pick up the cheque when out for dinner with friends.
Because of how the Style Ring secures to the back of your phone, removing it does takes some elbow grease. Best practise is to wedge something thin such as a guitar pick under a corner then slowly peel it back. But you can swap the Style Ring to another phone, which is great. Take care of your Style Ring and it may just outlive your device.
Oh, and if you're wondering, it doesn't quite work as a beer bottle opener. We tried.
Get it to match your phone
Spigen offers the Style Ring in five familiar colors — Space grey, Champagne Gold, Black, and White — so you should be able to find the right color to match your phone.
If only they came in Valor red, Mystic blue and Instinct yellow. (Psst! Spigen, you listening?)
An essential accessory, for average phone user, or the ultimate Pokémon Go fan!
Get the Android Central Newsletter
Instant access to breaking news, the hottest reviews, great deals and helpful tips.
Marc Lagace was an Apps and Games Editor at Android Central between 2016 and 2020. You can reach out to him on Twitter [@spacelagace.