Pixel owners on Oreo receiving September patch disguised as downgrade to Nougat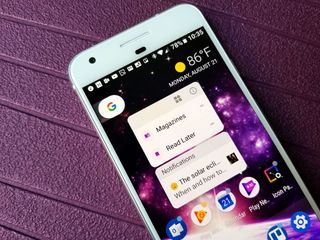 The Android 8.0 Oreo announcement came and went a few weeks ago, and the Pixel phones began recieving the over-the-air update. However, it looks like some users are running into a new problem: their phones are asking to be updated to Android 7.1.2 Nougat.
9to5Google reports that several users on Google+ and Google's Product Forums have noted that they received the "update" notification. Fortunately, it seems like a reboot fixes the problem and makes the notification disappear. Users noted that when they rebooted, the devices were running the September 2017 security patch, so it appears this was just a mislabeled OTA file.
In other news, the September security patch is currently rolling out to Pixel users, which is a bit later than what we reported a few days ago.
Have you gotten the mislabeled OTA update? Let us know down below!
Was wondering why my Nexus 6P didn't get the September Security Patch. Could be the reason that it's only available to those on 7.1.2 or below.

I'm on 8.0 on Nexus 6p that I received OTA a couple weeks ago. I had to manually push the update button in settings today and received the Sept security patch.

So although ZERO pixel owners actually got downgraded to Nougat from Oreo, your headline reads as "Pixel owners on Oreo receiving September patch disguised as downgrade to Nougat"? Do better!

You should do better when trying to comprehend English. The title is accurate as written.

I agree, poorly or deceptively worded

I read it, thought I was going to agree with you, but it does make sense. The title is worded exactly as what the content of the article is about. The September patch is mislabeled as Nougat 7.1.2, which would indeed be a downgrade for those who have oreo 8.0. Therefore, the title states that the patch is disguised as a downgrade, and it makes sense. It doesn't say they were downgraded. It says it's a security patch which is accidentally labeled as 7.1.2 which is a step below 8.0. It asked them to "update" to a lower version. TL;DR Title works.

Weird. I got a update Pumpkin.

Pumpkin Spice?! I mean, tis the season.

Good God, I hope Android P is called Pumpkin Spice.

Like and update to pumpkin? Or you got a pumpkin that updates things? Lol

I definitely got that notification after downloading OTA security patch, but before rebooting. Scratched my head for a bit

I got the same update with the 7.1.2 update message included. However I still downloaded like usual lol

Where can I find this beautiful space wallpaper??

I have not recieved the update as of yet.....they also have not posed on the dev ota site either

Bought Pixel XL from Google directly still no security update for September.... :(

I sideloaded the 8.0 ota with the August patch shortly after release on my N6p (Verizon), and then a couple of days ago I got a notification for an upgrade to 8.0, which I was already on. It was the full upgrade at a download size of almost 1gb. When it was all done I was on the September security patch. Don't know why it made me completely reinstall Oreo just to get the September security patch. Everything seems to be running just fine since then. I still don't see the September security patch for the 6p on the Nexus OTA images site.

I haven't received a notice for it but I also blocked Oreo due to not wanting to look at persistent notifications. Maybe blocking that prevent the September update from notifying me?
Android Central Newsletter
Get the best of Android Central in in your inbox, every day!
Thank you for signing up to Android Central. You will receive a verification email shortly.
There was a problem. Please refresh the page and try again.