Pixel keeping some exclusive features when other phones get Android 7.1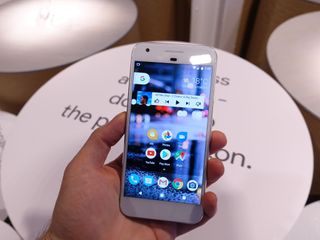 Whether you were impressed at what was shown at the Google Pixel launch event or not, there was surely a thing or two shown by the Google Hardware team you really liked. While they were focused on showing what the Pixel phones can do, there wasn't much talk about what was part of Android 7.1 and what was specific to the Pixel phones themselves.
Other than a mention, not much detail about Android 7.1 was made available at the event. We expect to see the new branch in the source code tree and all the developer documentation soon, and until then we can't know the full list of changes or features. But we do know several things shown that are specific for the Pixel and Pixel XL, as well as a few of the features that are part of the new Android version.
What makes a Pixel a Pixel
Let's start with what is going to be a feature of the phones themselves. The one that is quickly noticeable is the launcher. The opaque shelf and round folders (as well as the wallpaper picker) are not part of Android and remain a Google application. There was no word on whether the launcher would be made available for other phones through Google Play or if it will replace the current Google Now Launcher. Off the record, I'm hearing yes it will be available, and no it won't replace the current app. This makes sense because of Google Assistant.
As of today, the Pixel and Pixel XL are the only phones that can use Google Assistant outside of the Allo app. If you want to use Google Now on Tap (if that even remains as an option) and use Google's launcher you can stick with the existing Google Now Launcher. Replacing it in a way that works differently with different models seems counter-intuitive, and the backlash over round icons because of a forced change would be valid. I just hope the dynamic Calendar app icon finds its way to phones not using the Pixel-style launcher.
The next Pixel feature is Google's 24-hour tech support service. If you buy a Pixel or Pixel XL, you can call or chat with a trained representative right from the device settings. There is even an option for remote administration, and I've been assured that enabling this feature is optional. This is similar to what Samsung and Motorola (as well as other manufacturers) have been doing for a while. Samsung and Moto also offer a way to easily migrate from another brand to their offerings, as does the Pixel with its Quick Switch feature (and dongle).
Another feature getting a lot of attention is the unlimited full-resolution photo and video backup. If you use a Pixel phone, you have unlimited storage through Google for an online backup of every photo and video you take with your phone — and they aren't downsized or compressed in any way. Even full-length 4K videos. The Smart Storage option will offload images and videos from the phone's storage to your personal cloud automatically when your phone's storage starts to get full. Anyone who is using a Nextbit Robin will tell you that this is pretty great if you take a lot of pictures and videos.
Finally, there are a few cosmetic differences — things like blue accents and custom navigation bar icons — that are part of the Pixel and not part of Android 7.1.
There are also a few features that are part of the Snapdragon 821 and not the next version of Android. Support for the EVS codec through the X12 LTE modem will mean excellent voice quality for VoLTE calls. The new Aqstic audio codec enables 192kHz/24bit audio playback through the Pixel's headphones. Improvements to the Spectra ISP in the Snapdragon chipset are a big part of the excellent camera. These are features any vendor using the Snapdragon 821 will be able to incorporate.
Android 7.1 brings its own list
As of this writing, Google says that "Nougat-ready" devices will be updated to Android 7.1. There will also be a 7.1 developer preview program sometime in Q4 2016. We're not about to read too much into that, and hopefully on a day not about the Pixel we'll get some details. But we do know that some of the features showcased during the Pixel event are part of the next version of Android, as well as some others we didn't get to see.
The biggest thing here is Daydream VR support. Everything we saw and heard about VR on the Pixel and Pixel XL is because they run Android 7.1. Any phone updating will be able to incorporate the same features. Google tells us that new phones supporting Daydream are coming, but we have no word on any existing phones getting certified. We know that the Nexus 6P is able to be a Daydream targeted device right now, with the caveat that the experience is less than optimal and there is no certification, so the hardware requirements put plenty of other phones in the running, but software is the big unknown.
Fingerprint gestures — things like swiping down on the sensor to open the notification tray — are part of Android 7.1. Google's Night Light feature — a blue light filter, is coming with 7.1 as are improvements for screen sensitivity and display refresh — the latter being pretty important for Daydream.
Another feature talked about is Seamless Updates. We know that any phone built to run Android 7 or higher can use them, but we also know that unless the device storage is partitioned with Seamless Updates in mind, it can't be used. Google did make a big deal of it during the launch event, so it's worth mentioning that the feature is available for everyone.
We still expect plenty of API changes and other features aimed at developers, of course. When we get those full details and the documentation, we'll talk more about it. For now, we'll have to be content sparring with each other over the Pixel's features and price.
Jerry is an amateur woodworker and struggling shade tree mechanic. There's nothing he can't take apart, but many things he can't reassemble. You'll find him writing and speaking his loud opinion on Android Central and occasionally on Twitter.
It all looks pretty amazing to me Jerry. I just wish I could justify the price. I understand all the goodies we are getting. It's just a tough pill to swallow. Unfortunately this is probably the first year I don't upgrade. 6p is here for the foreseeable future.

Can't argue with that. Hopefully there's a price drop after the holidays.

There will be price drops before the holidays. I think anyone buying immediately is going to be kicking themselves when the phones are $100-$150 less in 6-8 weeks.

Well early adopters obviously don't care about price.

Sure they do. They'll be the 1st ones complaining how google screwed them. Mark this post.

I like they how act surprised that the prices drop too, every single time.

Then they have been given fair warning.

We will see if they aren't selling because there will be a price drop in Jan or Feb too

No reason to upgrade, esp at the ridiculous price. Maybe camera is a little better. No water resistance. Device is ugly. Google Now gives you the same results as Google Assistant. Other features can be gotten through 3rd party apps if they really mean something to you. I totally don't understand saying this is a Flagship and then only selling it at one carrier. If after all this time, Google doesn't have the cloud to sell it everywhere.... I got a 64gb Nexus 6p a couple month ago for only 399. I'll use it for a year and we'll see if Google has something better in 2017 or I finally switch to iPhone since Apple no doubt will have a major release for its tenth anniversary

Yip - I totally agree. Overpriced and not very compelling - Google has made a mistake abandoning the value for money Nexus approach. Google Assistant, Google Now on Tap, Google launchers, Now launcher...Android is an absolute mess (and I wish they would actually fix some bugs instead constantly renaming and refactoring existing products over and over). I'm *this* close to switching to an iPhone.

The 'value for money Nexus approach' was spotty at best. The N4 and N5 were certainly great deals for the money. But today, it's hard to compete in that segment with the likes of the OP3, Huawei 8 and Axon 7. I'd have liked the small Pixel to have come in closer to that $400 point, but even at say, $459, I'd be wondering whether the extra memory on the OP3 or those front-facing speakers on the Axon 7 for $59 less might still be a better buy. So, fine, Google's not going to feed the low end. But what they really *should* do is work with any new midrange vendors that are willing to stay close to stock to make it as easy as possible to keep them up to date - in as timely a fashion as possible and for at least as long as the old Nexus phones were supported. Google may end up building a viable business with the Pixel line. If I were willing to spend the cash, I'd take one over an iPhone - not so sure about it beating out the latest Samsungs, though. Still, there's still plenty of good reason for Google to encourage the midrange segment and focus some serious energy on keeping security a priority in that segment.

Nothing spectacular w/Pixel XL - and yeah have to admit with the Note 7 situation I was close to going to iPhone 7+. I hate apple sheep but at least they get updates rolled out smoothly to all devices when necessary. Android fragmentation is horrible.

Agree 100% I am holding on to my 6p as long as possible.
Selling my Apple 6splus. Moved in to Android I and enjoying putting what I want on my phone.

I agree. The only one I would consider is the 128GiB Pixel XL, and at $869.00 I don't know that I can justify that. The 6P is still a great phone, and I don't see myself getting rid of it anytime soon. Ordered my Google Home, though!

Same here, in Europe it's EUR 1000 for the top model - about $1100. I can't justify spending this much cash on a phone, that even doesn't tick all the boxes for me. Google might be trying to challenge Apple with these devices, unfortunately they also copied the 'all your money are belong to us' attitude from them :(
Unlike Apple products, Android phones definitely have much worse resell value, so this is just a bad value for the price

Nexus resale isn't too bad, as I've just learned. Sold my slightly chipped N5X 32GB for $224 on eBay, at a time when you can find a brand spanking new one for $250-300 just about anytime.

Who's the buyer? I've got a slightly used flipphone I want to offload.

Yeah, I'm liking the sounds of the Pixel and 7.1. Unfortunately for me, I just got a GS7 like 10 days ago, and spent $45 on a case and extra micro USB cables... I considered waiting, but sitting there in Best Buy while my wife upgraded, my childlike impatience got the best of me. Plus, the GS7 is so pretty.

I'll have to see if there's a price drop on this phone for the holidays. The $650 price ($27/month) is way too rich for my blood. My Nexus 5 is doing just fine for me with a custom ROM on it that definitely meets my needs. Also, I hate it that it's a carrier exclusive with Verizon Wireless. AT&T has great service for a nice price for me.

what about the supposedly updated 6P I heard rumours about with the 821 chip I'd rather upgrade my 6p to that

I read something about Google themselves saying there will be no new nexus for the foreseeable future.

Aren't these replacing the Nexus brand? That's what I've interpreted from all of this.

I'm not sure... The point of the Nexus programme, as far as I'm aware, was to get cheapish, capable base phones into the hands of developers to test their software. Then enthusiasts jumped on because they were easily unlockable and moddable, and finally they got to be more mainstream. I haven't seen anything to suggest that these are easily unlockable (though I haven't looked because I'm not buying one, they probably are) or to suggest they're particularly targeted at devs or enthusiasts. Basically it seems they are replacing the Nexus in the sense that it's "Google's phone" but they seem to occupy a different place in the market.

OK, thanks. I figured they were just changing the name. I understand that they took control of the hardware design.

Nexus brand is dead. Even the twitter account said goodbye. Surprised no tablet released either. Seems like a big product line missing if you have home, phone, Chromecast.. No tablet?

There's a Pixel C and it's still a top-tier device.

Unfortunately, it is 10". Too big for my needs

...are you saying you want to update the chip in your phone?

If only but even the official Nexus twitter account announced that Nexus is dead

Thanks for this, I was curious to know.

I went into the store to purchase the XL and after all was said and done I was looking at a little over a thousand dollars. I was close to an impulse buy but I thankfully backed out. I just can't justify it in any way. The phone is over priced. The V20 is looking good.

I hear you. I actually did pre-order the XL, 128gb model, but I am probably going to cancel the order. I do like the phone but I really don't think it should be this much money. I might just get a mint condition Samsung GS7 for half the price instead.

Perfectly reasonable reactions here. The price is just ridiculous. Even those that can afford it are likely only able to afford it because they made better fiscal decisions than this in previously similar scenarios lol.

Nice, Nevpaurion. This is one of the few sites where there is always something fun to read and not snarky. Thanks, all.
It's always a temptation to go with a Mercedes and iPhone, but I can't see Pixel ever carrying the same celebrity cachet no matter the price. It's in the Marketing - and Jobs is a hard act to follow.

Wait, are Pixels already on display in stores?

Think they meant the online store.

Lol, I see what you did there.

I would have pre-ordered the XL too, but at $1049 for the 32GB Pixel XL here in Canada, I would rather get the Note 7 that has:
- 64GB
- Water Resistance IP68
- Wireless charging
- Iris Scanner
- S pen
- SD Card Slot
- Bigger Screen but same overall size, if not smaller All of that for the same price as the Pixel XL ($1049) that only gives me:
- a slight improvement in camera (the camera on the Note 7 is still good)
- Google assistant (I do not see that much improvement over Google Now on Tap)
- and fast updates (not a deal breaker for me)... To be honest, I think Pixel phones are just overpriced Nexus phones... Anyway that's just MY opinion

I agree with you 100% and i have bought a case and 2 wireless chargers for my Note 7 that I will receive on the 28th Oct

Totally agree. I just don't see the what the competitive edge is here that Google is trying to sell. That price is going to turn a lot people off the phone. The 6P is looking very good value for money right now

Bought my Note 7 VZ (good replacement) on Swappa for $760 shipped.

So Google is now going to now create arbitrary fragmentation as opposed to the accidental fragmentation...fantastic. Maybe it won't be as bad as it seems, but I'm just not optimistic. I'm also fascinated by the concept of the mini-pixel trying to run VR/daydream...that's not going to be too pleasant running on a 1080p panel.

Fragmentation in VERSIONS of Android is the problem. Not the variety of Android skins. That's the whole point of Android haha

Honestly, I think Samsung is going to start trying to get away from Android with Tizen. I mean they already have developers on board with their watch and they do sell phones now running the OS. It might turn out to be batter than Android.

I hope that they don't, despite my dislike for Samsung. I am regrettably eyeing the Note 8. If they switch to Tizen or remove the audio jack, then I will be forced to the more disappointing V20

Will my Nexus 6 see any of these features?

Those with 6P have to wait some time. I can't imagine the nexus 6 lol

If I'm correct didn't Google say that the Nexus 6 will continue to be supported until fall of 2017? If that's true I can't see the Nexus 6 not getting this by the time of the official end date.

The ones that are part of 7.1, yes

Google Now does the same as Assistant. You can get round icons and the look of Pixel Launcher from Action Launcher. The app Twilight gives you the night time tint

But will my Nexus 6 get these features with the 7.1 update, if it gets it at all? I'm hoping it does.

Price to high for me, wait till next year when they drop allot before thinking of ditching my 5x

Google has historically had many sales throughout the life of the product. The smaller phone possibly appeals to me. I will wait for a sale before I buy one. I have absolutely ZERO interest in Daydream VR. Sounds like a gimmick. Only way something like that appeals to me -- and the only way it will be adopted by the mainstream -- is the display works on something like a TV.

I was surprised there was no Fi promotion but maybe the deal with Verizon prevented that. Still don't understand how/why they're not being sold at all carriers. If they don't sell well, expect discounts. I don't know who they're target audience is. It's the iPhone oricev& iPhone has a better reputation. I don't see anything that would get an iPhone user to switch to a Pixel

If you buy thought Project Fi, you get a free Daydream VR.

Yes, you must have the free soft touch google cardboard. I did not notice any adjustments for those that wear glasses.

Google should promote this like Apple promotes the iPhone.

They probably will come close.

Come close? It's only being sold at Verizon.

You mean like how the original iPhone was only available through AT&T (a huge mistake on Apple's part, IMO), but still sold millions of units? Marketing exclusively through the country's largest wireless provider isn't that bad of an idea. Others can still get it unlocked, with a 24 month payment plan, straight from Google. Part of the reason to go only with Verizon as a carrier sponsor is because Verizon is so fascist, they make it difficult to use unlocked phones on the network. It's not compatible with Google Voice, so no visual voicemail w/o the VZW VM app; VZW stores won't take them in trade-in, don't know how to troubleshoot issues, etc. etc. I faced all those issues with my N5X, which is why I ended up getting a GS7, even though my Nexus was only a few months old. Unlike VZW, smaller carriers don't have the clout or coverage to force their subscribers to put up with their ****, so people with Sprint or T-Mobile can just buy an unlocked Pixel. Google is being smart by partnering with Verizon because it increases the likelihood of selling Pixel to VZW customers.

I'm using my 6p on Verizon, no real issues here other than no WiFi calling. And even if I had a carrier locked phone on Verizon, I wouldn't deal with them for troubleshooting, most times they couldn't find their a$$ with 2 hands and a flashlight. Hell half the time when I have called in, I know more about what's going on then they do.

How do you mean? Like, "We think it took courage by us to name them Quite Black, Really Blue, and Very Silver"?

With current social climate, "quite black" did take courage.

They're going to be running commercials and it might convert some on iPhones who were afraid to switch over to Android.
For those people I think it's a good option. Easy cable switch and 24 hour support.

Yes. The homogeneity of the UI, with its universally rounded icons and what have you, will also appeal to iPhone users, not to mention the similar shape, aluminum construction, and excellent (allegedly) camera.

Is it wrong for me to think that "proprietary" updates to support a Pixel shouldn't require an Android update?

Shouldn't. Most of these features are either just applications in the system (launcher and other UI changes) or server side (Google Assistant). Only real difference I can see is settings and framework for remote admin, which should never need to be updated. That also means someone can pull them out and port them to any Android 7 (or 7.1) phone.

I'm sorry, but I think the pixels phones are DOA at those prices. No way these are worth the price.

These are the best Android phones made. Nothing is as fast, nothing is as secure, or has as good of a camera or will be supported as well as these phones. Nothing that exists today can be updated to be this good. Nothing released until at least spring of next year will be this good. If they are not worth the price, how is any other phone? Unless you're saying that over $500 is too much for ANY phone, because I agree with that completely. But if phone XXX from company XXX is worth this kind of money, then these are, too.

Totally agree, especially with that second paragraph. That said, there's the old adage that things are "worth what people are willing to pay" and whether Jenny or Jonny Public will pick the pixel up in a shop where it's sitting next to a galaxy S7 or iPhone 7 for the same or less money remains to be seen and seems unlikely to me. Although Google could potentially change that with marketing.

Unless you're at Verizon, they won't be side by side

I think the biggest concern here is that Google seems to be trying to one up apple at their own game but is doing so at a higher price.

The pixels are priced the same as the Iphones in the US...

Which would make them extremely overpriced.

The iPhone resale value is much better than any Android phone. I also think they are overpriced but you won't lose as much when you want to sell your old phone and upgrade.

That may not be the point with these phones

The point here is everyone is trying to be like Apple! Posted via Android Central App

Of course not, I would barely use the thing. An iPhone would be a monumental waste of money for me.

See this is what I don't get, tech since the beginning of time has been: you get what you pay for. Google has made a product that can stand up to the iphone, implying that they've never even been close before. That is going to come at a price, you want to see what happens when Google tries their very best to compete with Apple. That day is here, that is the Pixel. If you want a budget phone get a budget phone.

It has nothing to do with budget. It has to do with the fact that there is nothing about the Pixel that commands the price it's at.
Apple commands it because of brand recognition, support, and a seamless software/hardware experience that's been proven over time. Samsung commands it because they set the industry standard for camera for the past 3 years, have the best hardware, and jam pack their phones with features which in the Note line's case no one else even offers (that are viable)

"These are the best Android phones made. Nothing is as fast, nothing is as secure, or has as good of a camera or will be supported as well as these phones" It has to do with the budget IMO. People were expecting Nexus-like prices. Instead, what we got was iPhone prices. These will only be worth their prices IF they have the best cameras. And looking at the DXOMark samples and Jerry's word, that might just be true.

I'm sure you're still riding the post-event buzz but can we please wait until these are actually out in the real world before declaring them the "best"? Let's see some objective benchmarks and a month or so of widespread usage.

They certainly are the newest and are as Google intended their phones to be, but whether or not they are the best and best supported remains to be seen. A company can certainly make a phone and promise to support it but rarely does any company live up to that promise, especially where Google is concerned. Also, where is the best "value" on your list? People out here who spend money on phones once every two years are looking for value and fold that into the equation. A lot of you guys forget about that. Often.

So even though it's last years model, was the 64gb Nexus 6p I got a couple months ago a good "value" at 399? . I'm starting to think so

Keep doing that and you'll save tons of money. I say if people really want this phone they should wait 3 months and pick one up for around $600 or wait 7 months and pick one up close to $400. After that who cares. To buy it now if you are a current Android user is not a very good use of money (even if you're like me and buy your phones outright).

Probably going to be more like this. There might actually be something that I might come close to liking or not hating.

I have to disagree with the "best" comments. I just don't see it. If I could have any phone for free, I'd pick a Note 7 over the Pixel devices. Sure the Pixel is the most secure, but let's be honest. Most people don't care about that enough to pick a phone based on it. The camera does look like it'll be nice, and it's definitely going to get updates faster. However, Google is just now adding stuff that Samsung has had for a long time. Not enough value in these phones in my opinion. Guess we'll see how they fare. I have a feeling that they won't sell in any large amount.

I'm not convinced. The lack of OIS is a big unpleasant surprise. Apple finally included OIS in the regular iPhone, and Google still insists on software stabilization. Last year with the 6P, they also touted how good their software stabilization was, but in real world usage it was terrible (primarily noticeable with videos rather than low light photography). As someone with a young daughter who does figure skating, that right there just killed the Pixel XL for me. I had and loved the 6P, but ultimately gave it up because of the poor video. I really think that at this price, Google has absolutely no excuse not to include OIS any more. The HTC 10 has OIS on both front and back cameras, yet the HTC built Pixels do not.

Jerry, it's not the best. Simply because it's not gold. :P I know how much you like the gold 6P xD

My problem is yes I could buy a one plus 3 for cheaper. But when will I see an update. In the community section all do is moan about the bad customer service. What I really want is an android phone that has the reliability of an iPhone and so many android phones high and low just don't have that. I want to be able to take this phone out of my pocket in 1 year and know I have the latest software and the latest security update and has the same reliability as when I first took out the box. I don't care about day dream or if its not water proof or has front facing speakers I have never cared about that. If Google can make a phone that takes great pictures and runs smooth is good at multitasking which my S6 was crap at. Then I am happy. I don't think the whole world jump on this and read an article on the Verge where they said that they know they won't sell millions. They have a long road ahead to prove that Google can make a quality phone. Which means software and hardware working together then I am happy to spend

You sir need this phone. As it is the iPhone of Android.

That's very well put!
Android camp hasn't had "orthodox" flagship for majority of people.
Nexus might come across as geeky for non-techies and it's more like a reference model than flagship Android. Samsung is deeply skined with touchwiz and suffers from snail update, and OnePlus has a little exposure to the public and practically no support... Huawei, Sony, LG, list goes on.
Those phones are great, (really,) but are not something I can recommend to everybody (I live in the most iOS-ridden country in the world :-) ) without caveat.
If we like it or not, Andrid world needs such concept.

I don't disagree with you about these phones being the top dog but it will only be that way for a short period of time and something will come along and dethrone them. Over $500 is too much for any phone in my eyes. I have a note 7 and it is waaaay too much so it is going back. I will get a One plus 3 or moto z play. I won't say ppl shouldn't buy the pixels, I am sure they are great devices but for most ppl with a budget they are a no go.

Are you Dawn French? Seems unlikely lol, but she could be an android fan. Stranger things.

Keep in mind, while many of us hate big red, having a major carrier on bored helps push the product. I know a lot of people that had no idea what the Nexus program was that bought the galaxy Nexus because it was the hot new thing. It may be a slow roll now that we're so far along in the smartphone game, but that doesn't mean people won't buy it. The majority of those complaining and thinking Google shot themselves are those that think these are just hidden gems in the Google play store that only the nerds in the know took advantage of because of the low price and premium specs. Having a nice looking device and a subtle change In the home screen to make it more appealing to look at while you're sitting in the store browsing phones does a lot to catch someone's attention. Despite what everyone thinks. Google made a smart move.

The problem is that this could and very much may end up like the cluster F that happened with the Gnex. Plus we have been right here 2 years ago with the Nexus 6. Similar price same dismal sales. The difference was that was on all carriers and it still failed. Giving an exclusive with this kind of pricing is a recipe for disaster. Oh and all your Nexus supporters that have now been drop kicked to the curb. Well we'll be looking elsewhere now.

Wouldn't the smart move be having Google flagship phone on sale at all carriers?

I'm all for them selling it through carriers. That is still how the majority of Americans buy phones. I just hate the Verizon (of all carriers) exclusive. Verizon locks up more phones than any other carrier and was the only carrier that made it a pain to get a 6P. They don't deserve this exclusivity.

You're also assuming that Verizon reps are going to be pushing the Pixels over the Galaxy devices or iPhones. The people you're referring to that discover these phones by going into a physical carrier store are also the same ones who rely on the sales Rep's opinion.

They're not anymore expensive than any other flagship phone.

Yeah, but take the software/updates out of the equation and these phones are lacking when compared to phones at the same price. The problem is with the price hike AND not having a clear advantage on every level, when the 6p was in pretty much the same position but managed to do it for $200 less is why people are angry.

I can't justify buying a phone at that price point that will ONLY be worth $100-$200 at the most next year....I'm an Android FANATIC, but iOS resale value on THEIR hardware is looking a lot better. IJS. Not to mention that I have a 6P at tye moment

How do you arrive at 100-200 for a pixel a year from now when you can still sell a Nexus 6p for 250 at a year old?

Compare to iPhone resale value.....I may have exaggerated a bit but not by much.....and don't even think about trading one in.

I think the price will stabilize around $450 in the next year.

I think your resale numbers are way off, or perhaps just a significant exaggeration. I recently sold a 6P with 128GB for $500. But your point overall is valid. iPhones have much better resale value than any phone on the market.

And I'm mad that they just seemed to forget about the Nexus community

Forget us? Heck they drop kicked us to the curb.

How? I'm on Nougat. Everything is fine here.

There is some speculation that the Pixel line is replacing the Nexus line

People still think Nexus phones will go on?

By bifurcating 7.1 when it comes out. No assistant for you. Belly up or pound sand. They could have lessened the blow by saying the 5x and 6p would get the same functionality. Now I may as well see what's better and cheaper. Plenty out there with as good if not better specs.

There are no better specs out there. LOL, what are you talking about?

Someone earlier said Pixel had mid range specs. LOL.

Assistant is not part of Android 7.1 I don;t see people thinking Samsung Pay should be built for the Nexus 6P (though it should if Samsung wanted everyone to use it). Assistant is a GApp. Like Google Books or Allo.

Should Samsung Pay be built for a Nexus 6P? Of course not. However, should it be able to be used on flagship devices released by Samsung prior to the release of Samsung Pay *if* they have/had the hardware to support it? I would argue that yes, they should be, especially if those devices were within a 'promised' major software update window. That is the case here. The Nexus 5X/6P have the hardware to support Assistant, so to save it as a selling point for their newest devices while not releasing it for fully capable devices which were sold a year ago with the promise of major software updates for two years *feels* wrong to me. I think there are going to be more than a few long-time Android/Nexus supporters with a sour taste left in their mouths from this whole ordeal.

The difference is Samsung doesn't make Android, Google does. I can understand having exclusives on certain lines of devices. Right now though unless there is a very strong clarification from them. They have burned every owner of their Nexus line. Bad enough we were guinea pigs for this over the last couple of months. Now anyone who thought oh I have a phone with everything new from Google. Sorry Charlie you don't. Assistant is a perfect example. With 7.1 it's an integral part of the experience. It should be since it seems to be baked into 7.1. We who have a 6p or 5x will get 7.1 sure. Just a bifurcated version
That just burns too hot Right now. Time to look for something else. It sure won't be this.

But again ASSISTANT IS NOT PART OF ANDROID. Neither was Google Now. They are private applications that Google gives to partners who produce phones that meet minimum requirements and sign a contract. This has zero effect on Android 7.1 and can not bifurcate it. Assistant is just like the launcher. Or the Google Books app. Or Google Now. It's an add-on that Google can hand out to whoever they like. Google is not anyone's friend. They would love for you to use Assistant as a selling point for their own phone. For now, they are doing this. But not by holding back anything from Android itself. Lay the hate in the right direction if you expect it to have any effect. And I encourage everyone to let their voice be heard about the launch and the products. I just want to make sure the right people are reading it.

Ok, so explain to me how this is different than what Apple does with their older devices, where they strip out certain parts of the new version for the older devices? The only difference I see is that many times it's hardware related, so it's not possible to give them those features. And usually it's for devices that are 3 years old or older. Here it's happening on devices less than a year old. And going forward, whats to stop this from happening next year, that way they can get you to upgrade again? I get that some features were held back, but usually it was from other OEMs, not from their own devices. If there is hardware that is preventing this, I could understand it.

As I read this whiny little comment, I'm trying to figure out who forced you to buy the big bad Nexus that forced you to become an unwilling guinea pig for the big bad meanie that is Google. Dude, you need to reread your comment and man up, SERIOUSLY! LMAO!

No one forced anything. That said many of what we saw in the Pixel today was beta tested my the Nexus community for the last few months. But oh thanks all for getting our new POS you won't get any of it. As far as assistant being a stand alone o Doubt it. It looks integral to how 7.1 is to function. So long as you have a Pixel. Everyone else gets bifurcated excrement.

Both of those apps are available on any Android phone.

Nexus line is Dead. See @googlenexus twitter account

I feel the same. Google support sucks. Whats to say these will be any different at this time next year? At least Apple actually gives decent support to iPhone owners, and you can expect at least 4 updates on an iPhone usually, which the same can't be said of any of Google's devices, and this is coming from a Nexus owner. I won't be buying any more Google hardware.

Google also updates its phones for at least 2 platform upgrades and security updates for even longer duration. "and you can expect at least 4 updates on an iPhone usually"
The same 4th update which has less features than the latest iPhone does AND makes your iPhone crawl

We just got a new OS a couple of weeks ago.

I'm aware of that, but Google has abandoned Nexus. We'll get the O update and she's all done. No more support ever. Look at iPhone - their software updates go on for ages!

Wow I'm really having a hard time understanding the complaints about pricing. The phone has decent hardware which is slightly on the expensive side but the price is kinda justified. An iPhone still costs more or less the same and people still buy it. People in many countries (India, UK, etc.) never have a full fledged carrier contract system so people buy the phones directly, full price. So what's different about these new phones?

The big concern I have is that the iPhone is sold for less, and has the years of experience etc in combined os and hardware prowess. It shows in the current offerings. Google is here out the gate pricing theirs higher and when you compare the hardware you end up essentially paying 400 dollars USD for the pixel "experience". This intangible Google magic that is supposed to justify the price tag. Apple does this too. But has proven that to most their magic is worth that up charge.

More than Apple? Good lord. I already feel that Apple is excessively overpriced as it is.

Apple also has stores in every city that can give you customer service. Phone service is always terrible. They also have a huge ecosystem of accessories.

According to Verizon's website the price of the iPhone and the Pixel phones are the exact same price. Also on the software side people still use Siri as a joke to show their friends, Google Now is actually a great experience that's getting better and better.

This.
None of my friends use Siri (neither did I when I had iPhone), but I use Google Now all the time (and I love On Tap). Even my friends on Allo love the Google Assistant feature

You have friends on Allo?

I find it hard to imagine many iPhone users moving to this phone, especially at the same price. I agree Google Now aka Assistant is much better than Siri. Apple support and resale value is much better. The Pixel will only be sold at Verizon. Smh. And the major carriers are having a promotion right now where you can trade an iPhone 6S for a free iPhone. I don't think I can trade my Nexus 6p for a Pixel phone or a discount on a Pixel phone

Sorry what is the magic of the iPhone? I have had 2 and I can't find it so please fill me in

In the UK we have a "full fledged carrier contract system" and that's how most people buy their phones. The big difference is the network's haven't been allowed to get the same level of power here as in the US.

Unlocked phones being priced hundreds of dollars less have spoiled us all.

Because people don't realize that this phone unlike the Nexus line is going to get major exposure between their marketing and big red pushing it in stores. The galaxy nexus was bought by a lot of people that has no idea what the Nexus program was.. now they actually have the marketing and desire to push the device to the masses

Yes and got burned by Big Red too many times by that phone. Delayed or never sent updates, connectivity and Bluetooth issues. Just one problem after another. Meanwhile VZW would ignore this. That's why people are up in arms about this. Repeat same old same old.

This doesn't have OIS. This price with no OIS for anyone who shoots a lot of video is a deal breaker. The phones also don't stand out in any way physically. They're OK looking, but very plain. We could be looking at almost any mid-ranger here, and I'd argue some mid-rangers like the One Plus 3 and ZTE Avon 7 are actually better looking.

DIS tends to be better for video, but OIS is super-helpful for photos. OIS has a weird "Jell-O" effect that is noticeable when recording video, but that increased amount of stability helps in photos, especially in low-light. Likewise, DIS helps in video by moving a crop around the frame to smooth out any handshakes without that "Jell-O" effect. Phones usually have both, but most phones don't utilize DIS in UHD video. The iPhone and Moto Z seem to be the exceptions.

We do in the uk have a fully fledged carrier system its just that we have many ways to buy a phone. And have to say off contract is not weird in the UK. If you want it you can get it on EE

When you say the 6P is a "Daydream targeted device" are you just referencing the fact that it was the reference phone used for development before the Pixel launched, or has goolge actually said that you can dun daydream with a 6P and the experience just won't be "perfect"?

Google hasn;t said it would actually run it, and has nothing to say officially right now. Was talking about it being the reference target for what we do have today. Finding out about other phones and Daydream, and if they can't run it, WHY they can't is very high on my list.

Thank you for the reply! I've been really REALLY invested in this question since Daydream was first announced. I'm a big VR fan and while I have a powerful PC, I'd rather wait another year or two before dropping $800 on a Vive. Using my $600 phone to keep me entertained in the meantime would be great. Dropping the 6P from daydream would be really discouraging, especially considering the similarity of the specs. I don't mind if there's a slightly lessened experience, but don't do it just for the sake of encouraging nexus owners to buy Pixels.

So, is this the future for Android? Google crippling the OS for other vendors while adding features for their own phone. I think it's time for us to become Microsoft phone users.

I have my 640 here with WM10 bring it on

The problem is we waited too long... There aren't any Microsoft phones now!

A Lumia 950 running Android would have been really great.

Migrating to iOS. If I'm going to be locked in to an OS....I want to be locked in to an OS that works across the board....

LMAO - sure you are. You'll be sitting right here in two years, still using an Android phone and still ******** about nonsense.

Why don't you just buy a different Android phone..

Fragmentation is becoming too much. For the first time ever, I honestly don't know what to replace my phone with. The V20 is a disappointment, the Note 8 might be the first Android phone to ditch the audio jack, and the Google Pixel line is the product of delusions of grandeur. The only thing that I can possibly replace my V10 with right now is another V10, an iPhone, or a flip phone.

How is the V20 a disappointment? It improves upon V10 in almost every way and comes with Nougat.

For me, it's the side buttons. Backwards steps. The metal slab look also is annoying.

V20 looks like a mix of V10 and G5. Odd looking, but it's pretty unique. It stands out from the crowd of similar looking phones.

Yeah, but reverting to side buttons was a mistake. Back volume buttons have been amazing, which I did not expect. And it may stand out, but it still looks boring to me. Just going to have to get used to buying phones based on fewest acceptable mistakes.

Hate back buttons. Never liked them on the G4.

Always had more issues with side buttons. If I got a V20, I would probably get rid of the side buttons.

The note 8 won't be the first android phone to ditch the 3.5mm jack. The Moto Z already did that. Before the iPhone 7, too... So #Brave.

The first Android phone actually didn't have a headphone jack. Yes, the FIRST Android phone. The T-Mobile G1

Neither did the second one (HTC Magic) until they came out with the Fender Edition which added the 3.5mm jack. But hey, people have been used to using Androids with jacks for so long, little details like these escapes them...

Well, hopefully Samsung won't.

If you're only looking at "high-end phones," that's your first problem. I would love a OnePlus 3.

lol.
Locked in to an OS...
Don't know how Google would be locking you into its Pixel UI

Bummer. I was really looking forward to assistant outside of Allo (i don't use Allo but I may start now.)

Guess they decided that Android needs all the fragmentation it can get. This is going to make replacing my V10 overly complicated.

They're not trying to fragment. They're basically setting a standard. They're trying to make the pixel line the direct competitor to the iPhone. Kind of like Samsung is now being the most popular android devices. Essentially there's going to be 3 markets if this works how Google wants I think. You'll have the iPhone, the pixel, and the wild west of Android devices. While pixel will be Android, it will be like what Unix is to macOS, it may share many similarities with all of the Android segment, but pixel will be the iPhone of the Android world. Now whether or not this works in the long run is another story.

These are the smartest words ever written on this website.

They are a few years late. Samsung has been the iPhone of Android for a long time. The next few years will be very trying for smartphones. Going to be looking more at how many bad features they have.

But no other phone not sold as unlocked can be on the same level as Pixel, because they will not get updated at the same time if ever.
So what exactly is googles end game? Is it to kill carrier branded phones?

That actually isn't a motivating factor for me. Unlocked phones don't typically support numbersync with AT&T

Aww. I was wanting to use Pixel features on my 6P. Eh, no biggie. Fine with Nova for now.

Man late October can't come early enough.... The wait is going to kill me.

There's a good chance that if I hold one the next time I'm in a Best Buy that it will replace my 6P.

So Nexus users will not get Assistant? *&$@ Google. We got screwed over so hard today.

They'll get it. Everyone will get it, Google can't afford to keep assistant pixel only. I could be wrong, but that would mean Google are dumb.

As of today. Google hasn't said that other phones won't get assistant, and I think they know it has to get on every phone that's capable of using it. But until then it's a Pixel exclusive. If I were to guess, I would say the "nougat-ready" phones (and I'm still not exactly sure what that means) will get assistant when the Dev preview/7.1 update comes.

That's exactly what I'm thinking. Google doesn't just want, but NEEDS as many people using assistant as possible. It needs the biggest volume of data it can get to develop the AI, and it needs a large user base to encourage other companies to work with the platform. Making it exclusive to their own phones makes no sense in the long term. It surely has to be a short term exclusivity to get people to buy their hardware. I've no major objection to them doing this. I question whether it will work out the way they want. But I don't object to them 'fragmenting' in this way.

I agree. The more people that are using the AI the better it should be... Now there may be some exclusivity to what the AI can do on the Pixel phones compared to others... That would be how I would do it. Or another way to say it, the AI can simply do more on the Pixel phones than others..

The phone itself and those icons are horrendous.

Their icons have always been ugly, that's what launchers and theme packs are for.

I pre ordered mine. Time to upgrade from the Nexus 6. My tummy still hurts from the decision I made lol. My wife looks at me like I'm an idiot. But it will pass.

I say you're a lucky man, I will have to wait until Christmas to get one.

I paid $860 for the Pixel XL. I'm still in shock even though I can afford it.

So far, and I don't know much, but I don't expect other Android phones to get the capabilities present in the Pixel..even though I have a Nexus 6p. Giving us and other OEMs the same software capabilities doesn't make any sense if you are saying you want to compete with other OEMs. Give them the next versions of Android just like usual...the bare bones required. Heck they don't use Google's interface now so why give them features found in the Pixel....give them nought 7.1 and let them do what they will...which is do their own thing as usual. Next prevent the Pixel launcher apk from running on any phone except a Pixel,or at least strip the assistant functionally out of the launcher if it gets installed on a non Pixel phone. ALLO contains the assistant..let that be the way other OEMs get to interact with it. If Google wants to compete they have to play the game..and giving away functionally to other OEMs is not the way to do it.

Agreed! 100% and I'm absolutely getting mine. I've always wanted a definitive device that was anti iPhone. And, I've never considered a single Android phone as a competitor including the Samsung galaxy series. We now have Pixel vs iPhone... LET THE GAMES BEGIN! IDGAF about the price. You can't win a battle against Apple if you don't have the confidence to price your devices competitively. You automatically give the opponent an edge when you try to undercut their price because ultimately you're saying..."we know we don't have the goods to compete, so you can buy us cheap!" IMHO, if y'all don't like the price then buy the cheap ass Google knock off phones, Sammy included! Haha! Google Pixel FTW!

Depends on how you view Apple pricing. I have always felt that they are considerably overpriced. If Pixel has to be in the same price bracket just to compete, then it is already a failure

You may be right, but let's see how it all shakes out. Mostly when iPhone users switch over to Android they get Sammy. And Sammy premium is about the same price as an iPhone. However, if you truly want a Google experience coming from Apple, why would you choose a Google knock off rather than just buy Google? iPhone fans don't really care much about price, they care about quality and does the stuff just work. They associate higher prices with quality, as do many people. Google is offering the entire ecosystem all the way down to wireless routers with the Google assistant weaving them together. What's not to like about that? I agree with some Nexus fans that we've been railroaded a little, but i always wanted a pure Google experience that's comparable to Apple. Yes, the pixel is at 1.0, but we all know better. This phone is a legitimate competitor to Apple. Even my son says he wants to sell his HTC 10 for the Pixel. You see, he's already figured out that HTC is a Google knock off, just like all the other Android OEMs not Google. So, the great thing about Android is you can buy an original or a knock off at any price range and will probably be satisfied. This is pure competition at its best. Nexus owners have been spoiled by low price points with quality specs. Did you really expect that ship to keep sailing? I'll be proud to taut my new Google Pixel and Google did the right thing with the camera. Nothing sells a phone quicker than word of mouth and when you're at those special events snapping away, Sammy and iPhone won't be the only cool looking phones that take awesome pics. Friends will be asking what kind of phone is that, and you'll say, "it's the new Google phone!" You'll get immediate name recognition and respect. Everyone uses some form of Google products. Nexus has no name recognition whatsoever and that's why this makes total sense. Not to mention, people want something other than iPhones to play with and fledgling iPhone sales prove that point. This is perfect timing for Google to hit em, especially now that Android OS is every bit as good as iOS! However, if you want S pens, edge screens, Iris scanners, wonky skins, and laggy/choppy software, then feel free to choose among the thousands of knock offs that are available. But, I want the Original Gangsta in my pocket!

I do my best to avoid Samsung. I am only even remotely considering the Note 8 because the V20 is more of a disappointment. I don't think highly of Samsung.

Are you for real? Even if they neuter the apk which i don't agree with, they still won't compete. That ship has sailed.

Really wish i could get one but its price is a bit too out of my budget

At this point I'm seriously considering an iPhone for my next purchase. I want consistently. Now being a loyal Nexus supporter gets us squat. Google burned more bridges than they think with this one. Google is doing what it thinks it needs to do. Fine, I'll vote with my wallet and do what I need to do. Right now that probably won't be what Google wants. Tough.

That's totally what you should do then. Buy the thing you like or buy the thing you can afford or buy the thing that meets your expectations. Google is gambling that the Pixel will be one of those things for some people. Who knows if it will be. Though I still am certain a big part of the pixel program is to show people that Android can be safe and responsive as well as "pretty" and if their phone isn't they should look on the back and see who made it. And a little bit of "hey look what it can do", since OEM's tend to shit all over Android features with their versions of things while Google waits forever to try any push and marketing Multi-window is a great example. Google put half of what is needed into Android 4 and never finished it. Samsung finished it their own way first. Now that Google finally has it, they have to field concerns that the two methods will clash . That's their fault for sitting back while Samsung wasn't sitting back. When 7.0 hits the S7, if things clash, Google is to blame. They don't want the same thing to happen with Assistant and have S-Assistant hit 60% of Android phones while their version is relegated to a few Google developer reference devices, then have the home button on the best-selling model unable to trigger it when it is released. They would be to blame here, too if they built something and didn't try to make it popular.

Except that multi-window is a niche feature. I don't see a use for it outside of a tablet. I will probably have to go with your second option: buying based on affordability. Phones aren't really meeting my expectations anymore. It's coming down to less of what they have and more of how few negatives that they have.

I don't use it at all on anything except a tablet either. But it's used every time a discussion about Android features inevitably gets turned into a Samsung debate. Google will fail to gain traction for new features unless they push their own features in a timely manner. If they try to push their features, they get endless backlash for doing it. (See Youtube requiring a Google account linked to a profile that's tied to G+, or an Assistant feature that's a showcase of the presentation for their new phone and living room products) The backlash works in some cases.

Never really had issues with their features before. This is the first and it leaves me frustrated and unsure of what comes next.

The problem is this is basically the Nexus 6 all over again but worse. That at least had all carriers onboard. Google as usual doesn't learn from their mistakes. It just recycles them and thinks it's gotta work now. Jerry I commend you for trying to keep a positive outlook on this. Someone though at Google better be seeing how badly they have angered the community. These are the same people they need to talk this up. Right now that's never going to happen.

I only have my own outlook. I'm pleased I'll finally get the phone I've been wanting, and while I wish it were cheaper it's not and my home-made Raspberry Pi phone tells me I can't build it myself. I get a short list of features I'll actually use in a package that fits in my shirt pocket. I'm sorry others don't feel the same way, but I also know that the OnePlus 3 still exists, or the Note 7, and Amazon still sells the 6P and 5X with a full warranty. They all still work exactly as they did before. People who want that should totally buy one and be happy. But this is how it's going to be unless Google feels the decisions were too unpopular about things they can change. People need to complain about things that are real, without muddying the waters if you want anyone to listen. Nexus line was ended today. Pixel phones are now what Google makes. They are expensive. They are not for everyone. Android is still Android, and Google is still Google.

I actually think the BlackBerry PRIV might outsell this phone.

I'm not impressed by the new phones and I think they're ugly too. I guess we're getting more fragmentation. In all my tests so far, Google Now yields the same results as Google Assistant. It just doesn't call you by name. Other features can be gotten through apps whether it's the blue night light or the round app icons. I don't understand how a mass market flagship device by a company like Google ends up being sold only at Verizon. 90% of consumers buy phones through their carriers. Not water proof either. I don't see a single reason to pay $649 or more. If anything I see more reasons to maybe upgrade to an iPhone next year. Does Google think a lot of iPhone users are going to see a lot of reasons to switch to Pixel at the same price point that they're including a lightening dongle?

This may strike some readers as totally silly on my part, but it's not silly to me at all. If Pixel Launcher is going to be standard on 7.1, then that means it's still eligible for calling "vanilla", meaning Pixel still runs a pretty "vanilla" build of Android (I think a few tweaks here and there are probably still close enough to consider basically vanilla.) However, if it's a completely separate software layer from 7.1, and is particular to the phone itself, then that CAN'T be called vanilla, and is only different from Touchwhiz by matters of degree - NOT by matters of principle. As I said in a recent post, upon reflection, after seeing the new phones, I can't completely write them off as was my initial knee-jerk reaction to hearing that they weren't going to be vanilla, but vanilla was the whole reason I picked the [now old] Nexus phones over the Samsungs even when I knew the Samsung hardware was superior. It's going to be a VERY bitter pill for me to swallow if even Google joins in the party of "peeing in the vanilla ice cream". So I'm REALLY hoping that all "vanilla" or "quasi-vanilla" 7.0 phones will wake up on update day to a new UI that makes me feel a whole lot better and a lot less butthurt over the otherwise smashing new Pixel phones! Cheers!

The nexus 6P and nexus 5X did not run vanilla Android. They used a different launcher and system UI that was not part of Android. It has been this way with every nexus since KitKat.

Hey guys! I'm going to hold on to my Nexus 6p for the foreseeable future. I just wanted to know what features we can expect when/if the nougat 7.1 update is released for the phone?

At this point I'd day none, unless you bought a shiny new pixel.

haha what a ****** looking phone. Google has to cut the price in half.

Maybe that's what they are doing, Ebrington loves a sale!

Maybe that's what they will be doing! Everyone loves a sale!

Ok so given the circumstances I might move to ios their devices in the long run are cheaper because their resale value is higher
Have had android since the froyo days... But man it sucks that their nexus device only lasted 1 year.. Their updates are late compared to what am used to.
Enough about being apologetic to google
On the other hand I won't miss much given that all googl services work excellent on ios

true Iphones are cheap because resale value is very high.
you won't lose much money when you sell them after a year or so. but sadly , i don't like them.

"I might move to ios their devices in the long run are cheaper because their resale value is higher" While that MAY end up being the case it is certainly not factual. How did you arrive at the conclusion that the Pixels' resale value will be lower when retail units aren't even in the wild yet and therefore have not been re-sold?

Samsung Galaxy Note 7 and Google Pixel = biggest Flops of 2016 while Lenovo Moto is ahead of the time. never expected that to be honest

Dude, I know. Love my Z Force DROID. And it has the 2nd highest DXOmark score, plus the same unlimited storage plan. Best of all, got it for $620 new when I ported my number into VZW.

Google has been careful to market the Pixel as the first phone with Android Assistant built in. I don't think that there is any doubt that Android Assistant will be replacing Google Now On Tap on every device that will support it very soon.

I don't even use Google On Tap..

Very well written, informative article, as usual. Thanks.

I like the full resolution photo backup.

I can't wait to get my hands on an XL, these phones look fantastic. What I really want is Google Home though, I've put off buying an Echo because of this little device and I'm looking forward to seeing what it can do in the real world.

I think this is a good first version. Integration of the Assistant is nice. Fast and frequent / seamless updates, again nice. A tad bit on the high side price wise... Im not exactly sure where the hardware integration is a key part of this... What I've read, most of the key points are software implemented. Not hardware. All together it is a nice phone. Waiting for a BOGO...

This is BS. Motorola has the exact same agreement with Google for "unlimited" photo storage, as I actually used one and set it up. As for the rest of it, how the hell are you guys "Journalists" and not know these answers or more importantly ask the Frakking questions? So what? Fly out, kiss some ass and play with the retread HTC A9 & put lipstick on the pig, huh? An $860 one at that.

I stayed at home and asked every single person I could get on the phone or in any of 10 different chat apps or social networks. Today was my day off. I started trying to get answers at noon eastern, and at 1:57 the next morning I am still at my desk, on my day off, trying to get the answers. Google is not saying. They have tightened things and the people I know that are working on all of this aren't able to discuss any of it. Now about kissing some ass...

Thanks Uncle Jerry. I'm sorry, the ass kissing comment wasn't made towards you. Sort of feeling frustrated by today and as someone who's been with Android since the DROID, today seems...odd. Thanks for commenting and keeping it real.

Pucker up Jerry, and get to work... Woot... The rest of it would be TMI... Just TMI.... Great articles though... Lol...

Nice phones, not nice price. And why no 64GB option?

Can't help feeling a little burned by my own Nexus expectations, great devices and UX, any compromises offset by value for money,...
yea camera/battery not that good, but the rest of it ,just how smooth and fast..? . flagship fast..
Now I've got a better (?!) choice all that Nexus stuff without compromise, just the price...
for what is the best Google android device ever made.. give it time.. 6 months of top reviews and a price drop...
I can see myself using what is probably the best 5" "compact"
android ever..

I honestly think that I will skip on it. If Google wants to compete with Samsung for the iPhone of Android title, let them. I have other factors to consider when I upgrade than having the most overpriced mainstream phone.

Nexus owners get unlimited full resolution storage in Google Photos (as of May 2016). Probably because of market spin, but the Pixel line isn't the only ones that can claim that.

Fair to say that the Price is definitely going to turn people away. I'm in a strange boat as I think it's one ugly looking phone but I like how the software and UI looks. I can't justify spending £600/$649 on the Pixel when there's the same quality (or arguably better) at a more competitive price - Galaxy range or HTC 10 When you see that the Pixel at £600 is only a 1080p screen when the other similarly priced competitors are QHDs I can't force myself. Think I'll hang onto the Nexus 9P or buy a HTC 10. Would have thought more people would have a issue with the single speaker grill on the Pixel.

fail.
a 1080 phone that looks like an iPhone 5 that starts at over 600$
NOT!! ill keep my note 7 with quad hd

It is a strange world where the Note 7 is the cheap alternative. In the UK a Note 7 is £699 and the XL (128gb which is the only one worth bothering about) is £819. I see no justification for the XL being £120 more expensive. But.... Google can charge what they want. After all there are only two phones MADE by Google.

Well, this definitely makes the next year confusing for me. Not sure where I will go from my V10. The current direction is not making much sense to me and I find myself having to look at the negatives of a phone first... I don't think that I have been this frustrated with the Android realm since the Craptivate...

It is a reluctant consideration. However, if they remove the audio jack it will not be an option.

It's just me or are they ugly? 2012 ugly.

I'd be most likely to use Google Assistant as it's baked into the Google Home product. If that's not also accessible from an always-listening voice keyword from non-Pixel Android phones that's a huge mistake and will cripple adoption of Google Home altogether. A small minority of people like asking their phone to do things for them (search something, make a calendar entry, etc) as opposed to doing it manually, and Google's AI will need to take a large step up in accuracy and functionality to change that, because even occasional mistakes will cause people to forego using it.

I bought the Nexus 6p last year, thinking it'll be fully supported and all that for the next two years. Unfortunately, even though my phone gets all the security patches and software updates, those are always late by at least 15 days if not more. Also, it has been a difficult transition to Android 7. My battery life has been terrible, and there is this game I play that refuses to work on Nougat. I understand a lot of people are facing such problems. I thought I'd made the right purchase back then, but who knew Google would be so fickle to bring a slew of updated features and leave out the previous flagship altogether. If it's hardware, I can understand. But there is no excuse for software features to not come to a previous flagship, especially if the hardware is still good. That's just lazy development and sucky marketing. In hindsight, I should've bought a Samsung phone instead. At least that way, I would have willingly shot my own foot, and would not be cribbing about it.

This is exactly how Google is going to screw up all of their partners. First of all if they make everyone install all of their service by default and yet they keep some for their own phone, I am 100% that is illegal and someone will smash them. Second, Android just bit the in the butt rest of the manufacturers who thought they could get away by just designing hardware and leave software to someone else. Sooner or later they will all be phased out of the Android game as soon as Goolge gets the grip on the whole thing. Third. Google Assistant is the ultimate privacy breacher.

With Pixel pricing at a ridiculous $grand, my next purchase will be a Nexus 5x as a backup to my 6P. I will stick with Nexus for a long time.

I feel like I just got my 6P even though it's been a year and 3 days. So, I'll probably be in the market for Pixel v2. That said, I have to wait for it to be sold unlocked because imma not a Verizon customer nor do I want to be.

Google sells it unlocked through the Google Store, they have 24 month financing for it, and the unlocked versions work on all US carriers.

I have been saying it for years. Google needs to fork their own version of Android and just own that. Let the rest eat Ubuntu or Tiezen.

So they are putting all android phones at a disadvantage...other than puxel...that will drive people to apple...well done...

Some of us are Google services users first. So we want Google to take responsibility for hardware, security, and updates. I could go either way iPhone or Android. As long as I have Google services. I don't do business with Samsung since they didn't update my Note2.

Yes i get that totallyi had nexus 5...then note 4...now s7 edge...but i miss the note and i have note 7 on pre order.
I loved nexus 5....i got buzz ovee updates. But... i prefer the functionality of samsung.. i much prefer the s calender ...i prefee the messngee and also the email app.....they are better...esp the calendee app...
Plus the camera app from google is so boring...
I find this new pixel the same except google assistant.

Like the article, it was very informative. Seems like the Pixel is a good device that has some key differences. Price is a little steep and would be justified if you added all carrier availability (no exclusives) and waterproofing. If you want to be priced with the top dogs these are key selling points that are included with the Galaxies and iPhones.

Smart strategy by Google , i want this from earlier that all stock android ara same, but pixel looks exclusive.!!!
Android Central Newsletter
Get the best of Android Central in in your inbox, every day!
Thank you for signing up to Android Central. You will receive a verification email shortly.
There was a problem. Please refresh the page and try again.