You can use the Pixel Buds without a Pixel phone — but should you?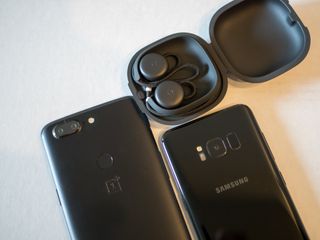 Some people think that Google's new Pixel Buds headphones are designed to only work with Pixel phones. That's reasonable on account of the naming convention, but it's not actually the case! At their core the Pixel Buds are just Bluetooth headphones, and that means they can easily pair to any phone (or heck, computer) with Bluetooth for audio.
Unfortunately, Google has kept some parts of the Pixel Buds experience exclusive to its own Pixel phones. Here's a breakdown of what you get when you pair the Pixel Buds to a non-Pixel phone.
Most things work just fine!
The Pixel Buds have a new style of form factor without any buttons and use a case for both pairing and charging, but there's nothing particularly fancy at play here. The first time you open the Pixel Buds case, it enters a pairing mode — any phone with Bluetooth turned on can pair to the headphones right away, just as you would with any other pair of "normal" Bluetooth headphones. You can select which profiles you want to use (music, calls, etc.) from the phone's settings.
The way the Pixel Buds connect and disconnect with your phone remains unchanged as well. Pop open the case and remove the headphones, and they'll connect to your phone provided it's in range and has Bluetooth turned on. Put the headphones back in their case, and the Bluetooth will disconnect in short order. And if you want to switch the headphones to a different device, just forget the Pixel Buds on the current device, place them in their case and hold the multifunction button in the case for about 15 seconds — they'll be ready to pair again.
Google Assistant also works just fine on non-Pixel phones. You can press and hold the right earbud to invoke the Assistant, and it will pass audio both to and from the phone without hassle. The (limited) Pixel Buds settings are also found in the Assistant interface when you launch it with the earbuds connected to the phone.
A couple missing features
So most of the Pixel Buds experience transfers perfectly from a Pixel to a non-Pixel phone. But you do miss out on a couple of features. The big one is the "real time" translation feature, which is only available when paired to a Pixel phone on account of the advanced audio routing that needs to happen. But don't get too discouraged here — the same Google Translate quality is still available on any phone using the app, it just won't be piped through your Pixel Buds in the same way.
The other missing features are more of edge cases, and they'll both improve with time. The first is the new "Fast Pair" system that Google introduced at the same time as the Pixel 2 and 2 XL. It makes the initial pairing process with any headphones that support the protocol (including the Pixel Buds) extremely simple — and though it's supposed to be available for any device on Android 6.0 and later with Google Play Services version 11.7 or later ... but it just isn't rolling out everywhere just yet.
Then we have to wonder about new Assistant features in the future taking time to hit other devices. Right now the Pixel Buds hook into Google Assistant on any modern phone and work just fine, but there's a chance that Google could roll out new features in Assistant only on Pixel phones much like it has done with Translate — we just don't know.
Should you buy the Pixel Buds at all?
Knowing that the Pixel Buds work pretty darn well with a non-Pixel phone, you then have to ask yourself whether the Pixel Buds make sense for you at all.
The Pixel Buds definitely sound great for their size, have good battery life and though the design takes time to get used to they're comfortable for long periods of listening. As basic Bluetooth headphones, they get the job done whether you have a Pixel or not. But doing the basics alone doesn't justify the $159 price — and this is where the questions really come in.
Missing out on translation functionality isn't really a big loss, so we can skip over that as a selling point. Google Assistant works just fine on any modern Android phone, but it has a whole lot of room to improve on the Pixel Buds to the point where you feel like you have to have it in your daily life. The case works, but we have concerns about the fabric's long term durability and it's a bit too big to easily fit in a pocket. And some simple core issues like not being able to easily switch between paired devices just limits the usefulness of the Pixel Buds as daily use headphones.
Yes the Pixel Buds will work just fine with a non-Pixel phone. But that doesn't necessarily make them worth spending $159 on.
Get the Android Central Newsletter
Instant access to breaking news, the hottest reviews, great deals and helpful tips.
Andrew was an Executive Editor, U.S. at Android Central between 2012 and 2020.