Should you upgrade to the Galaxy S7 from the Galaxy S5?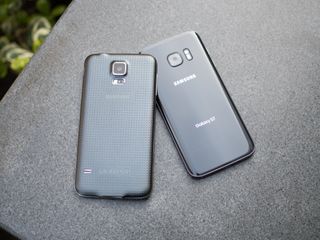 Despite all of the advancements in the Galaxy S6 last year, millions who owned and loved their Galaxy S5 weren't super impressed by the new version. Even though the phone was made with better materials, had a nicer screen and dramatically improved camera, the loss of a removable battery, SD card and waterproofing were big changes that didn't sit well with people.
In some ways, that makes the Galaxy S7 tailor-made for anyone who has a Galaxy S5 and skipped last year's phone — it has all of the same great qualities of the Galaxy S6, plus an SD card, waterproofing and dramatically improved battery.
With most Galaxy S5 owners coming up on two years with their phone, it's time to consider an upgrade — we're going to explore if the GS7 is the way to go.
Hardware and specs
In terms of how the phones look and feel in use, is this even a contest? No, it is not. The Galaxy S7 is a marvel of modern smartphone engineering. The Galaxy S5 ... well, it wasn't that great even the day it was released, and it hasn't aged particularly well. The metal and glass construction of the GS7, despite its similarity to the GS6, is extremely impressive — although it sure is susceptible to dings and scratches over time. The GS5 may be a bit more robust, and easier to grip onto with the rubbery textured back, but I wouldn't ever make that trade off when it involves the bland and cheap physical design of the phone.
The great thing here is that Samsung has kept the smaller screen size of the Galaxy S5 consistent in the Galaxy S7, meaning you don't have to give up your compact and manageable phone in order to move to the latest in specs and capabilities. The two phones are almost the exact same height and thickness, and the GS7 is actually a couple millimeters narrower, making it even easier to hold.
The screen size may have stayed the same, but the quality has definitely increased over the last two years. The bump from 1920x1080 resolution up to 2560x1440 immediately makes everything crisper, but it's the other parts of the display that have really improved: brightness, colors and viewing angles also upped their game a couple of notches. The Galaxy S5 surprisingly still holds its own today with a really solid display, but Samsung has moved on to much better since then.
More striking a difference can be found in the fingerprint sensors on these two phones. Well, saying "sensor" in reference to the Galaxy S5 is a bit of a misnomer, as it's more of a "scanner" that requires you swipe the tip of your finger over the entirety of the home button. That alone makes the experience really bad, even though it's just as secure as the one-touch component on the Galaxy S7. Moving to the newer style will feel like a revelation.
Internally, there are notable updates. The Galaxy S5's Snapdragon 801 is still a very capable processor, but you can't argue with the increased power, graphics performance and efficiency of moving to the Snapdragon 820 (or Samsung's Exynos 8 Octa) — particularly when you're talking about a phone you're likely to use for two years after buying it. The same goes for the jump to 4GB from 2GB of RAM
Swipe to scroll horizontally
Category
Galaxy S7
Galaxy S5
Operating System
Android 6.0 Marshmallow
Android 5.1 Lollipop
Display
5.1-inch 2560x1440
Super AMOLED
5.1-inch 1920x1080
Super AMOLED
Processor
Quad-core Snapdragon 820
or Octa-core Samsung Exynos 8
Quad-core Snapdragon 801
Storage
32GB
16/32GB
Expandable
microSD up to 200GB
microSD up to 128GB
RAM
4GB
2GB
Rear Camera
12MP f/1.7
1.4-micron pixels
OIS
16MP f/2.2
1.12-micron pixels
Front Camera
5MP f/1.7
2MP f/2.4
Battery
3000 mAh
Non-removable
2800 mAh
Removable
Charging
micro-USB
Fast charging
Qi wireless
Powermat wireless
micro-USB 3.0
Water resistance
IP68 rating
IP67 rating
Security
One-touch fingerprint sensor
Swipe fingerprint scanner
Dimensions
142.4 x 69.6 x 7.9 mm
142.0 x 72.5 x 8.1mm
Weight
152g
145 g
Software and performance
Much like the hardware, the Galaxy S5's software is starting to show its age. The Android 5.1.1 Lollipop currently available on the phone is much nicer than the Android 4.4 KitKat it launched with, but is a clear step behind the much slicker and visually appealing Android 6.0 Marshmallow that's available on the Galaxy S7. We tend to forget just how old that software looks when we're busy paying attention to the latest stuff ... and make no mistake, it looks old on the GS5 — the colors, transitions and odd features just don't look great nowadays.
Interestingly, the Galaxy S5 actually holds up pretty darn well in terms of daily performance — remember, we're still talking about a Snapdragon 801 processor here, powering just a 1080p display. Firing mine back up after a good amount of time in a deep slumber, I was surprised by how well it still performs in my typical use of apps. The Galaxy S5 alone doesn't exhibit much stuttering through the interface ... everything just moves at a bit slower pace. Setting it next to a Galaxy S7 you can tell things are slower all around on the older phone, but that's to be expected.
We know that Marshmallow will make its way to the Galaxy S5 at some point, presumably after the rollout for the Galaxy S6 series of phones is finished, but what we don't know is just how much of the Galaxy S7 experience will be coming back to the older phone. Chances are a few of the features will be left behind, but if the visual changes make their way back and performance can stay high then that update may give some legs to the old Galaxy S5.
In terms of battery life, it's a win for the Galaxy S7. Being able to swap out the Galaxy S5's battery was a bit of a crutch for it, as its 2800 mAh capacity just wasn't quite enough for a day of heavy use. With a larger (3000 mAh) battery and more efficient processor the Galaxy S7 can handle a full day much easier than the two-generation-old phone, though it isn't quite the battery campion that the larger Galaxy S7 edge is.
Add in the new charging features available in the Galaxy S7, which includes Samsung's Adaptive Fast Charging (compatible with Quick Charge 2.0) and both leading wireless charging standards, and you have a much improved overall battery experience. Not only will the Galaxy S7 last longer on an average day, but it's quicker to get charged up when your reserves run low.
Camera quality
Besides the hardware of the Galaxy S7, the next largest jump to observe is the improvement in camera performance. For its time the Galaxy S5 was actually pretty impressive for daytime shots, but where Samsung came up amazingly short was in low-light performance. The GS5's lack of OIS (Optical Image Stabilization) and weak combination of a small sensor and f/2.2 lens just didn't provide enough light to get any good shots in even decent lighting. That hasn't changed any over time.
Now in 2016, Samsung is completely hanging its hat on low light camera performance in the Galaxy S7. The new sensor and lens come together to give you lots of light in even troubling conditions, and it's a real treat to use. The daylight performance isn't miles ahead of the Galaxy S5 in the same way, but it is noticeably better in terms of clarity and particularly in focusing speed. Take a look at a few sample shots here to see how the two compare.
Galaxy S7 (left) / Galaxy S5 (right); click images to view larger
The photos are higher quality across the board here, and low light shots in particular aren't even in the same realm. But beyond the photo quality, the Galaxy S7's camera is much faster to open and take shots, quicker to focus in every situation and more capable with new video recording modes, a full manual camera mode and automatic HDR when shooting in auto mode.
At this point it's clearly established that there's far more to this upgrade than just one area, but the big jump in camera quality is one area that's going to weigh heavily on many people's decision.
The bottom line
Moving from your current phone two years later to the newest model of the same device definitely feels like the path of least resistance, but in this case it's also just a really good decision. Whereas upgrading to the Galaxy S6 last year would've been more costly and involved losing some features that Galaxy S5 owners coveted, this year there isn't really anything to complain about. The Galaxy S5 is still a fine phone today, actually, but we wouldn't blame you for looking for something new — and if you choose the Galaxy S7, you're getting a dramatically improved hardware experience, a better screen, better performance (now and into the future) and a mind-blowing step up in camera quality.
At the same time, in the upgrade process you haven't lost waterproofing (though you did lose the USB port flap!), the SD card slot, the compact size or the familiarity with Samsung's software and services. Sure the battery can't be removed anymore, but the battery is also bigger and accompanied by fast charging and wireless charging tech — that just isn't a reason to hold yourself back.
And because you're likely coming up on two years using the Galaxy S5, chances are there will be some financial incentives that will help with your Galaxy S7 purchase. If you bought your GS5 outright you've gotten your money out of it at this point (but obviously, look into selling it anyway), and if you were on a contract it'll be time to get your carrier to help out a bit in terms of a financing or lease program. Now that doesn't mean the Galaxy S7 is inexpensive in any way — it's still going to set you back at least $600 — but considering all of the factors this is going to be a pretty easy upgrade to make.
Android Central Newsletter
Get instant access to breaking news, the hottest reviews, great deals and helpful tips
Andrew was an Executive Editor, U.S. at Android Central between 2012 and 2020.
Should I upgrade from my Galaxy s3 haha Posted via the Android Central App

S3? That's hardcore. Posted via the Android Central App

epic 4G touch?? XD Posted from my Nexus 6/Nexus 7 2013/Surface Pro 3

Yep still use my Galaxy S3 Everyday. Not a single thing wrong with it. Screen has no scratches or cracks. ( the phone has never been out of a case it's whole life). The phone never gives me amy trouble. I would like to upgrade but at the same time I still like my S3 Posted via the Android Central App

bs32315 you are a happy go lucky Galaxy 3 user. My Galaxy 2 and 3 died of untimely death at the age of 13 and 14 months, right after the warranty expired. How convenient. Freezing screen. Battery drains while device is off. Using up internet data in 48 hrs with the device being off. Missed calls, echooo s, Will not turn on sometimes. You name it. Got me NEXUS 5 and a piece of mind. Saved a bundle on psychiatrist. Those Galaxies drove me nuts. My NEXUS 5 with the Marshmallow is like a new phone, never a problem – fast and furious. My new NEXUS 6P is the best Android. I use only Pure Android or OIS (my wife that is). Don't change it if it ain't broken. Good luck.

To William. I would trade my Galaxy s3 for Nexus phone anyday Posted via the Android Central App

Hi, you can get the NEXUS 6P for $50 less. I got the 64gb memory, which I don't need. Paid $550.00 plus tax. You can get the 32 gb for $449.00 plus tax, free shipping. It is a very best, compared to iPhone 6+ or the Galaxy 7, especially for what you pay, plus you will always be up to date. Wish you the best of luck.

We are all different and like different things,
I bought a 6P myself a while ago, I just can't grow to liking it, it doesn't do to much wrong as far as a smart phone goes , but I can't seem to like it after owning 2 galaxy notes , the device is pretty basic, pure Android is fairly basic too.
By the same token I'm not sorry I bought it to try out and see what pure Android is about, but it will be getting the bullet pretty quick compared to my notes.
I still use my note 4 more often than the 6p , it feels better to me and has a lot more features, it's not as quick, but speed isn't everything.
And that is probably relevant to the thread at hand,
if your happy with the way your old device works why not hang on to it,

oldmick, Your comment is quite reasonable. I, myself am not a fanatic about the smart phone I use. However, true to my nature, speed and battery life are important. That's why I am a pure Android man, NEXUS 5, 7, 6p, all the way. I enjoy my 6P though it took me about three months to get use to the size of it. It is a fine pone but I feel the weight in the pocket of my jacket. My all time favorite "phone" is the NEXUS 5, which I managed to change for a brand new one at a low cost of $58. It fits better in my hand than the 6P. Well, that was until today. I applaud Apple for its wise decision to retain the classic design of the iPhone 5S, update the inside of it and introduce a new iteration of an iPhone , a beautiful, sensible, fast and practical phone at a reasonable price. Well, I like it a lot and think the 5SE will be my first iPhone.

On paper, but you will be back. If you are a Nexus fan, there is no substitute, not even a shinny new iphone. But I do think you are right, Apple see's the writing on the wall, there is a market for smaller phones. Others will follow, so it shouldn't be long before you got some more choices in Android.

Still in the S3 camp too. Bought the S6 Active last summer & sold it within two weeks. No issues with it at all, but went back to my still working S3 that is still on its original battery from June 2012. Have never had a phone last as long as this one has. That said, will be looking into the S7A in May/June when it is released.

My coworker still rocks an S3. Says he has no reason to upgrade, despite the fact that the phone's a wall hugger and he won't replace the battery.
That would drive me nuts. Posted via Xperia Z5

Lol, my sister too, but after a couple of replacements, it seems like she is pleased.

That would drive me nuts also having to charge all the time like that. I just change the battery when mines does start to hold a charge Posted via the Android Central App

Great user name...Meshuggah \m/

My mother still uses an S3 lol, she doesn't see a reason to upgrade, she's on prepaid gophone and would have to pay the full price upfront.

Lol, gs3 still good budget phone Posted via Samsung Galaxy S5 model SM-G900A running 5.1.1 AT&T

not really at this point. There are brand new budget options that are a far better choice.

Common bro don't bring S3 and S4 to the table, they are nice but display is horrible, S5 display as good as S6 and S7, S6 and S7 has are faster and brighter of course camera on S6 and S7 are lot better. Last but not least S6 and S7 are extremely beautiful phones. with SD slot on S7 definitely worth the upgrade. to tell the truth I'm still S5 because I just can't give up photo face tag 'cause it's the most important feature for me. for you guys not a big deal because 9 out of 10 Samsung users don't even know the feature exist and 9 of of 10 out of 10 Samsung users not fully understand and master the Touchwiz. Just buy the S7 you won't regret. DO not ever give if you don't know how to use the phone, go Youtube search for tips and tricks

1080p on a 5" screen is not horrible...and one of the best screen-to-phone ratio. The 3 iterations of the S line after didn't entice me to switch from it. HTC One and the next Note are my only hope.

Of course. The S7 has the benefits of the S5 along with a better camera, battery, screen, design, processor, and lighter TouchWiz. This isn't even a question. Posted via the Android Central App

Not all of the benefits. Lack of a removable battery is a deal-breaker. Plus the locked bootloaders across all carriers. No sale.

It is a question? Posted via Samsung Galaxy S5 model SM-G900A running 5.1.1 AT&T

The Galaxy S5 is probably the most disappointing one among the Galaxy S line. It looked like Samsung was just trying to throw a phone at their consumers just in time. I really think it was a sad looking phone. Posted via the Android Central App

I had the S5, I got rid of it within 6 months. I hated that phone. It Forced this terrible voice dialer app instead of google voice when using bluetooth. Made it almost impossible to make a phone call in my car. I absolutely love the S7 though!!

I immediately flashed my S5 with a non-carrier ROM and have loved it since day. Any issues you had weren't inherent problems with the hardware. As for "looks"... just put it in a case like any sane person. Pick whatever case appeals to your subjective tastes.

I think it still looks nice Posted via Samsung Galaxy S5 model SM-G900A running 5.1.1 AT&T

This could've been a one word article. :)

"No, wait for the HTC 10" I counted more than one... Huh, weird.... Posted via the Android Central App

We upgraded my wife's S5. She the type that will use a phone till the screen falls off but the performance for the S5 went to crap. 16GB version. She couldn't be happier. Posted via the Android Central App

I have mine as a backup, its stuck on 5.0 :/ Posted from my Nexus 6/Nexus 7 2013/Surface Pro 3

I don't even know if hers is on 5.0 lol Posted via the Android Central App

It should get 6.0 By summer of 2017 Posted via the Android Central App

So soon? Posted via the Android Central App

Joe.... you mean 6.5, when the S7 is on 8.0

I was going to post the same thing, I upgraded my wife's S5 to the S7 Edge and its more than worth it because of the Battery and the camera. The low light performance is amazing. I use a Note 4 and i am about the pull the trigger for the S7 Edge but I am holding out for the Note 6.

Unless you really need that removable battery, you should. Huge upgrade on so many levels. Pretty much a no-brainer at this point. Used the Edge for a couple of days and came away impressed. Definitely my next daily driver if my current one fails spontaneously.

And like countless people, I really need a removable battery. I don't want to: 1) Be tethered to a wall or a power brick when my battery is dead
2) Be forced to buy a new phone in 1-2 years when the battery is too weak to be of much use. Plus the S7 gets a 3 out of 10 repairability score at iFixit. Considering how often devices break, especially screens... no thank you.

sremick, I agree with you 100% that a removable battery is a must. But I need to give you 1 very important piece of advise. put a piece of black electrical tape over the contacts of the battery when its removed from the phone. I had a battery from my previous S3 explode in my pocket causing third degreee burns to my leg and second degree on my hand from removing the battery from my pants that caught fire. No joke, True story... I still carry an extra battery but always cover the contacts with electrical tape.

Wow. I've never heard of that happening, but damn. I hope you were able to recover from such a horrific situation. On that note, the extra battery for my G4 did have a plastic case. If your extra battery has that, use it, or keep it in its charging case.

No brainer to keep gs5 Posted via Samsung Galaxy S5 model SM-G900A running 5.1.1 AT&T

Opps, dropped my phone, guess you have to upgrade now.

Very tempting.
I wish Samsung makes a GPE of S7

I upgraded from the S5 last week to the edge, I have to admit the S5 worked well for me but the S7 edge is a nice upgrade well worth it Posted via the Android Central App

Yeah OK. That will never happen hahah Posted via the Android Central App

GPe devices died for a reason. Posted via the Android Central App

Should you upgrade to the G5 from the S5? Should you upgrade to the 6P from the S5? Should I upsize my fries with that Big Mac? I feel this was an unnecessary and redundant article. The kind of question a tech illiterate would ask somebody working at a mall carrier kiosk and get fed a load of fancy crap as to why they need the latest and greatest when all they actually do with their phone is gossip on Facebook and play candy crush. Posted via the Android Central App

Good old snapdragon 801. A beast for its time Posted via the Android Central App

And really, holds up pretty well today.

Yes it does. It's the main reason I went a year and a half without upgrading. When I got my OPO in 2014 the 810 was becoming a thing but there were heating issues which I'm sure you remember. A little overheating when gaming but for multitasking, video playback and battery, for it's time, it was great Now I use a Samsung Galaxy s7 proper and the 820 seems to handle everything smoothly though it's too early for me to tell if that's due to the hardware or Samsung's software Posted via the Android Central App

OPO ran pretty good on the 801

I will take an 801 over a 6xx series any day. Reason why I am looking at the Oneplus X. Wish others would do that.

Which is more waterproof, S5 or S7? Posted with ❤Love❤

Look up the IP rating for each one. Posted via Xperia Z5

Gs7 is better with water resistance with ip68 with gs5 at ip67 Posted via Samsung Galaxy S5 model SM-G900A running 5.1.1 AT&T

I think someone here following Engadget :D Posted via the Android Central App

Should I upgrade from my S4? It has been (and still is) an amazing phone. I'm just wondering about having KitKat instead of the latest software and security updates.

Keep that S5 stashed just in case you need a trap phone LoL Be Together Not The Same

Hahaha Posted via the Android Central App

Should you upgrade to a 2016 Mustang from a 78? Stupid comment, never mind. Posted via Nexus 6 running on any data plan I want

I didn't even know my S5 had a fingerprint scanner. Oh well, I'm sure it sucked anyway. Love the fingerprint unlock on the S7 though!

It got better to the point I was using it to unlock my phone. I couldn't do that when it first came out. Posted via the Android Central App

I still have my S5 and enjoy it so i might be biased but don't a couple of shots look actually better on S5?
Also it's kinda sad that one of the reasons to upgrade to S7 is to get Android M.

Agreed; the S5 pics look better

You guys should wipe your eyes. The color is flat in the s5 pics Posted via the Android Central App

+1 Posted via the Android Central App

Agreed! Lol Posted from AC on Samsung Galaxy S5 SM-G900V

If your rocking anything older then the gs6 and a fan of Samsung....hell yah upgrade your get twice the phone. Heck even if your rocking a note 5 might be worth it for the battery alone Posted via the Android Central App

Let me know when Samsung makes a phone with MicroSD AND removable battery again. Otherwise, no.

Hard to come by removable batteries these days...most manufacturers are moving towards rapid charging. Posted from AC on Samsung Galaxy S5 SM-G900V

Yep, which is very unfortunate. No "rapid charging" gives me 100% in less then 10 seconds like a battery swap does. Nor does "rapid charging" refresh my battery when it starts only holding 50% of its original capacity in under 2 years.

Who carries around a backup battery? From executive to fast food general manager, I know no one who carries around spare batteries. I find myself hard pressed to think of someone who can't afford to go 1 HOUR without their phone in their hands. A GM of a professional sports team near the end of the trade deadline or free agency maybe. A parent with a child in the hospital maybe, but I don't know any parents that carry around a spare battery Posted via the Android Central App

Plenty of people. I keep one in my jacket pocket. It's tiny, much MUCH smaller than a portable USB power bank, and gives me 100% battery in less than the 10 seconds it takes to swap it out. And it cost me all of under $10 (OEM, I don't with aftermarket batteries). If I'm busy at work, or spending the day on-foot, then yes going without my phone for an hour is not an option. A phone that is actually used to any real degree doesn't last a full day, no matter what those nice marketing people wrote on the box. It's unfortunate that your circle of acquaintances aren't familiar with the concept of replacing batteries in devices. They've heard of AA and AAA batteries, right? Before Apple introduced the anti-consumer abomination that is the iPhone, EVERY SINGLE CELLPHONE IN EXISTENCE had a removable battery, and they lasted DAYS. Now batteries don't last a full day, and they're glued in.

Who uses AA and AAA batteries besides Remote controls and smoke detectors and children's toys lol??? I hardly think it's sad my circle of friends doesn't carry around spare batteries. In fact I think it speaks more to sadness that you can't go an hour without your phone whether it be for work related purposes or personal reasons. Any case is a situation I myself wouldn't want to be in. You are correct, no phone lasts all day, but 80% of the country is capable of putting their phone on the charger and finding other tasks to do at work, or school work in the case of teens. While at home you can clean, spend time with family, prepare a meal, walk your dog, watch a TV show it movie, find a hobby, any number of things to occupy themselves for 1 hour while their phone charges. Tomorrow, for example, I will leave my house at 9am to run errands. Back by 1 or 2, have to be at work by 4, I'll charge my phone while I prepare for work. I'll go to work with 100%, and seeing as how I'm there to work and DON'T NEED TO USE MY PERSONAL PHONE MUCH, My battery WILL last until I return home. If you use your phone a bunch while at work, you're either NOT WORKING, or you have a job a monkey could do because it allows you to **** around on your phone for 8 hours or, and the most obvious reason, your job should provide you a company phone since it's required for you to use it so much. Face it bud, you spare battery carriers are in the minority, not the majority. Only reason I see to carry a spare is you travel a lot and spend a lot of time in airports and planes. In which case you likely have a work phone and/or work laptop to stay in touch At least a female can put one in a purse, what happens when it's 90 degrees and you don't need a jacket? Carry it in your pocket so it can sit in the 90 degree sun, or carry a man purse? Spare batteries are required for 20% of the public at most Posted via the Android Central App

And the cool thing is: if you're one of those who don't need to remove/swap your battery, then YOU DON'T HAVE TO TOUCH YOUR REMOVABLE BATTERY and having it be removable does you absolutely no harm (actually it helps you as it increases the longevity and resale value of your phone later). Nice 80% figure there, given that 67.34% of all statistics are made up on the spot. Very convincing. Problem is, you anti-battery folks don't seem to get that if the battery was removable LIKE IT WAS FOR DECADES, it didn't affect you ONE BIT if you didn't use it. But those who DID didn't get left out in the cold, and a single device made everyone happy. Wanting a removable battery doesn't hurt anyone but helps many. You refusing to acknowledge its value to a significant part of the consumer population, insisting that they should just suffer and do without because you can't be bothered to not use something that just happens to be there is arrogant. Our stance deprives no one of anything and makes everyone happy. Your stance screws over a large part of the consumer base.

It boils down to this, buy what you need and what you desire and don't ***** when a phone doesn't have a feature you desire. You don't want it don't buy it. There's phones with removable batteries like the G5, go for it. Fact is, this is the way the market is shifting, adapt or don't. The AVERAGE user doesn't require a removable battery Posted via the Android Central App

I'd love to. Thanks for that advice. Just let me know what phone out there has an OLED screen, MicroSD slot, and removable battery so I can do exactly that. Samsung USED to be the company doing that. The Galaxy Sx line were the phones... the ONLY phones... that met our needs. Now they've deviated from their core feature set. Perhaps "shut up and deal, or F off" isn't the best attitude to give to others with a legitimate need and gripe who are asking for something to return to the way it used to be that wouldn't affect you at all?

I did in my HTC Incredible and Galaxy S3 days. At the time I was Systems Architect in charge of and on call for multiple government data centers. I'm the manager now so no longer paid on call but still need to be available at any moment. Regardless, the simplicity of wireless charging and increased battery life with the Galaxy S5 and now the S7 has long since made the days of mid-afternoon battery swapping obsolete. Plus it seems like the longevity for batteries has improved as well (they don't fail as often as they used to).

Again, this assumes that A) a person has an electrical outlet they can get to during the day, along with a wireless charging pad, and B) that they can sit around tethered to that spot for 15+ mins to get charged. A spare battery: 1) ...is smaller, lighter, and more-portable than a wall charger and/or wireless charging pad
2) ...gives you 100% battery in under 10 seconds
3) ...can be used anywhere, anytime regardless of accessibility of wall outlets

I wish they would. Posted via the Android Central App

Well Android, we had a good run...but now that Apple has basically re-released the iPhone 5S I must jump ship. I simply could not resist their vague yet inspiring jargon. It was too much for me. I actually broke down from years of resisting the iPhone and purchased 2 of every color. And yes, I ordered a matching turtle neck for each of them. You Android folks have no class.....I know this because I just purchased all the remaining class available in 2016. I feel better than I ever could feel with an Android. I feel....I feel....INVINCIBLE!!! It felt good to finally say that. Whew. Goodbye Phil. Goodbye "You gotta relax" Jerry. Goodbye Russell. See ya Drew-Drew. Maybe I'll return when Android has more to offer. When they finally learn to trick me into buying the same old thing but better this time. Maybe when they can literally sell me the same old thing by allowing me to turn in my old same old things to be taken apart and made into new old things. Android will never get it. ::DROPS MIC:: ::TRIPS OVER IT AND FALLS OFF STAGE::

Is this an advertisement or... Posted via the Android Central App

I still have a S5 that performs well. Nice camera. I always put a case on phones that cost me hundreds of dollars so the plastic back doesn't matter. Don't get me wrong, I'm buying an S7 in the next 3 months, but the S5 hate is almost laughable at this point. Posted via the Android Central App

Agreed. I enjoyed my S5 right up to the very end. Reset it and passed it over to my wife. She loves it too. The S7 is definitely worth upgrading to but the S5 was never a frustration for me. Posted via the Android Central App

If I could just have a pure Google experience on my S5, I'd keep it. Samsung just left this phone behind in terms of updates, still on 5.0 here with Verizon. I'm considering a Moto X Pure at this point. Nexus 5x is runner up. Posted from AC on Samsung Galaxy S5 SM-G900V

I am waiting for the Note 6 or perhaps gs8/edge to upgrade from gs5 Posted via Samsung Galaxy S5 model SM-G900A running 5.1.1 AT&T

I'm really enjoying my S5. Think I'll wait for it to fail then if LG still has removable batteries I'll go LG Posted via the Android Central App

LG is holding on to the only trump card they have. Which is remarkable battery . But I and most of the world have move on. As a known phone geek and a person with more then my share of different phones I have never once carried a extra battery nor do I know of any of my power using geek phone buddies . The key is to buy a phone with good battery life (gs7 edge) and your good . The g3 4 and v10 all have that feature and the masses still went Meh . But to each there own . Posted via the Android Central App

Is there one s5 owner on the entire planet that was waiting for this article to make up his mind?

I doubt it but according to one of my best buy phone center buddies. More then a few s4 and s5 have been trading in . And almost to a man there first reasons where the return of the sd card and water proof .and the bigger battery Posted via the Android Central App

I want to upgrade but i can't... i hope i win the galaxy s7 from AC competition... Posted via the Android Central App

I like my S5 Active. It's waterproof, shatter proof, SD card slot and removable battery. I also have it in a case so who gives a crap if it's plasticy vs metal. Camera on my S5 is awesome. Looks like the S5 photos in this article are actually the best but maybe that's just me. Bottom line for me, my current phone is just fine and fully paid for no contract. That's the no brainer!

I am a cellphone fanatic. I used to have the S2 (sold it), but currently I have the S3, S5, and S6 Edge. What traits does the S7 have, that I haven't already seen? Just to tell you I also have a LG G4 and a LG V10. I don't know where I would be without my phones.

They miss you, go give your phones a hug right now. Make sure you don't put them all in the same drawer overnight, or you might wake up to a litter of baby iPhone SE's the next morning. Encourage them to practice safety and keep their cases on at all times. And it isn't polite to backwash the power cord.

Common bro don't bring S3 and S4 to the table, they are nice but display is horrible, S5 display as good as S6 and S7, S6 and S7 has are faster and brighter of course camera on S6 and S7 are lot better. Last but not least S6 and S7 are extremely beautiful phones. with SD slot on S7 definitely worth the upgrade. to tell the truth I'm still S5 because I just can't give up photo face tag 'cause it's the most important feature for me. for you guys not a big deal because 9 out of 10 Samsung users don't even know the feature exist and 9 of of 10 out of 10 Samsung users not fully understand and master the Touchwiz. Just buy the S7 you won't regret. DO not ever give if you don't know how to use the phone, go Youtube search for tips and tricks

I'm in car sales every time I sold a car i take picture with customers and never ever loose battle with LG and even iphone 6splus. My GS5 beat them all every single time without fail. Then I tag the photo with photo face tag. I can call, text and email right from the photo

I already upgraded it to the s 7. Loved my s 5. Had it only 5 months trying to see it now. Perfect shape.

But, the USB flap. How are we going to go on without it? Oh wait... Posted with my Idol 3 via the Android Central App

I'll probably wait a another year and get the S7 at a discounted price. Quite satisfied with the performance and experience of my GS5. People rail on ATT re: updates, however I think all builds/updates that ATT has pushed out for the device have been very stable. Not mentioned in the article...but my "reasons" for upgrading will essentially be for Samsung Pay and the Theme Store...things that are sadly missing from the Marshmallow build of the GS5. Incrementally better processor and camera are plusses. Thanks for the GS3 nostalgia, I still rock that device as a backup phone. If you root, debloat and xPosed that phone...its still usable as a daily driver IMO.

The S7 is a game changer!

I think to change a S5 for a S6 is worth it, so S5 to S7 is very worth it jajajaja

So 600 bucks for a better camera uhm...no way. My S5 is still smooth and works like a charm in every app. Android 6 incoming...I repeat: no waaaaay

I have an HTC One M7 and my wife has the Galaxy S5. I have yet to find a reason to upgrade either device. The newer phones are definitely upgrades but for me, the incremental improvements are not worth the cost. Our phones are still fast enough, have nice screens, last through a full day, and take good enough pictures. I'm considering purchasing another M7 when mine dies at a cheap rate and continue using that phone as opposed to an upgraded model. They both do everything I need and then some.

My dad still has a Samsung Captivate. AKA, the ORIGINAL Samsung Galaxy S.

Depending on the funds available. You can get a great galaxy S6 now for a good price which will have marshmallow shortly... cheaper and almost as good. I have a battery backpack on mine now and it goes for days...

i have samsung galaxy s5, and i dont see too too much features that will make who has s5 to upgrade to the s7 i dont like the design of the s7, its nice but its look like iphone 6 and i dont like the back glass cover for mobiles the samesung galalxy s5 still fast and have a nice display, and nice 16 mp camera, it takes 16:9 photos aspect ratio but the s7 take 4:3 photos aspect ratio and thats not nice, becz most of the screens today are 16:9 so why should we upgrate ???

samsung galaxy s7 is a good mobile but i dont see too much features that will make who has s5 to upgrade to the s7 some people maybe like to upgrade

Hi
Im not sure get Samsung galaxy s7 or s7 edge or note 7. Currently have a galaxy s5 worst phone ever had its not a water phone if have wet hands the phones play up doing stupid things. It freezes and ive drop my phone screen cracked and sometimes screen does stupid things cant use it few minutes and when people ring me say if i have on silent switches to vibrate and if i have sound switches to vibrate and sometimes cannot go back button and much more which phone you recommend i would like s pen instead writing what I want for supermarket be easy to right with s pen

I suggest taking a writing class, Paul...............................................................................
Android Central Newsletter
Get instant access to breaking news, the hottest reviews, great deals and helpful tips
Thank you for signing up to Android Central. You will receive a verification email shortly.
There was a problem. Please refresh the page and try again.