Should you upgrade to the Galaxy S7 from the Galaxy S5?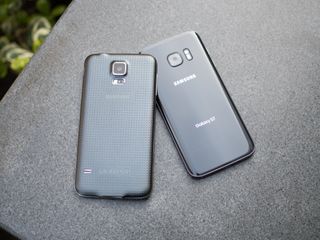 Despite all of the advancements in the Galaxy S6 last year, millions who owned and loved their Galaxy S5 weren't super impressed by the new version. Even though the phone was made with better materials, had a nicer screen and dramatically improved camera, the loss of a removable battery, SD card and waterproofing were big changes that didn't sit well with people.
In some ways, that makes the Galaxy S7 tailor-made for anyone who has a Galaxy S5 and skipped last year's phone — it has all of the same great qualities of the Galaxy S6, plus an SD card, waterproofing and dramatically improved battery.
With most Galaxy S5 owners coming up on two years with their phone, it's time to consider an upgrade — we're going to explore if the GS7 is the way to go.
Hardware and specs
In terms of how the phones look and feel in use, is this even a contest? No, it is not. The Galaxy S7 is a marvel of modern smartphone engineering. The Galaxy S5 ... well, it wasn't that great even the day it was released, and it hasn't aged particularly well. The metal and glass construction of the GS7, despite its similarity to the GS6, is extremely impressive — although it sure is susceptible to dings and scratches over time. The GS5 may be a bit more robust, and easier to grip onto with the rubbery textured back, but I wouldn't ever make that trade off when it involves the bland and cheap physical design of the phone.
The great thing here is that Samsung has kept the smaller screen size of the Galaxy S5 consistent in the Galaxy S7, meaning you don't have to give up your compact and manageable phone in order to move to the latest in specs and capabilities. The two phones are almost the exact same height and thickness, and the GS7 is actually a couple millimeters narrower, making it even easier to hold.
The screen size may have stayed the same, but the quality has definitely increased over the last two years. The bump from 1920x1080 resolution up to 2560x1440 immediately makes everything crisper, but it's the other parts of the display that have really improved: brightness, colors and viewing angles also upped their game a couple of notches. The Galaxy S5 surprisingly still holds its own today with a really solid display, but Samsung has moved on to much better since then.
More striking a difference can be found in the fingerprint sensors on these two phones. Well, saying "sensor" in reference to the Galaxy S5 is a bit of a misnomer, as it's more of a "scanner" that requires you swipe the tip of your finger over the entirety of the home button. That alone makes the experience really bad, even though it's just as secure as the one-touch component on the Galaxy S7. Moving to the newer style will feel like a revelation.
Internally, there are notable updates. The Galaxy S5's Snapdragon 801 is still a very capable processor, but you can't argue with the increased power, graphics performance and efficiency of moving to the Snapdragon 820 (or Samsung's Exynos 8 Octa) — particularly when you're talking about a phone you're likely to use for two years after buying it. The same goes for the jump to 4GB from 2GB of RAM
Swipe to scroll horizontally
Category
Galaxy S7
Galaxy S5
Operating System
Android 6.0 Marshmallow
Android 5.1 Lollipop
Display
5.1-inch 2560x1440
Super AMOLED
5.1-inch 1920x1080
Super AMOLED
Processor
Quad-core Snapdragon 820
or Octa-core Samsung Exynos 8
Quad-core Snapdragon 801
Storage
32GB
16/32GB
Expandable
microSD up to 200GB
microSD up to 128GB
RAM
4GB
2GB
Rear Camera
12MP f/1.7
1.4-micron pixels
OIS
16MP f/2.2
1.12-micron pixels
Front Camera
5MP f/1.7
2MP f/2.4
Battery
3000 mAh
Non-removable
2800 mAh
Removable
Charging
micro-USB
Fast charging
Qi wireless
Powermat wireless
micro-USB 3.0
Water resistance
IP68 rating
IP67 rating
Security
One-touch fingerprint sensor
Swipe fingerprint scanner
Dimensions
142.4 x 69.6 x 7.9 mm
142.0 x 72.5 x 8.1mm
Weight
152g
145 g
Software and performance
Much like the hardware, the Galaxy S5's software is starting to show its age. The Android 5.1.1 Lollipop currently available on the phone is much nicer than the Android 4.4 KitKat it launched with, but is a clear step behind the much slicker and visually appealing Android 6.0 Marshmallow that's available on the Galaxy S7. We tend to forget just how old that software looks when we're busy paying attention to the latest stuff ... and make no mistake, it looks old on the GS5 — the colors, transitions and odd features just don't look great nowadays.
Interestingly, the Galaxy S5 actually holds up pretty darn well in terms of daily performance — remember, we're still talking about a Snapdragon 801 processor here, powering just a 1080p display. Firing mine back up after a good amount of time in a deep slumber, I was surprised by how well it still performs in my typical use of apps. The Galaxy S5 alone doesn't exhibit much stuttering through the interface ... everything just moves at a bit slower pace. Setting it next to a Galaxy S7 you can tell things are slower all around on the older phone, but that's to be expected.
We know that Marshmallow will make its way to the Galaxy S5 at some point, presumably after the rollout for the Galaxy S6 series of phones is finished, but what we don't know is just how much of the Galaxy S7 experience will be coming back to the older phone. Chances are a few of the features will be left behind, but if the visual changes make their way back and performance can stay high then that update may give some legs to the old Galaxy S5.
In terms of battery life, it's a win for the Galaxy S7. Being able to swap out the Galaxy S5's battery was a bit of a crutch for it, as its 2800 mAh capacity just wasn't quite enough for a day of heavy use. With a larger (3000 mAh) battery and more efficient processor the Galaxy S7 can handle a full day much easier than the two-generation-old phone, though it isn't quite the battery campion that the larger Galaxy S7 edge is.
Add in the new charging features available in the Galaxy S7, which includes Samsung's Adaptive Fast Charging (compatible with Quick Charge 2.0) and both leading wireless charging standards, and you have a much improved overall battery experience. Not only will the Galaxy S7 last longer on an average day, but it's quicker to get charged up when your reserves run low.
Camera quality
Besides the hardware of the Galaxy S7, the next largest jump to observe is the improvement in camera performance. For its time the Galaxy S5 was actually pretty impressive for daytime shots, but where Samsung came up amazingly short was in low-light performance. The GS5's lack of OIS (Optical Image Stabilization) and weak combination of a small sensor and f/2.2 lens just didn't provide enough light to get any good shots in even decent lighting. That hasn't changed any over time.
Now in 2016, Samsung is completely hanging its hat on low light camera performance in the Galaxy S7. The new sensor and lens come together to give you lots of light in even troubling conditions, and it's a real treat to use. The daylight performance isn't miles ahead of the Galaxy S5 in the same way, but it is noticeably better in terms of clarity and particularly in focusing speed. Take a look at a few sample shots here to see how the two compare.
Galaxy S7 (left) / Galaxy S5 (right); click images to view larger
The photos are higher quality across the board here, and low light shots in particular aren't even in the same realm. But beyond the photo quality, the Galaxy S7's camera is much faster to open and take shots, quicker to focus in every situation and more capable with new video recording modes, a full manual camera mode and automatic HDR when shooting in auto mode.
At this point it's clearly established that there's far more to this upgrade than just one area, but the big jump in camera quality is one area that's going to weigh heavily on many people's decision.
The bottom line
Moving from your current phone two years later to the newest model of the same device definitely feels like the path of least resistance, but in this case it's also just a really good decision. Whereas upgrading to the Galaxy S6 last year would've been more costly and involved losing some features that Galaxy S5 owners coveted, this year there isn't really anything to complain about. The Galaxy S5 is still a fine phone today, actually, but we wouldn't blame you for looking for something new — and if you choose the Galaxy S7, you're getting a dramatically improved hardware experience, a better screen, better performance (now and into the future) and a mind-blowing step up in camera quality.
At the same time, in the upgrade process you haven't lost waterproofing (though you did lose the USB port flap!), the SD card slot, the compact size or the familiarity with Samsung's software and services. Sure the battery can't be removed anymore, but the battery is also bigger and accompanied by fast charging and wireless charging tech — that just isn't a reason to hold yourself back.
And because you're likely coming up on two years using the Galaxy S5, chances are there will be some financial incentives that will help with your Galaxy S7 purchase. If you bought your GS5 outright you've gotten your money out of it at this point (but obviously, look into selling it anyway), and if you were on a contract it'll be time to get your carrier to help out a bit in terms of a financing or lease program. Now that doesn't mean the Galaxy S7 is inexpensive in any way — it's still going to set you back at least $600 — but considering all of the factors this is going to be a pretty easy upgrade to make.
Get the Android Central Newsletter
Instant access to breaking news, the hottest reviews, great deals and helpful tips.
Andrew was an Executive Editor, U.S. at Android Central between 2012 and 2020.