Should you buy an original Pixel or Pixel XL in 2017?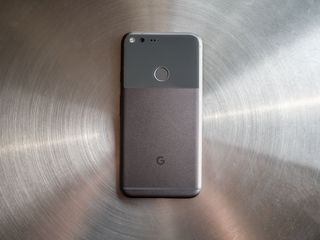 The unceasing march of innovation, coupled with the desire for a predictable revenue stream for manufacturers and carriers alike, all but ensures an annual update cycle for most major smartphone brands.
So is true of the new Pixel 2 series, which takes what made last year's models so good and improves on them in nearly every conceivable way.
But Google and its U.S. carrier partner Verizon are not putting the originals out to pasture just yet. Instead, they're each getting $100 price cuts and entering their second life as, if not budget phones, viable options for fast, capable, approachable Android flagships for people who don't want or need the very best.
And if you want a Pixel with a headphone jack, last year's models are your only option.
Should you buy a Pixel?
With the original Pixel down to $549, it's easier than ever to get into a Chevy Google. With its 5-inch OLED display, still-powerful Snapdragon 821 processor, 4GB of RAM, and 32GB of storage, the Pixel has specs that don't seem too out of place in late 2017, and it's still got a year left of Google's guaranteed platform updates, which means it will be among the first devices to get Android P when it debuts in 2018. It's also got a 2770mAh battery, which is ever-so-slightly larger than the one in the Pixel 2.
But the original Pixel lacks a couple of key features that many people take for granted in phones today; its single, downport speaker doesn't compare well to the front-facing stereo speakers on the Pixel 2, and it lacks its successor's IP67 water resistance. It also has a rather pedestrian design that failed to win over the mass market.
At $549, the original Pixel is still a good phone, but it's not a great deal. If you're already spending that much on a phone, you should probably try to save up the extra hundred for the Pixel 2, which adds a faster Snapdragon 835 processor, double the storage, an improved camera with optical image stabilization, and the promise of an additional two years of platform updates.
Of course, as already mentioned, the Pixel has the headphone jack that the Pixel 2 lacks, which, if wired headphones are important, may singlehandedly be enough to push you over the edge.
If you do want an original Pixel, it may be worth investigating lightly used models on sites like Swappa or eBay, which could bring the cost down significantly.
See at Google Store
Should you buy a Pixel XL?
The question of whether you should buy a Pixel XL right now is a bit more nuanced. The same arguments against it still apply — no waterproofing, aging processor, shorter update lifespan — but the Pixel XL, at its lower price of $669, has a considerable price delta advantage to the Pixel 2 XL, which starts at $849.
Sure, the Pixel 2 XL is sleeker and taller, with an updated design that takes advantage of LG's near-bezelless design and pOLED technology, but the Pixel XL is still a whopper of a phone. Its 3450mAh battery has proven capable of offering all-day battery life, something its smaller Pixel counterpart never quite realized, and its higher-resolution QHD panel makes everything from watching video to playing games in Daydream VR a more pleasant experience.
Thanks to its hardware advantages, I spent a lot more time with the Pixel XL than the Pixel throughout 2016 and 2017, and I'd venture to say it's one of the best phones ever made. At $669, it's a much more interesting proposition than the Pixel at $549, and if you're looking for a larger flagship that will stand the test of time, I'd encourage you to look into it.
See at Google Store
Daniel Bader was a former Android Central Editor-in-Chief and Executive Editor for iMore and Windows Central.
Why is this even a question? It's mid October of 2017, there are 11 weeks left and the 2018 flagship leaks will be hear in a blink of an eye. The Pixel and Pixel XL at their best were midrange phones. Now they should be priced entry level (but they aren't). Yeah, want a cheap phone? Go for it. I'm thinking most of your users, however, trend towards the upper range. If so, these devices are non-starters at this point.

I would hardly call them mid range, even today. As stated in the article, the design left something to be desired but the software experience is arguably the best in the business. I have a Galaxy S8+ and even this phone can't keep me away from the pixel. I switch back on a semi daily basis because the software is just too good. Mid range today is Snapdragon 625/6 and 1080P. Maybe 2K IPS. I'd take a pixel over anything "mid range"

"... at their best were midrange phones." What? Huh?

The pixel XL is a steal at 400 dollars and still a great phone. I would sell mine for what Google is offering me if there was any takers...

Pixel XL is £400 in the UK from Carphone Warehouse – a great deal I think

Yep. Bagged me one at £400. Very happy.

Yeah but dat 32GB storage, not sure if I can live with that.

I think the Old pixel is greater value than the new one for the price it is a steal! You get all of the useful features of the new pixel at a much more reasonable price and you can wait for the pixel 3 which will be a better upgrade for sure on Android pastel or pastrami or whatever "p" will be.

Pixel 2 is available (on pre-order) at Best Buy on Verizon for the same monthly price as the original Pixel is direct from Verizon

I don't consider this a budget phone by any degree. Now, if these were down to what the Nexus 5 got to at some point in the $199 range or so, then yeah. But this is still a steep price (for a good phone, don't get me wrong). It's probably better to just get the newer model at this price point though.

Looking at the Google Play Store right this minute, a Pixel XL with 128 GB is $650 USD. Entering same specs for me (128GB XL) for the 2 comes to $950. If you pay all up front...maybe, it's worth getting the old version. But financed over 24 mos, that's only approx. $13/mo (w/finance int.) For a crummy 13 bucks a month, I'll take the new version and the added year of support, etc. No brainer.

Picked up the original Pixel on ebay in flawless condition yesterday for 325.00. Seen many others around that. At that price I feel well worth it, but not what google is asking for.

I am soooo waiting to find a pixel for $200!!! Instantly bought! I love the smoothness! I'm just so cheap...smh

A few of us Nexus 6P owners got the best deals this month, free upgrades to the Pixel XL 128gig. So I am perfectly happy with my XL. I don't care about the speakers, I never listen to my phone except for notifications. Music and video go bluetooth for a much better sound.

Buying a brand new pixel or pixel XL isn't a good deal. Grabbing one on swappa though? Excellent deal. You could get a Pixel or Pixel XL on swappa for like $325 or $450 respectively which is pretty damn good. You can't get any similarly priced mid-range phones that offer the same updates camera or performance.

This. Even though I'm not using my Pixel currently, I don't regret how much I paid for it and for what it offers. Great phones that are still faster than some phones that were released this year...

Just bought a Pixel XL 32GB for half the price at which it was launched in India. Wanted a phone that's guaranteed updates with an excellent still cam. This has all that I want. Hopefully, my next will be the Pixel 4.

Original? Are there non-original Pixels?

Since the new Pixels are out, as a second generation, you wouldn't call those "original" — that'd be the first Pixels released.

Just bought a 128 XL on ebay for $450. Had Samsung for years and want to try the "pure Android" experience.

I am getting the Pixel 2 XL and trading in my Pixel XL. I had trouble reading the screen and switched between it and Nexus 6P which I will keep for my backup for Fi. Looking forward to the larger screen, I loved the Nexus 6 & 6P screens as for mature eyes, the screen is readable not so small as the Pixel XL is.

Anyone wanna buy my Pixel XL 128GB?

Price? Condition? Color? Please contact me for details.

The problem with the Pixel 1 pricing is that especially on the XL, it's still a lot more than other phones with similar specs. Pixel XL 128 GB - $770
Pixel XL 32 GB - $670
Huawei Mate 9 - $500
Samsung Galaxy S7 Edge - $475
Moto Z - $450
Asus Zenfone 3 Deluxe ZS570KL - $425
ZTE Axon 7 - $380
LG V20 - $370 (The non-XL Pixel 1 and OnePlus 5 are both showing as out of stock for me at the moment.)

Got a brand new Pixel XL 128gb from Google as a replacement for my Nexus 6P. I already had the Note 8 so I sold the Pixel XL for $500. I'm pretty happy with what I got for it. Wouldn't have sold it for less though.

Google replaced my Nexus 6P 32GB with a Original Pixel XL 32GB right before the Pixel 2 was announced. I'll wait for the Pixel 3 so I can have band 71 to try out T-Mobile's new 600mhz.

The Pixels are very expensive, I'm not rich enough to just jump on one. My Nexus 6 still runs like a champion and every phone made since then, compromises in some areas while improving in other areas. Between the original Pixel and the Pixel 2 phones it's a no brainer for me that I would have to get the 2, it has many key features that I want in my phone. Some water resistance, front facing speakers, better camera with OIS are absolutely HUGE benefits to the new Pixel that justify the extra cost. On the flip side losing the headphone jack and wireless charging feels like a big step back. First world problems... I'm looking really really hard at the Oneplus 5 and the Nokia 8 though as possible alternatives, meanwhile I might be able to squeeze another year out of my Nexus 6 so maybe, just maybe, someone will put out a device worth buying that doesn't have the compromises and high costs associated with the Pixels and the other phones on my current list.
Android Central Newsletter
Get the best of Android Central in in your inbox, every day!
Thank you for signing up to Android Central. You will receive a verification email shortly.
There was a problem. Please refresh the page and try again.