Should you buy the Galaxy S8 or the Galaxy S8+?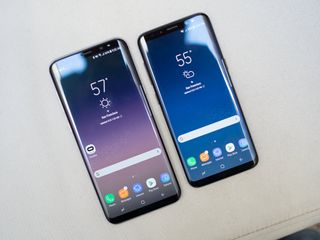 (Image credit: Android Central)
Are the Galaxy S8 and Galaxy S8+ two distinct phones, or one phone in two sizes? Last year, there were clear demarcations in Samsung two-phone strategy; in 2017, that delineation is a bit more diffuse.
This is especially true because both phones are basically just massive AMOLED panels covered by curved glass and surrounded by metal. Gone is the distinction between flat and curved screen, between value and premium. The most important, and popular, high-end Android phones in the world are now separated merely by 0.4 inches in diagonal screen real estate and 16.6% of additional battery.
So, who should buy the Galaxy S8 and who should opt for the slightly larger, longer-lasting Galaxy S8+? Let's take a look.
First, the specs
Category
Galaxy S8
Galaxy S8+
Operating System
Android 7.0 Nougat
Android 7.0 Nougat
Display
5.8-inch AMOLED
2960x1440 (570 ppi)
6.2-inch AMOLED
2960x1440 (529 ppi)
Processor
Qualcomm Snapdragon 835
or Samsung Exynos 8895
Qualcomm Snapdragon 835
or Samsung Exynos 8895
Storage
64GB (UFS 2.1)
64GB (UFS 2.1)
Expandable
microSD up to 256GB
microSD up to 256GB
RAM
4GB
4GB
Rear Camera
12MP Dual Pixel, f/1.7
1.4-micron pixels
OIS
12MP Dual Pixel, f/1.7
1.4-micron pixels
OIS
Front Camera
8MP, f/1.7
auto focus
8MP, f/1.7
auto focus
Connectivity
Wi-Fi 802.11ac MIMO
Bluetooth 5.0
NFC, GPS, Glonass, Galileo, BeiDou
LTE Cat.16
Wi-Fi 802.11ac MIMO
Bluetooth 5.0
NFC, GPS, Glonass, Galileo BeiDou
LTE Cat.16
Charging
USB-C
Fast charging
Qi wireless
Powermat wireless
USB-C
Fast charging
Qi wireless
Powermat wireless
Battery
3000mAh
3500mAh
Water resistance
IP68 rating
IP68 rating
Security
One-touch fingerprint sensor
Iris scanner
Samsung KNOX
One-touch fingerprint sensor
Iris scanner
Samsung KNOX
Dimensions
148.9 x 68.1 x 8 mm
159.5 x 73.4 x 8.1 mm
Weight
155 g
173 g
As you can see, the only notable differences between the phones are in the screen size, battery size, and overall footprint: the Galaxy S8+ is 10.6 mm taller and 5.3 mm wider than the Galaxy S8, to accommodate the 6.2-inch screen over the other's 5.8 inches, and has a battery 500mAh larger. It also weighs a scant 18 grams more, at 178g.
A few words on size
Image 1 of 2
Image 2 of 2
Unlike previous Galaxy devices, this year's models have a strange-sounding 18.5:9 aspect ratio. In real-world terms, all that means is that they're unusually tall, and at first feel odd to the average smartphone user accustomed to a particular weight distribution. The change also means that the screens can have larger surface areas without necessarily needing to be widened, something that we see in its extreme with the larger Galaxy S8+.
Who should buy the Galaxy S8+?
Because of what we said above, those looking into the Galaxy S8+ should keep in mind that the phone may be, in its tallness and with the placement of the fingerprint sensor (which is already difficult to reach on the regular Galaxy S8), uncomfortable to access.
But in that compromise you get a phone that is, in relation to other phones with 6.2-inch screens, relatively compact. While 16:9 media will either need to play with bars on the sides, or be cropped slightly to fit the new aspect ratio, there aren't many other phones on the market right now that offer the sheer level of screen-to-body efficiency as the Galaxy S8+. This is practically a small tablet in the frame of a moderately sized phone — and some will gravitate to it just for this.
The Galaxy S8+, with its bigger body, also fits a larger battery: inside is a 3,500mAh cell that matches the Galaxy Note 7 (RIP), and comes in 3% smaller than the Galaxy S7 edge. Still, with a more efficient chip, this is the longest-lasting Galaxy device to date), and therefore the one to get if uptime is paramount.
Of course, with those extra powers come extra dollars, and the Galaxy S8+ is $100 more expensive than its smaller counterpart. Last year, the Galaxy S7 edge justified its additional expense, but with both the Galaxy S8 and S8+ sporting curved glass screens and big, high-resolution displays, it may be more difficult to do so in 2017.
Who should buy the Galaxy S8?
Most people. Everyone. You.
We don't want to undermine the attractiveness of the Galaxy S8+ — it's a great big phone with lots going for it — but unless you absolutely need the additional battery capacity, the Galaxy S8 is the phone to go for.
Not only is it more much compact and one hand-friendly than the S8+, but it's cheaper. And the Galaxy S8's fingerprint sensor, despite being located in an awkward position around back, is not as difficult to reach.
Last year, the Galaxy S7 had clear disadvantages over the S7 edge: it was considerably smaller, and lacked a curved display. And while the compact phone was easy to use in one hand, it was to many people too small to fulfil the phablet aspirations so many early adopters crave. The Galaxy S8 checks all of those boxes, sharing the same basic platform as its larger counterpart.
A 5.8-inch display is larger than nearly every Android phone on the market right now, but Samsung manages to do so without increasing the overall size of the phone beyond a typical 5.2- or 5.3-inch device. (Of course, a 5.8-inch phone in an 18.5:9 aspect ratio isn't exactly 5.8 inches diagonally, but it's close enough that we shouldn't quibble.)
Wrapping it up
This year, both the Galaxy S8 and Galaxy S8+ are fantastic phones. Really, they are largely without compromise. But it's clear from the get-go that there are fewer reasons than ever to spring for the more-expensive Plus variant, especially since, at 5.8 inches, the regular Galaxy S8 has more than enough screen real estate for most people.
The person who should buy the Galaxy S8+ is someone who needs his or her phone to last as long as possible, who may not have access to a charger — wireless or wired — throughout the day. Or, it's someone who requires as much screen real estate as possible, perhaps to replace a small tablet.
For everyone else, we recommend the Galaxy S8.
Everything you need to know about the Galaxy S8 and S8+
Daniel Bader was a former Android Central Editor-in-Chief and Executive Editor for iMore and Windows Central.
onscreen keyboard and finger print scanner on the back. finally

On-screen keyboard, finally?

Yeah, I hate the physical keyboard on my S7 edge.

I ripped it off and made a digital one. You should try it!

Samsung missed it again !
I still use my note 3.
Hopefully the note 8 will be the one.

Uhm, you need to try a newer​ device than the Note 3, it's extremely sluggish. I have one as my "tablet" but will be trading it in along with my S6 for a S8.

Umm this may be a revelation but every Samsung is sluggish at some point

Samsung didn't miss anything. This isn't the Note series.

S8+ if I had to choose. I would usually pick the larger device. The location of the fingerprint sensor, though.

Hoping the Note 8 isn't Infinity Display with at least 4000 mAh.

Using my S8 plus right now, the placement of the fingerprint sensor is ridiculously ergonomically correct. At least how I hope the phone. I usually hold in a manner that my thumb is close to or resting on the power key and the index finger naturally rests on or near the fingerprint sensor. Play with one, I promise you'll like it! :)

Sadly, I don't think it'll be ergonomically fine for others. It might be for me because I have huge hands with long index fingers, but those with smaller hands would probably struggle.

The S8+ has a smaller body than my Nexus 6, so the size wouldn't be a problem for me.

1. That's what she said.
2. Just about every single phone out there has a smaller body than the nexus 6

So the fingerprint sensor is on the back next to the camera. Ugh.

Yea, they def should of put it like LG, right beneath the center camera. I guess they didn't want to 'copy them'?!? I don't think there is a patent on 'placement' of things, no?!

Why do people care about the fingerprint scanner so much? Don't most of us have wearables we can use for smart Lock? Guess we all need something to complain about

When people set up their iris scanner, they'll forget about the fingerprint sensor. Unlocked my phone in a pitch dark room immediately!

I will have to see and play with one in person to come to my conclusion.

The screen of the regular S7 was actually an advantage for me compared to the S7 edge! And it's even worse now with those S8 with curves everywhere...

There are many people who don't care for their 'Edge' display but its now a part of their design language.

Yep, held the S8 and S8+ today and was put off by the tall, narrow form factor as compared to my standard flat-screen S7, which was in turn narrower than my old S5. No need to upgrade just yet, the Note's overall size should be interesting to see...

I'm glad that the rumors about the size of the battery for both phones are incorrect.

What do you mean? The rumors were exactly correct at 3000 and 3500

You should follow some proper source​ since they nailed every aspect of the phone.

I stand corrected, I read the info wrong.

The S8+ should definitely have a larger battery. At least 4,000mAh.

While samsung has finally gone all in on this curved screen, It feels, and always has, like a gimmick to me. To each his/her own I supposed. I would have loved a s7 style package with the larger screen

FYI, typo (in the big font): "If battery if your primary concern,"

Best Buy complicates this further, they are offering a $50 pre-order discount on the S8 and a $100 discount on the S8+. For $100, nah, but for $50... maybe?

On their site their S8 & S8+ pre list prices are way more than anywhere else. At least today they are.

Will be interesting to see what happens with the S7 pricing once this is available. Personally I prefer the size/feel of the S7 though this is a beautiful device for sure!

There are already great deals on the S7. But yes I'm sure price will drop even more. The S7 it's still a great buy. Very good battery life, awesome display and most importantly at least for me is fingerprint scanner on the front and no curve display, running Nougat and latest Samsung UI packed with great features from the Note 7. So definitely good for another year.

Not running Nougat yet if you get a US unlocked phone. Only overseas or through a carrier.

but the S8 width is noticeably narrower than the S7E. That does bother me.

Agreed. I am not a fan of this narrow phone business. I already disliked the slimming that occurred from the S6 to the S7. It was actually one of the main reasons I didn't get the S7. I will have to see one in person to make a decision on whether I like it or not.

Is there a size comparison with this and the s7 and s7e?

S8 plus come to papa . The is the size that will hope me over till the note 8 are 9 what ever they call it comes out . I'm still dead set on the black buuuut that purple is so different

I think im just going to stick with my Axon 7 for now. But really samsung no stereo speakers?

Front facing speaker ??? Really and what phone in 2017 has it that matters......

Just because they don't doesn't mean they shouldn't.

Technically the iPhone 7 has one

I mean, it's a 2016 phone.

Disappointing phones... I'll stick to S7 and wait for note 8

At that price point.. I'd say..neither.

Not sure how it breaks out on other carriers, but with Jump-on-Demand through T-Mobile, the S8+ is $130 down and the S8 is... $0 down. I can't justify $130 down for a device I'm gonna turn in after 5 months for the Note8. Only major concern I have is battery but I'll see how it goes.

This is why I'm skipping the S8 and 8+ altogether. My S7 edge will do just fine until the Note 8 arrives.

"Of course, a 5.8-inch phone in an 18.5:9 aspect ratio isn't exactly 5.8 inches diagonally". I'm sure that's not what you really meant. There was a useful post on Reddit giving the size of the diagonal size watching 16:9 media full screen.

Around $750 and $850, depending on where you get it.

Actually looks like I could get a regular s8 to replace my s7 edge. I'll probably wait another year though. Touchwiz has made me angry on many occasions. I'm curious what the next oneplus phone will bring, if it is water resistant with a 2k screen and camera comparable to my s7e I might get that. I miss being able to flash custom roms like I did with my Oneplus One.

Yeah, not buying it. Not worth it. At all. I have a regular S7 right now, and the difference isn't big enough to pay for the upgrade. Plus, I despise the curved screen and the push for edge-to-edge displays. I hate having to worry about whether i'm holding it wrong, making my thumb, palm, or finger accidentally touch the display. It's bad enough with the S7, and the S7 Edge was just so much worse. Every other phone that pushes towards a bezel-less screen has the same problem. Besides that, pretty much any flagship phone will end up in a case, where the curved edges lose most of their function and the "premium look" disappears. So why upgrade? It's barely faster, has no better battery life, moved the fingerprint scanner to the back (which sucks when it's laying on the table or in a vent-clip on your dashboard), has that ridiculous screen (should I be more worried about holding it wrong or dropping it? Ooh, look, I did both), and has the same camera sensor/lens package from last year. So besides the taller screen, which seems only useful for VR or possibly multi-window, why would I buy it?

I'm with you on this... Nothing to me stands out as "must haves" over my S7, besides, think I'll look for something with a user replaceable battery.

The V20 seems like a nice phone, but the LG skin kind of gets to me. Plus, it's a big more of a phablet than a phone.

I currently have a v20 and love it. If you're looking for a removable battery, it's the phone to get.

Try the G6 u will love it

that battery will die so fast. faster than the already terrible battery life of the s7 edge.

My S7 Edge has great battery life. Perhaps it's the user.....

Well of course it is down to the user, the user is using the phone. But if you use a phone and the battery life is poor then it is still poor. I wasn't impressed with the S7E battery life and I ended up giving it to my wife and she gets great usage out of it. As for the S8/S8+, well we will just have to buy one and find out won't we.

Haha love how you didn't like the battery life on your phone so you gave it to your wife. Very romantic 😉

Samsung already announced that the S8 and S8+ battery will degrade less than the S7 one.

I'm also experiencing bad battery life on my S7 Edge.

"Last year, the Galaxy S7 had clear disadvantages over the S7 edge: it was considerably smaller, and lacked a curved display." Those are probably advantages to many. I'm personally done with Samsung now that the curved screen is the only option. And being smaller is pretty subjective. We don't all want a tablet in our pockets.

Not sure why people complaining about the fingerprint in the back? I used smart lock on my galaxy and at home and car I did not to use it. Also used the smart lock with my pebble and perfect almost no need to use it. The biggest concern I have is software updates. My edge is almost a year old and I've seen on update. So not really good.

Some people want their phones secured at all times, even at home and at work. Just because you don't find that necessary doesn't mean other people won't.

I don't know. After reading more about this, the more the G6 sounds great to me. Its fingerprint sensor is easier to reach.

and the screen is flat, and the battery is bigger, and better camera...unless 32 GB more of onboard storage or a slightly upgraded processor are big for you then I think the G6 wins.

How is the processor better ?

It's a generation newer. The S8 is almost 4mm narrower (device, not screen) and easier to use one handed. The curves also make it feel even smaller in the hand if you're serious about one handed use.

The curves actually make it harder to handle. And you're more likely to use two hands, even though size-wise you'd think you could use one.

I love everything about this device but the really really bad finger print scanner placement. I'm okay with it on the back like of the LG G6 or V20, but this is hard to reach on such a long device.

"Should you buy the Galaxy S8 or the Galaxy S8+?"
Only if you buy it for me! Otherwise I don't see the point of shelling out for a $700+ phone that will be "outdated/has been/tired" within few months.

Just held a S8+ and it feels perfect in the hand. Definitely not as tall as I thought it would be.

That's what she said. Sorry, too easy.

I ordered the s8 solely for the fact that I'm on jump on demand with tmo and they are charging an extra 140 right out of the gate for the s8+ to keep payments down in the long run. While that doesn't necessarily bother me, that's not why I use jump on demand, to pay anything up front.

They are very nice phones with a few nee features from the reviews I've seen, there's however, not a big difference from the S7 and S7e. So I guess I'm sticking to my S7 edge...

So if the S8 has a 5.8 inch screen in the body of a phone that would typically be about 5.2 or 5.3 inches then how big is the S8 plus by feel and body size? Smaller than the Nexus 6, but smaller or about the same as the s7 edge? or bigger like a Mate 9? Or pixel xl?
The pixel has a 5.5 inch display, but int he hand felt huge compared to an s7 edge. A big reason why I had to return it. And that it would get super hot on a phone call after a few minutes...

I would't let someone pay me to use a Pixel yuk. No water proofing, no sd card, no wireless charging and looks too much like an Iphone.

Actually the 8+ is barely the same height as the Nexus 6 but Nexus 6 is wayyyyyy wider than it. You have more screen real state on the 8+ even when Nexus 6 has minimal bezels lolll.

S8+ has about the same screen width as a 5.5"-5.6" 16:9 phone.

Note 8 better have a 4k screen and bigger battery. 128gb storage and better camera and not a hand me down from the S7/S8.

The next Samsung Gear watch better have a 16K 1.4" screen and a battery that lasts 3 years between charges, or I'm not buying.

S10 better be able to haul a load of fat chicks or I'm not buying.

I think if the S8 won't have any explosion issues, they will nail a better product with the Note 8, probably something more daring and hopefully better battery. 4000mah shall be minimum size among flagship, it won't beat my Mate 9 in terms of cpu and battery performance, samsung need to get rid of their DVFS and throttling on purpose ****, S7E camera wasn't great in daylight mainly due to oil painting issues via post processing, or too much of it. Overall S8 seems like a nice phone, if u coming from S6, then it might make sense, if u have latest gen high end phone, i would advise to wait.

I checked out both versions at Best Buy before making my decision. The S8+ is barely wider than my S6 edge. I found the + was easy to hold and I could reach the sensor on the back fairly easily. The S8+ also fit comfortably in my pocket. The extra cost to me was not significant. For me personally the S8+ over the S8 was a no brainer.

I went to Bestbuy and held both the S8 and the S8+. I was surprised by how little difference there was between the 2. The S8+ is almost the same size as my Moto X Pure (which it will be replacing). I was leery about the fingerprint scanner location, but after holding both of them, I don't think it will be an issue (at least for those with large hands like me). Might be more difficult for those with smaller hands.

S8 of course. 6.2 inches is close to phablet size.So, what the reason For Samsung creating the S8 + because the difference is only the screen and the battery. In my book, it was pointless bringing the s8+into the picture owing to the differences that don't make sense.

Woowww, last thing i know, people were having problems the fact that some OEM were making two variants of a phone were the differences were in specs whether than screen size only. It's seems that they can't please everybody for real.

You realize the phone dimensions are actually smaller than an iphone 7+, right? So yes the screen is large but the phone itself isn't. An important distinction to note.

I went with the S8+, I was a little concerned about the size of the phone until I realized it was the same height as an iPhone 7 plus but not as wide by 4.5mm. Samsung released battery stats (taken with a grain of salt of course) and those confirmed I made the right decision.

I held an S8+ at an AT&T store. It doesn't feel big, and the fingerprint sensor is very easy to reach. It felt very natural. I tend to have my index finger along the back of my phone anyway. Actually, it might be easier for everyday use than the current placement of the sensor on my S7 edge.

I agree, it doesn't feel too big at all. And by the way sorry I did not mean to report your comment. I was trying to upvote it. The stupid report button is right next to the upvote arrow on my tiny display.

Woh....just SLOW DOWN BOY.... "The Galaxy S8+, with its bigger body, also fits a larger battery: inside is a 3,500mAh cell that matches the Galaxy Note 7 (RIP), and comes in 3% smaller than the Galaxy S7 edge." To me and I suspect the rest of the world, that reads like you are saying the Galaxy S8+ itself is 3% smaller in physical size than the S7 Edge. OH NO IT'S NOT... the S8 (NOT the S8+) is the same size (give or take) as the S7 Edge. The S8+ is a whole centimetre plus, larger. The S8+ is a fair bit taller than the S7 Edge, NOT 3% smaller!!! I seriously think you need to re-write that paragraph, for fear of lots of us ordering the S8+ because "it's no bigger than the S7 Edge", only to get a HUGE shock when it arrives. For reference: Size/Weight S7 142.4 x 69.6 x 7.9mm 152g
S7 E 150.9 x 72.6 x 7.7mm 157g
S8 148.9 x 68.1 x 8.0mm 152g
S8+ 159.5 x 73.4 x 8.1mm 173g

I think he means the S8+ battery is 3% smaller than the s7 edge battery (which it is).

we all know what the author means but the OP has a point. The way it is worded is misleading.

I prefer buy the s8 than s8+ because the diference are the screen and the battery only

I prefer S8 because it'd better fir in my pocket

I'm taking my chances with the S8+.

This article has a peculiar insanity.
It never mentions the simplest factor of all: HOW BIG ARE YOUR HANDS?
I have large hands, almost large enough to palm a basketball. But not outside the bell curve. S8+ all the way. Smaller model would feel like a dainty to me.

It's 2017 and a flagship device by a leading manufacturer struggles to last a day on battery...

not A flagship device. it's ALL flagship devices. only ones with better battery are mid range phones.

Whichever one is under $400. Neither? Okay then...

[Generic Samsung-isn't-that-good comment]
[Negative TouchWiz comment]
[xyz brand is so much better comment]

Don't buy either one and let them offer a google home and tablet with it when they are not selling.... JMHO

They are never going to offer a Google product as promotion lol They are enemies with no option other than to get along in the least possible way.

If anything they'll continue to throw the Gear VR headsets in the bundles, or offer a gear fit 2/256GB microSD as the alternative. If they aren't selling well (which they will), they need to flex on LG and offer a free TV.

I went with the S8. But I have little Trump hands.

My Note 5 with replacement factory battery is performing... perfectly. Why buy newer? Not needed! 😉

Plus for me. But only after I had hands on an realize the plus wasn't that big as the size make it sounds

I like new tech. I enjoy reading about the latest and greatest. And while the S8 may be just that, it isn't the greatest for me. You won't see the fingerprint sensor to the right or left of the camera ever again. Especially on such a tall device. 2016 was the year of the mid-range phones and I'm sure a ton of them are going to have even more efficient processors, batteries and be lightly skinned in 2017. Its a beautiful thing to have so many options. And what makes it so great is that an excellent smartphone can be had for 1/2 the price.

I agree. I can't believe they settled on such a poor design choice with the fingerprint sensor.

Or Pixel XL or wait for Pixel XL2? ))

Preorder is open in B&H... S8 $829.99 -- S8+ $929.99 #foreverpoor

I'm normally not one of those "I'll wait for the next phone" kinda guys but I'm waiting for the Note 8. The possibility of it having a fingerprint sensor embedded in the front glass and a dual camera speculated to be better than the one on the iPhone 7 Plus are enough for me to hold off for a few more months. It would also be pretty sweet if they'd find a way to work in stereo speakers as well. I swear this Axon 7 has me spoiled.

The year just begun, i wanna see what all players bring in, as for now, i'm really settled and impressed with the Mate 9, don't even think about the S8 one bit(had S7E b4).

Every time I see my co-workers S7 Edge, I can't help but think how ugly it is. Beauty is in the eye of the beholder, and I see no beauty at all in those curved edges. Not for me, but good for those that like it.

what phone do u have currently

Currently using the Pixel. I also don't find it to be a "pretty" phone, but its functionality is marvelous.

S8+ for me. I never would have guessed that I'd go that route, or that I'd be buying either of them. I've been an LG owner the past three years. But after visiting Best Buy on three occasions over the past few weeks and getting my hands on the G6, the S8, and the S8+, the S8+ is the one that I couldn't stop dreaming about. I assumed I'd laugh about the size of the plus and prefer the smaller version, but as many have said, when they aren't sitting right next to each other, you have to check the label to see which one you're picking up. Both are big phones and both are expensive. Staying away from the plus doesn't change that, so what's an extra couple dollars a month (Best Buy discounts make it a $50 total price difference over 24-30 payments) for the extra battery and bigger screen? The whole experience feels immersive. The screen is gorgeous, the camera is outstanding, and the thing I didn't like about Samsung - Touchwiz - has been overhauled and matured. I'm back to Sammy and happy to be.

Is the screen size the actual screen size if I'm going to have black bars on the sides? I need to go see one but I'm worried about that aspect.

You could always get a Pixel XL and have white bezels on the sides instead of black bars.

Well. What I was saying about the S8 is that I have a 6.2" inch screen and when I try to watch netflix it will actually show a smaller size than 6.2. Debating on waiting for the Note or not.

How does Edge display work if the phone is stuck inside a case with decent protection?

Most cases accommodate the edge displays. I know mine did when I had an s6 edge+

Greatest piece of tech of ever laid my hands/ eyes on!

I received the S8 today, and it's lovely... but I'm going to swap it for the 8+. I had the Note 7 (which I loved), and then had to downgrade to the 7E, but the S8's narrowness made it feel too small even though it has more actual screen real estate.

How about an infinity battery!!

"Last year, the Galaxy S7 had clear disadvantages over the S7 edge: it was considerably smaller, and lacked a curved display" Lacking a curved display is an advantage for me! It is a shame that the S7 took a back seat in samsung line up last year and that there is bo more a regular S phone... why every tech site trying to make the curve display an advantage?!

Not a note article but that's what I'm waiting for. No matter how I tried to talk myself into the s series I kept defaulting to the things that I like to do with the s pen.

Guys do NOT buy it!!!
It is a waste of money!! I had mine drop only a few inches by the accident, and it had their own Samsung case for both sides and the screen just shattered. + everything about it is overrated, Bixby you won't even notice nor use, speed decreases over time for no reason!! anyway guys, you would be better with something else for sure, trust me, good luck !
Android Central Newsletter
Get the best of Android Central in in your inbox, every day!
Thank you for signing up to Android Central. You will receive a verification email shortly.
There was a problem. Please refresh the page and try again.