Hands-on with SanDisk's updated Dual USB Drive 3.0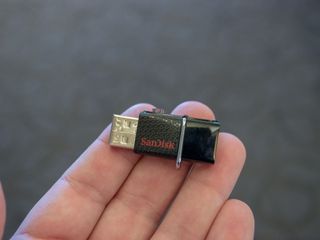 Move files easily to and from your phone and computer
At CES 2015 SanDisk came out with an updated version of their Dual USB Drive which now has the power of USB 3.0 technology. SanDisk has made the drive physically smaller with the added capability of storing the full size USB and microUSB sides of the drive inside itself until you want to plug it into your computer or your Android device.
To improve upon the older model, SanDisk made the microUSB end of the Dual USB Drive 3.0 longer than a standard plug so that even devices in thick cases would be able to plug it in and transfer files. With the drive you can backup your photos and videos that are taking up precious storage space on your device, provided your phone or tablet supports the USB OTG (On The Go) standard. The added benefit of this drive is that you can then turn around and quickly transfer your backed up photos and videos to your computer with a transfer speed of up to 130MB/s with the USB 3.0 end of the drive.
Paired with the Dual USB Drive 3.0 is SanDisk's own Memory Zone application that is available on the Google Play store. When the app is installed on your phone or tablet and you plug in the USB drive, the Memory Zone application will automatically open. Inside of the app users will be able to easily move files to and from their device with very little effort.
Image 1 of 4
Image 2 of 4
Image 3 of 4
Image 4 of 4
Overall the SanDisk Dual USB Drive 3.0 was near perfect for someone who would want to transfer data to their phone or tablet. While this might seem like a device that would only be good for quickly transferring a file or two to your computer, it is actually so much more. Since this has its own flash storage you don't necessarily need to immediately or ever plug it into your computer. As we start to depend on our phones and tablets for more of our everyday life, it can be useful to be capable of moving files around safely and easily. The drive is on sale now in 16GB, 32GB, and 64GB variants and ranging in price from $22.99 to $64.99.
I wonder how well it would work to store movies and play them with a video player? This could be great for airplane travel to bring a bunch of video without clogging up phone memory and no need for data or wifi.

that's exactly why I want it!! want to use with my N9, but I can't find it in stock anywhere and my flight leaves in 10 days Posted via AC app on my X 14

You need to go to http://shop.sandisk.com/store/sdiskus/en_US/list/parentCategoryID.114429... or get the USB 2.0 version for a lot cheaper at Best Buy or Amazon or others. I got a 64GB 2.0 Dual flash drive for under $30 yesterday. It's NICE!

I did see the 2.0, and I did do an experiment at home 2.0 v 3.0, and I like the speed of the 3.0. so guess I will just wait Posted via AC app on my X 14

If your device supports Drive mounting than it'll work fine. Some devices, like Nexuses, support OTG but not drive mounting, so you either have to use a Root app like StickMount or an app that directly supports USB drives without mounting. The Sandisk app likely does this. Posted via Android Central App

I use a OTG cable to connect my WD passport to my N9 to watch movies. I use ES file....are u saying I won't be able to do it with the sandisk? Posted via the Android Central App

No, if that works for you now, it'll work on the SanDisk. His point wasn't about SanDisk specifically, but the concept in general.

ok, thanks Posted via AC app on my X 14

I just pulled the trigger on a hootoo tripmate elite. It's bigger but seems a lot more versatile and I can use my Chromecast in hotels utilizing their free high speed ethernet connection. Hope it's as good as the ratings.... Posted via the Android Central App

I have the earlier version of the Tripmate and it works great. As you said, far more versatile but it does have a significantly larger footprint. I have a OTG Mini MicroSD Reader that accepts microSD cards so it acts like this SanDisk device while using swappable cards in it - it just isn't USB 3.0.

I use Nexus Media Importer on my Nexus 7 2nd gen. A free version is available for compatibility before purchase. Just plug and play....no OTG cable required. Have movies on my drive. Does not require rooting. Read about it herehttp://homesoft.info/nmi/: (homesoft.info)

re: Nexus Media Importer.....had to reformat drive to NTFS for my media player to read the drive. Check your player requirements before loading files to the usb drive.

Are you sure one can transfer files from an Android (internal) SD card to an external drive via OTG? Or does it get caught in the same issues as an external SD card?

Actually, ignore this comment - from the author!

Transfering to the usb connected device from either internal sd or external sd works great. Transfering from the device to internal memory works great. Transfering from the usb connected device to the external sd not so much. I may end up rooting just to get that. Or find a file manager that will at least transfer to it's own directory on external sd where other apps can read, ES file explorer doesn't offer option.

Good luck as I haven't found one yet for my Nvidia Shield. On my older Note 8 the Samsung file manager worked. ES transfers to an OTG USB flash drive for me.

Yeah you'll need to root or the manufacturer will have to provide a file manager. HTC did this with the M8, originally it didn't come with a file manager. But since it has an SD card, they provided one in a later update.

I have one of those from Corsair (Corsair Flash Voyager GO 64GB USB3.0 micro USB OTG Flash Drive for Android devices CMFVG-64GB-NA) for 8 months now, works great in my Xperia Z1 and Samsung Galaxy S3, to watch movies directly from the flash drive, and great speads in USB 3.0 ports.

https://www.youtube.com/watch?v=ZGCF4F9TUPU http://www.legitreviews.com/corsair-flash-voyager-go-32gb-micro-usb-flas... http://www.amazon.com/Corsair-Voyager-Android-devices-CMFVG-64GB-NA/dp/B...

what real read/write speeds did you actually get?

Can you plug both ends into a computer and a phone at the same time and see if it charges the phone?

no you see there is a button on the side you use it to slide the connector out whether it be the micro or standard. both cannot be out at the same time. Unless you rip it open of course. and im pretty sure it still wouldnt charge it anyway.

Yes I used my Corsair Voyager 64 GB and it charges my phone ( even my lumia 925 ):)
It is also much smaller than sandisk and smaller profile for a USB 3.0 - http://www.amazon.com/gp/product/B00HVT27B8/?tag=hawk-future-20&ascsubta...

Do you know of this corsair will allow the video player to watch video off of the stick. I have the nexus 6. TIA for your feedback. Posted via the Android Central App

Oh, and I am not rooted and don't plan to root. Posted via the Android Central App

I have not tried with Nexus 6 but does not work on nexus 7 . works on my Note 3 , Note 4 and Tabs 10.5

Damn this looks sweet and I want it. Unfortunately I'll have to wait because I can't find it for sale anyway. Posted via the Android Central App on the 2nd Gen. Moto X

buy Corsair Voyager 64 GB is 39.99
It is also much smaller than sandisk and smaller profile for a USB 3.0 - http://www.amazon.com/gp/product/B00HVT27B8/?tag=hawk-future-20&ascsubta...

Reviews for their USB 2.0 version said that this will have trouble plugging in to a phone that has any sort of adequate case on it. Would it be safe to assume that this would be an issue with this device? Posted via the Android Central App

No, the article states that the Micro USB connector is extra long to accommodate cases. Posted via the Android Central App on the 2nd Gen. Moto X

I haven't wanted a USB drive on a long time, but this is pretty cool.

Dammit. I bought the 2.0 version last month. Had I known the 3.0 was around the corner, I would have waited. I actually got this for work though. Allows me to take photos off of my phone and transfer it to my work PC easily, in addition to general thumb drive duties. Posted via Android Central App

I carry around one of those Meenova Dash Micro card readers on my key chain. I has a micro SD slot that you can fill with up to 64gb and it has a rubber "cap" that has a loop to attach it to the key chain. It also has an extended connector so that you can use it in conjunction with phone cases. When I need to transfer the files to my computer I simply plug it into the included micro USB to USB connector that I keep in my desk (I have one at home and at work). It may not be "all in one" like this Sandisk product but it is half the size and it includes the rubber cap to keep it on your key ring. Anyone who has tried to keep a thumb drive on their key ring knows what I'm talking about. Even the small metal Kingston ones really don't sit right on a key ring. Plus, the Meenova has the added benefit of customizable storage. I have a MicroSD card holder that holds 10 MicroSD cards and 1 SD card in a credit card sized card that I carry in my wallet. I have a card dedicated to family photos, another one dedicated to scenery, a third one dedicated to documents, a 4th one dedicated to music and a 5th one dedicated to movies. Plus, it comes in some cool colors.

I'll have to get this, although there are quite a few unfavorable Play Store reviews for the Memory Zone app. Posted via AC App on HTC One

I had the USB 2.0 version of this that was flawed. Wouldn't work in my Roku to allow me to stream videos, and the little covers wouldn't stay... kept retracting. Maybe the design on this will be better. I'll wait for it to appear on Amazon Prime and will give it another shot. I'm much more of a fan of the Unitek Micro SD card reader from Amazon. It's only USB 2.0, but it allows you to add your own micro SD card for the memory. That's great for taking pictures from my DSLR on trips and uploading them with my phone... the Micro USB is in an adapter on my camera. Can also take the SD out of my phone and upload them to my computer. Amazon also has the Stellar Boost XT that seems a little better than this... it's USB 3.0 and has a nice firm cap on both ends that isn't easily lost. Haven't tried it, but have been tempted.

I think I need this Posted via Galaxy s4 gpe

Put media from pc onto thumb drive, unplug, plug other end into phone, transfer media to phone. ... Or you could, you know, just use a cable. What's the point in this technology? It's literally just a phone cord with storage in the middle. Posted via the Android Central App,
AT&T Note 4!

You pretty much have all the answers to your your question in your own comment. Why have a cable AND a drive if you can get JUST a drive? As someone who uses an OTG cable and drive, it would be easier to not have to dick around with both on an airplane.

I am decided to also get a small drive. I got the leef. It's 3.0 usb and micro usb. I have a nexus 6 and I plug it in, use nexus importer and can stream video from the drive! No root required! http://www.leefco.com/bridge-3.0-mobile-usb Posted via the Android Central App

too big Strontium Nitro Plus OTG 3.0 better

Google no longer allows me to move files to my otg USB storage! I keep getting a message from three different file explorers saying that I need to be rooted to modify the files. What's the use in having external storage if Google won't let you put files on it?!! It was working fine the other day. Moto G Posted via Android Central App

I actually have one right now. It's awesome!
Android Central Newsletter
Get the best of Android Central in in your inbox, every day!
Thank you for signing up to Android Central. You will receive a verification email shortly.
There was a problem. Please refresh the page and try again.