Samsung's Galaxy S21 Plus successor will have a plastic back, says new rumor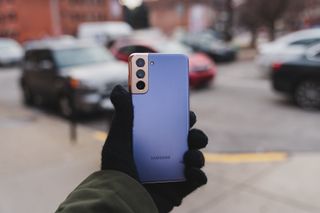 (Image credit: Hayato Huseman / Android Central)
What you need to know
Samsung's Galaxy S22 and S22 Plus phones will reportedly feature plastic backs.
The company is said to be working on an improved version of its "glasstic" material for the next-gen flagships.
Besides a polycarbonate build, the two phones are also expected to feature slightly smaller displays than their predecessors.
A new rumor suggests the Galaxy S22 Ultra will be the only Galaxy S22 series phone to feature a glass back. The standard Galaxy S22 and the Galaxy S22 Plus models could come with "glass-like" plastic backs, similar to the glasstic build that we find on Samsung's best cheap Android phones.
Currently, the standard Galaxy S21 is Samsung's only 2021 flagship to feature a polycarbonate build. Both the Galaxy S21 Plus and Galaxy S21 Ultra come with more premium glass backs.
Samsung is also said to be planning to make its next-gen flagships slightly more compact than its current models. According to tipster @MauriQHD, the Galaxy S22 will come equipped with a 6.06-inch display, down from the Galaxy S21's 6.2-inch size. The Galaxy S22 Plus, on the other hand, will see its display size drop from the S21 Plus' 6.7-inches to 6.55-inches.
Unlike the Galaxy S22 and Galaxy S22 Plus, Samsung's S22 Ultra is expected to be just as big as its predecessor. It is rumored to sport a 6.8-inch display with Samsung's LTPO (low-temperature polycrystalline oxide) technology for improved battery life.
The latest rumors seem to suggest Samsung wants to differentiate the Galaxy S22 Ultra even further from its siblings. This isn't really surprising, though, since the Galaxy S21 Ultra is reportedly more popular than the Galaxy S21 and S21 Plus in some markets.
Samsung Galaxy S21 Ultra
Samsung's Galaxy S21 Ultra delivers a flagship experience that few other smartphones can match. It has a gorgeous 120Hz Quad HD+ display, four impressive cameras, and a truly premium build.
Get the Android Central Newsletter
Instant access to breaking news, the hottest reviews, great deals and helpful tips.
I have the S21+ and I couldn't care less if the back was plastic. I'd actually prefer it if it were plastic. One less thing to worry about cracking.

I have the s21 5g and with a case who cares about the back of the device as long as it works well!

I prefer plastic to glass, don't need an ugly case that adds weight. I hope phone makers start to use different materials for phones like recycled plastic, vegan leather it can create opportunities to be creative designing phones.

So my S21 has a plastic back? Didn't know that, have never seen it, it's always in the case.

I agree and could care less what the back of my phone is made of. It will be in a case 100% of the time. Planning on getting a S22 next year to replace my S10+.

I prefer plastic to glass as it's more durable than glass, I wish OEMs would stop this obsession with glass phones, but i also blame consumers who perceive glass as premium compared to plastic.

If I am paying $1K plus for a phone I want premium handset not plastic

If a phone is made from plastic, it won't cost 1k, doh.

"glass-like" plastic backs
Really? It is either plastic of it is glass. I'll take glass over plastic any day. Plastic is cheap, looks cheap, feel cheap and for those of us who do not encase a phone in layers of cheap flexible materials; prefer glass. But I sure won't purchase a Samdung product again!

I fully embrace plastic, only the snobs among us would turn their noses up at plastic, I prefer durability over premium materials. My S20 FE feels great with it being plastic and I don't have to worry about dropping it. You lot can sneer at plastic all you want, long live plastic phones. We had plastic phones before and nobody complained.

I think the people who don't care about premium materials like glass are the same folks who wear crocks, fanny packs, socks with sandals, and still keep their phones in a holster lol This is why we can't have nice things. If you want cheap materials, Samsung has like a hundred "value" line phones (like the A and M series) that you can go to. The S line is one of their few premium lines... and now even that is getting diluted and turned into an "A" series line, save for the Ultra.