Looking back at Samsung Unpacked through the years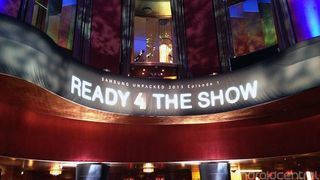 As we gear up for what likely is the launch of the Galaxy S5 at Mobile World Congress, we take a trip down memory lane with Samsung's special brand of phone launch
There usually are a few smartphone launches a year that make everyone (read non-phone nerds included) stand up and take note. The yearly iPhone event, and to much of the same extent, Samsung Unpacked. With the latter, we're into a cycle now where we usually see two events per year; one for the Galaxy S and One for the Galaxy Note. While the Galaxy Note events have thus far run like clockwork every year at IFA in Berlin, with the Galaxy S we usually get to venture to some other corners of the globe.
With Unpacked 5 just around the corner in Barcelona, what better time to take a trip down memory lane. Much was made of 2013's Galaxy S4 event and its somewhat over-the-top Broadway styling, but each Unpacked has its own distinct flavor. And sometimes, nothing weird happens at all. So, from Las Vegas in 2010 through to today, head on past the break for some memories from Samsung Unpacked.
CTIA, March 2010 in Las Vegas — The original Samsung Galaxy S
It's hard to think as we approach the Galaxy S5 that it was only 4 years ago that Samsung started the Galaxy journey. The Samsung Galaxy S was announced at CTIA in Las Vegas back in March 2010. While the U.S. would eventually see a raft of Galaxy S variants depending on your carrier — with varying names and specs — the International Galaxy S set the ball rolling.
In fact, it actually was unveiled twice. Once in the CTIA keynote by JK Shin, and then again in Samsung's own event, where it was fully "Unpacked."
Things sure have come a long way since then.
As an aside ...the CTIA event also heralded another monumental event. CrackBerry Kevin fighting with a giant Android. He lost.
Mobile World Congress, February 2011 in Barcelona, Spain — The Samsung Galaxy S2
Unpacked 5 won't be Samsung's first in Barcelona. Three years ago, the Korean giant descended upon the Spanish city and Mobile World Congress to introduce the Galaxy S2 at the "Letters from the World" event. MWC 2011 wasn't quite a year on from the introduction of the original Galaxy S in Las Vegas, and yet not slowing for anything, Samsung was back. Bigger and better than ever.
Of course, Phil was on hand in Barcelona to get his hands all over it. Then of course the U.S. carriers got their hands on it and we again had different versions, with different names. None of them that sensible. But, hey, this one was sponsored heavily by tapas and cervezas. And there's always time for tapas and cervezas.
IFA, September 2011 in Berlin, Germany — The Samsung Galaxy Note
Famously, we decided against flying out to Germany for this one. Our loss, since what actually showed its face for the first time in Berlin was the Samsung Galaxy Note. And some other stuff, but mainly we were interested in the Note. At the time of launch it was this ridiculously massive device, and despite the really cool S-Pen stuff, it was a ridiculously massive device.
Then look at where we are today ...
Earls Court, London in May 2012 — The Samsung Galaxy S3
For the first time, Samsung Unpacked broke free of the trade shows. It had become massive enough to warrant its very own showpiece. And, it had become massive enough for Phil to fly all the way to London for it. (Promise it wasn't just for the fish and chips.)
The actual press event passed without drama, but behind the stage Samsung had set up a whole array of its pop-up stores. Try getting an arena full of people into a handful of those at the same time. And that's before Alex and I managed to sneak into the background on a BBC recording ...
But the star of the show was of course the Galaxy S3. Redesigned inside and out, and crammed with a ton of new stuff. The Nature UX came to town, as did talk of pebbles, and, well, nature. It was a crazy, crazy day, and if you don't believe me just take a look back at all the launch content. A pretty regular press conference, maybe, but certainly one to remember.
IFA, September 2012 in Berlin, Germany — The Samsung Galaxy Note 2 and Galaxy Camera
So for IFA 2012 we made the trip to Berlin for Unpacked, and it was ... MAGIC. No, really. From the invitation to the actual magician, the late 2012 episode of Unpacked was all about the magic. It was pretty obvious what we were invited to see — the giant magic wand that looked a lot like an S-Pen pretty well gave it away. And we weren't disappointed. The magic show was OK, and while Samsung had the press sat up in the nosebleeds, we couldn't miss the Galaxy Note 2. And with the new Air View included, waving that S-Pen around was kind of like a magic wand, I guess.
Samsung also dropped some surprises on us. A bunch of Windows 8 and Windows Phone 8 devices, but also the Galaxy Camera. The idea excited us. The execution didn't, when we took a closer look. A decent Android device, a less decent actual camera. And expensive.
But, hey, no-one can ever say that Samsung isn't capable of surprising us. And a special hat tip to the venue. A pretty spectacular looking setting in the Tempodrom, in the stunning city of Berlin.
Radio City Music Hall, March 2013 in New York City — The Samsung Galaxy S4
The first Unpacked of 2013 saw Samsung take the big show back stateside. It's also probably the most talked about of Samsung's showpiece events. With a Broadway theme, it was, well...awkward at times. If you were with us last year, you'll know where we're coming from. If not, check it out below. Samsung went big in New York City as it introduced us to our new "life companion." Just a shame that it might also have been a tad over-the-top.
IFA, September 2013 in Berlin — The Samsung Galaxy Note 3 and Galaxy Gear
Another year, another visit to the Berlin Tempodrom, and another Galaxy Note. Once again Samsung went big; a full orchestra in Berlin and a link-up event in New York City's Times Square with Icona Pop entertaining folks in attendance on both sides of the Atlantic. At least this time we weren't sat up top...
The Galaxy Note 3 was expected, as was the hardware bump and that we'd get yet more software features to take a look at. What wasn't expected – but had been rumored – was the Galaxy Gear. Samsung's first smartwatch made the trip to Germany to debut alongside the new Note. For the second year in a row, the German episode of Unpacked brought us something we expected, and something surprising. And amazing German food.
Mobile World Congress, February 2014 in Barcelona — Samsung Galaxy S5?
And so we come to today. Well, not quite. Monday, Feb. 24, to be precise. Samsung returns to Barcelona for its first Unpacked event there since 2011. What will we see, there? At this point if it's not the Galaxy S5 we've all been trolled extensively. But what else? What kind of event?
Samsung is capable of putting on something wild like the Galaxy S4 event in NYC, just as it is a more understated affair like the London introduction of its predecessor. Will we see a local celebrity bull fighting with the new device in hand? Who knows, but there's one thing we are sure of. Android Central will be there in Spain bringing you every last morsel of Unpacked 2014. It's going to be a good one.
Get the Android Central Newsletter
Instant access to breaking news, the hottest reviews, great deals and helpful tips.