Samsung TVs are getting iTunes and AirPlay 2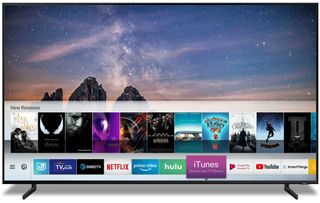 Pack it in, folks. It's doubtful we'll see anything else out of CES (whether it's news in Vegas or from the companies showing there) that's more unexpected — and frankly just more weird than this.
Samsung is putting Apple's iTunes on its televisions. Or is it that apple is putting iTunes on Samsung's 2019 televisions?
In any event, it's happening. And props to Samsung's presser (opens in new tab) for not making us wait for it:
For those who prefer bullet points, here's what you need to know:
Samsung's 2019 televisions will launch with iTunes for movies and TV shows.
Samsung's 2018 televisions will get it via a software update.
AirPlay 2 is coming, too.
So let's recap: The two companies that have been at war over smartphones for centuries have kissed and made up on the television side. You'll be able to rent and buy and stream from iTunes straight into a Samsung TV in more than 100 countries. And AirPlay 2 — the long-awaited update to AirPlay — will allow you to easily watch and listen to all kinds of things from an iPhone or iPad or Mac. Basically if you can see it on the screen of one of those devices, you'll be able to do it on one of Samsung's TVs.
And iTunes remains one of the most comprehensive libraries for video and content in 4K with HDR. Of course, Samsung's TVs don't yet support Dolby Vision — the HDR standard you want if you can get it — but that's another thing for another time.
And for a little added irony, consider that iTunes will be running atop a Tizen-based platform, which powers Samsung's smartwatches as well. It's openy, and we're not talking just bolted on — Samsung's 2019 televisions will be based on Tizen 5.0. (The 2018 models are on Tizen 4.0.) This is active development, folks.
There's a good bit more to grok here, so we're going to catch our breath. Is this the start of a Big Thaw between the big companies? Or just a moment of opportunity?
Get the Android Central Newsletter
Instant access to breaking news, the hottest reviews, great deals and helpful tips.
That's a huge surprise! Never saw that coming. At the same time that's a very smart move from Apple since Samsung TVs are the most common and popular choice for consumers.

Got damn, it's cold in hell today

If only they would port iTunes to Android or Linux.

Actually, it's pretty good.

Agree. I have been using iTunes to do my offline playlists for years. Nothing on Windows, especially Linux, or Android is even in the ballpark.

Apple is desperate for new revenue streams.

Not desperate. Doing what any company, including Google would do. Apple knows set-top boxes like the Apple TV are a stopgap, and full integration is the way to go. By doing this, they are giving their customers a way to watch their content on devices they already have instead of making them buy something new. This also will become a selling point for Samsung, unless Apple also works with LG and Sony.

Desperate? Lol? Apple isn't desperate.

Can I opt out of receiving the Apple update on my Samsung TVs?

I don't use Apple products or services.

Why is more choice a problem?

Will iTunes come to other Tizen TVs I have got 2014 and 2017 Samsung smart TVs or I could buy Apple TV 4th

Yay! Bloatware for your TV!!
I willfully abandoned hundreds of dollars in media content years ago to run as fast as I could from Apple's horrible ecosystem. No chance I'm diving back in just because they are opening up now...