Samsung just gave a huge hint that it's ending the Galaxy Note line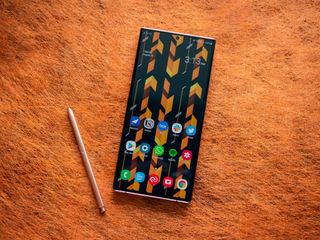 (Image credit: Apoorva Bhardwaj / Android Central)
What you need to know
A new report out of South Korea claims Samsung has confirmed plans of discontinuing the Galaxy Note series.
Samsung's next foldable flagship, expected to be called the Galaxy Z Fold 3, will have S Pen support.
The first non-Note Galaxy flagship with S Pen support will be the Galaxy S21 Ultra.
Last week, tipster Ice Universe claimed that Samsung will not be launching a successor to the Galaxy Note 20 Ultra, one of its best Android phones of 2020. Now, a report published by Korean outlet Aju News says Samsung has officially confirmed plans of killing its Galaxy Note line. The report claims that Samsung has decided to discontinue the Galaxy Note series as it is bringing S Pen support to the Galaxy S and Z lines.
As per Aju News, Samsung intends to launch the Galaxy Z Fold 2 successor in June next year. Apart from featuring S Pen support, the foldable phone is also expected to come equipped with an under-display camera.
The Galaxy Z Fold 3 is tipped to use second-generation Ultra Thin Glass (UTG), which is strong enough to prevent scratches when the S Pen is used. Samsung is also working on a custom under-display camera solution for the Galaxy Z Fold 3 to deliver a true full screen experience. However, Samsung may ditch it if the screen and camera quality aren't found to be satisfactory. Initially, Samsung is said to have considered adding a pop-up camera module to the Galaxy Z Fold 3, but decided against using it due to concerns around reliability.
Samsung's first 2021 flagship phone with S Pen support will be the Galaxy S21 Ultra, which is likely to debut in mid-January.
The discontinuation of the Note line will be highly problematic for me. If so, and the SxxUltra does NOT adopt the squared design of the Note, this event would make me switch to iPhone. I have NEGATIVE interest in a folding phone with questionable longevity out of box, not to forget the exorbitant price.

You're planting your flag with the square design language? That's where you draw the line?

What does it matter where he draws the line? I prefer the square design of the note range than the rounded s range? It's why I've bought the note over the s range for last lot of years

Exactly! I find it odd that many here behave as if ALL of us must have the same likes/wants in something. It is most absurd.

Each person has features/specs that are important to them. What I want/demand for a 1,000+ phone are hard requirements. So YES, the squared corners made the Note to ME. The rounded S line ALWAYS felt toy like to me.

Disappointed as a long time Note Fan, I will start weighing up my options of what brand I will go to next, I have no intention of a S21 ultra with a rumoured pen case etc or a foldable £2k phone. I think it might be time to try the dark side (Apple) or maybe give the pixel a go.

As (understandably) disappointed as the die hard Note fans will be, it does make total sense to kill the line. Although in my opinion the entire galaxy S line should get S-Pen support.

Although I love the Note form-factor, if Samsung wants the Z Fold series to thrive as *the* business option flagship, this is a necessary move. I will probably make the S21 Ultra my next flagship, and I don't understand why so many are throwing the baby out with the bathwater. If you live-and-die with the line item on your credit card statement showing what you paid for your last smartphone, then do what you must, but if user experience and utility is your priority, switching to another Samsung makes the most sense.

I can't speak for others but I'm not throwing the toys out of the pram, I've personally never liked the s series, I've paid Samsung alot of money for their Note phones over the years, and as they have decided to discontinue it so I in turn will decide to try something else, not ruling out a S21 etc but this move gives me a chance to try something else. I don't disagree that it's a move Samsung need to do to prevent a cluttered flagship range but to me would have made more sense to do it when they could get the fold too a Note launch price.

I'm very disappointed! They don't need to get rid of the Note, they just need to go back to their roots, make a regular S, S+, (kinda like the S9 series) and then the "Ultra" Note. The S20 Ultra and cheaper Note 20 was a waste..people that shop for S line dont want to pay $1400, and people that shop for Note line dont want a half baked Note. Give us..
S21 (between $700-$800)
S21+ (between $900-$1100)
Note 21 (between $1200-$1400)
Fold 3 ($1500+) **Forget the S21 Ultra and cheaper Note**

Yeah, agreed, they should just go with S, S+, and Note. (I'm not sold on the fold, lol). If the phone doesn't offer a built in S-Pen, I'm not interested. Hopefully they have sales issues not releasing a Note, and my Note 20 Ultra holds up until they do an about face, lol

I have only owned Notes since my MS Phone days. It always seemed to be the case that you had to go with a Note if you wanted the best camera from Samsung. I have noticed that with the S20 line, that seems to be a bury subject as the lineage of Camara capabilites seems to be all over the place with Samsung phones (my opinion). To be honest the pen has only ever been a toy to me, and rarely used. I have said for the past year, that I wish Samsung would come out with a killer camera phone without the pen. Well maybe I'm seeing that play out.

It's clear they are either losing money on the Note (not selling enough of them) or the money they are make isn't worth their time that they want to put into other projects. I understand it sucks for those die hard Note fans but it won't hurt Samsung in the pocketbook.

Yeah think your right can't see it hurting Samsung in the pocket, but if rumours are to be believed the S21 is due in what 2 months. No note in August but replaced by a £2k Fold 3 with a pen? if one of the reasons they dropped the note was sales, I wouldn't expect their replacement Fold 3 flagship to do much better at around the £2k mark. Also Samsung being first in 2021 with their flagship in January and no real affordable followup flagship for the rest of the year? is a weird call but time will tell how this all works out.

Well, this just saved me $5 a month on my AT&T bill. No need to upgrade early if there is nothing to upgrade to. I will have to wait and see when my phone dies, but I actually don't like the design of Samsung's fold phones and the S series form factor has never fit well in my hand. So, as it stands, I don't know what I will upgrade to if there is no Note option available.

I use the Note primarily to have an S pen included in the form factor. I like that it's available whenever I need it and I don't have to think about carrying one extra thing. Adding S pen support to the S series, but not including the Pen inside the phone is a no go. And there's no way I'm going to pay for and start carrying a foldable phone. Hopefully another OEM picks up the stylus slack.
Android Central Newsletter
Thank you for signing up to Android Central. You will receive a verification email shortly.
There was a problem. Please refresh the page and try again.