Samsung quietly announces the Conquer 4G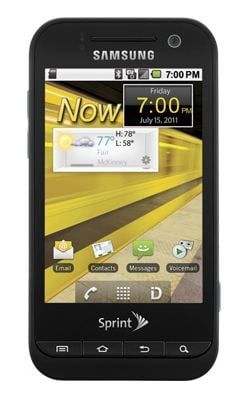 Ready for a mid range 4G phone on the Sprint network? If so, it looks like the Samsung Conquer 4G will be right up your alley. Samsung posted some details about this one on their website today, and it looks to be a solid entry level Android smartphone:
3.5-inch HVGA capacitive touchscreen
1 GHz CPU
3.2MP rear camera, 1.3MP front facing camera
Android 2.3 (without TouchWiz and with Sprint ID)
Tri-Band CDMA (including the 800MHz frequencies)
While this one won't be in the same league as phones like the EVO 3D, mostly stock Android and a 4G radio make it something to have a look at. Nobody has mentioned anything about prices or dates just yet, but we imagine Sprint will have something to say soon.
Source: Samsung (opens in new tab) via Phonescoop
Android Central Newsletter
Get instant access to breaking news, the hottest reviews, great deals and helpful tips
Senior Editor — Google Ecosystem
Jerry is an amateur woodworker and struggling shade tree mechanic. There's nothing he can't take apart, but many things he can't reassemble. You'll find him writing and speaking his loud opinion on Android Central and occasionally on Twitter.
One hell of a mid range phone!

is that a photoshop fail? says it's gonna run 2.3 but that looks like Froyo to me

Not a photoshop but that's how sprint id looks. I doubt its gonna have mumany changes in 2.3

But it has a Froyo notification bar...

I love how this time last year 1ghz was top of the line.

why does battery size never make the list of important specs to write about in these quick announcements? Did Android stop having having a crappy battery life all of the sudden and now no one cares about the battery capacity?

or RAM??? Shouldn't that always be included????

Man oh man, it seems that every carrier except Verizon (dont know about AT&T) has a pretty decent vanilla phone... come on Verizon!

This has Sprint ID, so it isn't a vanilla Android phone.

They do. Xperia Play. Same internals as the Thunderbolt, though the Playstation controller might throw some people off.

Verizon's Xperia Play gets no respect.Shoppers hear "Playstation Phone" and figure it's just for kids.If it traded it's control pad for .3" more screen size people wouldn't stop talking about it.

Let's just stop for a moment and reflect on the fact that a 1 GHz Processor is now considered "mid range."

next year, it'll be low end....

Is it me or is this the transformer...lmao

Tri-Band CDMA (including the 800MHz frequencies) why the 800 mhz?

Sprint still owns some 800mhz bands... I guess this could make it a really great PHONE.

The evo 3D has this as well. Sprint is moving their CDMA network to the 800 mhz spectrum (in which they own) and upgrading to CDMA Advanced (or something like that. still trying to understand all this radio tech lingo). I guess when they finally flip the switch on this thing, They'll push a firmware upgrade to the compatible phones and our Sprint coverage will get much better overnight.

According to this report, it has a slider keyboard. Sorry, but I do not want the extra bulk. If it were everything besides that, I would be totally excited. http://androidandme.com/2011/06/news/samsung-and-sprint-announce-the-con... But the pictures show otherwise. Hmmm...

Wow! Samsuck has a phone with Gingerbread? Sent from my Samsuck Epic.

I have Gingerbread running on my Epic right now. Netflix is nice, by the way... If you're waiting on the carrier, that's on you, not them. It's like bitching about the launcher, the keyboard, or the stock apps. If you aren't smart enough to change them, you deserve what you get, and miss the point of Android completely.

Dear Robbailla@$hithead.com Well, I had several retorts to your view (none that have not been posted on AC before) but then I remembered the old saying; Who is the greater fool, the fool, or the man that argues with the fool?

If I were on Sprint and wanted a vanilla Android phonecI could go with the Nexus S.

If I were on Sprint and wanted a vanilla Android phonecI could go with the Nexus S.

This will likely be at a more attractive price point.

Is this the "full touch 4g" Samsung device that was rumored for Sprint during Q3? :/ I was really hoping for the Galaxy S II.

Oh man, I hope you're wrong =/ ...but I have a feeling you're right

No, this isn't the full touch 4G Samsung device. The Galaxy S 2 (Within) is coming. Just try to be patient.

The soccer shirts worn by players these days are very bright and colorful, making it very easy to identify teams. But there was a time when there was no real uniform dress code and every payer wore white shirts with long sleeves. The only way to distinguish between teams was colorful caps and scarves. This created confusion for the spectators and the scorers. Gradually, the demand for uniforms for players rose giving birth to the first soccer shirts, which have now become legendary with players and teams alike. As soccer clubs turned the game into a professional sport, all teams had to register their specific colors so as to avoid confusion with other teams. Soccer fans all over the world wear the colors of the teams. This has become a good way of increasing company sales and thus contributed to the economy too. By the start of the twentieth century, shirts in various colors and designs including stripes made an appearance. The cheap, plain white cotton fabric gave way to synthetic materials such as nylon, which is lighter and allows sweat to evaporate, making it very comfortable for players to wear during a match. Now for summers players wear short sleeves, while in winters, they switch to long sleeves shirts. Along with the shirts came the numbers from one to eleven on the back of the shirts. But as strategies and positions changed, so did the numbers. Nowadays the players wear their lucky numbers. Initially, the name of the team and club would be in front while the number and name of the player would be at the back of the shirt. With the onset of globalization, advertising companies realized that there was a huge marketing potential. So they began to display their names on the shirts and paid the teams to wear their brand. Designs including logos and badges of teams were worn and every time a team changed its advertisers, the designs changed. The fans, in order to keep up with the changing pace, began buying the new brands. As science and technology has advanced, the fabric of the soccer shirts has greatly improved. The fabric used for the shirts can adjust itself to the needs of the player and the weather i.e., it keeps the players warm in winter and cool in summer. Rapidly changing technology promises to invent shirts that will be able to monitor the heart rates and fatigue levels of the players. Technology is also playing a very important role in making the soccer shirt more fashionable. A plethora of new designs and colors has indeed made the game more enjoyable. Cheap replicas are also available on the internet and fans often trade soccer shirts via the internet for profit. Big companies now vie for a chance to sponsor soccer teams as it is a great way to boost their sales. They even offer huge discounts and other offers to attract customers. Thus, soccer has been commercialized in a big way, through its shirt. About Author More information and Reebok Calgary Flames 4 Jay Bouwmeester Red with 30TH Patch , kits, jerseys2outlet.com Jerseys you can find in the biggest UK's Texas Rangers Jerseys : Reebok Cleveland Browns 23 Joe Haden White Author of this article does not allow you to republish/reprint this article without written consent. Published at Mitchell and Ness Phoenix Suns 10 BLeandro Barbosa White Home Throwback

Someone please take that soccer crap off of this thread PLEASE!!! hanmie, your gay!

Ok, I think we need to stop calling phones like this "mid range". They are HVGA and sub 1 GHz processors (though I realize this does have a 1GHz) are not mid range. They are low range by today's standards. The Motorola triumph that is about to came out would be what I now consider "Mid Range". High range would be dual core phones like the galaxy s II.
Android Central Newsletter
Get instant access to breaking news, the hottest reviews, great deals and helpful tips
Thank you for signing up to Android Central. You will receive a verification email shortly.
There was a problem. Please refresh the page and try again.