Samsung commences Marshmallow roll out for the Galaxy Note 5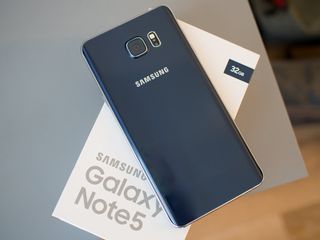 Samsung has commenced the roll out for Android 6.0.1 Marshmallow on the Galaxy Note 5. The update has been spotted in Cambodia and is expected to be hitting devices OTA. Marshmallow brings with it a whole bunch of improvements, with Samsung adding its own touches like ad-blocking support in the new Samsung browser.
This roll out also follows the beta test Samsung held for the update on the Galaxy Note 5. If you haven't yet received the update notification, you can check manually by heading into the settings area, the hitting About device > Software update. If nothing is found give it some time as this won't hit every device simultaneously.
Samsung Galaxy Note 5, six months on
Source: SamMobile
Get the Android Central Newsletter
Instant access to breaking news, the hottest reviews, great deals and helpful tips.
Sings *At lasts* Posted via the Android Central App

Sounds line the announcement of a tsunami. I hope this wave hits UK shores sooner than later.. (hmm wait.. need the phone first..) perhaps a UK N5 will show up along side S7 with MM already installed... Posted via the Android Central App

When will we see this update hit galaxy S6 Edge in uk Posted via the Android Central App

Once the N5 has finished hitting South Vietnam and the S6 update gets on a boat to reach Dubai, then it's just road trip to Europe. This thing is just plain ridiculous. Roll the damn thing for unlocked phones everywhere. Other companies do it.

Here's hoping that my "dated" Note 4 Int. Will get some Marshmallow love soon.

I wouldn't bet on it.... I will be lucky to get it on my US Verizon before the Note 6 drops.

We live in hope Posted via the Android Central App

For all US carriers? Posted via the Android Central App

Keep waiting. Posted via the Android Central App

Give it another 3 or 4 months. Posted via the Android Central App

Timer starts now. Guess we'll see which carrier wins Posted via the Android Central App

All the carriers already lost in my opinion Posted via the Android Central App

By the time they release the S10. Posted via the Android Central App

I'm also waiting for Marshmallow on my T-Mobile Note 4. This phone is still awesome after all this time. Considering I always bought budget phones before this, I'm still appreciating the quality and speed of this thing. I just wonder if Marshmallow will be the first thing to slow this beast down enough to make me want something newer. Also looking forward to hearing any details on the Note 6.

I tried CyanogenMod 13/Android 6 on the Note 4, buttery smooth but the camera app is not as good as the stock Samsung rom.

I'd also have to give up Wi-Fi calling, which I rely on at the office. And the fingerprint sensor, which I don't currently use anymore, but don't want to lose.

Still waiting for s6.. Posted via the Android Central App

When is it coming for Verizon Note 5???? Posted via the Android Central App

If history is any indication, 1 to 2 months after the release Posted via the Android Central App

Not to be a Debbie Downer, but that sounds optimistic. Hopefully we will get it before I upgrade to the Note 6. LOL

I agree 100 percent!!! Posted via the Android Central App

I say a little after the s7 is announced or maybe released.

Hey guys preferably someone from the ac team but will this firmware work on the duos mine is the 920cd? I want to flash this so bad hahah Posted via the Android Central App

That software is for the n920c so will it work in the cd version Posted via the Android Central App

So verizon will update SAMSUNGs Note5 in about 3-6 months??

So verizon will update SAMSUNGs Note5 in about 3-6 months?? Since these phones arent being subsidize anymore, why cant we have just one phone for all the carriers?!?!

I would say 6-9 months :) But, it will work!

Not possible due to different frequencies and architectures out there. In the US while all the major carriers are using some form of LTE for data we still have different bands and frequencies being used. That means a need for a transceiver that can handle multiple bands and frequencies which increases cost and potentially size. Another consideration is the face that while T-MO, AT&T, Cricket and others use GSM technology for their voice size, Sprint, Verizon, Boost, US Cellular and others use CDMA to support their voice networks. These are carryovers from the 3G days and for the most part you won't notice much of a difference in voice quality on GSM vs CDMA. But since they transmit and receive data differently you can't have a GSM phone work on a CDMA network and vice versa. However.... I do agree with your sentiment. I hope Samsung comes out with their version of the "iPhone Forever" deal Apple launched. I'd rather bypass the carrier all-together and just get my updates right from the manufacturer. I think I can live without carrier bloat...

Nexus 5X and 6P works on all carriers??

I'm not sure they work on all, but good point. But the reasons why they do this is that they have all the radios/bands on their RF boards. Most manufacturers can't or won't do this due to size and cost. I also don't think these work on US Cellular but not 100% sure.

According to http://www.willmyphonework.net/, Nexus 6P will work on all the major carriers in the US. Will also work with all of the smaller ones, at least those I looked up.

I hope within the next couple versions a phone will be released that is Project Fi compatible. After the end of ATT subsidies my next phone in a year or so will be carrier free, and I will definitely be dumping ATT post paid, preferably for Project Fi.

The Note5 will get the MM update around the same time the Note6 starts to magically "leak"... 64gig Gold Note5/AC App

Yeah... pretty good changes. And add the settings that I need. #cambodian Posted via the Android Central App

So not to say I was trolling Verizon but, hey, I guess i was. Here's what their rep just told me: How can I help you today?
Visitor: Samsung just announced the Marshmallow upgrade for the Note 5 is seeding to carriers today, when can I expect this on my Verizon device?
VZW Rep: Hi there! Wow this is exciting! I just heard LG released Marshmallow last night! They have made some exciting changes! I can find you the page that explains that for you
Visitor: Well LG released Marshmallow for the G4 some time ago, Verizon was the last carrier to seed the update to their customers which has me more than a little concerned. Since I am paying for the phone outright now vs having it subsidized like in the past I'd really rather not have to wait for bloatware to be added to my phone.
VZW Rep: I can certainly understand that waiting for new software can be a bit fustrating. Every carrier has different technology, and we here at Verizon like to test the new software thoroughly before releasing as we don't want to fustrate you more with a bug released in the software
Visitor: If Verizon simply released the version of the software put out by Samsung there wouldn't be any wait... because Samsung does their own testing before seeding to the carriers. It's the adding of the bloatware to the base code of the OS which can cause functional issues and instability.
VZW Rep: Every carrier does use the update from Samsung and put their own features on to the phone, to provide you the best experience with your device on their cellular network. There is a way to remove the software and load a clean version of Android, by rooting. We typically don't recommend but it is an option you have owning the device
Visitor: There is not an option of installing the Manufacturer version of Android on my device because Verizon locks the bootloader, but this is getting way far off field. Back to the original question, now that Samsung has sent 6.0.1 to the carriers when can I expect my Verizon version to get it?
VZW Rep: I am looking for that information for you now to see if there is a date posted.
VZW Rep: I did find that it will start the beginning of March for the Note 5/S6 Edge +
Visitor: Excellent, thank you.

I trust the word of a Verizon rep about as much as I'd trust the word of a politician...But we'll see what happens...or I'll just finally give in and get a nexus 6p and not care what happens

This is interesting because typically they don't know squat!! Here's to hoping this Rep is right.

You k of they won't release 6.0 u til, at least the new S7 and S7 edge come out... Posted via the Android Central App

Just put mm on my Note absolutely brilliant. Never had an issues with lollipop but mm is wicked fast Posted via the Android Central App

Big deal. I'm more concerned that my AT&T Note 5 hasn't seen a security update since Oct. Unacceptable.

Yeah it is a big deal and least America can actually walk into a store and purchase the device. I had to get mine imported in here in Ireland. The last update I had on this was from October and I agree it unacceptable but you will get the update and the same thing will happen to all samsung phones over and over and over as it always has so either love your phone and stop complaining hahaha woo hoo Posted via the Android Central App

I have valid complaints. An OS update is less essential than regular security patches. Let's face it, it's freaking Android, outside of the Nexus line none of us non Nexus users knows what impact a major OS release will have on our devices and there's a little trepidation. Some OS releases to Samsung devices have been positive some have been disasters, though in this era the positive outcome is more likely but that's only b/c the likes of Samsung carefully test the OS update before rolling it out. So I'm fine with delayed OS release to my Note 5, 5.1.1 works fine, but I'm not fine with less than regular security updates.

So its only for smn920c right? If note 5 is the smn9208 can i still update it?

I doubt it very much Posted via the Android Central App

Hope I won't have to wait long for the N920I variant update. Posted via TCP/IP

I will be picking up my 64 GB Note 5 in a couple of weeks and whenever Marshmallow comes my way is fine with me. Posted Via The AT&T Note 4

A little late to the party but that's cool Posted via the Android Central App

Thing is the n5 and edge plus where never in as much need for a hurry up version of marshmallow. The two phones are already the fastest android phones to date. Both already are featured rich 6.0 meh Posted via the Android Central App

I have had nothing but problems using wifi on a new Verizon Note 5 since late October 2015. Works perfect on 4G but I don't have unlimited data. I replaced the phone with certified device, didn't help, replaced 3 new routers and even turned off security entirely and the phones connection still has issues. I hope that MM fixes the Gmail 3-4 hour delays and unbearable slow Web surfing soon. I cant even use TeamViewer cause it won't connect on WiFi but Every other pc, laptop, cell phone and tablet work perfectly on wifi. Spent hours on with verizon, Samsung and netgear and even turned pc into Hotspot. Posted via the Android Central App

I'm sorry to hear that never had one issue with WiFi on ether of my Samsung had a little Bluetooth issue with my gs6 edge plus that was fixed with a firmware update. Hope you not using a Metal Frame CASE On it have the Samsung center at best buy flash it Posted via the Android Central App

Thanks but I have 3 different cases and even with no case at all, it's still a problem. My mother has the Galaxy S6 and also has same problem but she barely uses the phone. Someone said if there was a way to turn off Ip6 on wifi, it would fix the issue but could not find a way without rooting phone and don't want to void warranty or brick it. Posted via the Android Central App

Hoping reasonably soon for at&t note 5

I'll probably have the Note 6 Before Marshmallow hits T-Mo Posted via the Android Central App

Ding.. Ding... We have a winner. Let's hope not, my Note 5 is in its box until I get at least a new security update. Posted via Apple 6s+ or Note 5...

I want it on my Verizon Note 4 dammit!! Posted via the Android Central App

Still waiting on my note 5 to get it Posted via the Android Central App

Heads up on the Verizon Note 5 system update! All my settings transferred in the update, my fingerprints, apps, email accounts and everything --- EXCEPT -- my Do Not Disturb settings. Yikes! It was returned to the default setting of "no exceptions." So my alarms never sounded, and the phone calls from my co-workers on our overnight shift did not ring. So beware!