Samsung Galaxy S7 and S7 edge specs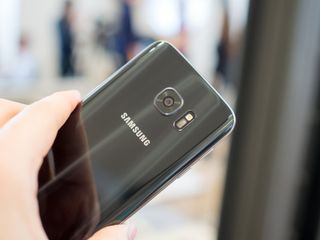 The Galaxy S7 and S7 edge are finally here, and as we work through all of the gritty details of both phones it's worth laying out the basics — the simple spec sheet with all of the line items we need to know. We don't know every single tiny spec here, but the biggest ones are covered. Feast your eyes on this spec sheet.
Category
Galaxy S7
Galaxy S7 edge
Operating System
Android 6.0 Marshmallow
Android 6.0 Marshmallow
Display
5.1-inch 2560x1440
Super AMOLED
5.5-inch 2560x1440
Super AMOLED
Dual edge screen
Processor
Quad-core Snapdragon 820
or Octa-core Samsung Exynos 8
Quad-core Snapdragon 820
or Octa-core Samsung Exynos 8
Storage
32GB
32GB
Expandable
microSD up to 200GB
microSD up to 200GB
RAM
4GB
4GB
Rear Camera
12MP f/1.7
1.4-micron pixels
OIS
12MP f/1.7
1.4-micron pixels
OIS
Front Camera
5MP f/1.7
5MP f/1.7
Connectivity
Wi-Fi 802.11 ac MIMO
Bluetooth v4.2 LE
ANT+, USB 2.0, NFC
Wi-Fi 802.11 ac MIMO
Bluetooth v4.2 LE
ANT+, USB 2.0, NFC
Charging
Micro-USB
Fast charging
Qi wireless
Powermat wireless
Micro-USB
Fast charging
Qi wireless
Powermat wireless
Battery
3000 mAh
3600 mAh
Water resistance
IP68 rating
IP68 rating
Security
One-touch fingerprint sensor
Samsung KNOX
One-touch fingerprint sensor
Samsung KNOX
Dimensions
142.4 x 69.6 x 7.9 mm
150.9 x 72.6 x 7.7 mm
Weight
152g
157g
Andrew was an Executive Editor, U.S. at Android Central between 2012 and 2020.
It says fast charging, but doesn't specify QC 3.0 Posted via the Android Central App

They said QC 3.0 during the keynote.

That f1. 7 will be nice! Posted via LG H815

Yes! Both front and rear. Also, don't forget it has 1.4-micron. Posted via the Android Central App

5.5" for edge. Kinda too big. Thats why they are able to fit larger battery. Posted via the Android Central App

So don't get the edge? I'm pretty sure that's the point. Posted via the Android Central App

Change your handle to obviousman

Have they given a reason for staying with micro usb?

Because everyone has a micro USB cable laying around. Posted from my Nexus 6/Nexus 7 2013/Surface Pro 3

Their VR still requires USB type connection, so it's a sound business decision.

To keep them compatible with the current Gear VR and everyone has Micro Type B

Well it looks like my note4 will still be with me. I'm comparing it to the edge variant bc those seem to be relatively specced the same as the notes. LONG LIVE THE NOTE4! Posted via the Android Central App

I'm so sad I didn't buy one. I was going to but I saved 100 with a g3. The extra hundred definitely was worth it though. Posted via the Android Central App

Same here. The S7 Edge doesn't quite improve on the qualities of the Note 4. Will have to wait and see. Maybe the Note 6 will be the one. I almost bit on the LG V10 but did not like the fact that it had an IPS LCD instead of AMOLED

Still stupid that Samsung did not go with usb type C using a Nexus 6p usb type c is superior to micro usb Posted via the Android Central App

Micro USB is everywhere. Type C is not. And look at all the problems people are having with Type C cables.

And think how much uptake would increase if the largest smartphone manufacturer in the world included it on their flagship Posted via the Android Central App

No argument there, but I don't think waiting another year to roll that out hurts anyone.

Do a search for "USB C cable" on Amazon or Newegg, there's plenty of cables out there. I've had plenty of problems with micro USB cables, I doubt USB C would be worse.

Type c is not a necessity at this point, wait for it to get adopted more before you change it all around. Posted via the Android Central App

Can you explain why it's superior? Because right now, non of the type c phones are usb 3.0 and Samsung quick charge is a lot faster currently over the current usb c cables. Posted via the Android Central App

From what I gather people only want it because it's new. I only say this because I have yet to see any sort of reason for the new connector beyond not having to pay attention to which way the connection is facing when you plug it in.

I agree, Especially since it doesn't bring any benefits except for easier plug in. All current usb c phones aren't even usb 3.0 and the latest quick charge on the s7 is faster compared to usb c phones out right now. Plus amazon has great micro usb cables on sale with a fast charge adapter. Not to mention now if you choose to, you can turn off quick charge on your s7 to prevent heating of battery which qualcomm has admitted that quick charging will diminish the life of the battery.

It's the future. Why delay the inevitable?

Yes, it is the future. But i'd rather have a product that offers the best options over one that is new. Currently micro usb is faster at charging and lower cost. Once they get the cable certification thing right then things should change.

Is the IR blaster officially dead in phones now? I love my phone's remote capabilities. All my TVs in the house (and work and church) controlled with one remote, that's always with me, it's a spec that will weigh on my next phone purchase.

That's dead, like blown up dead. Idk why that never caught on it seemed pretty useful and not that hard implement

I loved it on my M7 and M8. Had everything from my TV to my AC. Not a deal breaker for me in my usage patterns, but boy oh boy was it fun to turn off the TV in restaurants when people were being too loud ;)

I feel the same way. It seems like a small feature but that's probably the only feature on my s6 I use everyday. I use it for almost every electronic in my home. And now that I know the s7 won't have it I think I'm just going to switch up to the g5

Same on me. I use everyday, everytime the IR Blaster. Will keep my Note4 and wait Note6 or change to G5...

Android Pit claims there's a tiny IR port at the top https://www.androidpit.com/samsung-galaxy-s7-edge-review

That's definitely a microphone not an IR blaster

No it's definitely an IR blaster
"At the top is a slot for a microSD and nano SIM; the phone's memory is expandable up to 200 GB via microSD. At the top of the phone is an infrared port which has taken on a more discreet design than on the S6."

Seems the newly released LG G5 still has IR! Not so sure about HTC though. Also Xiaomi seems to be releasing phones with IR

About the missing IR blaster, I have a solution for that. It's a Kickstarter campaign soon to be launch, We will support also the S7, and then you will have the IR blaster on S7. That way you will enjoy the wonderful S7 and still have IR in your smartphone. You can check it out here:
eyekickstarter.com

LG v10 and the new G5 have it. I'm switching from Samsung :(

As I said, in four months from now it will be no problem because of this :
Eyekickstarter.com

No details about the processor.

Yeah that's interesting. I've seen two sites say that it's octa Exynos or octa Snapdragon. And in the press releases and in benchmarks the 820 is 4 cores. So it would probably be the 652. If that's the case, interesting move. Not sure what the G5 has. Wonder if the 820 production is limited right now. Posted via the Android Central App

New Exonys chip or the 820. Why would they use a mid range chip which the 652 is? It's already been said it'll be the 820. Posted via the Android Central App on my Frost Nexus 6P

It's long been know that the Snapdragon 820 is back to a 4 core design. Not sure what direction Samsung went with its 8 series Exnyos. All I know is the 7 series Exynos was the best performer of the octa core chips with none of the throttling problems that the 810 had.

As nice as these specs are, I can't do touchwiz again. Sticking to AOSP style Roms such as moto, Nexus, and One Plus. After S5, N4, S6edge, Note5, I'm done. And the exynos procs have no shot at custom Roms. My 64GB Bamboo 1+2 meets my needs and is quite future proofed Posted via the Android Central App

Lol Posted via the Android Central App

It's too bad Google doesn't offer a Launcher based off their stock Android... Posted via the Android Central App

Actually, I believe you can download the Google stock launcher and use it as alternate launcher (just like Nova or Apex). There are also quite a few people that like the stock Google Keyboard.

Sarcasm dude.... Look it up. Unless you were being sarcastic too... Lol

Third Party Launchers don't take all of touchwiz away though. It still lurks I. The background. Would be nice is Google had a "Wipe to Vanilla" feature built in that all OEMs had to support.

The edge has my vote with that battery. That's all I can say about it. Posted via the Android Central App

That battery should be pretty amazing. Posted via the Android Central App

Jesus, micro usb in 2016. It's not a flagship then. Posted on my Nokia 3210.

Right, cause usb-c is making huge headlines right now... Well I guess they are, for all the cheap burn out cables. Posted via the Android Central App

Please do a little research about usb c before talking. Posted via the Android Central App

I'm pleased with the Galaxy S7 because it shows what I'm getting with my Note 6 later this year. Still the battery should have been upped to at least 3200 mAh. I hope the drop of the rear camera to 12 MP works out in accordance with the rumour mill. Adegbenro Agoro. Galaxy Note 4.

It would be nice if it could come with dual speakers for better sound. I personally love to listen to music and watch movies on my phone. Just saying...dual speakers would be a great idea.

I actually hope this phone sets off a new trend. The trend of quitting the race for the world's thinnest phone and actually sacrificing some of that for a better battery. Samsung nailed that. Which is why they've garnered a huge amount of respect from me.

Can't wait to get it. Would stick with my S6 if it wasn't for the craptastic battery. Gonna go with the Edge this time.

No matter how you slice it, not going with USB C was a mistake. Slowing down the eventual transition to USB C.

Their VR still requires USB type connection, so it's a sound business decision. And if you actually watched the key note address, you would understand that Samsung has huge plans with 360° video and VR.

Why not have the 360 video and VR use USB C as well?

What gets me the most is the crappy processor, why go backwards. My S6 has a better processor that the S7 just coming out for the USA. Why not give us the choice of which variant to by? Most would probably choose the exynos. It's all about relationships (money). Posted via the Android Central App

dont think there will be much diff btw the 2 variants since both is now made by samsung anyway.. both will be faster than the s6 too.

Can't wait for the Google Play Edition. Google Nexus 6P

Well, I feel disappointed but having hopes for the Note 6.. 2 Sim Slots, Plus Separate SD SLOT, Unlocked Boot loader

I plan to stay Nexus from now on, but it is great to see the large battery and IP68.

So MHL/Slimport is just totally dead. Does no one use HDMI from their handsets anymore? Posted via the Android Central App

They need to make it so we can use remote on galaxy s7!!

A good solution for the missing IR blaster on the S7: Eyekickstarter.com Please, please just check it out. We don't have money for ads like the others. We have only you.

Unfortunately the new Samsung Galaxy S6 edge+ , Galaxy S7 , Galaxy S7 edge, the new Galaxy S5 Neo and the Note 5 does not has IR blaster .
I hope next models come back the Infrared ( IR ) emitter.
Android Central Newsletter
Get the best of Android Central in in your inbox, every day!
Thank you for signing up to Android Central. You will receive a verification email shortly.
There was a problem. Please refresh the page and try again.