Samsung Galaxy S II coming soon to Canada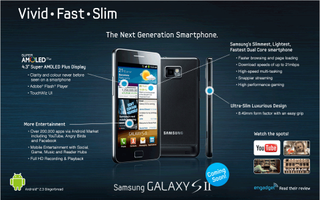 We've heard rumors aplenty about the Samsung Galaxy S II coming to Canada in the past. In fact, Samsung themselves have stated it would be coming soon, but they never mentioned as to when, exactly or to what carrier it going once released. The latest info is suggesting an early Q3 release but most recently Samsung Canada has updated their Galaxy S II site to once again reflect the "coming soon" sentiment. If we had to take a stab in the dark we'd say it's likely we'll see a variation of the device on Rogers, Bell and TELUS with likely Bell and TELUS getting dibs on the initial release. But we'll just have to wait and see how this all pans out for Samsung. Stay tuned!
Source: Samsung; via: MobileSyrup
Android Central Newsletter
Get instant access to breaking news, the hottest reviews, great deals and helpful tips
I hopefully it come soon enough, the local best buy mobile stores here in Toronto are already selling accessories for it. lol

The Galaxy SII is gonna be EVERYWHERE....which is great for Samsung!

oh why do u taunt us samsung

I am on Sprint holding onto my upgrade using a crippled phone. I have my sights set on the EVO 3D, but only because I think it will be awhile b4 this piece of awesome comes out. Think it will come out within a few weeks of the new EVO? I would much rather have this but I just can't wait any longer for a new device! This thing has a much better screen, superior processor (best on the market hands down), better camera, weighs a third less and is a third thinner. What should I do!?

Use the force Dutchmasta, use the force and it will guide you to make the right decision... Lol.

I dont know, I understand how you feel :P EVO 3D looks great as well, but you are totally right the Super AMOLED Plus display is the best out there, still cant believe how beautiful it is. The exynos processor also seems to be the winner over Tegra 2 and the new Qualcomm dual core. IMO, 3D is still in very early stages. Maybe in a year it will be usefull (or will have died). I would try and wait

At first glance I thought this meant canada was getting 3 different versions with 3 different names like we do in the States execept called Vivid, Fast and Slim. Those three would-be names sound better than the US versions; Attain, Function and Within. Seriously who comes up with these?

They should just call it the Samsung Orgasm and be done with it.

Jeeze, by the time this thing comes out in the US, quad core phones will be getting released back in Europe. Grr...

haha true. be nice to see this bad boy on a couple carriers soon.

COME TO THE US ALREADY. especially on verizon asap :)

Rogers, Bell/Telus... so is it safe to assume it will also land on Virgin Mobile Canada? (part of Bell/Telus)? I know they've really stepped up which smartphones they have in their rather limited lineup. Thoughts?

This phone is simply awesome. It outspecs any other phone out there. It's painful to have to wait so long for it, but when I compare any other phone out there to it, they disappear into irrelevance. So I'm just forced to keep waiting. Currently using a Nexus one. Love it but the Galaxy S II is soooooo much better.

just did a search on google with the following text "what is the fucking hold up with samsung galaxy s2 being released in the US" got this result: www.wearelazyiphonecopyingassholes.com then i got this: http://samsunggalaxys2review.org/samsung-galaxy-s2-us-and-canada-release... I sent samsung a dirty message saying that HTC was getting my business because they are slow then shit melting on a baldman's head in egypt.
Android Central Newsletter
Get instant access to breaking news, the hottest reviews, great deals and helpful tips
Thank you for signing up to Android Central. You will receive a verification email shortly.
There was a problem. Please refresh the page and try again.