Samsung Galaxy Note 8.0 specs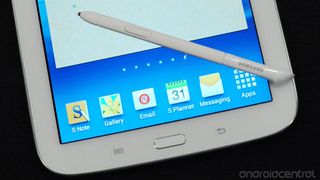 Samsung, on the eve of Mobile World Congress, has announced the Galaxy Note 8.0. It's a mid-size phone/tablet hybrid. The international (read: Non-U.S.) version will be able to make phone calls. (Though Samsung -- and we as well -- recommend doing so with a headset and not by holding it up to your head.)
The Galaxy Note 8.0 specs are nothing to sneeze at. It's powered by a quad-core Exynos processor running at 1.6 GHz, has a 5-megapixel rear camera and a 1.3MP shooter out front. It's running Samsung's TouchWiz customizations on top of Android 4.1.2 Jelly Bean.
See our Galaxy Note 8.0 hands-on
Most important, however, is the inclusion of (and improvements to) the S Pen stylus, which brings about a world of functionality not found in any other tablets at this point.
Also new is the inclusion of an "IR blaster," which is a sexy name for an infrared port on the side of the Note 8.0 that, thanks to the Peel application, lets you control your TV and other IR-enabled devices from the comfort and safety of your couch.
We've got the full Samsung Galaxy Note 8.0 specs after the break.
Processor: 1.6 GHz quad-core Exynos
Display: 8-inch WXGA display (1280x800 at 189 ppi)
Operating system: Android 4.1.2 Jelly Bean
Network: HSPA+ 21Mbps (850/900/1900/2100)
Camera: 5 megapixel (rear), 1.3-megapixels (front)
Video: MPEG4, H.263, H.264, WMV, DivX (1080p full HD video @ 30 fps)
Audio: MP3, AAC, AAC+, eAAC+, WMA, AC3, FLAC; 3.5mm headphone jack
GPS: aGPS + GLONASS (3G version)
Connectivity: 802.11 a/b/g/n 2.4 and 5 GHz; WiFi Direct; AllShareCast; Bluetooth 4.0; USB 2.0
Sensors: Accelerometer; Digital compass; Proximity sensor
Memory/Storage: 2GB RAM, 32/64GB storage; microSD card (up to 64 GB)
Dimensions: 210.8 x 135.9 x 7.95
Weight: 338 grams
Battery: 4,600 mAh
S Pen optimized features: S Note, S Planner, e-mail with handwriting integration; Quick Command; Easy Clip; Photo Note; Paper Artist; Air View; Popup Note; Popup Video; Shape Match; Formula Match; Idea Sketch
Sharing Features: AllShare Play; AllShare Cast (Wifi Display mirroring and extension); AllShare Framework
Content, features and services
Samsung Apps
Samsung Kies/Kies Air
TouchWiz/Samsung Live Panel
Samsung Hub; Game Hub; Learning Hub; Readers Hub; Music Hub; Video Hub; Media Hub (U.S. Only)
Samsung ChatOn mobile communication service (version 2.0)
Smart Stay, Direct Call
Page Buddy/Tag Buddy/Word Buddy
Google Search
Google Maps
Gmail
Google Latitude
Google Play Store
Google Play Books
Google Play Movies
Google Plus
YouTube
Google Talk
Google Places
Google Navigation
Google Downloads
I have the att note. Love it.
I also have the Galaxy tab 7.7
A lot of the specs are the same. It just never got 'established'
Perfect in every way imho.
If it didn't exist this would be my second choice.

I have the Samsung Galaxy Note 2,the 10.1 note tablet and will be getting this for the wife all white!

Now, why say that? Some people are waiting for a tablet like this. A lot of people thought the note 10 was too big for regular use, so Samsung heard them and made a smaller version. This hits a niche that needs it. A "business" type model that will be good for road warrior types that will allow them to not carry their laptops or netbooks to quick meetings and allow them to take notes with the s pen, then collaborate in an instant, on wifi or mobile hotspot. I would only say to save your money if the cost is too high for its peer tablets at the same size and feature set. Do not even bring the Nexus 7 into the argument as they are geared toward two different audiences. I have a note 10 and believe it was worth every dollar I spent on it. I am now looking at this possibly for my wife as it would be a upgrade for our original nook. A ebook reader as well as a Android tablet with handwriting recognition built in. A plus plus for us.

I'm just waiting for the price on this so I can know how much to set aside. I wish they wouldn't strip the phone functionality away from the U.S. version, because that would be a kickass phone.

This would definitely be too big to be used as a phone. I'd hate to have to lug this around to the gym, and when I go running. Where would you store it most of the time if this was your primary phone?

Agreed!!! Again I have the note 10.1 and love it... The wife will love this one.

It make phone calls?! Be still my beating heart! They heard what I yearned for.

Only the International model. Not the US model.

It make phone calls?! Be still my beating heart! They heard what I yearned for.

Sure it will make phone calls, unless you buy the U.S. version. Virtually all international Samsung tablets can make phone calls including the Note 10.1.

I have a third gen iPad, but I might consider this when it makes its way to the states depending on the specs the US version gets.

As someone who loves my Note 2 and Note before it, I am very interested. Also love my Nexus 7. Will wait to see what pops out of Google IO and then decide. As a road warrior, my Nexus 7 is the perfect size so my ipad 4 (sales contest not purchased) stays home which is why I did not opt for the Note 10.1. BTW Great coverage Android Central!

Absolutely love it. You can even make phone calls with it. The software innovations that Samsung has incorporated into this device are just fantastic. This is a beast of a tablet. Perfect size, I'm a fan of the entire Samsung look, I own the SGS3 and the Note 2, this will make one hell of a great package.
Thank You Samsung.

What innovation? There is no innovation here.

Not even 1080p? There are 5" phones with a 1080p screen. You'd think that would be on a tablet/phone like this

Meh.. Doesn't look all that exciting TBH.. Why aren't more coming putting bigger front facing cameras on their devices?? You would think that most devices nowadays would come with 2MP+ Front Facers.. Not that I really use the camera on my Tablet.. Just saying.
Android Central Newsletter
Thank you for signing up to Android Central. You will receive a verification email shortly.
There was a problem. Please refresh the page and try again.