Samsung Galaxy Note 3 and Galaxy Gear now available on US Cellular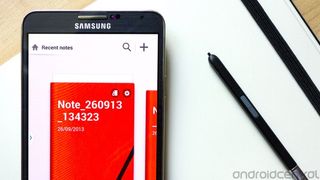 US Cellular has announced that it's launching Samsung Galaxy Note 3 and Samsung Galaxy Gear today. If you're on USC and are interested in either device, you should be able to get them in retail stores as well as online from today. (At the time of writing neither appears to be on the carrier's official website.) The US Cellular Note 3 will be available in Jet Black for $299.99 after an instant rebate. The Gear comes in two colors, "jet black" and "oatmeal beige," also for $299.99.
This announcement comes after both were released for Sprint and AT&T last week. Verizon's Note 3 launch is set to follow tomorrow. In the meantime, if you've been waiting patiently for US Cellular to offer either device, you can finally get them today!
More: Galaxy Note 3 review; Galaxy Gear initial review
I've been waiting so patiently. Thanks for the info!!! Posted via Android Central App

Will the gear require a data plan or just act as an "extension" of your Galaxy smartphone? Posted via Android Central App

Think of it like a Bluetooth watch Posted via Android Central App

It's just an extention to your phone that you can run apps on it via your phone's bluetooth. Posted via Android Central App

When will note3 arrive to middle east Posted via Android Central App

Gear is still not available on Sprint. At least not the store I went to. Wanted to play with it to see what the hype is all about. But all gears are the same so I guess I could have checked the AT&T store. Posted via Android Central App

You can pick the Gear anywhere. I am Sprint customer and I purchased my Gear at Best Buy. But it really doesn't matter because it does not need or use its own data plan. I must warn you though. Once you get and use the Gear you'll be hooked and realize how useful an accessory it truly is. Posted via Android Central App

yeah but I'm never getting another Samsung device so no gear for me. Just wanted to see it in person.

Again Verizon last to their customers oh wait don't think its out on MetroPcs yet. Posted via Android Central App
Android Central Newsletter
Thank you for signing up to Android Central. You will receive a verification email shortly.
There was a problem. Please refresh the page and try again.