Samsung expands its Smart Home portfolio, providing a sneak peek into the future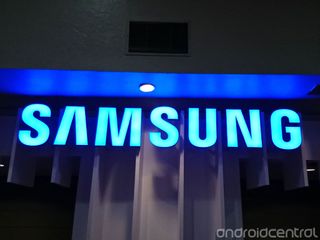 Samsung has today announced new products and services, expanding its Smart Home portfolio. The company is using IFA 2014 to refresh its connected home vision by increasing home safety, improving energy management and bringing future tech to the home of today. From digital door locks to IP cameras, the expanded Smart Home range of products - including third party solutions - enable consumers to add new hardware to their home to make their lives easier.
Numerous big brands are competing to make the home fully connected through the Internet of Things. Samsung played a major role in creating the Open Interconnect Consortium, which aims to ensure connectivity standards, something that will make it possible for devices from different manufacturers to work together seamlessly. The company has also already unveiled the Smart Home SDK too, inviting partnered companies to develop hardware supporting Samsung Smart Home.
While the company failed to provide details on all the new products included in Smart Home, the press release does touch on some connectivity with other devices, like smartphones. There's also the option to use your voice for commands too. We can expect to see more at Samsung's Developer Conference in San Francisco on November 11-13. In the meantime, check the press release below and remain tuned to our feeds for more details from IFA.
Samsung Expands Smart Home Portfolio at IFA 2014
Innovative new products and services make the Smart Home a reality
London, UK – 1st September, 2014 – Samsung Electronics today announced the expansion of its Smart Home portfolio at IFA 2014. The new range of services and products are designed to increase home safety, improve energy management, adapt to in-home location and operate by voice command, demonstrating Samsung's commitment to making the Smart Home of the future a reality today.
"We are excited to deliver a Smart Home experience which will make our customers' lives easier, with innovative products that help everyone's day to day routine, such as managing home security and energy consumption," said Robert King, Vice President of Consumer Electronics at Samsung UK & Ireland. "We are thrilled to be leading the way in making the Smart Home possible for our customers worldwide."
The Samsung Smart Home puts convenience at the heart of its ethos. With the expansion of its Smart Home portfolio which includes third party devices, the service is designed to cater for all aspects of the modern smart home, from digital door locks to IP cameras and smart plugs. These devices work with Samsung Electronics' entire product range to provide a complete Smart Home solution.
Samsung Smart Home – Enabling a Smarter Way of Living
Samsung's safety services let people monitor their homes by connecting digital door locks and IP cameras so that they can remotely and securely assess who is entering and exiting their home. For example, if the digital door lock is opened while you are away, a notification will be sent to your registered smartphone. From here the Home View function can be launched on the companion mobile app to check the IP cameras and see whether other family members have returned home safely or if there is something to be concerned about.
Energy management is a forefront of many people's minds. The Samsung Smart Home service monitors the amount of electricity used by energy intensive appliances such as air-conditioners and displays the expected cost of the energy consumption. People can then monitor their electricity usage, whether daily or monthly, and set new targets to help reduce bills. It is also possible to set a monthly maximum electricity allowance for each device and appliance and when the limit approaches a pop-up is sent to the person.
New location awareness services enable devices in the home to automatically turn on via location recognition technology. For example, the lights and air conditioner will switch on automatically when you approach your home, meaning that you can return to a comfortable living environment.
The final service to be announced creates a more convenient home. People can activate their air conditioner, robot vacuum cleaner and Smart LED lights anytime, from anywhere through S Voice, the voice recognition service embedded in the wearable Gear series as well as via Galaxy smartphones. A number of detailed voice commands have been preloaded to let you give specific instructions to a range of devices. Samsung plans to expand the compatibility of its Smart Home offering to products from other devices and appliance manufacturers alongside additional Samsung products in order to create a seamless home experience.
Building an Open Smart Home Ecosystem
Samsung is pioneering to make the connected home, and by extension, the Internet of Things possible through work to shape industry standards concerning Smart Home services.
In July 2014, Samsung and Intel played an integral role in launching the Open Interconnect Consortium, which, alongside its founding members and future partners, aims to ensure connectivity standards. As part of Samsung's continuous efforts to accelerate the growth of Samsung Smart Home ecosystem, Samsung will unveil the Smart Home SDK later this year which will enable partner companies to develop hardware devices supporting the Samsung Smart Home.
In addition, Samsung recently acquired SmartThings, creator of the leading open platform for the Smart Home and consumer Internet of Things. With resources and support from Samsung, SmartThings will continue to accelerate the development of a truly open ecosystem for connected homes. Samsung will also open its products to developers and partners on the SmartThings platform to help create exciting experiences for the connected home. More details will be shared at the Samsung Developer Conference to be held November 11-13 in San Francisco.
"We plan to build a truly open smart home ecosystem by actively incorporating a variety of services and platforms into the cloud, as well as by opening up Samsung's platform to developers," added Robert King. "The Samsung Smart Home will continue to evolve through the development of new services that enable people to enjoy their lives in smart ways."
Get the Android Central Newsletter
Instant access to breaking news, the hottest reviews, great deals and helpful tips.
"lazy gear" Posted via the Android Central App

No thanks I'll keep my home as dumb as possible I already have to worry about people breaking into companies and stealing my stuff don't want them electronically breaking into my house. Posted via Android Central App

Can we get doors that unlock automatically when authorized users are in front?
Hate messing with keys.

I was just thinking about this the other day.