Samsung Captivate Glide getting ICS update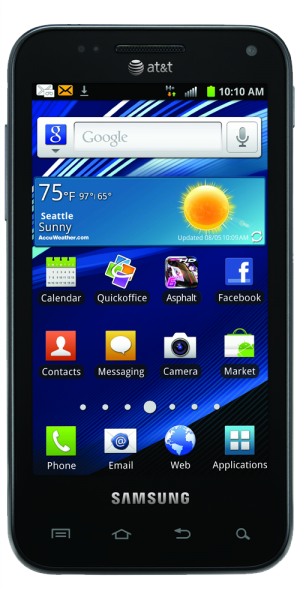 One of the numerous reincarnations of the popular Samsung Galaxy SII (S2), the Captivate Glide, is ready to be updated to Android 4.0 Ice Cream Sandwich starting today. AT&T has indicated that the update won't be coming OTA (over the air), but instead has to be downloaded from the Samsung support website, and loaded via Samsung's proprietary software Kies. Nobody necessarily prefers or wants to use Kies for updates -- and we really wish AT&T would just push it OTA -- but if this is the only way to get some ICS in your life, it's worth dealing with.
Check out the source links for the announcement and the Samsung support page for the update.
Source: AT&T Consumer Blog (opens in new tab), Samsung Support (opens in new tab)
Andrew was an Executive Editor, U.S. at Android Central between 2012 and 2020.
And from the Android Central Forums, here are the reasons why you should not install this update.
http://forums.androidcentral.com/samsung-captivate-glide/206786-ics-upda...

I just got a software push from AT&T for my Captivate Glide. After the restart, the keyboard lights now work! Its still Android v. 4.0.4. Baseband v. I927ULCLJ3. Build number IMM76D. I don't know if any of that changed but someone might. That's all I know for now.

Good word, mate. That's the perfect bit of information - and from the forum - not a canned re-heat from the manufacturer. Thanks.

Didn't see that coming. I would have figured this phone to be one of the many variations that Samsung releases and never thinks about again.

Thanks for the info - I think I'll skip it too. Oh, wait, I don't have a lot of choice do I, because KIES FAILS EVERY TIME - Google it. Any update that doesn't go out OTA is a waste for these phones, as capable as they are.

I get the same thing. Reason I got the Glide is that it was on the list to get ICS. Now I'm regretting the decision thanks to KIES.

There is a major error with the ICS upgrade for this phone and it continually crashes and resets the cell connection (the error reads: "Android com has stopped working"..) AND I'm so sad that my keyboard backlight doesn't work with the upgrade. I specifically switched to this phone for the physical QWERTY keyboard...It would be nice if it worked the way it's suppose to. Maybe an official patch can be released for the poor souls who used KIES to get ICS?
Android Central Newsletter
Thank you for signing up to Android Central. You will receive a verification email shortly.
There was a problem. Please refresh the page and try again.