Samsung audio dock images leak out, could be seen at CES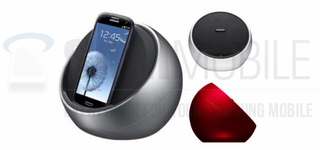 Audio docks are pretty common over in the iOS camp, with a wide array of OEM's getting behind Apple's devices to create such accessories. Over here in Androidland, things aren't quite so plentiful. Samsung seems set to make a change to that if the leaked images we see here ring true.
The leak was obtained by the guys over at Sammobile -- usually known for their firmware leaks -- and they claim it could be seen in the wild at either CES, next month in Las Vegas, or at Mobile World Congress, in Barcelona in February. They look pretty good, but with a speaker of course, that's only half the story. The images were accompanied by a set of leaked specs:
USB Audio Class
Universal dock station
Bluetooth version 3.0
Power: 6W (3W x 2)
Power volume button
Charging Port
3.5mm Audio Plug-in
The beauty of course, is that any Android device with a bottom mounted microUSB charging port will be able to take advantage of the charging facilities.
Source: Sammobile
Looks great! If the price is right, I'd take this over the missing Nexus 4 charging orb...

Meh, Bluetooth streaming is the future. Wired docks suck.

The specs list Bluetooth though.

USB Audio + Bluetooth.
Best of both world!

Am going to say this once.... "Vaporware"

Just like the wireless charging that was announced for the Galaxy S III at launch.

It's out...It was just poorly marketed and handled. Verizon only. Look in the AC store for the Zens version. http://www.androidauthority.com/wireless-charging-kit-for-samsung-galaxy...

He's talking about the "official" Samsung Charging Dock.. Not the Verizon one..

Phillips already sells similar audio docks, with the microUSB power port at the bottom and Bluetooth stereo streaming. They have a few different models with different audio quality, amplifier power, battery options, etc. Apparently are not very popular because they are deeply discounted. This one is only $40 at Amazon: http://www.amazon.com/dp/B005HY4UPK?tag=hawk-future-20&ascsubtag=UUacUdU...

Get the wcp-700 from amazon. It works great, is reasonably priced, made by lg and works great. Forget waiting for this charging orb

I just wish Samsung or someone made a decent dock that held my GS3 in a landscape orientation, like I had for my Nexus S. Ended up buying a 3rd party dock that holds the phone a little more securely than the Samsung one would have, but I'm not crazy about portrait...

"any Android device with a bottom mounted microUSB charging port will be able to take advantage of the charging facilities" Except if you're a Nexus 7 with a backwards port...
Android Central Newsletter
Get the best of Android Central in in your inbox, every day!
Thank you for signing up to Android Central. You will receive a verification email shortly.
There was a problem. Please refresh the page and try again.